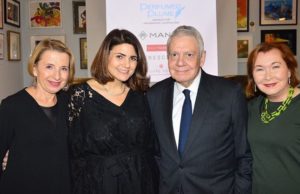 Mary Ellen Lapsansky, Bibi Praval, Michael Edwards and Lyn Leigh (photo Perfumed Plume)
On Tuesday, November 14th, 2017 Perfumed Plume presented "A Special Evening, In Conversation with Michael Edwards, Talking with Bibi Prival", which was held at the Society of Illustrators in New York City. Michael Edwards who is known world-wide, attracted so many devoted fragrance lovers, industry leaders and star perfumers, the evening was like the "who's who in fragrance"; attendees included Westly Morris and Miranda Gordon of Mane, Pierre Wulff of Robertet, Rodrigo Flores-Roux and Olivier Gillotin of Givaudan, Estee Lauder's Helen Murphy and Trudi Loren, Evaluator Sophie Bensamou and marketing director Doreen Bucher of Symrise, Rhona Stokols and Darryl Do of Perfumariē, Karen Dubin of Sniffapalooza, Gretchen Dowling of Elizabeth Arden/Revlon, Bart Schmidt of Brands with Purpose, Paula Pulvino of Villa of the Mysteries Perfume, and Tyler DeLabarr Kramer of BLOCKI Parfums.
Perfumed Plume founders Mary Ellen Lapsansky and Lyn Leigh greeted us. As Lyn Leigh, reminded us: "Mrs. Evelyn Lauder referred to Michael Edwards as "the perfume experts' expert" and no one could have said it more accurately. We welcome and thank Bibi Prival as the evening's interviewer."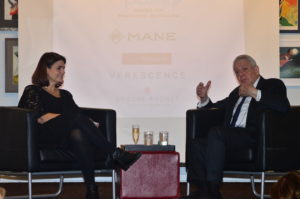 Bibi Prival and Michael Edwards (photo Perfumed Plume)
Fragrance expert, author, and industry ambassador, Michael Edwards, (the founding editor of Fragrances of the World, the largest guide to perfume classifications) and Bibi Prival, Evaluator at MANE, (well known to the industry as a teacher and mentor to emerging talent) took the stage.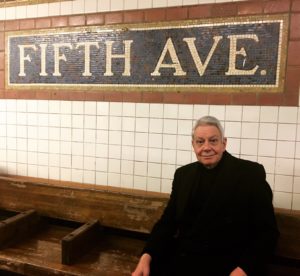 Michael Edwards in New York (photo Marge Khoury of Fragrances of the World)
Michael Edwards came to New York to discuss three upcoming books, Fragrances of the World: Artisan & Selective Houses (2018), Perfume Legends: French Feminine Fragrances – The New Edition (2018), and American Legends (2019). A world traveler, Michael Edwards divides his time between homes in Malta, Australia, and Paris, where he shares his studio with Pierre Dinard, the famous and much lauded flacon designer for Opium, Madame Rochas, Eau Sauvage (to name a few).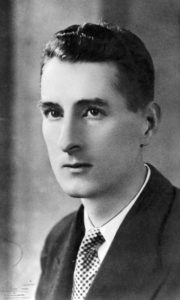 Edmond Roudniskta, photo from Michel Roudnitska's archives
"In life, it's who you know and that can open doors that normally would be a challenge to open". Michael Edwards referenced Guy Robert, now president of the French Society of Perfumers and perfumer Edmond Roudnitska as his two mentors. He noted that his first book, The Fragrance Manual (renamed Fragrances of the World in 2000), was independently published in 1984, when there were only 29 new fragrances released that year compared to last year's staggering 2,360 new scents.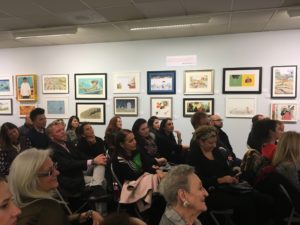 The attendees at the event (photo Perfumed Plume)
Michael Edwards shared fascinating facts throughout the one-hour conversation. One that surprised almost all was that Chanel No. 5 was probably released in 1922, not 1921 and was most likely launched with 8 other perfumes, (not as a stand-alone as believed). Michael spoke about both vintage and contemporary fragrances including Fracas (Robert Piquet) and Nahema Guerlain. He called Serge Lutens a brilliant genius. Other noteworthy perfumes and perfumers discussed were Frederic Malle's Portrait of a Lady by Dominique Ropion, Terre d'Hermes by Jean-Claude Ellena, and L'Artisan Parfumeur Timbuktu by Bertrand Duchaufour. A legend in the making? Christine Nagel's Galop d' Hermes. Michael noted that consumers create legends, not experts like himself.
Halston with his iconic perfume bottles designed by Elsa Perretti
For his upcoming American Legends book, Michael Edwards expects to feature 40 fragrances. His hope is that it would be a clarion call as a reminder to all of the majesty of American fragrance. In rapid succession, he spoke of some of his. Michael considers. Norell (1968) the first great American designer fragrance. Charlie (1973), changed the whole business with a new generation of women buying fragrance for themselves. He spoke of Calvin Klein's advertising genius and of Halston (1975) by Halston, Oscar (1976) Oscar de la Renta. And of course, the infamous Giorgio Beverly Hills were referenced.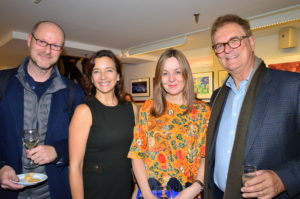 Bart Schmidt Brands with Purpose, Trudi Loren Estee Lauder , Helen Murphy Estee Lauder, Olivier Gillotin Givaudan (photo Perfumed Plume)
He noted that Frank Voelkl's Santal 33 for Le Labo, Tom Ford's Black Orchid and Rodrigo Flores Roux's Neroli Portofino Private Blend (2006) are modern classics. When asked to reveal a fragrance(s) that made him uncomfortable he immediately remembered Michael Jackson's trio of fragrances which he found appalling. Even the monkey did not like them, he quipped! The room broke out into collective laughter.
Bibi asked if any perfumer had ever created a fragrance for him. Michael Edwards said that Guy Robert once created a citrus twist on Hermes Equipage for him.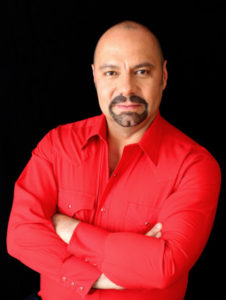 Rodrigo Flores-Roux
When Bibi inquired which perfumer(s) he would choose, dead or alive, to create a signature scent for him, he responded, Rodrigo Flores-Roux, Christophe Laudamiel, or Francis Kurkdijian all very much alive.
One common complaint he brought up more than once during the evening was the lack of a common language to describe a fragrance. "The way Lauder describes fragrances is quite different than say the way Dior does or Calvin Klein. Such a pity" he said. "What the industry needs is more honesty and more focus on the scent. Unfortunately, retailers only care if it brings people through the door."
With regard to niche fragrances, he is tired of speaking to companies and creative directors who announce themselves as perfumers and show a photo of themselves at an organ and when he smells their fragrance he knows it is one of Rodrigo's. "Niche must be more honest. It's an artisanal kind of thing. Many are not honest. They are just creating a story." He traces niche back to Jean Laporte and L'Artisan Parfumeur. Which countries' perfumes (besides those of France, Italy, and America) intrigue him? The UK topped his list in Europe. In Asia, he thought of Singapore, Hong Kong and Japan. The Middle East is an interesting market, but many there judge by price, believing the more expensive the better.
Thank you to Mary Ellen Lapsansky and Lyn Leigh for a wonderful evening.
–Hernando Courtright, Sr Contributor and Michelyn Camen, Editor-in-Chief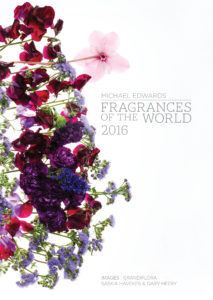 Thanks to the generosity of Fragrances of The World US and Canada Distributor MJ5 Consultants, we have a 2016 Fragrances of the World for one registered reader in the U.S or Canada. To be eligible, please leave a comment saying where you live, what you found compelling about Hernando's write-up. What question would you ask Michael Edwards? Draw closes 11/29/2017
We announce the winners only on our website and on our Facebook page, so like Cafleurebon and use our RSS feed … or your dream prize will be just spilled perfume.