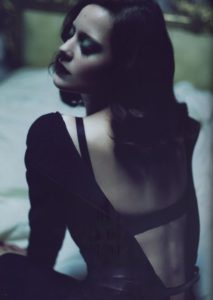 Marion Cotillard for Vogue Paris, September 2010, Mert & Marcus ©
As if I could tell you. As if anyone could tell you. Save her most intimate entourage.
And even then…
Ah, La Parisienne. That ultimate seductress has prompted obsessive longings for generations, and inspired as much envy and imitation as any social phenomenon in modern history. Who hasn't been intrigued by whiffs of her fragrance as she strolls along La Seine, laughs with friends in a café, or reigns over a business meeting? What is her secret?
Ironically, part of the question is easy to answer.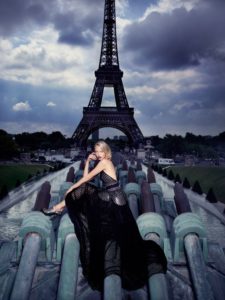 Anne Von Brussel in Marrakech, shot for French Vogue © Jean-Daniel
Information about What fragrance La Parisienne wears, tours the globe every minute via magazines and social media. But How La Parisienne wears her fragrance, the very crux of the French seduction mystique, is a more difficult question to answer because it derives from the singular makeup of her character. Part of this singularity arises from the nature of La Parisienne's upbringing. Raised at her mother's knee, La Parisienne is strictly schooled from a young age in the twin Gallic virtues of subtlety and discretion. Another singularity can be attributed to her French heritage which bears a disproportionate number of celebrated femmes de caractères (strong, self-possessed women), including such legendary figures as Coco Chanel, Brigitte Bardot, Sophie Marceau, Juliette Binoche, Laetitia Casta, et j'en passe.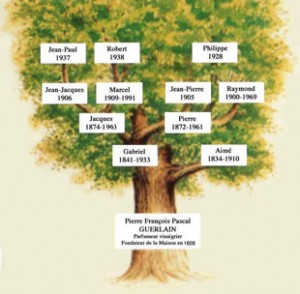 The Guerlain FamilyTree 1834-2016
Another peculiarity of La Parisienne is her knowledge of certain indisputable facts. She knows beyond all doubt, for example, that perfume belongs to France thanks to such renowned French perfume brands as Guerlain, CHANEL, and Dior, and that the world and everyone in it would be hopeless lost (and frankly boring) without its infinite powers.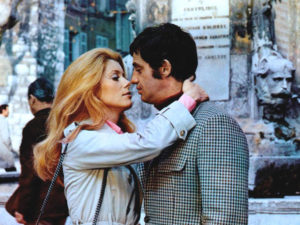 Catherine Deneuve and Jean-Paul Belmondo, Mississipi Mermaid, 1969
Perhaps most importantly, La Parisienne is finely trained in the artful use of perfume. She knows how to employ its powers to nourish and build her own persona, and when necessary, to borrow and inhabit attributes of mythical Parisiennes from her heritage. Thus, through strategic application of perfumes, La Parisienne can become at will, simultaneously or sequentially, the coy ingénue, the Left Bank intellectual, the icy fashion maven, the mother of exquisitely mannered children, the perfect mistress and lover, or, of course, her own inimitable self.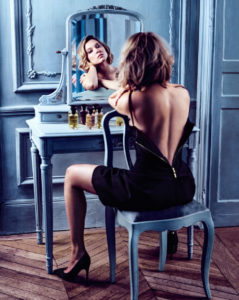 Lea Seydoux for Louis Vuitton Perfumes
Indeed, every day of her life, from the moment she awakens to the moment she goes to bed, La Parisienne uses perfumes to construct and inhabit the persona of her choice. Imagine her, for a moment. At the beginning of the day, La Parisienne will choose a fragrance, just as thoughtfully as she chooses her clothes, accessories, and underwear.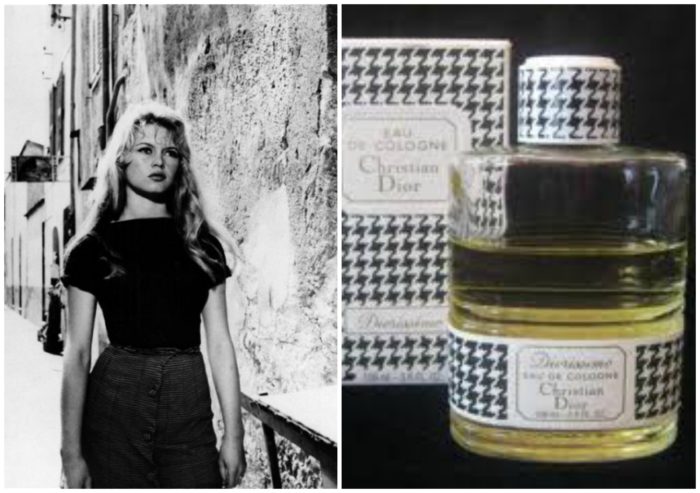 Brigitte Bardot, 1956 and Vintage Diorissimo Eau de Toilette
On a bright May morning, she might take inspiration from the young Brigitte Bardot, the year she burst on to cinema screens in the 1956 film Et Dieu Créa la Femme. Having first chosen a simple top, leggings, and ballerines, La Parisienne will become this persona via her perfume, Dior's Diorissimo, created the same year of the film, an eternal celebration of the sweet, carnal powers of Lily of the Valley.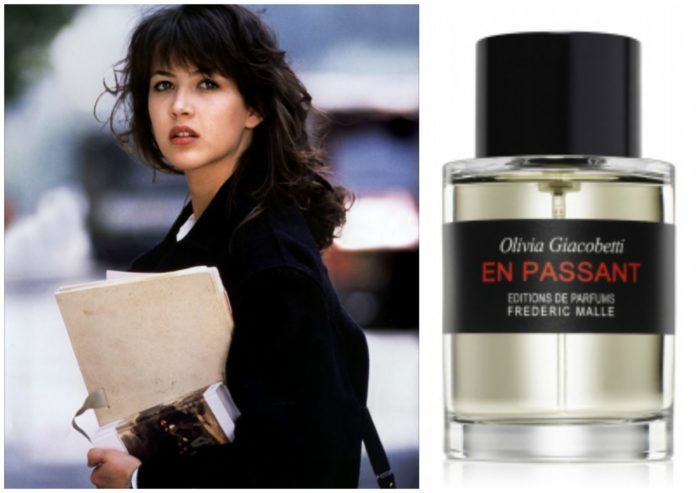 Sophie Marceau in the film L'Etudiante and Olivia Giacobetti's En Passant Eau de Parfum Edition Frédéric Malle
Another day, inspired perhaps by Sophie Marceau's youthful promise of womanhood in the 1988 film L'Etudiante (The Student), she'll use Edition Frédéric Malle's green and transparent, En Passant, to transform herself into every charm of spring.
She will apply her perfume thoughtfully, lightly spraying or dabbing it on her pressure points and décolleté. She might also spritz a fine mist above her head, and pause a moment while it settles. Upon leaving her apartment, she will bestow the members of her household – lover, children, and perhaps her dog – with a treasured imprint of herself and her fragrance as she kisses them good-bye for the day.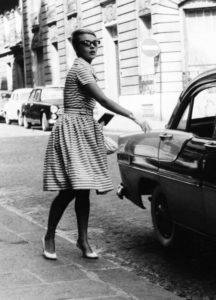 Jean Seborg, Breathless, 1960
Emerging from her building to a crowded city, she will immediately make an essential transformation from private to public persona. For at the heart of things, La Parisienne is a very private person, and although carefully tended, her adornment, including her perfume, is not meant for general consumption. It is meant for herself, her immediate entourage – and occasionally for that perfect stranger, who through pure chance or the whims of her nature, she allows to enter her world, if only for an instant.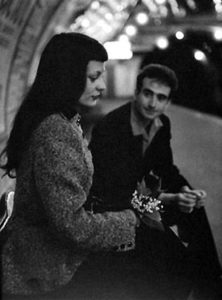 Le Muguet du Métro by Robert Doisneau ©
In the metro or on a bus, the person sitting next to La Parisienne, though leaning imperceptibly in her direction cannot quite smell her perfume. And yet, when she moves to get off, the stranger she passes and the stranger immediately occupying her seat will get a tantalizing whiff.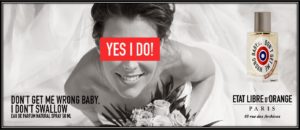 Etat Libre d'Orange's 2016 Ad for Don't Get Me Wrong Baby, I Don't Swallow, Yes I Do! Eau de Parfum
But if this stranger is indeed perfect, La Parisienne might reveal a further irony of her character. Having refined the maddening Parisienne trick of a studied avoidance of eye contact with strangers, she is queen of the fleeting glance which lasts an Nth of second longer than happenstance would dictate, and just long enough for an infinitesimal yet blatantly sexual widening of her eyes. When accompanied by a whiff of her fragrance, this look is enough to create a lifetime of fantasies in any man, woman, or child. A perfect fragrance for this activity, with its deceptive blend of innocence and seduction, is Etat Libre d'Orange's 2016 reformulation of Don't Get Me Wrong Baby… in which the second half of the phrase switches from … I Don't Swallow, Yes I Do!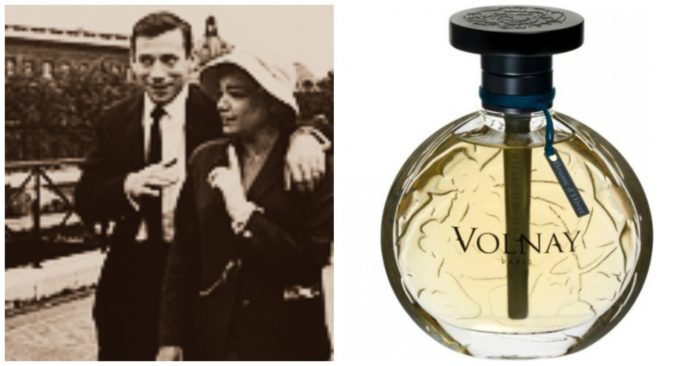 Yves Montand and Simone Signoret walking along the Seine and Volnay Brume d'Hiver Eau de Parfum
Don't misunderstand me, dear reader. Seduction is far more than a springtime diversion for La Parisienne. As we shall see, it's a serious, year-round occupation. Arriving at her office on a January morning, when she kisses (faire la bise) her colleagues, La Parisienne is perfectly aware that the cool air she carries with her, bears breathless traces of her fragrance, Volnay's Brume D'Hiver, like a sensual winter mist over the Seine.
Mlle Coco Chanel at her home, 31 rue Cambon and Les Exclusifs 31 rue Cambon Eau de Toilette (photos: CHANEL)
If for her ten o'clock meeting, La Parisienne chooses to embody the studied nonchalance of the ultra-tailored fashion maven, she will rely on her impeccably structured jacket along with CHANEL's chypre fragrance, 31 rue Cambon, to bear the unspoken minimalist codes of the chic city dweller.
La Parisienne's interlocutors may never smell her fragrance, but they will feel its presence in her attitude, posture, and movement, and they will never forget her.
Diana Vreeland Vivaciously Bold Eau de Parfum and Diana Vreeland © (courtesy of Diana Vreeland)
Another day, having sent the Holiday issue to the printer, La Parisienne will retire to her private suite with a coterie of trusted peers. While relaxing over a glass of Veuve Clicquot, her fragrance, Vivaciously Bold, will echo the unexpected freshness of her laughter and recall the colorful lifestyle of Diana Vreeland, legendary Anglo-American International Parisienne par excellence, columnist and editor of both Harper's Bazaar and Vogue magazines.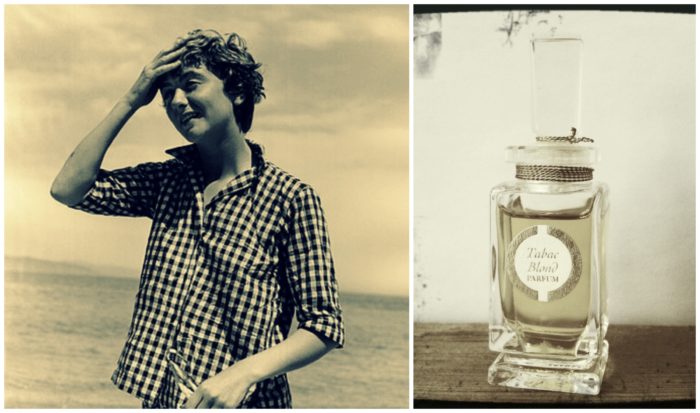 Françoise Sagan, Photo by JeanLoupe Sieff © and Tabac Blond Parfum, Caron Paris
At lunchtime, La Parisienne might slip across the street to her favorite bistro in the persona of rebel philosopher-writer, Françoise Sagan, author of the 50s best-selling novel, Bonjour Tristesse. She will trust the dry leather and tobacco notes of her fragrance, Caron's Tabac Blond, to add timbre to her voice, all the while knowing that its animalic notes, like the geometric print of her blouse, will embolden her every gesture.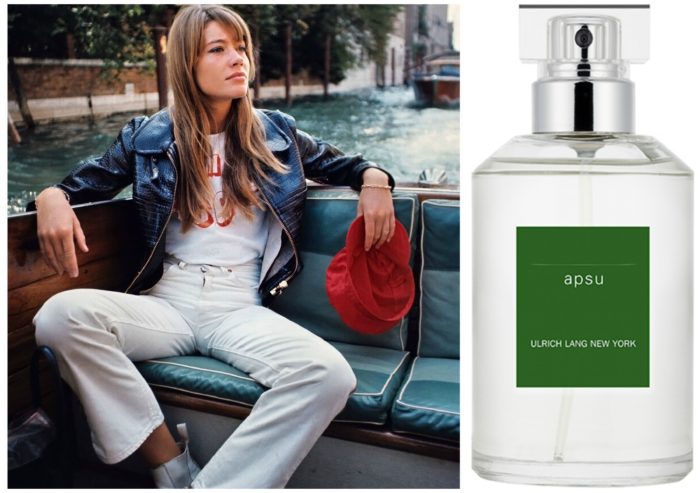 Françoise Hardy, 1964, Canal St. Martin and Ulrich Lang New York APSU Eau de Toilette
Across the Seine, a 30s-something Parisienne, whose film production company keeps her between Paris, New York, and Montreal, will savor a solitary lunch, seated on a bench beside the Canal St. Martin. Far from the heat of a shoot, the refreshing saltiness of Ulrich Lang New York's APSU will dwell in the perspiration of her skin and the soft folds of her dress, limpid as fresh water, green as the color of her eyes.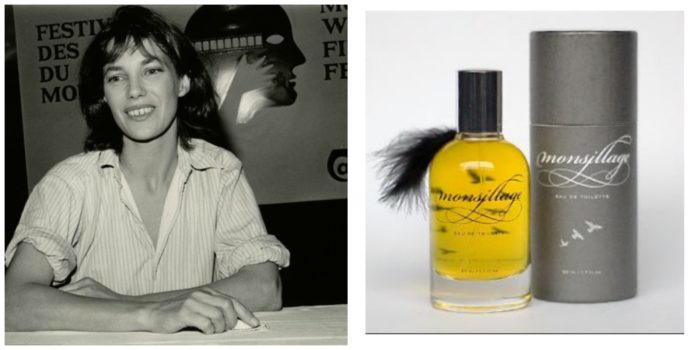 Jane Birkin, at the Montreal Film Festival for The Pirate and Monsillage Aviation Club, Isabelle Michaud
Tomorrow, en route for Montréal, this most entrepreneurial of Parisiennes, cognizant that she relies only on herself for inspiration, will feel improbably feminine and reassured in her fragrance, Aviation Club by Monsillage, as she flies towards new horizons along the razor's edge of existence.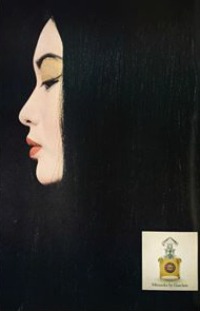 Ad for Guerlain Mitsouko, photo by Guy Bourdin, Vogue, May1965
Back on French soil, La Parisienne going out for the evening directly from her office, will have brought the necessities for an incomparable entrance to her favorite restaurant: heels, a cashmere sweater, a signature piece of jewelry, and, de rigueur, a purse-sized flacon of eau de parfum. If she's La Grande Classique Parisienne, like her mother and grandmother before her, her fragrance will be Guerlain's floral oriental, L'Heure Bleu (1912), or Guerlain's fruity chypre, Mitsouko (1919), both of which continue to occupy significant places in her perfume repertoire.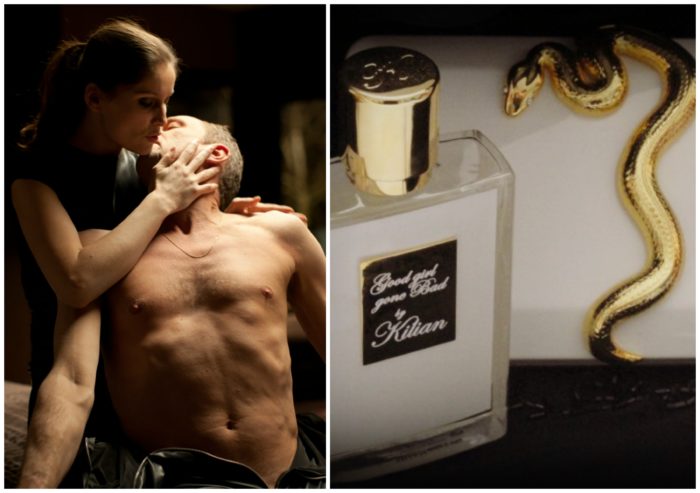 Laetitia Casta, Une Histoire D'Amour and By Kilian Good Girl Gone Bad Eau de Parfum
Across town, La Parisienne of a different stripe, inspired perhaps by Laetitia Casta's obsessive character in Une Histoire D'Amour might be to concealing more in her purse than the exquisitely engraved black purse atomizer of By Killian's Good Girl Gone Bad as she slips into the foyer of the restaurant at Le Grand Amour Hotel.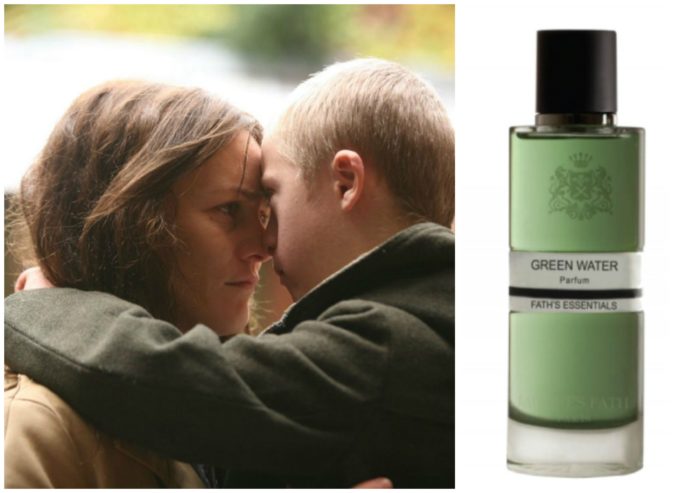 Vanessa Paradis, Cafe Flor and Jaques Fath Essentials Green Water Eau de Toilette
If La Parisienne is planning to have dinner at her apartment, she'll treat herself to a splash of Jacques Fath's Green Water before stopping by the local épicier and boulangerie. When she kisses her family at the door she'll smell like fresh greens, a crisp baguette, and home.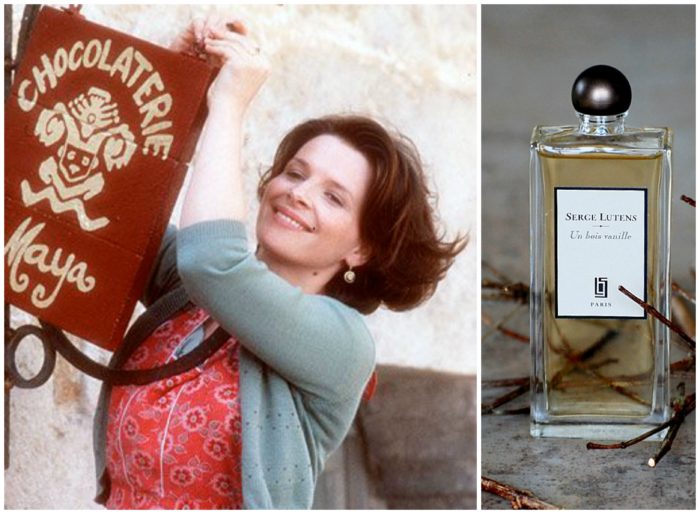 Juliette Binoche in Chocolat, 2000 and Serge Lutens Un Bois Vanille Eau de Parfum
If her children are young, they'll have their dinner at seven, and like Juliette Binoche's character in the 2000 film Chocolat, La Parisienne will indulge their desire to consume her very essence with Serge Lutens' gourmand fragrance, Un Bois Vanille, while surrounding them with all the sweetness of childhood.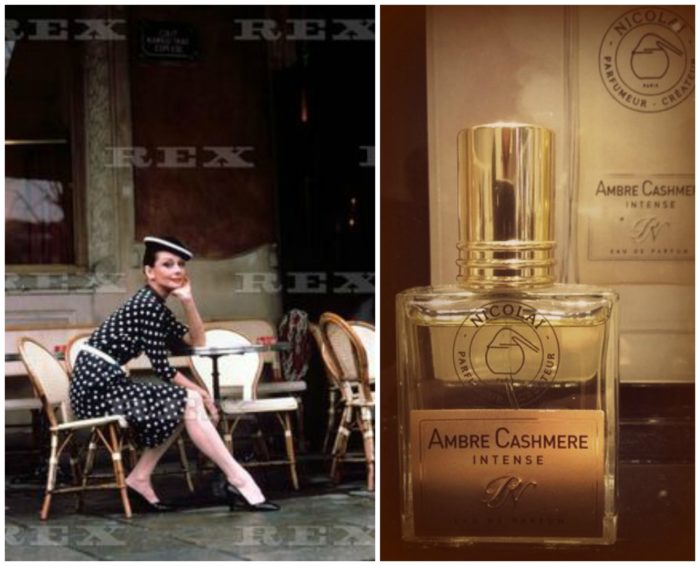 Audrey Hepburn, Café Les Deux Magots, Sergio Strizzi © and Ambre Cashmere Intense Eau de Parfum de Nicolaï
At eight, she and her lover will sit down for cocktails, and in the fullness of this moment, while soothing him with Patricia de Nicolaï's soft floral fragrance Ambre Cashmere Intense, her presence will blend with the scented candles, fresh flowers, and the oils of polished furniture.
Actress Marie Laforêt and Arquiste Ella for Her Eau de Parfum
Over dinner, having artfully exacted delivery on every promise and debt, real or imagined, she will reward him with laughter and fantastic stories, accompanied by Arquiste fragrance, Ella For Her, by which she transports him to far off places and times — the glamorous Alcapulcos of the world, nightclubs, moonlit beaches – and the next room….
Ah, yes. Enfin, le boudoir.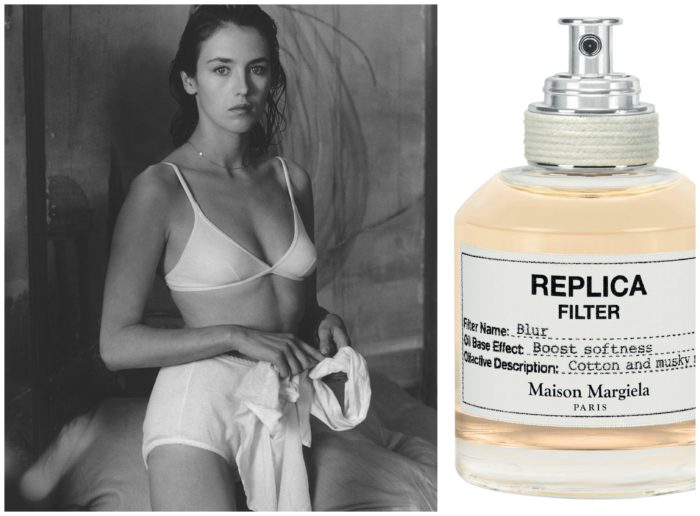 Isabelle Adjani and Replica Filter Blur Perfumed Oil Spray, Maison Martin Margiela
La Parisienne doesn't shy away from smelling like a woman, and laughs unaffectedly when great perfumers speak of the appealing smell of la petite culotte (panties). Before going to bed, the fragrance of her evening skincare ritual will mingle with the lingering, slightly animalic, odor of musks and woody base notes of the perfume she applied during the day, and the fragrance of her own body. To this she will add a drop of something– somewhere – ever mindful of Coco's advice to apply perfume where she wants to be kissed. For this ultimate perfume gesture of her day she'll trust one of her 'skin scent' fragrances such as Maison Margiela's sensual and softly floral, Replica Filter Blur. Just before slipping into bed, she'll spritz her sheets with Guerlain's Eau de Lingerie – whose subliminal notes, beyond words or gestures, will speak to the very heart of the matter. And she will smell like desire….
By the end of her day, only a handful of people, perhaps as many as 10, might know what La Parisienne smells like. And most, for less than an instant. Only her lover or her children will ever experience the immeasurable satisfaction of exploring and being part of the way La Parisienne smells.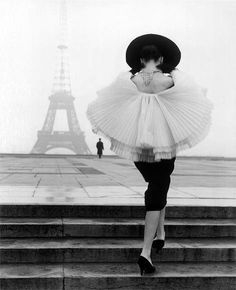 Horst P Horst for DIOR ©
Where does this leave the rest of humankind, those lost souls who have never through the power of perfume become La Parisienne, or dreamt like a lover in her arms? One can't smell La Parisienne coming, but, if like the perfect stranger in the metro, she passes very close to you, or chooses to bestow you with even an instant of her fragrance, she will leave a trace of herself when she has gone. And you will always imagine her.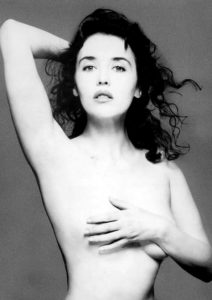 Isabelle Adjani, Richard Avedon ©
Longing, fantasizing, and dreaming. And that, dear reader is the pinnacle of seduction; the best-kept fragrance secret of La Parisienne. By never allowing you to smell more than a hint of her scent, she smells like your wildest dreams, and accomplishes with her perfume, the ultimate act of seduction.
–Sarah Colton, Guest Contributor
Art Direction: Michelyn Camen, Editor-in-Chief