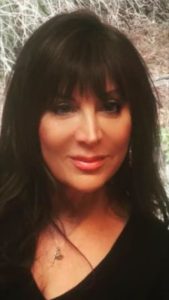 Coming down with a really bad virus in this photo 2/5/2017
It seems as if it has been the worse winter for flus, colds and viruses. If you have been sneezing, tired, coughing and struggling just to get out of bed you are not alone. Since you cannot just stop going to work, parties or weekend events, I have put together some tips and tricks on how to look good when you feel lousy.The photo above was taken when I had a bad cold last week. No special lighting or filters were used.
Being sick drains you of color, as well as energy and when you have a fever your skin is flushed. These beauty tips are with this in mind:
Chances are you are pasty or pallid. Use an everyday self-tanner for the face, neck and décolletage. Apply with a synthetic brush or a Beauty Blender.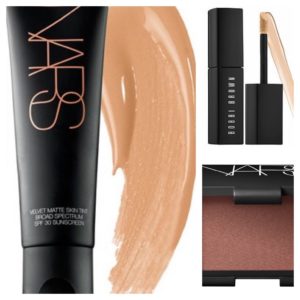 NARS Velvet Matte Skin Tint SPF 30 Cuzco 1.5, Bobbie Brown Intensive Skin Serum Corrector Concealer and NARS Lovejoy blush
Now is not the time for BB, CC or cushion foundations. Chances are your skin is blotchy and sallow and you need a medium-to-full buildable coverage.I like NARS Velvet Matte Skin Tint SPF 30 which is oil-free with a soft matte finish. ($45) My review here. A primer before you apply is recommended as your skin may be dry and uneven; try Laura Mercier Hydrating Primer ($36). A hydrating, emollient color correcting concealer is key to hide the dark circles under your eyes. Choose one with a color correcting properties, depending if your under-eye discoloration is purple, blue, red or grey. I recommend Bobbie Brown Intensive Skin Serum Corrector ($42) which visibly refreshes your skin. I am wearing Peach 10 to correct the greyish brown under my eyes. For blush that also gives a bronzing effect without any noticeable red tones, try NARS Lovejoy
.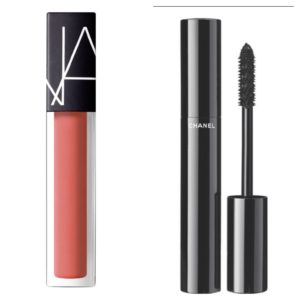 NARS Velvet Lip Glide in Playpen and Le Volume de Chanel Waterproof
No dark red or brown-nudes on your lips or cheeks. These shades will just make you look pale and wan, especially nude tones that will wash you out. Try a peachy or medium pink tone lipstick to keep the emphasis on your mouth and not your eyes give away that you are sick. My go-to has been NARS Velvet Glide in Playpen. ($26). This is a great color for yellow and warm toned skin. I have recommended it to so many friends, because this shade seems to plump the lips noticeably.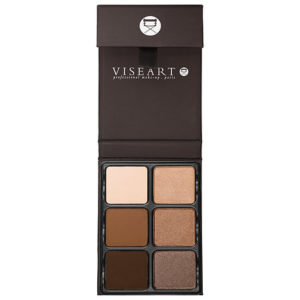 Viseart Theory Palette Cashmere
Skip the black liner and choose waterproof volumizing black mascara, since your eyes tear more when you are ill. CHANEL makes one of the best, Le Volume de Chanel Waterproof ($32). No smoky eyes when you are under the weather. They can make your eyes appear small and bloodshot. Choose two neutral tone eyeshadows, one to highlight and one for light contour. Try VISEART Theory Palette in Cashmere ($45). My review here.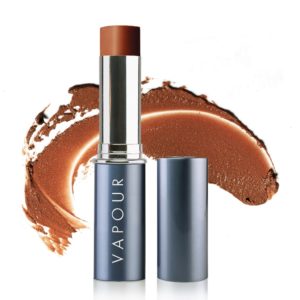 I asked Make-up artist Brendan Vartan of the House of Vartan for some beauty tips for those who want a more minimal approach, "For those who don't want to fuss with too much when you are sick, having a few multipurpose products like Vapour's Solar Translucent Bronzer in Spicy (a color that works with most skin tones) that you can use for eyes, cheeks, and lips definitely come in handy. I also love Paul & Joe's Eye Color Primer (available in-store) to help you look more youthful and awake in an instant. It can be used on the lid and under the eyes, and unlike many primers; it feels light, brightens and smooths the look of crepey skin without heavy silicones."
Disclosure: Some of the products were given to me by the companies for review and some are from my own collection.
-Michelyn Camen, Editor-in-Chief, (who still has a cold)