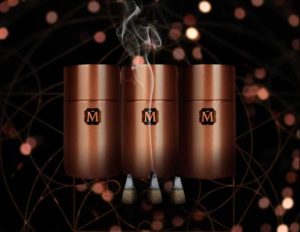 It's 2018! Between all the changes the past year has brought and the head-long rush into the holiday season, I often find myself rather unceremoniously dumped into a new year not quite knowing how I got there. Whenever I find myself feeling dazed and out of step with time, I remember the importance of slowing down. The process is smudging is simple: chose your favorite, fragrant combustible—whether a bundle of White Sage, a sliver of Palo Santo, (Never under estimate a good stick of Palo Santo—it can change your world) or simply a stick of ready-made incense—set it alight, blow out the flames and let it smolder. Be sure to have a fire-proof vessel handy to catch any ash or sparks. With your now smoldering incense, walk through the space you wish to purify with the clear intention of dispelling any negative energies with the smoke. I like to carry the incense into each corner and any closets of a room I'm clearing.
Thanks to Christi Meshell of House of Matriarch we have your choice of 100 percent natura House of Matriarch incense (Antimomy, oud, palo santo, guaic gurgan balsam) which was based on her award- winning CaFleureBon Project Talisman or the highest quality House of Matriarch to one registered reader Worldwide. The random winner is Jackie B who chose House of Matriarch incense. Please email michelyn at cafleurebon dawt com with House of Matriarch Incense, phone number and your complete mailing details by 1/10 /18 8 PM EST. This is a deadline and no exceptions if you are late or misspell CaFleureBon. Please use your email from your comment so we know it is you. A kind thank you to Christi Meshell for this gift of House of Matriarch Incense would be much appreciated in this email.
PLEASE NOTE THAT THE LOG-IN FOR OUR SITE IS RIGHT BELOW OUR AWARDS ON THE UPPER RIGHT TO MAKE IT EASIER TO NAVIGATE.
We announce the winners only on our site and on our Facebook page, so like Çafleurebon and use our site feed…or your dream prize will be just spilled perfume.