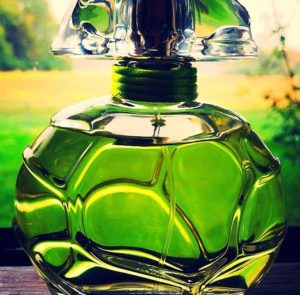 Houbigant Quelques Fleurs Jardin Secret Extrait de Parfum photo by Aaron
We were introduced to a new fragrance from the storied House of Houbigant this past spring, Quelques Fleurs Jardin Secret. I was fortunate to be one of the first to experience it and was enthralled by the sheer beauty of the composition. In my review we were transported to my own secret garden –where my thoughts ran free to float in fragrant abandon. Fortunately, for our continued delight, Houbigant presents us with a new addition to enjoy- Quelques Fleurs Jardin Secret Extrait de Parfum.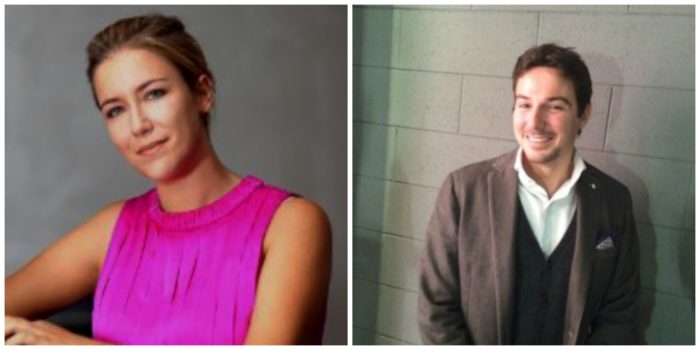 Creative Director Elisabetta Perris and Luca Maffei
This new version is once again authored by young Italian scent star Luca Maffei in collaboration with Creative Director Elisabetta Perris. This parfum de extrait is magnificent. On first application I was immediately taken by the complexity and interplay of each ingredient.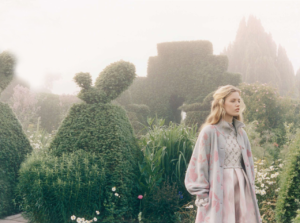 Georgia May Jagger photographed by Venetia Scott for Vogue UK, October 2013.
Like its predecessor, we are greeted with a burst of juicy citrus, but this time the air is markedly greener to my nose. There is also a certain aura that portrays something deep, lush, velvety, and creamy whilst remaining sparkling, bright, clean and, ultimately, majestic in the introduction that differs from the EDP. The overall feel is similar, but much more opulent and refined. The floral accord presented here seems to take precedence quicker in the extrait. Of particular note, narcissus is especially vibrant when paired with a refreshingly green neroli/ bergamot combo – it exhibits a complexity and dynamic I find quite unique. It brings to mind fresh breezes under clear sunny skies awash in a landscape of yellow/white/green flowers that enchant with every sway of the wind.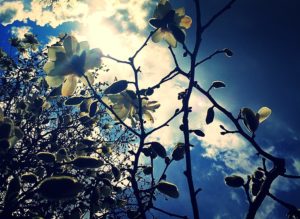 Blue skies and magnolias by Aaron©
Moving into the middle notes the floral aspects really begin to shine. The air is lightly but densely filled with magnolia blossoms which acts to fill my mind with the most beautiful and precious memories of so many things I love. Its charms are unforgettable for just about anyone that has ever had the privilege of experiencing them in the warm spring and summer air. It is a truly entrancing experience that cannot be forgotten. Fortunately for us, all can now have this experience in a bottle.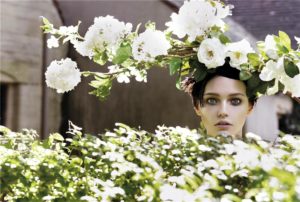 Sasha Pivovarova in "Garden of Delights" by Steven Meisel for Vogue US December 2006
Singing quietly (yet majestically) in the air are dewy white roses. They sing their song so eloquently at times that their presence might not even be felt, but if they were silenced, the enormity of their importance would be evident…therein is the brilliance of their contribution. In accompaniment we have orange blossom and jasmine adding to the depth of range of the overall composition. Their voices add beautifully to the white floral aspect of the song without seeming like a tune that has sung before. This is indeed something new.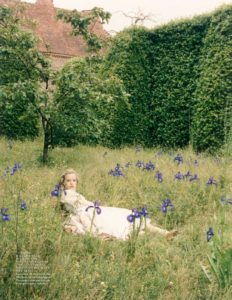 Georgia May Jagger photographed by Venetia Scott for Vogue UK, October 2013.
Amidst all the flowers is a dusty aspect that never truly crosses the line of too powdery. I can detect the powdery nuances of orris – violet/iris powderiness – without it ever really taking a foothold into what many would consider "powdery" fragrances. It smells clean and inviting as well as elegant and refined, continuing the history of fine French craftsmanship but bringing something new to a much beloved cornerstone of perfumery.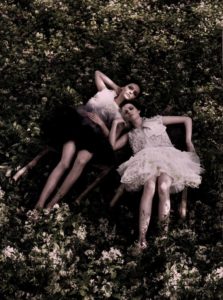 "Garden of Delights" Sasha Pivovarova, Caroline Trentini, Gemma Ward, Karen Elson by Steven Meisel for Vogue©
As in the EDP, ylang ylang also plays a key role. For me it becomes most evident towards the end of the mid notes as it radiates from what we will soon realize is creamy sandalwood in the base. This is one of my favorite aspects in the EDP and it is extenuated here – much to my delight – even more. As the base unfolds, clean white musk rises to subdue the somewhat powdery aspects of orris and creaminess of the sandalwood beautifully.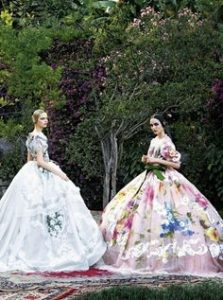 Natalia Vodianova in "Dancer In The Dream" by Peter Lindbergh for Vogue China May 2010
The result is a scent emanating from your skin that smells shiny, fresh, and new, yet familiar enough to be comfortable with forever.; this is no flanker …it is a new classic Houbigant Quelques Fleurs Jardin Secret Extrait de Parfum​ evokes a certain sense of romanticism and is like embarking on a new perfume adventure.
Headnotes: Bergamot, Yellow Mandarin, Neroli; Heartnotes: Magnolia Flower, Narcissus Absolute, Rosa Centifolia Absolute, Orange Blossom Absolute, Jasmine, Orris, Ylang Ylang; Basenotes: Sandalwood, Ambrette Absolute, White Amber, Musk.
Disclaimer: Review based on bottle supplied by Houbigant Paris. Thank you! Opinions are my own.
Aaron Potterman, Contributor and Vintage Perfume Expert
Art Direction and written contributions: Michelyn Camen, Editor in Chief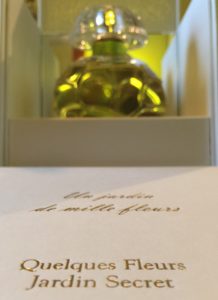 Houbigant Quelques Fleurs Jardin Secret Extrait de Parfum photo by Aaron
Thanks to the generosity of Houbigant Paris USA we have a 100 ml bottle ($600) for a registered US reader, (please register so your comment counts here). To be eligible, please tell us what you thought of Aaron's review of Quelques Fleurs Jardins Secret Extrait de Parfum,and your favorite Houbigant Fragrance. The draw closes 10/29/2017
Please follow us on Instagram @cafleurebon @houbigant_paris and @maison303. Have your comment count 2x and Like HOUBIGANT PARIS on Facebook here.
We announce the winners on our site and on our Facebook page, so Like Cafleurebon and use our RSS FEED…or your dream prize will be just spilled perfume