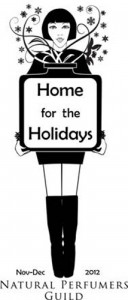 It seems that every season has its share of olfactory delights: the salt air and hot grasses of summer, the blossoms of spring, fall's burning leaves, and the crisp clean air of winter. Added to the delights of fall and winter, though, are the cozy delights of Holidays. Almost everywhere in the world, autumn and winter bring the joys of celebration, whether it is to give thanks to harvest, honor deities, or acknowledge the change of seasons and return of the sun. With those celebrations comes feasting, ritual, gift-giving, and family, with their related aromas of cooking, incense, a warm hearth, and the outdoors brought inside.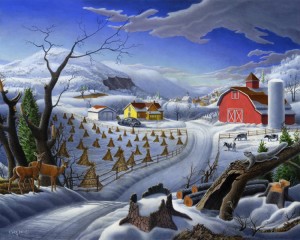 Rural Winter by Walt Curlee
Can anything beat the smell of a turkey in the oven, pumpkin pie, mulled cider, and a fresh Christmas tree? Having been raised in the United States, these are the scents of the holidays for me. The first whiff I get of that fresh-cut balsam in December sings to me of the joys of winter and the coming celebrations. Last Christmas, I spent the day by myself for the first time in my life, and my little festive tree, puffing out its beautiful aroma, was my companion on a day marked by an absence of the loneliness I was sure I would be drenched in, replaced by a true peacefulness and joy. The next day, I cooked for my friends and family, filling the house with scents of rosemary potatoes and roasted meats.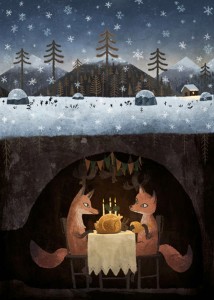 Winter Foxes by Chuck Groenink
I looked forward to participating in the Natural Perfumers Guild 2012 project, Home for the Holidays, which pairs bloggers with natural perfumers who have made home scenting products for the project. I regularly scent my home with incense and candles, and was interested to see how a candle made from all-natural ingredients would smell. I was lucky to receive the "Exotica" candle made by the talented perfumer JoAnne Bassett. Although a bit disheartened at first by the absence of any aromas I associate with the holidays, save the bright scent of fresh citrus fruits, I came to understand that this candle is made to complement the existing smells of the season, rather than compete with them.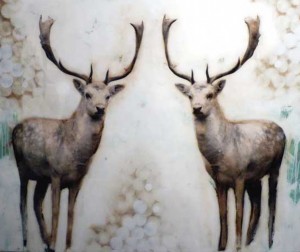 White Valley by Anke Schofield and Luis Garcia-Nerey
I have burned "Exotica" for several hours in my home. It takes a little while to get going, but then has very good throw. Its aroma is delightful and as I go about my business I will get a waft of sandalwood, or a refreshing whiff of honeyed orange. The aroma isn't overpowering like some can be, and I can burn it for a long time. I am imagining it in combination with the crisp scent of fir and I think it would be delightful. The scent of the tobacco will make me think of my father and the many boxes of cigars he would receive for Christmas. The touch of floral jasmine will remind me that spring will come soon, but it is faint enough that I will also remember, not too soon.
Just for kicks, and because I am a die-hard perfumista, I dipped my finger in the melted candle and smeared it on my wrist, then my other wrist, then the backs of my hands. It is made from soy wax, so is perfect to wear and actually rubs in with just a faint trace of stickiness. It has a beautiful aroma on skin, too, with that slightly scorched scent of something that has been on fire.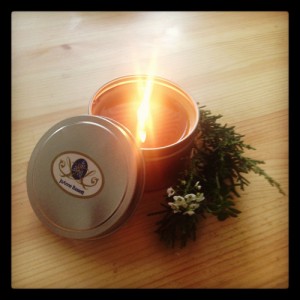 If you like home scents, or have been avoiding them because of the proliferation of synthetics, I recommend one of these candles. They are hand made with non-GMO soy, with notes of wild orange essence, jasmine grandifolium, tobacco absolute, and sandalwood, and are 100% natural. They are available in a 6 oz. travel tin or 8 oz. gift-boxed glass cube.
I received my candle from JoAnne Bassett, and she has offered a 6-oz travel tin to one lucky reader. Let us know your favorite aromas of the holidays, and if you use home scenting products. We will draw one winner on November 4, 2012.
We announce the winners only on site and on our Facebook page, so Like Cafleurebon and use our RSS option…or your dream prize will be just spilled perfume.
-Tama Blough, Senior Editor
Please check out the other participating blogs in The Natural Perfumers Guild Home For The Holidays internet event listed below: