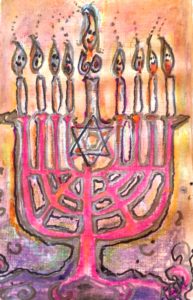 Now we get to the Hanukkah perfumes. Well, if you're lucky (and your spouse/or special someone) just happens to have an empty credit card or two) you may end up with eight new bottles of fragrance by the last night of the holiday, one for each night of the holiday. Most importantly however is the realization that many of the ingredients used in 164 BCE as anointing oils (perfumes) for ceremonial purposes and also by citizens to help mask the overwhelming scent of day to day life, sweat, dirt, barnyard type odors and of course effluvia, are still in use today. The Talmud (the Jewish "rule book" if you will) stresses the importance of scenting by stating "Fragrance is that which the soul benefits from, and the body does not.", and offers 5 different prayers for various scent genres i.e; floral, woods and bark, herbs etc… and a generic blessing for other unattributed scents… I present "The Eight (Plus One) Hanukkah Perfumes, all still use a predominant ingredient from over 2000 years ago…
Happy Hanukkah!! The last night is tonight December 20!!!
The random winners are yeyeandrew who won Amouge Memoir Woman, Nikki who won 4160 Tuesdays Centrepriece, Old Herbaceous who won Villa of The Mysteries 30 ml of Carthago Delenda Est and Andigirl who won 1 0z DSH Perfumes Sienna. Please email michelyn at cafleurebon dawt com with the exact name of your Hanukkah perfume as your subject and your complete mailing and phone details by 12/21/17 6 PM EST. This is a deadline and no exceptions if you are late or misspell CaFleureBon. Please use your email from your comment so we know it is you. A thank you for the generosity of the sponsor would be appreciated in your email as well. Please note that due to Holiday season there may be a delay in mailing from the Company. PLEASE NOTE THAT THE LOG-IN FOR OUR SITE IS RIGHT BELOW OUR AWARDS ON THE UPPER RIGHT TO MAKE IT EASIER TO NAVIGATE.
We announce the winners only on our site and on our Facebook page, so like Çafleurebon and use our site feed…or your dream prize will be just spilled perfume.