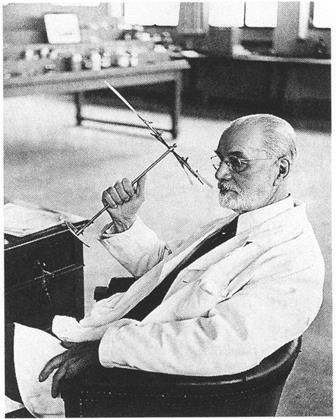 Jacques Guerlain 1912 (courtesy of Fragrances of The World
This year we fête the 100th birthday of iconic Guerlain Mitsouko created in 1919 by Jacques Guerlain. She is equal parts Bête Noire and Holy Grail – largely dependent upon the nose in question. What is incontestable is her global stature: revere or decry her, Mitsouko is a Regent Among Regents. I feel humbled beyond measure in my attempt to pay her fair due. There are doubtless more scholarly individuals whom you will peruse this year sharing their detailed observations; my objective is to impart my lifelong passion and explore her with you.

Images of an immense numbered Baccarat bottle Ida purchased 32 years ago on Cape Cod for $135.00!!!It's numbered 831. It appears to be from 1919
At age eleven I smashed my piggybank in order to purchase my first flacon of perfume: a Montre edition eau de cologne, its emerald green dot in the center emblazoned with the name Mitsouko. All my monies accumulated from baby-sitting, chores, etc. vanished in one go with no attendant regrets or remorse, for that matter. I had smelled every Guerlain available in a shop with my mother (adoring them each for a multiplicity of reasons), but it was Mitsouko which bewitched me on an intimate level; I came back later alone, sweaty palms and all. She was to follow me for the next 54 years (and hopefully then some) in lean years and times of plenty. Guerlain Mitsouko became the Scented Skein which would inextricably bind me to acquaintances, friends, lovers, husbands, children and complete strangers. Blessed be the tie that binds.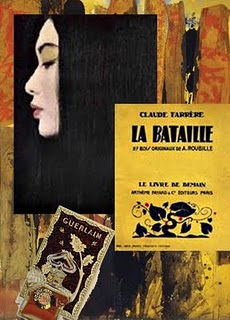 via flickr
Soyons bref: Mitsouko's name traces back to the exquisite young wife of a Japanese naval officer in the 1909 novel La Bataille by Claude Farrère; its locus is Tsushima, Japan 1905 during the Russo-Japanese conflict. Mitsouko is presented as a tragic heroine, an object of passionate desire – to her husband, the painter who creates her portrait for him and the Royal Navy liaison officer who secretly loves her (I won't spoil it for you. Let's simply agree that it ends badly.). Farrère was friendly with Jacques Guerlain: a few years earlier, the novelist refers to Jacques' famous Uncle Aimé's 1889 first masterwork Jicky, and Jacques returns the favor in kind. There are several plausible translations of the name Mitsouko, but the most probable is that of secrecy or mystery.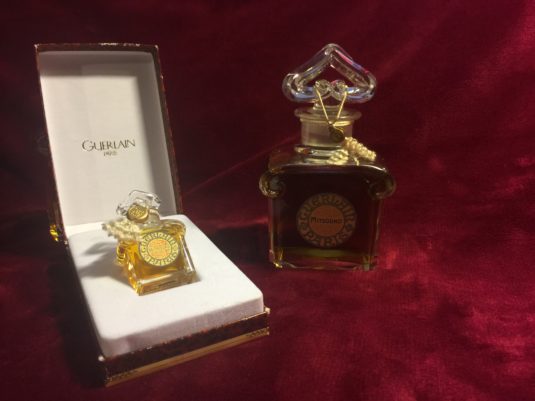 7.5 ml vs 250 mls
When literary references cross my mind, my go-to comes straight from John Fowles's 1963 debut novel The Collector. Its protagonist is an avid butterfly collector, a shy clerk who wins the football pools and is obsessed with beautiful art student Miranda – whom he abducts and holds captive in a remote ramshackle country estate he buys expressly for this purpose with his winnings. The tale is told from Miranda's perspective via her diary; he promises to release her but cannot bring himself to do it. In her desperate attempt to escape, a last-ditch ploy – she plans seduction. She prepares herself; the diary entry burned into my brain is this: "I dolled myself up after the bath. Oceans of Mitsouko." (I happened upon the novel a few years after it was in publication. You can imagine my reaction.)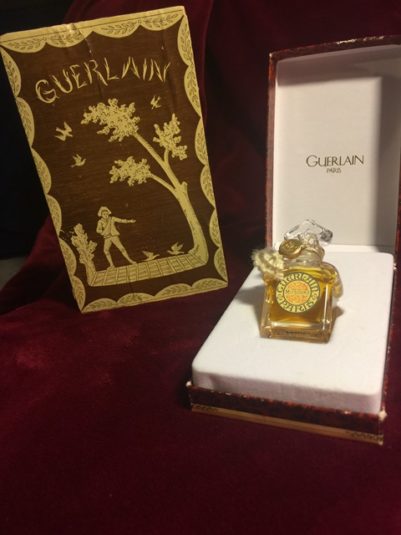 Original 250 ml wooden box, 1/4 oz. 1919 – pre 1947©
Guerlain Mitsouko stirs potent emotions and has historically been worn by passionate people, many of them well-known, some whose private lives were eclipsed by misfortune. It can't have been a fortuitous fragrance for sassy actress Jean Harlow: one of her husbands committed suicide and was reportedly found dead in a pool of her favorite perfume. Nor did it bring Ava Gardner happiness, she who was never quite lucky in love despite nuclearly erotic appeal, several husbands and many lovers. That cool drink of water Wallis Simpson, whose husband abdicated his throne for her love – was rumored to sport a concoction of 1/2 Guerlain Mitsouko, 1/2 L'Heure Bleue. Diaghilev was so infatuated with Mitsouko he scented his curtains with it. It is said to be Ingrid Bergman's signature scent; the roguish, legendary Charlie Chaplin wore it, and heaven knows – his lovers were legion. Never say that a straight man can't carry off Mitsouko with élan…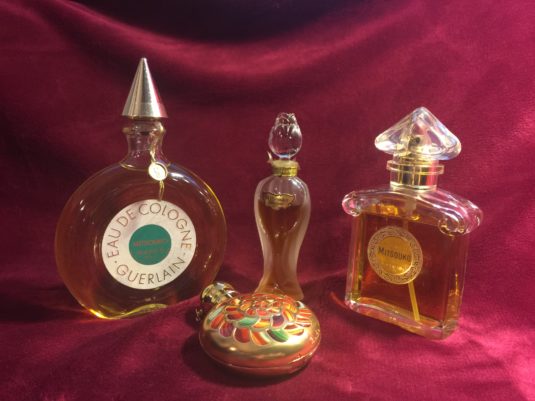 L-R Montre Mitsouko edc, Rosebud Amphore with ground glass stopper, 1980 edp, limited edition Meteorite presentation refillable©
What bestows that inimitable ripe peach-skin note which distinguishes Guerlain Mitsouko? Gamma undecalactone, otherwise known as aldehyde C14 or Persicol (one of the mythical prepared bases, Firmenich for example – employed by perfume houses, also utilized in Rochas Femme for its peachy/plummy richness). It's actually a lactone that imparts a fatty, waxy stone-fruit feel to fragrance which is tinged with coconut. We're aware that Mitsouko has been through many reformulations since its 1919 creation, an inescapable fact for many reasons: affordable, reliable availability of raw materials, IFRA regulatory statues, the desire to create a more contemporary perfume with broader appeal – these are why your variant may not smell the way it used to. It's not your imagination. Master perfumer Edouard Fléchier revamped Guerlain Mitsouko in the early 2000s to comply with IFRA regulations regarding oakmoss, was received with mixed reaction among the perfumisti. Taken on its own merit, it smells good but certainly not as rich as flacons from the 30s, 40s, 70s, 80s. Maître Thierry Wasser most recently tried his seasoned hand in 2013, placing renewed emphasis on citrus topnotes and revamping oakmoss with his own accord. Mitsouko here is refreshed, as if she has had a well-executed facelift: she glitters pointedly in the edt and is oomphier in the edp, characteristically noir in her newer perfume incarnation. My only reservation is that I find she wears a bit thin basewise after awhile; I miss her original inkiness and the constant evolution which was characteristic of the myriad bottles I've owned and loved. My Mitsouko is plush, rounded, and voluptuous in the initial spasm of desire and intensifies with inscrutable subtlety throughout its lengthy development.
Critics of Guerlain Mitsouko profess that she is too difficult, too dark, too cerebral/brooding. Mitsouko has never shown me that cheerless visage. My experience has been that of finding myself before I even knew who I was or whether I was lost. Hers is the countenance of sotto voce sensuality, deeply reflective and smoldering. A volitional surrender to the glorious unknown, palpable as a pulse: no fear, uncertainty as I softly tread the path from Eden to the Underworld. I am welcome in both environs.
Notes: bergamot, lemon, mandarin, neroli, peach,rose, clove, ylang-ylang, cinnamon, oakmoss, labdanum, patchouli, benzoin, vetiver
–Ida Meister, Senior Editor and Natural Perfumery Editor
All photos are of Ida's collection unless otherwise stated.