Roure Betrand Dupont image courtesy of Osmetheque and Pierre Gueros
In post-World War II Europe almost everything was being rebuilt from the foundation upward. The perfume industry was no different. Which as history shows is where these innovative inflection points reside. These years would see the rise of a woman chemist, Germaine Cellier; right next to someone who was creating a periodic table of perfume ingredients; Jean Carles.They would both be part of the Roure Betrand Dupont fragrance house. Their antagonism towards each other became so pronounced the head of the firm Jean Amic would have to give Germaine Cellier her own lab far away from M. Carles. Given the space they needed both have left some of the largest signatures in Twentieth Century perfumery.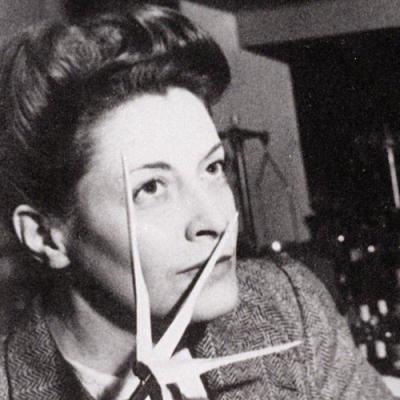 Germaine Cellier Image Wikipedia
Germaine Cellier was navigating the world during the War when she met fashion designer Robert Piguet. Up until this point in modern perfumery there were no significant women perfumers, chemists were frowned upon, plus her personality was brash.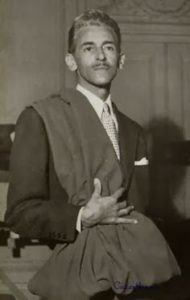 Robert Piguet fashion designer
It was only through someone like M. Piguet she was going to be given a chance. Any woman in the 1940's with a personality was always going to be whispered about behind her back. Mme Cellier not only had one she used it to gain entry into the most artistic salons in Paris; the exuberance of it would find purchase in her perfume signature.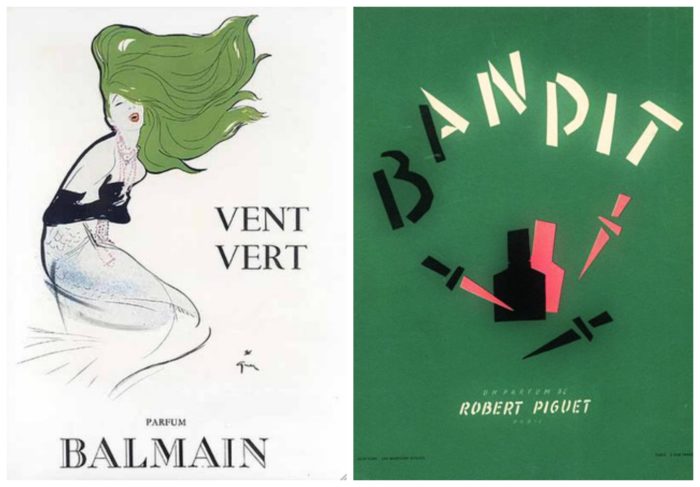 Vintage ads BalmainVent Vert (Rene Gruau) and Robert Piguet Bandit ad
Today we take for granted the concept of overdosing a particular ingredient or two. In her first perfume for Robert Piguet, Bandit, Germaine Cellier would use a heretofore unimagined amount of isobutyl quinoline to fuel the leather in that fragrance. For Balmain Vent Vert it was her use of galbanum in overdose. Both perfumes were celebrated for this quality of power from concentration. To use a metaphor from twenty years later, Mme Cellier was creating the perfume equivalent of Phil Spector's "Wall of Sound".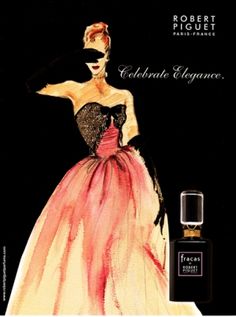 Vintage Fracas ad via wiki
The apotheosis of this is 1948's Fracas again for Robert Piguet. If I ever need Exhibit A for what I mean by overdose; Fracas is it. Germaine loaded up on tuberose absolute. Then in what is the key to her signature she embraced the problematic indoles at the heart of tuberose by adding in two other flowers known for their indolic nature as well; orange blossom and jasmine. The result of all of this was within the wall of scent there were fabulous nuances to be found; a raw green thread, a camphor-like breathiness, and rich oily butter. Musk comes to keep the indoles company over the final hours making sure this scented tune doesn't fade away quietly.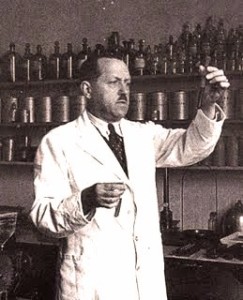 Image courtesy of Contributor Ermano Picco of Editor of La Gardenia nell occhiello
If Germaine Cellier was all about turning the volume up; Jean Carles was all about creating an exacting vision of perfumes as constructed from raw materials you understand through studying them. First, individually followed by matched pairs of contrasts. He would then create a chart which is essentially the perfumer's periodic table. Allowing for the perfumers he was training to work across or down rows for specific effects. It is a funny aspect that M. Carles' perspective is scientific to a fault but one of the sources of friction with Mme Cellier is her training as a chemist.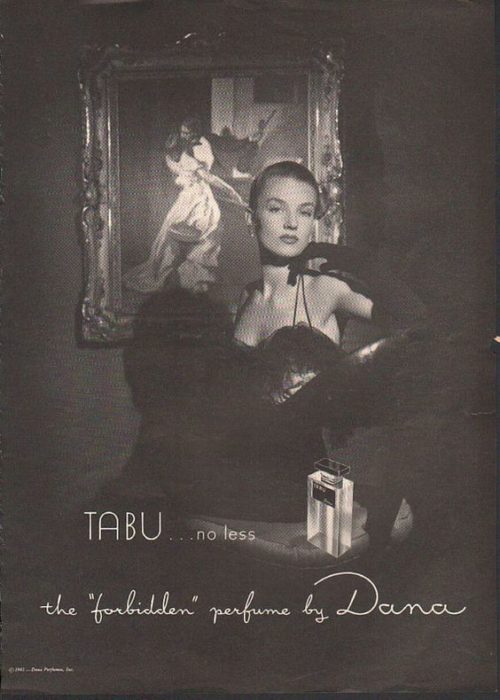 Original Tabu perfume ad by Dana 1940s from Vogue magazine
This perspective came from his experience creating perfume in the 1930's. The three perfumes he is known for from the pre-War period display his ability for the overlap of contrasts to form new accords. These also become the genesis of a library of perfume bases which allowed the young perfumers at Roure the ability to have a pre-made foundation to construct upon. The two perfumes he did for Dana; 1932's Tabu and 1936's Canoe were evolutions of the classic Oriental and fougere styles with the clarity of construction producing vibrant perfumes. It is 1937's Schiaparelli Shocking which shows it can create something all its own; even while retaining the precise building blocks M. Carles believed in.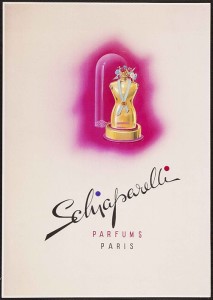 Vintage Shocking perfume ad – design bottle by Léonor Fini 1937
Shocking was meant to be the perfume version of Elsa Schiaparelli's trademark color, pink, she always wore. This wasn't just pink it was "shocking pink". M. Carles also wanted to use his ingredients to provide a perfume which lived up to its name. He would achieve as pronounced an intense effect as Mme Celiier did with Fracas but it doesn't come through overdose. Instead it comes through the careful positioning of each ingredient's effect with other ingredients causing an ever-widening circle of fascination. If we were teaching a class on how to build an over-the-top floral this is where we would start. Where M. Carles started was a couple of those indole-containing florals; narcissus and jasmine. Instead of letting the obstreperous indoles take over he inserts rose and muguet. They take the indolic duet and pull it into harmony with the rose. If M. Carles was pushing the concentration it would have been with the honey which drenches the rose. Then in a perfect example of what a little bit of an ingredient can do peach lactone closes the loop on all this forming an opulent honeyed rose. This ends on another of M. Carles bases; a classic chypre.
Those bases could arguably be said to truly be M. Carles signature as they would form the basis of many Roure Betrand Dupont perfumes. Mark prefers to see his signature like that of the jazz trumpeter Wynton Marsalis. By being able to experience every note being used the entire experience is transformed.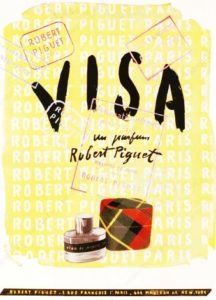 Vintage ad 1947 Piguet Visa We don't think Germaine Cellier and Jean Carles could have possibly collabrorated
One final note; which is a story we think is apocryphal but Germain Cellier and Jean Carles supposedly collaborated on Robert Piguet Visa in 1947. Based on everything we've read the antipathy between the two was real which makes me believe that Visa is not any kind of true collaboration. The overall construction feels more like part of M. Carles' portfolio than Mme Cellier's. Maybe she suggested to up the level of the synthetic musk Animalis in the heart but that's about all that feels like her signature in Visa.
These were two of the greatest perfumers of the mid Twentieth Century and their signatures are indelible.
–Mark Behnke Editor of Colognoisseur and Michelyn Camen, Editor-in-Chief