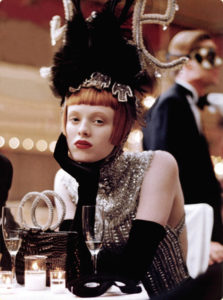 Karen Elson "Having A Ball"
They say you never forget your first time, and I remember cracking open my first niche perfume sample like it was yesterday, even though it was almost 10 years ago. A burning desire for a fragrance that didn't smell like Sunflowers or Eternity Summer led me to the last ditch effort Googling "perfume". 0.56 seconds later, I had about 23 million results and a few seconds after that I discovered there was such a thing as perfume blogs.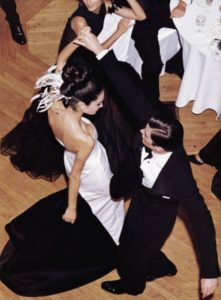 Shalom Harlow
And on several of these enchanted playgrounds, there was quite a buzz about a fragrance that I had never heard of. Words like "skank", "dirty panties" and "strictly Rated X" were being tossed around, and since the main reason I had googled perfume in the first place was to find something different, I decided to go for it, even though I was primarily interested in finding a rose perfume at the time. I promptly got a very rude awakening as to pricing in this newly discovered world of niche perfumery.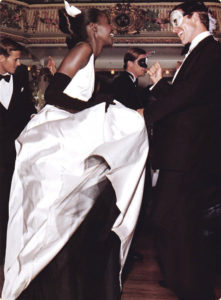 Kiara Kabukuru
I was wearing Joy, Opium and Lauren at the time, and my husband was appalled at how expensive they were; $265 was pretty much out of the question! Back to google I flew, and another magical world opened up before me: perfume decanters. In less than a week, courtesy of the fine folks at The Perfumed Court, my sample of this tantalizing potion was on its way to me. I called in sick the day it was scheduled to be delivered. And although I didn't realize it when I bought that sample, if ever there was a perfume worth losing my job over, it is absolutely, The Party in Manhattan.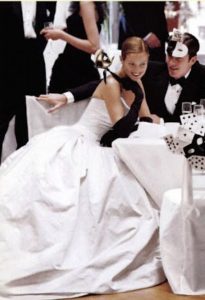 I know now that it's what is known as a fruity chypre, but I had never smelled anything like it at the time, and it literally took my breath away. I was inhaling so deeply and so often that I started hyperventilating, and had to sit down. I was still trying to figure it out when my husband came home a few hours later; all I could blurt out was that it reminded me of Aunt Joyce (she wore Tabu) and as Fate would have it, those were magic words.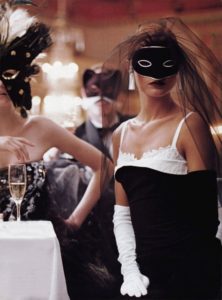 She had recently moved out of state and we were both missing her terribly; I pointed out that $265 was cheaper than two plane tickets to Atlanta, and thus began my first foray into Perfume Accounting. It was my signature for several years, but when I got half-way through my bottle and couldn't find it for sale anywhere, I started saving it for special occasions. I'm down to my last few drops, and even though my nose is more sophisticated now, I still can't pick out individual notes in this perfume I love so much; all I can tell you is that it's rich and decadent and it is sexy. It's a Grown Woman perfume, worthy of special occasions, and capable of making any occasion special; I imagine myself in NYC at a masqued ball showing too much cleavage even when I am mowing the lawn.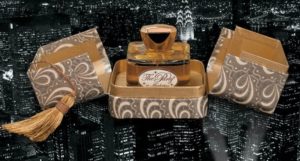 The Party In Manhattan is still sold online The Party Fragrance
Writer's Note: I know now that my first niche perfume hails from Bologna, Italy, is 100 percent botanical (really!!!) and can still be purchased on their site The Party Fragrance, although I cannot find it in the USA. And another observation… $265 doesn't sound that expensive nowadays does it? My Aunt Joyce passed away just two weeks ago and there's a party in Heaven where she is sashaying around, her Tabu wafting.
Tammy Schuster, Sr Contributor
Art Direction: Michelyn All Photos are from Having A Ball, US Vogue, December 1997. Photographer: Steven Meisel / Models: Carolyn Murphy, Karen Elson, Stella Tennant, Shalom Harlow, Kiara Kabukuru, Georgina Greenville, and Eugenia Silva/Styled by Paul Cavaco
Fragrant Awakenings was a series Tama Blough and I brainstormed and began back in May 2014 leading off with AndyTauer L'Air du Desert Marocain and Olivier Durbano Turquoise (June 2014). Our purpose was to spotlight perfumes that changed our perception of what we could or would wear. as well as the first niche perfume we fell in love with. -Michelyn Camen, Editor in Chief
Do you remember your first niche perfume /fragrant awakening?