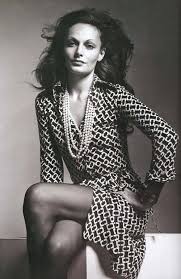 Diane von Furstenberg in her iconic wrap dress,1970s. Photo by Roger Prigent.
As a pale brunette in the heyday of Farrah and Cheryl, I knew by my late teens that California girl was not a style I'd ever pull off. My solution was to invent an opposite, attention-grabbing persona: New York sophisticate, the Diane Von Furstenberg of Woodlands High, complete with black patterned wrap dresses, burgundy lips and a cloud of Tatiana. Perfume thereafter became a tool of self-definition for me.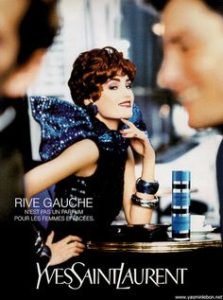 Yasmin le Bon: Vintage Yves Saint Laurent Rive Gauche fragrance.1992
I had always liked the idea of a signature scent, an olfactory communication to the world of self. Rive Gauche was my first, followed by a small handful of others that marked different chapters of life. But after emerging from a difficult period some twelve years ago, those old friends no longer fit. I needed new but singular. This meant it wouldn't be a department store scent worn by millions. It meant niche.
Photo: Oudimentary Private Reserve Burmese Raw Oud
After stumbling onto the proliferation of perfume blogs while looking for inspiration, I was introduced to a new wave of independent perfumers who were experimenting with strange, alchemical sounding notes like black hemlock, smoke, wet earth, metal. The strangest of all was oud, (yes now even Avon has an oud) a resin derived from agar wood infected with a specific mold. Oud was expensive, rare and weird. It piqued me, even if I was not at all sure I would like it.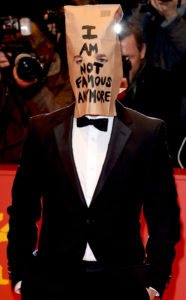 .Shia LaBeouf wearing a paperbag ove his head after the premier of Nymphomaniac in 2014
Remember that boy in high school who irked you to the point of distraction but later found you couldn't stop thinking about? My initiation to Montale White Aoud was a bit like that.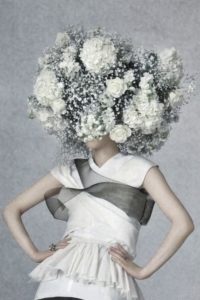 Laura McCone and Luke Cartwright by Tim Walker for Casa Vogue

Out of the bottle, White Aoud smelled oddly fungal and antiseptic at the same time. Wild mushrooms, wet bandaids. Gingerly, I dabbed a bit on my wrist and expected disappointment. But after a few moments, a waft of something extraordinary reached me. The off-kilter notes I had immediately disliked morphed into cream and sap and skin and sweat. White Aoud was exploding into beauty. I felt as though I was watching time-lapse photography of a white flower blossoming, but with my sense of smell rather than my eyes.

The notes for White Aoud are "Damas Rose, Safran, Oud, Cardamom, Jasmine, Patchouli, Mysore Sandalwood, Precious Wood, Amber, Vetiver, Vanilla, Labdanum." The medicinal opening fades on the skin quickly, although the oud remains prominent throughout White Aoud's development. It melds with a cushiony red rose, all petals. The rose is then joined by a smoky vanilla reminiscent of the scorch of crème brulee. Dusty saffron follows and along with the slight scratchiness of sandalwood. As the perfume dries down, I can just detect a vegetal hit of vetiver. The overall composition is opulent, strange and frankly sexual, the only perfume I have known that seduces compliments from men and woman each time it is worn.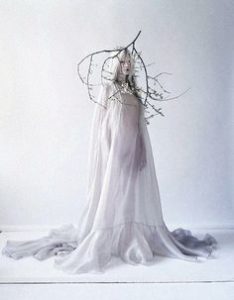 Kristen McMenamyTim Walker for The Sunday Times Style 2013
White Aoud is defined by contradictions: earthy yet ethereal, deeply rosy but not floral, creamy without sweetness, sensual yet cozy. If fallen angels have a perfume, this is it. White Aoud was unlike anything else I had ever tried. It was unlike anything I had ever been.
Montale White Aoud is available at Osswaldnyc
Lauryn Beer, Contributor
Art Director: Michelyn Camen I chose many photos from Tim Walker. I find his work beautifully strange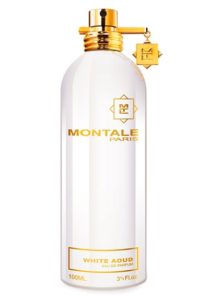 Thanks to the generosity of Europerfumes, The US distributor of Montale we have a 100 ml bottle of White Aoud for a registered reader in the US. To be eligible please leave a comment with what appeals to you about White Aoud based on Lauryn's review, your first oud perfume or strange niche scent and your favorite Montale Fragrance . Draw closes July 3, 2016 .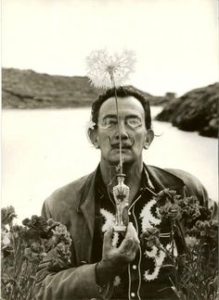 Irving Penn Salvador Dali- Watch for our new face book page Fragrant Awakenings soon
Editor's Note Fragrant Awakenings was a series Tama Blough and I brainstormed and began back in May 2014 leading off with AndyTauer L'Air du Desert Marocain and Olivier Durbano Turquoise (June 2014). Our purpose was to spotlight perfumes that changed our perception of what we could or would wear as well as the first niche perfume we fell in love with. Tammy Schuster's was The Different Co. Bois d'Iris, which she wrote about in March 2016. Lauryn returns after several years of hiatus as a weekly contributor. Please give her a warm welcome -Michelyn Camen, Editor in Chief
We announce the winners only on site and on our Facebook page, so Like Cafleurebon and use our RSS option…or your dream prize will be just spilled perfume