I recently received the last drops of two samples from a heretofore unknown perfume brand Undergreen. They were extremely interesting fragrances when I put those last drops on each wrist. I enjoyed the scented reminder every time I brought my wrist close throughout the day. It was only later when I got home and was looking up more about this brand that I found out these were natural fragrances. I know how beautiful and sophisticated natural perfume can be but this was an interesting moment for me because these were typical manufacturers samples from a Paris-based fragrance and I'm not used to finding natural perfume in that kind of surrounding. I was intrigued enough to spend some time tracking down more of each of these two fragrances Black and White, which were released in 2011. While I was doing that I was also able to get samples of the two newest fragrances from Undergreen, Pink and Gold. After wearing all four of these I believe Undergreen founders Patrice Cardonoso and Jerome Bonnet have a very clear vision for this brand and these four fragrances promise a virtual color wheel of quality to come.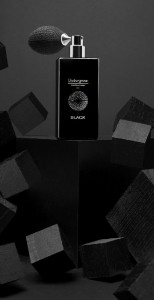 Black was the perfume which truly started me on this Undergreen journey of discovery as that single drop I had at first was beautifully redolent of licorice. I love good licorice fragrances but one drop was not enough for me to know if it was really that good. Once I got a full sample and was able to wear it for a couple of days I found out Black was truly a meditation on black notes in perfume. The first black is black pepper which is joined by the zippy quality of cinnamon and ginger. The latter two spices blunt the nose-tickling quality and accentuate the core of the peppercorn. I was reminded of a high quality steak au poivre during this early phase.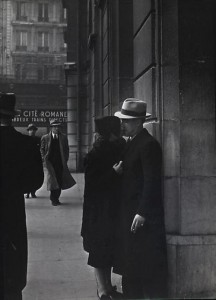 George Brassaï
The heart is where the licorice which beckoned me was present and it doubles down on the black with a rich coffee note to go along with it. At this point I had a trio of black notes playing well with each other but perfumer Fabrice Olivieri wanted to add one more black note in the base and he chose a very deep oud to add the final bit of darkness. There is some incense and wood also but at the end Black is all about the four black notes. The one thing I found funny when reading the PR was that Undergreen markets this as a woman's "weapon of seduction". All the time I was wearing this I kept thinking what a great romantic fragrance this would be for a man to wear.
The companion for Black was White and it was the polar opposite of its partner. As you also might imagine it was full of white flowers but it starts with a very unique white note, coconut. This is the rich dried copra version of coconut which contains a little nut as well as sweet. Then the white flowers start showing up as orange blossom, jasmine, tuberose, and ylang-ylang gather together in the heart to form a white flower bouquet. M. Olivieri was also the perfumer for Black and he really pulled this together into a beautiful whole. If I was looking for it the first time this is where I should've noticed the natural source of these white flowers. There is one thing I have really come to appreciate about the natural perfumes is there are little grace notes floating on the periphery when dealing with high quality natural ingredients and in White it is those grace notes on the perimeter which add the extra delicacy to the heart of this. White finishes on a rich bed of orris butter and styrax and it is an interesting way to close something so white.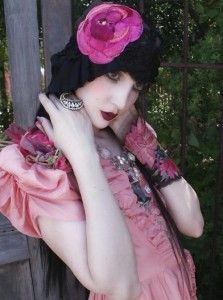 The most recent release was Pink and the perfumer for this is Cecile Zarokian. Mme Zarokian has been one of the more adventurous perfumers out there as when last I was sniffing one of her creations it was from the IP project where she created six fragrances in collaboration with illustrator Mathieu Appriou. Those perfumes were meant to evoke emotion and perhaps controversy.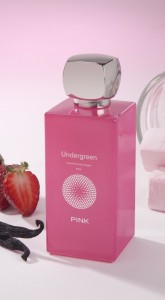 With Pink, Mme Zarokian is trying to evoke something very pretty in mood but underneath the pretty Mme Zarokian also likes to add a bit of orthogonal grit and that makes Pink something more than just pretty. The top notes are a good example as the citrus components of orange and citron are ascendant but she chooses elemi resin to add a significant curl of incense to the brightness of the citrus. Rose and strawberry return Pink to the pretty place but clove reminds you all is not sweetness and light. The base is the most interesting choice as Mme Zarokian turns Pink into a full out gourmand in the end with vanilla, caramel and praline offering a sweet olfactory repast. This turns Pink into something much more than pretty and into something quite special.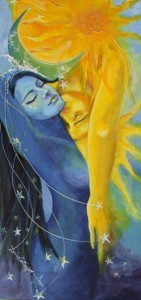 The next release from Undergreen will be Gold and I was able to get a preview sample of this new fragrance. The perfumer is Fabrice Olivieri again and he once again seems to be inspired by the color in the title. Gold is the glow of the sun just prior to setting as it glows large and golden above the horizon. There is a warmth and life to this perfume which is precious. M.Olivieri captures the brightness with a citrus mélange of lime, lemon, and grapefruit. Cardamom swirls through Gold and picks up ginger and orange blossom along the way. This is when the sun is at its fullest as the orange blossom is the central note and the ginger and cardamom add a spicy energy to it. If the top was a citrus fest the base is a festival of resins as myrrh, labdanum, and benzoin capture the fading warmth of the sun and the oncoming sweetness of the night. Gold feels every bit as precious as the metal which carries its name.
All four of the Undergreen fragrances have all-day longevity but they have very little sillage. These are very much skin scents and if you want to make more of an impression it will require a bit more application to do so.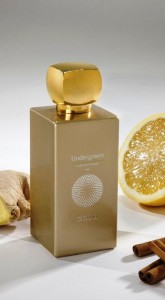 I do enjoy discovering new lines of fragrance and Undergreen is probably my favorite new discovery this year. I especially like the two most recent, Pink and Gold, and can't wait to see what the next colors to come from Undergreen will be.
Disclosure: This review was based on samples provided by Undergreen.
Undergreen Pink and Gold will be available worldwide September 2012. Thanks to Undergreen we have a draw for a sample set of all four fragrances. To be eligible leave a comment on which Undergreen fragrance you think will be your favorite. We will draw one winner on August 1, 2012 via random.org.
We announce the winners only on site and on our Facebook page, so Like Cafleurebon and use our RSS option…or your dream prize will be just spilled perfume.
-Mark Behnke, Managing Editor
Art Direction: Michelyn Camen, EIC