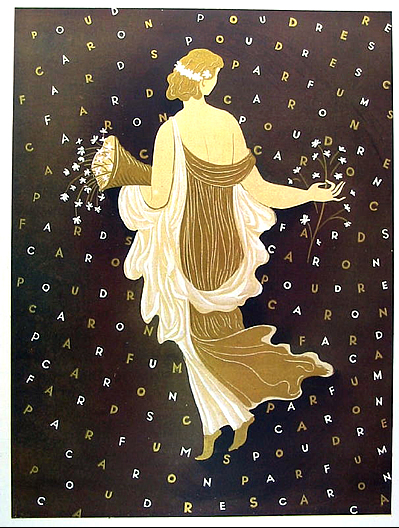 Vintage Caron ad
The era of the 1920's must have really been something to behold. I sometimes wish I could just jump in a time machine and go back for a time and experience it myself. Alas, that dream is nowhere near possible currently, but, in a certain way; we can indeed go back in time through the reference of smell. Today we take a venture back to that decade with a the spritzing of Ernest Daltroff's Acaciosa as interpreted in the modern day urns of Caron.
Monique Isaac Maimon
Of all the offerings of Caron I must admit there is not one that I can pick out and declare as my absolute favorite. To do so would be a gross understatement of the grandiose greatness of every single last creation of the house (yes, original and reformulations-vintage and modern). However, Acaciosa to me is one of the best representations of the house and of the era it was created. The sheer artistry of it is beyond words. The sum of its parts defies classification in many senses of the word "classification". It's not really Oriental, I wouldn't call it a Floral-Aldehyde either…what I will call it is Floral Divine.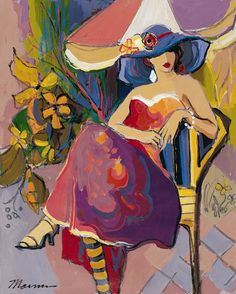 Jasmine by Isaac Maimon
Acaciosa starts out with an absolutely phenomenal blast of floral powdery lusciousness. It smells absolutely luxurious and unmistakably distinctive to Caron. Hints of rose, orange blossom, and jasmine come into the mix very soon making for a very vivid discourse in my mind on just how clever Ernest Daltroff was. There is something very sweet going on here that is very unique and intriguing. There is a lack of citrus notes, but fruity sweetness is most certainly evident acting to bind the florals together in an almost syrupy fashion. The said note is pineapple aldehyde augmented with a touch of additional floral aldehydes which acts to fill in gaps and add to the overall bouquet.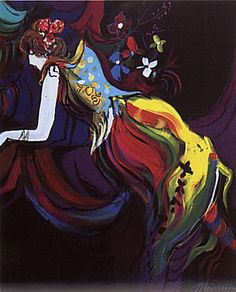 Cabaret Isaac Maimon
It masterfully interweaves between the notes as to add lift and dispersion to the florals. Frankly, it's brilliant. It gives the perfume an air of opulence that can hardly be matched and a unique quality that even to this day has not been matched in my opinion. It's bold and it's beautiful…as bright as a sunny day, but deep as the darkest star filled night.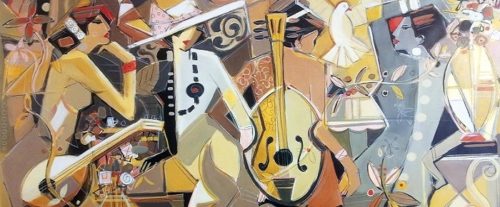 Isaac Maimon Four Muses
The middle notes are where my heart absolutely sings with happiness at the "music" presented to me comes into the full fruition after the amazing overture set the stage for the dynamic animalistic carnal delights to come. Through the bouquet of flowers a hint of civet comes into the mix acting to lift the more dirty aspects of jasmine. The orange flower is still evident at this point and in certain respects calls to mind a tempered Narcisse Noir (glorious).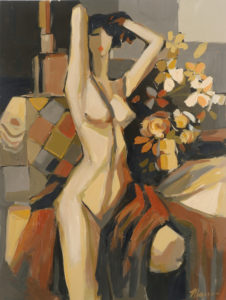 Sheila by Isaac Maimon
As time goes on we move into even more sensual territory as hints of ambergris marry with leather for a harmony that is very rich. The leather accord here brings to mind Tabac Blonde, but again presented in a tempered fashion. It's nearly as if Daltroff put together ideas of previous compositions and improved upon them in a new softer more sensual composition with absolutely glorious results. A sweet muskiness begins to arise after about two hours adding a sexiness to composition making for a very sultry affair indeed.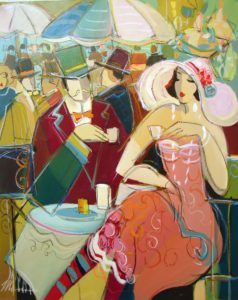 La Dame Rose Isaac maimon
As we move into the final act a warm and sweet vanilla bean begins to dominate as it joins the mix of the animalistic/leathery aspects of the mids. There are touches of amberish sandalwood weaving here and there which actually acts to clean up the dirty aspects in a soap meets incense like fashion that is very interesting to behold. It all so very moving and seductive in the most romantic of ways- we are talking romantic sensualism of the highest magnitude. It's oh so loud, but very discreet at the same time. It's sort of like a hot affair that goes on and on, but is sweet and fulfilling every single time. One thing is for sure, this perfume is masterfully executed and never, ever dull; moreover, it's oh so very Caron.
Aaron Potterman, Contributor and Vintage Perfume Expert
Art Direction: Michelyn who chose the paintings of Isaac Maimon, an Israeli Artist who celebrated la vie francaise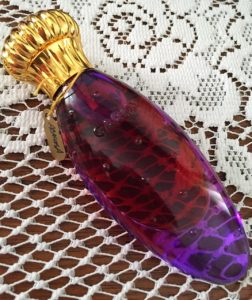 Caron Acacisosa Parfum in special purple glass flacon photo Aaron
Disclosure: This review is based on the 2016 edition obtained from the NYC boutique.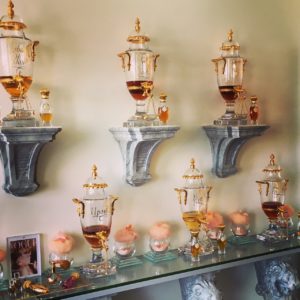 Photo of The NYC Boutique by Hernando
Editor's Note: CARON has moved their USA/ New York Headquarters and showroom. Brand ambassador Diane Haska, a friend for over ten years, is available to show you the line by appointment only. If you are planning to visit New York City or live in the tri-state area it is so conveniently located. One Grand Central Place| 60 E 42 St/54th Floor | New York, NY 10165
You can order any current CARON fragrance including the coveted urn perfumes by calling Diane (212) 308-0270 | (877) 88-CARON |dhaska@alesgroup.com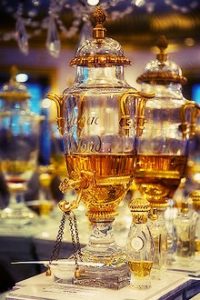 Thanks to THE AMAZING GENEROSITY of Diane Haska of Caron Paris USA we have a random draw for a registered USA CafleureBon reader of 7.5 ml of Acaciosa you are not sure if you are registered click here you must register on our site or your entry will be invalid). To be eligible please leave a comment with what you enjoyed about Aaron's review, and if you have a favorite Caron Paris Urn fragrance. EVERY REGISTERED READER who leaves a comment in the CON USA will win a sample of their choice will send a sample of the following fountain fragrances that you will choose: Acaciosa, Poivre , Tabac Blond, Farnesiana .N' aimez Que Moi OR En Avion
PLEASE LEAVE IN YOUR QUALITY COMMENT WHICH SAMPLE YOU WOULD LIKE TO WIN OF THE SIX ABOVE.
You can follow us @cafleurebon @maison303 on Instagram. Check out on @caron.paris on instagram as well.
We announce the winners on our site and on our Facebook page, so Like Cafleurebon and use our RSS option…or your dream prize will be just spilled perfume