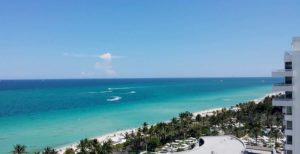 View From The Fountainbleu Hotel Photo Elise
The World Perfumery Congress is the global stage for the industry, from ingredients to technology and it was in Miami Beach, just an hour from my home. Three days of awards, topical subjects, seminars, meeting suppliers, global thought leaders and well known perfumers were key note speakers filled every hour of each day.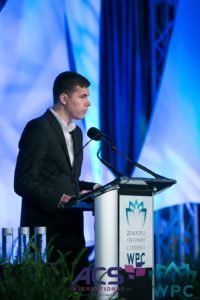 Jeb Gleason of Allured OpeningSession WPC
It is an Event held evry two years on a grand scale and I am thrilled to share all three days with you. Each day followed a format opening with a seminar, followed by a break in the Exhibition Hall and ended with workshops or panel discussions. We were discouraged from taking photos, so some of the images are from the World Perfumery Congress unless otherwise specified
Monday Morning, June 13. Jeb Gleason of Allured, Editor in Chief of Perfumer & Flavorist, Program Director for WPC 2016 introduced the theme of the seminar Scents and Sustainability: A Responsible Future for Fragrance. He spoke of the unifying beauty and humanity of the art of perfumery.
Andrea Alvarez, Vice President of Marketing, Natura, led the audience in a moment of silence for the victims in Orlando. She spoke of partnership with local communities, giving several examples. Natura, a Brazilian cosmetics company and leader in sustainability, is working in the Amazon at their Ecoparque facility to support local communities in producing nature inspired products from sustainably-sourced Amazonian raw materials.
Achim Daub, Global President Scent & Care, Executive Board at Symrise spoke about working with local communities. The company began a project in Madagascar on sustainable vanilla production by working with farmers and villages to support them with knowledge and training. They added vetiver, ginger, and cinnamon bark among other products to support the farmers throughout the season, not just for the vanilla. Symrise is also working in Brazil with Natura on sustainable natural products, many from fixed oils and butters native to the Amazon. The theme of the initiative is Source to Scent.
Elise Pearlstine with David Apel of Symrise (photo Elise)
Exhibition Hall: There was a break each day between the keynote talks and the afternoon sessions to allow us to visit with the exhibitors. One of the first people I saw on Monday was David Apel, Vice President and Senior Perfumer at Symrise. David has created such scents as Tom Ford Private Blends Purple Patchouli; Tom Ford Black Orchid; Avon Passion; Bond No. 9 Bleecker Street, Jo Malone White Jasmine & Mint and most recently Digitalis for Parfums Quartana. He spoke eloquently about working with local communities in Madagascar, reminding me that it all started with vanilla. The key is traceability, each vanilla bean is stamped with a number that follows it from the vine to the product. Cinnamon fields and vetiver plantings are traced by area, giving the company information on the influences of different areas and fields. David was one of the perfumers from the company to spend time 'on the ground' in the fields. It shows in his intimate knowledge of the ingredients and how they are grown. While I was there, Pierre Guéros, also of Symrise, known to our readers for his recent article 1000 Days in Dubai and I found each other where we caught up a bit and promised to chat more.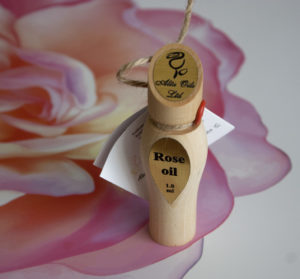 Alta Oils Bulgarian Rose -Elise
Then it was time to visit the many booths arranged in lanes throughout the exhibit hall. There were essential oil producers from Bulgaria with roses featured prominently in their signage and literature, the rose headbands on the women in the booth were a definite attention-getter. I spent a bit of time with Alta Oils and enjoyed their rose otto as well as a lovely wormwood and the hard-to-pronounce but intriguing zdravetz. They courteously presented me with a gift of rose otto and my very own rose and bead bracelet. My most soothing experience was in a booth at the end of the hall with Hussein A. Fakhry, A. Fakhry & Co from Egypt. He tested my nose with a few fragrances as he softly spoke of their characteristics. Each sample was dipped with two strips and we enjoyed our sniffing experience together. The surprise aromatic? Stinging nettle absolute.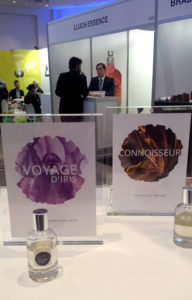 TFS Indian Sandalwood winner Voyage d'Iris by Jennifer Jambon Photo Elise
I was excited to see the finalists and winner of the TFS Indian Sandalwood Perfumery Competition held by TFS – a company growing sustainable Indian sandalwood (Santalum mysore) in Australia—and the American Society of Perfumers. There were five unique takes on sandalwood reflecting the perfumer's experiences, country, and the beauty of sandalwood. The winner was a lovely soft floral, Voyage d'Iris by Jennifer Jambon, Molton Brown, London. It is evocative of the powdery and dry desert combined with green and floral notes. The other four finalists were Shankar by Gael Montero, Givaudan, Paris which was inspired by India itself with notes of masala chai and incense; Santuario by Vanessa Lopez, FSS, New York in memory of her trip to China with green trees, flowers, and sandalwood incense honoring the departed; Connoisseur by Meabh McCurtin, IFF, Amsterdam, rich as aged cognac with a matching warmth that connected with the earth and nature; and Kyoto Green by Haruki Karamura, Hasegawa, Tokyo which was brilliantly green and pure, inspired by the forests of his hometown of Kyoto. I also enjoyed speaking with Danae Christensen, Marketing & Communications Manager at TFS about their sustainable practices while looking at lush photos of sandalwood plantations.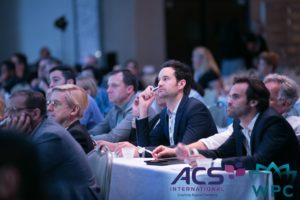 Mathieu Nardin of Robertet "smelling at the seminar"
Monday Afternoon: The first session of the afternoon featured unusual blossoms, jasmine sambac, star flower, and coffee blossom for perfumery. Felix Buccellato Founder and Perfumer of Custom Essence Inc. spoke about creating the scent of the flowers by identifying the various molecules that blend to make the white flower fragrances. Speaking of another unusual white flower, Andrea Frances from Nobs Naturals took us to the coffee fields of her native El Salvador and the beautiful white flowers that give rise to the bean. It turns out that you can have your flower and your coffee as well, harvesting the flowers carefully will allow the bean to develop, giving plantation owners two products from the coffee bush.
Also in the session, Torsten Kulke, Senior Vice President Global Innovation & Regulatory Fragrances & Oral Care, Scent & Care Division of Symrise called sustainability an uber trend and reminded us that, although fragrance is a small commodity, it is important to keep sustainability in mind for all aspects from natural to chemical. Fragrance currently uses about 80% synthetics from fossil fuels, 15% from renewables, and 5% from natural ingredients. Each method has its challenges and solutions, from green chemistry to high impact molecules that work great in a lower concentration, to sustainability in producing naturals. What is sustainability, you ask? Well, it's complicated and each aspect of production has its own techniques and challenges. More about this later.
The last speaker of the day was Xavier Ormancey, Director of Research and Innovation with Yves Rocher who spoke on Botanical Genius—The Language of Flowers. Flowers can communicate love and desire, combining molecules to give us stories that can be woven into perfumes. There is also comfort in botanicals such as catnip and danger in the attraction of an orchid.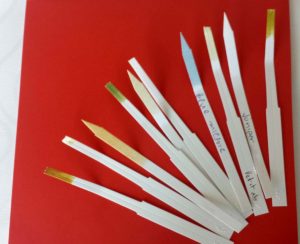 scent Blotters Photo Elise
Tuesday Morning June 14: Well Known perfumer Bruno Jovanovic, IFF and Iain Stevenson, Prestige Fragrance Design Leader Procter & Gamble spoke of The Power of Scents and Brands. Bruno and Iain spoke in turn about their many years of experience in designing fragrances for the fashion industry. It's all about working with the client to interpret their brand so they can bring the brand to life through fragrance, going beyond what they called "sniff and judge" into a true collaboration. Both spoke from long experience about listening to the client, finding the story, and recognizing the moment of truth when a fragrance is finished.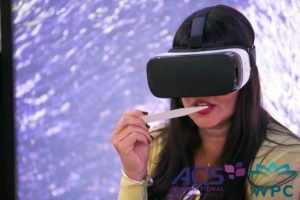 Lavender Field Experience
Exhibition Hall: Inspired, I headed back to the exhibit hall for more sniffing. Before selecting a place to sit and sniff, I wandered around looking for trends. The first thing I noticed was that there seemed to be many versions of pink pepper, both distilled and as a CO2. There were also quite a few molecular distillations—a process that allows decolorization and the isolation of a particular effect, like heart notes. At Indukern they showed 5 products developed with perfumers for the solubility and soft colors. In addition to a lovely pink pepper, they had Copaibarol, juniper berry CO2, a colorless mandarin, and cascarilla, woody and pepper, from Peru. I also spoke with Christina Agapakis, Creative Director at Ginkgo Bioworks, about their projects using fermentation to create fragrance ingredients. I loved hearing about the fascinating possibility of using genetic information from extinct flowers plus perfumers to bring back lost fragrances. The Givaudan booth was very popular, everyone lined up for the virtual reality tour of lavender fields being harvested.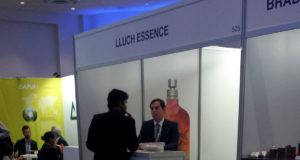 LLuch Essence
Tuesday Afternoon June 14th: The afternoon was all about green! In the first two sessions where we learned from Tony Phan, Process & Project Engineer from MANE and Kip Cleverley, Head of Global Sustainability, International Flavors & Fragrances, about how to define and assess the greenness, not fragrance but environmental sustainability, of an ingredient through chemistry. Green chemistry has the objective of making their processes and product more eco-friendly, especially through reduction of hazardous substances. To make it transparent and relevant, MANE has made their 100 point green rating system called Green Motion available online.
Oud-lovers know by now that the tree that gives us oud, Aquilaria, is endangered. Estelle Delort, Senior Scientist, Analytical Innovation Firmenich and Allesandro Mendes, Product Development Director, Natura, took us through their painstaking recreation of the many and complex facets of oud by chemical analysis. Most fascinating was their discovery that the defining contribution of a woody and animalic note could be attributed to a single molecule, strong to the human nose but nearly invisible in a chemical analysis.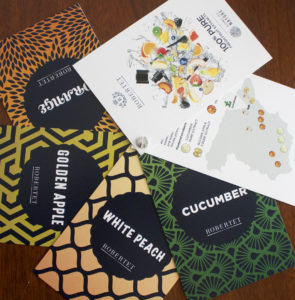 Robertet fruits Photo Elise
Arnaud Adrian, Vice President of Sales Robertet Inc. and Rob Brown, President The Lebermuth Company were the final speakers of the day. Rob spoke of the many challenges of working with ingredients in a changing world, describing the shift to naturals and a consumer that wants to be informed about their food and cosmetics. Adrian spoke of the Robertet project in Spain where they are working with local growers and producers of fruits and fruit juices to capture the aromatic molecules from the fruit and bottle it up. They passed around blotters of the peach extract, which was lovely. I made a note to be sure and visit the Robertet booth to sniff the other fruit extracts.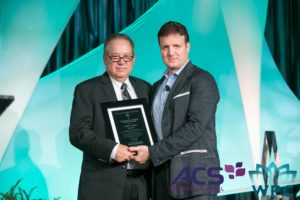 John Gamba receiving his award
Wednesday Morning, June 15th: The American Society of Perfumers presented a Lifetime Achievement Award to Claude Dir, MANE and the William Lambert Award to John Gamba, Givaudan. Claude Dir created Maybelline Daydreams, a classic French-style chypre, in 1983 as Maybellines first perfume. He has worked with many designers, with beauty brands, and with celebrities over his long and distinguished career. John Gamba's creations include Natura Urbano; Calvin Klein Free Energy; Bath and Body Works Black Amethyst and A Thousand Wishes, and Avon Luck for Her.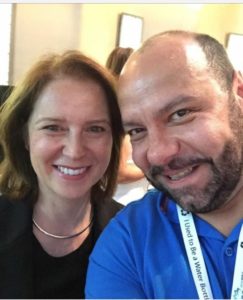 Calice Becker and Rodrigo Flores-Roux (photo courtesy of Rodrigo)
Wednesday's keynote by Calice Becker, Vice President Perfumery, Givaudan, set the tone for my favorite subject: perfumers and their inspirations. Her creations include Tommy Hilfiger Tommy Girl; Marc Jacobs Lola; many for By Kilian, Estée Lauder Beyond Paradise Men and Beyond Paradise Women; Dior J'Adore; and Avon Far Away Gold. I was excited to hear her speak and many remember reading her wonderful interview with CaFleureBon in April 2011. Mme Becker told us, "We, perfumers, don't really realize the latitude of the power of olfactve memory … The impression is sometimes physical ." She reminded us that events are connected with sensual stimuli, taking us back to the event but also creating a bridge to the future. In working with Oscar de la Renta on Mi Corazon, he told her stories of collecting droplets from the blossoms of the ylang ylang tree. They worked together to create all the feelings of the young boy, morning freshness, and dreams. She spoke about inspiration being from memory but also something else. For example, the artist Rosseau made beautiful paintings of exotic places and animals although he had never left France or seen a jungle. He took real 'ingredients' as his inspiration and created something beautiful, unique, and memorable.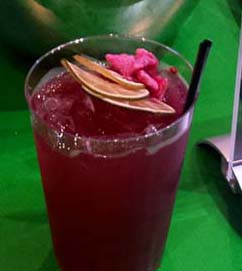 Aromatic beverage Elise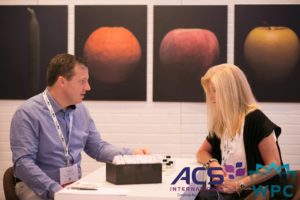 Nicolas Lemiere Robertet
Exhibition Hall: I had a lovely time at the Robertet smelling beautiful fruit extracts from Spain—orange heart, golden apple, white peach and a very true-to-life cucumber. Then, I spent some time with the polite gentlemen at the Cardamom Products booth where I smelled a gorgeous cardamom oil and a Holy Basil that transported me. I sipped on my perfume-inspired cranberry drink and sniffed my way back to listen to more perfume stories.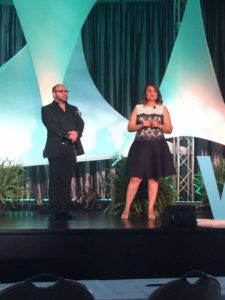 Rodrigo Flores-Roux and Adriana Medina (courtesy of Rodrigo)
Wednesday Afternoon June 15th: The session on Origins and Diversity—The Perfumers, their Heritage and their Work featured a long time friend of CaFleureBon Rodrigo Flores-Roux, Vice President Perfumery Givaudan, and Adriana Medina, Vice President Perfumery, Givaudan. Rodrigo Flores-Roux's creations include Houbigant Fougere Royale, CK Free, Donna Karan Black Cashmere, Elizabeth Arden Green Tea, Clinique Happy, Aedes de Venustas Oeillete Bengale, Dolce & Gabanna the Velvet Collection, The Fragrance Foundation top five finalist for Perfume Extraordinaire Arquiste Nanban, and many for both Arquiste, John Varvatos. Perfumes from Adriana Medina include Avon Luck for Her and Instinct for Her; Victoria's secret Bombshell, Victoria, Dream Angels Forever, and glamour; Vera Wang embrace Rose Buds & Vanilla; Elizabeth Arden Sunflowers Morning Garden; Bath and Body Works Velvet Sugar and A Thousand Wishes; and Ed Hardy Love & Luck. Celebrating diversity, this session featured two Latin perfumers with stories of their native countries and the influences of family, art, heritage, and background. Adriana remembering her return to her native Columbia after an absence and rediscovering the fragrance of her homeland. She also cites the influence of her grandmother, who was a dressmaker, and she continues to be influenced by fashion and the strong women in her family. She loves working with others, exchanging ideas, and motivates others with her passion and enthusiasm.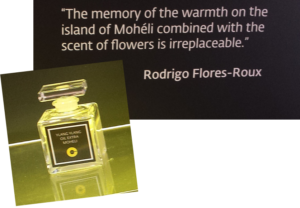 Rodrigo Flores-Roux spoke of his native Mexico where both his parents were scientists. He spoke of his Mexican heritage, a love for art of all kinds, and an offbeat view of the world (including the wearing of goofy hats and lots of leather), all of which help him to create beautiful and passionate perfumes. He has strong tieswith his native country and ispassionate about his art, I loved the lines he shared with us from a favorite poet, Carlos Pellicer. "Mexico has always lived swinging between its two obsessions: A taste for death and a love for flowers."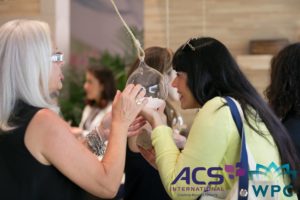 Rhona Stokols of Symrise
The theme of the conference was sustainability and I approached it from my background as an ecologist who has worked in agricultural settings, and with the idea that I would learn from these leaders in the fragrance industry. Sustainability is a word that may mean many things but, in general, it refers to using earth-friendly practices when growing crops, using chemicals with minimum pollution, reducing energy use or going completely to renewable energy, using recycled materials and recycling packaging, safe ingredients, incorporating social justice, and generally walking softly on the planet. I asked David Apel, after our talk about Symrise's work in Madagascar and Brazil, about the customer who buys a perfume and who cares about what they eat (think organic, Whole Foods). How does Symrise's message get communicated to this customer? He said that it is difficult and everyone is working on this message. But he also said that they will continue as they have been doing and called it "doing well by doing good." I asked Christine Daley of Perfumer House,Supply a fragrance ingredients boutique, about this message of sustainability. Here is her take: "While we are not at a point (yet) where one can shop for a "sustainable" fragrance, it is reassuring to know that major ingredient companies are committed to placing much of their focus on sustainable practices such as reducing their carbon footprint, and replacing petroleum-derived raw materials with more eco-friendly ingredients that employ green chemistry methods. It is only a matter of time when a trade organization or a third party will develop a method of checks and balances, something in the form of a label or insignia, or perhaps creation of a separate brand, which will give those of this ilk enough information in which to make their selection."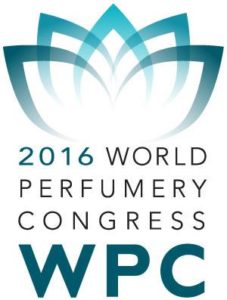 Lasting Impressions: I loved the message of sustainability from the Congress; the way perfumers all spoke of nature and homeland as their inspirations, and knowing that there are a lot of people out there passionate about beauty and fragrance.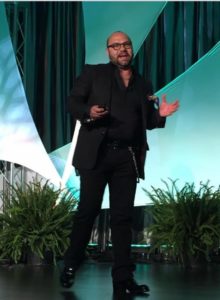 Rodrigo Flores-Roux
But it is this poignant and moving statement I will paraphrase from Rodrigo Flores Roux that I will keep in my heart "We are ALL boys. We are ALL girls. We are all American, Mexican, Peruvian, Colombian, Venezuelan, French, English, and German. We are ALL immigrants. Some of us are homosexuals, some of us are heterosexuals. But we are ALL in love. We ALL want peace, progress and inclusion. The tragic events in Orlando are telling us that such a deplorable act, unacceptable and never to be condoned is destructive and divisive. We can't keep on dividing and destructing. We all aspire to construction, creation and unity. And as members of the perfumery industry I'd like to say that we all want to keep people wanting more: more peace, more diversity, more acceptance and more love".
Elise Pearlstine, Senior Contributor and Perfumer for Tambela Perfumes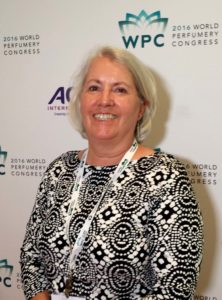 Elise Pearlstine at the WPC
Author's Note: I was given a complimentary press pass to The WPC. Not only did it get me in the door but the name ÇaFleureBon opened doors, I introduced myself and was greeted warmly. As a natural perfumer and biologist first and foremost, the world of large global perfumery was a bit intimidating and I'd very much like to thank Darryl Do of Delbia Do (who knows everyone and introduced me around), Pierre-Constantin Guéros of Symrise who has been a guest contributor and was a top five finalist in The Fragrance Foundation 2016 for Perfume Extraordinaire, and former founding Editor Rodney Hughes of Therapeutate Natural Parfums for their companionship and assistance!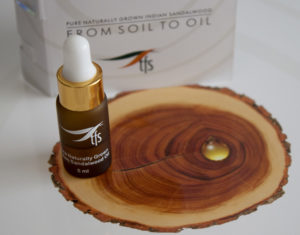 Elise has brought back 2ml of Sandalwood natural from TSS who sponsored the Sandalwood Competition and 1 ml Bulgarian Rose Otto absolue from Alta which is a Bulgarian essential oil company for a registered reader worldwide. To be eligible please leave a comment with where you live, your overall impressions of the World Perfumery Congress, what you enjoyed about Elise's event report, which seminars you would have enjoyed attending and where you live by 6/22/2016.
To see more photos go to the Facebook page for The World Perfumery Congress here
We announce the winners on our site and on our Facebook page, so Like Cafleurebon and use our RSS option…or your dream prize will be just spilled perfume