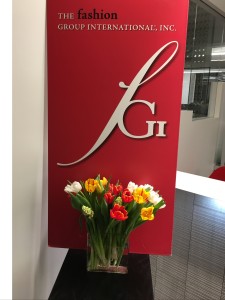 The Art and Science of Fragrance Event at Symrise
The Fashion Group International, Inc. (FGI) hosted a panel discussion on February 23rd at the Symrise Park Avenue headquarters. Four highly regarded experts revealed their thoughts on sensory perception and creativity. Sight, sound, smell, and taste are all are integral to the creation of fragrance establishing an emotional connection between the fragrance and the person wearing perfume.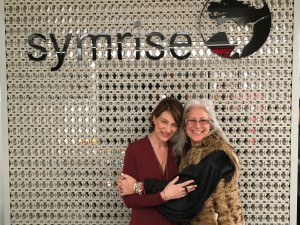 Maryanne Grisz, Director of Special Events & Social Media Strategies, The Fashion Group Int. and Rhona Stokols, VP, North America Fine Fragrances
It was great to see friends in fragrance including Karen Dubin of Sniffapalooza, Darryl Do of Delbia Do, Sue Phillips of Scenterprises, Francois Damide of Crafting Beauty, Bart Schmidt of Brands with a Purpose, Mary Ellen Lapansky and Lyn Leigh of The Perfumed Plume were just a few industry notables who were at the event which was sponsored by COSMOPROF and SYMRISE.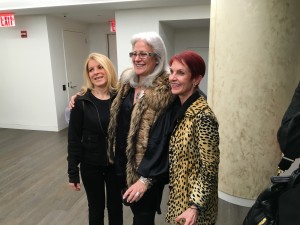 Daniela Ciocan, Cosmoprof North America and Karen Young, President of The Young Group, Rhona Stokols
Karen Young, Chief Executive Officer of The Young Group, welcomed us and introduced the program, a presentation on multisensory fragrance creation. More than ever, brands are connecting with customers emotionally through sensory cues: taste, smell, powerful visuals, color, tactile cues and sound. "Sensory cues can change minds. The process of shopping is a right-brain activity and sensate connected, making consumers more likely to purchase if they are connected sensorially; and if they can hold the product in their hands, they are 60 percent more likely to purchase," she said.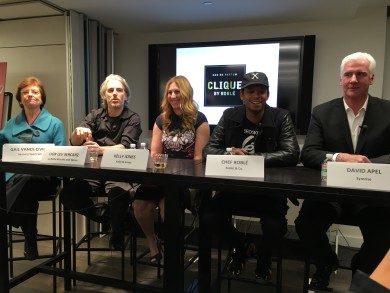 Gail Vance Civille, Lior Lev Sercarz, Kelly Jones, Chef Roble and David Apel
Moderator: Gail Vance Civille, President/ Founder, Sensory Spectrum, Inc. and specializes in the sensory-consumer and product understanding experience for the consumer product goods (CPG) industry, academia and government.
Panelists:
David Apel, VP & Senior Perfumer, Symrise who began his career at Givaudan in 1980, and joined Symrise in 2007. Fragrances David has created include: Tom Ford Private Blends Purple Patchouli/ Tom Ford Black Orchid/ Avon Passion/ Bond No.9 Bleecker Street/ Jo Malone White Jasmine & Mint. He is married to Perfumer; Caroline Sabas
Kelly Jones, Founder Kelly & Jones, a fragrance line inspired by wine notes, and director of marketing at Takasago.
Chef Roble, Owner, Roble & Co.and creator of Clique fragrance and owner of the restaurant Streets, in Brooklyn. Roblé is currently the on-location chef for the number one cooking show, ABC's "The Chew."
Lior Lev Sercarz, Founder, La Boit Biscuits and Spices develops customized spice blends. He worked for 20 years as a chef—including five years at Daniel.
Global, Local or Cultural?
Gail Civille posed the question: Is the multisensory markets are global, local or cultural?
Lior: "Different things are perceived differently in different places. Most people know cinnamon, but it's not reserved for dessert. My goal is to create something different, so we don't say, 'This is for this and that is for that.' We are trying to bridge differences. Individuals should not change the way they are or the way they live, but rather open their eyes to different ways of looking at things."
Chef Roble: Spices cross cultural lines.Turmeric, which originally came from India (and parts of Asia and East Africa), is one of the main components of curry, now in the mainstream USA. Turmeric root is now sold in Whole Foods, and there are other things like that that are jumping around. I hosted a "dinner in the dark" and the servers wore night-vision goggles…. Since guests couldn't see, their other senses were heightened."
Kelly: The terroir of wine highlights important global differences; for example, white grape from California are different from white grape of Europe. Pinotage, from South Africa has a very specific smell and taste that cannot be duplicated elsewhere. It took me a while to branch out and integrate that into my collection. My goal is to get wine drinkers, at all levels, to experience the fragrance of wine in a whole new way.
Kelly recounted an anecdote from an experience at a winery when a winemaker snipped, "WHO is wearing perfume in my tasting room?" I accidentally defied the etiquette of wine tasting by wearing perfume which is frowned down upon by oenophiles. But as perfume wafted from my skin, something curious happened, the fragrance notes were perfectly mingling with the wine, enhancing all of the nuances of the bouquet in the glass." While greatly respecting the winemaker's art, she wondered how she could break the rules and use perfumes to enhance the notes of wine and Kelly & Jones was born… much to the anger of wine bloggers who posted negatively when she launched her line.
David Apel VP & Senior Perfumer, Symrise
David Apel: "If something is pushed too far, it may not be acceptable, so balance is required in bringing in different elements, and seeing the change take place. You can't force an experience that is multisensory. It's about nurturing the experience. These can be small, curated moments. It can't be overwhelming".
Leveraging the Multisensory Experience
"Someone applying nail polish on an airplane is a multisensory pitfall I can do without," said Gail Vance Civille, kicking off the new topic.
Sr Perfumer David Apel spoke of the rise of the artisanal fragrances and their carefully curated fragrances.
David: "Niche is no longer niche. One could say that it's mass niche. (Editor's Note: I wrote about this very subject on June 2010; you can read the thoughts of global perfumers such as Bertrand Duchaufour, Mark Buxton, Maria McElroy, and Rodrigo Flores-Roux in my article Niche Nicher Nichest here) Awaken a few senses but be careful not to overwhelm. Subtle levels are acceptable and one can push the limits. Something as simple as the Le Labo shops where you go and find your own scent. It's not multi sensorial where you are overwhelmed. What we do is invisible. It's about emotions, what we respond to subliminally. This allows me to find commonality among people. Introducing multisensory to the consumer is a matter of degree. If something is pushed too far, it may not be acceptable, so balance is required in bringing in different elements, and seeing the change take place. You can't force an experience that is multisensory. It's about nurturing the experience. These can be small, curated moments. It can't be overwhelming".
Lior: "We create a certain experience that touches the consumer. When you come to our store and open a bottle, you cannot be indifferent to it. Information found online, on television, in travel, all offer openings to different experience. You have to make it approachable and transition it to the consumer."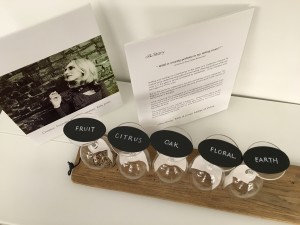 Kelly & Jones preview of Reserve Collection
Kelly: Three years from now we're probably going to be doing 3-D presentations. This sense of multi layering to all our senses is here and is coming at us quickly. We have to prepare. Kelly & Jones is launching a Reserve Collection this Spring. I've been working on it for almost a year. It will embrace the most exquisite ingredients in perfumery, the highest quality materials, all in a non-alcoholic grape seed oil base. Like a "Reserve" bottle of wine – these fragrances will celebrate the best essences of the brand's story. Think of the Notes of Wine Collection as your everyday fragrance – and the Reserve as an extra special bottle that will take the senses to a whole new realm.
Kelly had a display table showcasing the scents from her upcoming collection along with two wines which complement those notes, a Rhone red and a California chardonnay.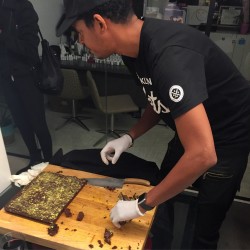 Chef Roblé created a special brownie with chocolate, vanilla, caramel, hand cracked pistachios and smoked sea salt. The aroma perfectly matched his CLIQUE by Roblé perfume, which also contains a gourmand base containing many of the same fragrance notes
Chef Roblé: "People eat with their eyes. An example is the sound of sizzling steak and the scent of chicken soup. This multiplicity makes it all taste better. Packaging can help or hinder. Don't do too much. (I think he was referring to a certain celebrity perfume packaging that consistently gets CaFleureBon worst bottle of the year award each time the singer introduces a new fragrance). People can OD on the multisensory. Keep it cool."
–Hernando Courtright, New York City Event Contributor (all photos by Hernando with the exception of Chef Roblé courtesy of Bart Schmidt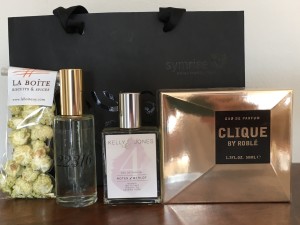 Thanks to the panelists we have a draw for in the US for a registered reader of a Gift Bag filled with 50 ml EDP Clique by Roble, 50 ml EDP Merlot from Kelly & Jones, a secret scent 50 ml No. 22316 from David Apel/ Symrise and sample of Shabazi N.38 from La Boite Biscuits & Spice.
or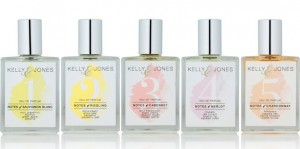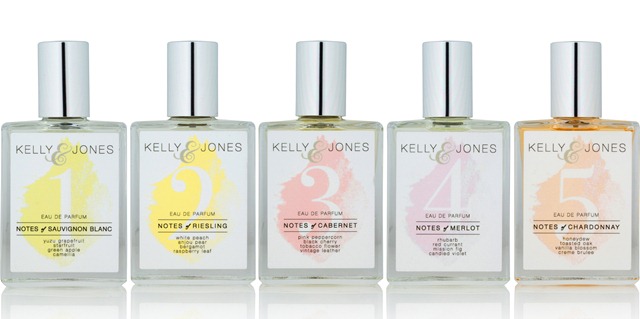 Choose a 50 ml of Kelly & Jones Chardonnay, Sauvignon Blanc, Riesling, Cabernet or Merlot
To be eligible please leave a comment with a quote or an insight into the multi sensory process of fragrance from the panelists that resonated with you as a consumer and which of the perfume offerings you would like to win. Draw closes 3/15/2016
We announce the winners only on site and our Facebook page, so like CaFleureBon and use our RSS option…or your dream prize will just be spilled perfume