Team Karen (Karen Dubin and Karen Adams) held their TWENTY-SIXTH Edition of Sniffapalooza –SPRING FLING on April 28-30, 2016.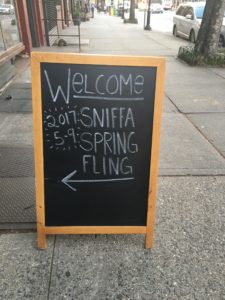 The Friday Night cocktail party was held at Brooklyn's most fragrant paradise, Twisted Lily. Co-owners Eric Weiser and Stamatis Birsimijoglou always serve up the best scents and offer wonderful hospitality. Their fabulous curation of artisan, artistic and natural fragrances always draw a crowd.
Co-Owner Eric Weiser, Sue Phillips, Bart Schmidt and Teri Johnson
A full house filled the 650 square foot perfumista's paradise and a number of friends-in-fragrance were on hand including Bart Schmidt of Brands with a Purpose, Sue Phillips of Scenterprises, Stephen Dirkes of Euphorium Brooklyn, Belkis Hirsch of KaatskillmeetsNYC, Ilana Jivago of Jivago and Teri Johnson of Harlem Candle Company as well as many bloggers and fragrance lovers too numerous to list.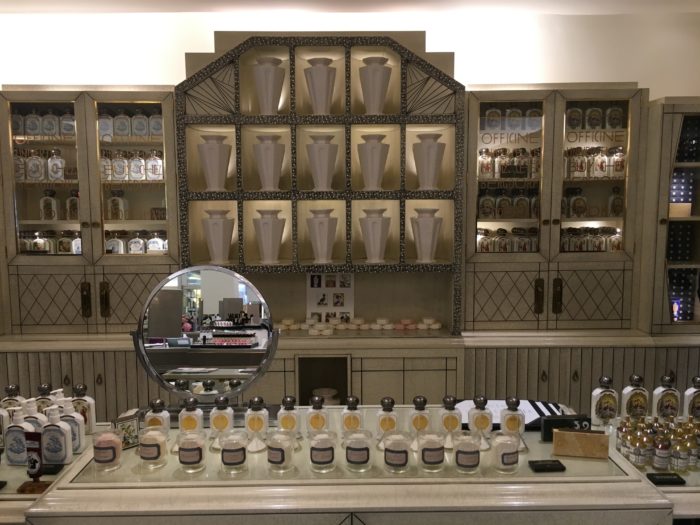 Buly 1803 at Bergodorf Goodman
Day One, SATURDAY, April 29th
Sniffapalooza attendees were given exclusive entry into Bergdorf Goodman an hour earlier than the official store opening. One brand that was new to me, is the cult Parisian apothecary Buly 1803. The boutique at Bergdorf Goodman stocks most of the 700 products of inventory from the Paris flagship. A must visit.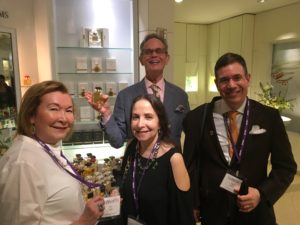 Lyn Leigh or Perfumed Plume, Karen Dubin, Tom Crutchfield SA extraordinaire, and EAU Uncorked MC David Ecker at Roja Parfums at Bergdorf Goodman
Scents that impressed on the floor: uber hot EX NIHILO's newest Citizen x, Maison Francis Kurkdijian's Aqua Celestia, and By Kilian's Black Phantom, The Fragrance Kitchen, Jo Malone, of course Parfums Roja by Roja Dove had many of the attendees attention and are always favorite must spritz brands.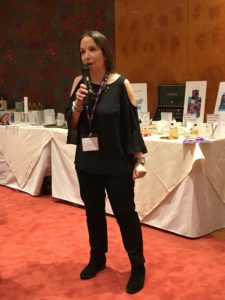 Karen Dubin of Sniffapalooza
Lunch with guest speakers was held at Brasserie 81/2, just around the corner from Bergdorf Goodman.
Guest Speakers Highlights: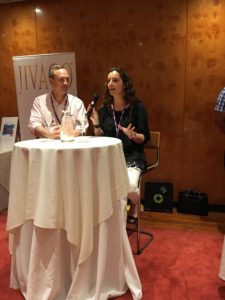 Chandler Burr and Caroline Sabas
Chandler Burr and Givaudan Perfumer Caroline Sabas guided us through the creative process used to compose the Etat Libre d'Orange, You or Someone Like You, inspired by his novel of the same name. They handed out four mods to solicit the group's opinions. Chandler made a point to tell the audience not to say "notes" when describing scents, but to call them raw materials.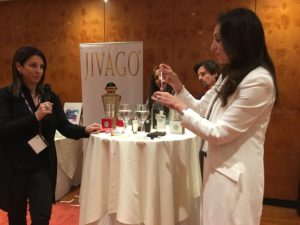 Abby Wallach and Caroline Fabrigas of Scentinvent Technologies
Caroline Fabrigas & Abby Wallach of Scentinvent Technologies: Updated us on their LINGER Fragrance Primer (sold out on HSN) and introduced us to their latest invention, LINGER Pure Parfum Serum.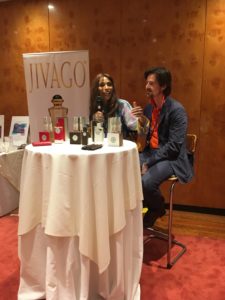 Geo and Richard Herpin of Precious Liquid
Firmenich Perfumer Richard Herpin and Geo of Precious Liquid: Perfumer husband and model wife teamed up and created a patented 3D concept, the application of 3 different yet complimentary scents on the 3 separate, designated zones of the body.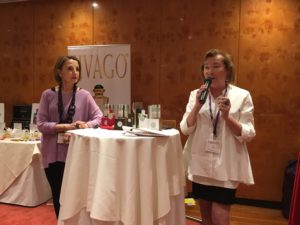 Mary Ellen Lapsansky and Lyn Leigh of the Perfumed Plume Awards
Lyn Leigh & Mary Ellen Lapsansky of the Perfumed Plume Awards announced the winners of the recent Second Annual Perfumed Plume Awards for Editorial Excellence.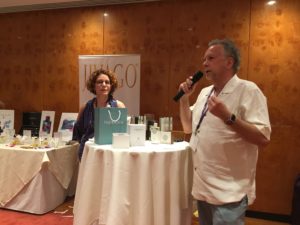 Hope Freeman and Jay McSherry of Nateeva
Hope Freeman & Jay McSherry of Nateeva updated us on their two forthcoming releases. The brand's fragrances are inspired by the native flowers of exotic island destinations.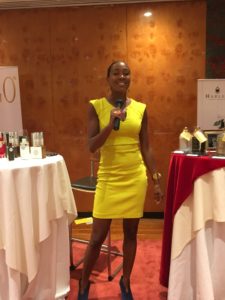 Teri Johnson of the Harlem Candle Co.
Teri Johnson of Harlem Candle Co.'s Travel and lifestyle expert launched her line in 2014. The mission is to experience the essence and light of Harlem through the collection of fragranced candles inspired by the Harlem Renaissance.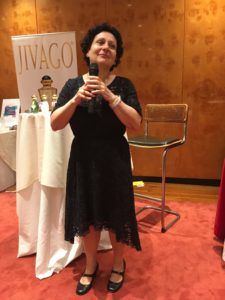 Francoise Alessi of Annick Goutal
Francoise Alessi of Annick Goutal spoke eloquently about the storied the heritage of the brand and the transition from mother to daughter.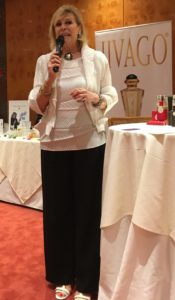 Sue Phillips of Scenterprises
Sue Phillips of Scenterprises: Bespoke! Sue was a head of this perfume trend. Her Scentarium is a unique place for creating custom blended perfumes.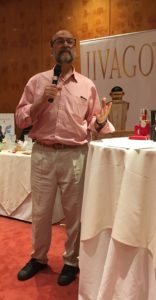 Mark Crames of Demeter Fragrance Library
Mark Crames of Demeter Fragrance Library was on hand to talk about the future of customization and the success of Kitten Fur, which in its four months of releases has outsold all the others in the line. Perfumistas seem to love cats! Petrichor, the fragrance of Dr. Who is one to look for as well.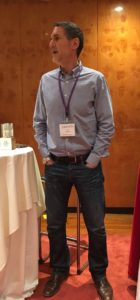 Jon Bresler of LAFCO
Jon Bresler of LAFCO New York: Best known for their candles they also bring high-end perfumery into the world of home fragrance.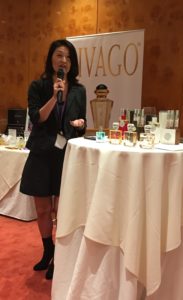 Hiro Nakayama of Felicia Project
Hiro Nakayama of Project Felicia: Project Felicia started in the distribution of niche fragrance products between the U.S. and Asia and has expanded activities to Singapore to cater the U.S.-base brands' presence in Asia.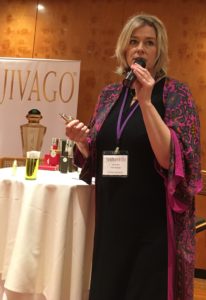 Jennifer Hardaway of KleanSpa
Jennifer Hardaway of KleanSpa has a products range from Sugar Scrubs to Perfume Oils that are paraben and sulfate free. They will custom blend at their brick and mortar store in Burbank, CA.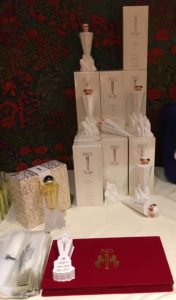 Jivago Perfumes
Ilana Jivago of JIVAGO Fragrances: Rose Gold was a Fragrance Foundation 2013 Finalists Fragrance of the Year: Women's Luxury. Her 24K features real 24-karat gold leaf pieces, suspended within the bottle – a first in the fragrance world. Ilana Jivago came to Live World Premiere her exquisite new fragrance, The Gift.
At every Sniffapalooza, Team Karen donates a portion of each registration fee to a special charity. This event's charity was Educate Girls.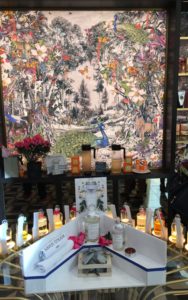 Penhaligon's Savoy Steam display
After lunch, our first stop was to Penhaligon's gorgeous Rockefeller Center flagship store. Store manager Maya Fedaseyava greeted us warmly and spoke on the House's rich history which dates back to 1877 in London. She then introduced us to the newest fragrance, the aromatic Savoy Steam.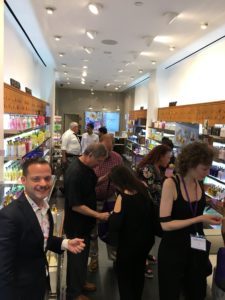 Molton Brown
Next up was Molton Brown's Flagship store on 59th Street. We were welcomed with cider delectable treats created by Sarah Barber, Executive Pastry Chef to match their latest line, The Patisserie Parlour GOURMAND COLLECTIONS based on Wild honey, rhubarb, and comice pear.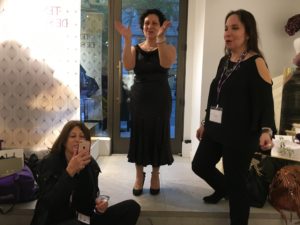 Karen Adams, Francoise Alessi, and Karen Dubin
The evening's closing event was a cocktail party hosted at the tres chic Annick Goutal Madison Avenue Flagship Store. Store Director Francoise Alessi and staff greeted us with wonderful nibbles and prosecco to indulge in while taking in the brand's gorgeous scents. A wonderful close to the day.
Day Two: SUNDAY, April 30th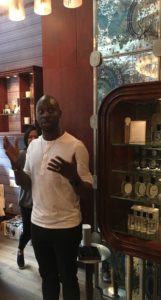 DIptyque store manager Neil-Christian Williams
Our first stop of the morning was at Diptyque's Bleeker Street location. Boutique Manager, Neil-Christian Williams, and staff greeted us warmly with pastry treats and hot coffee.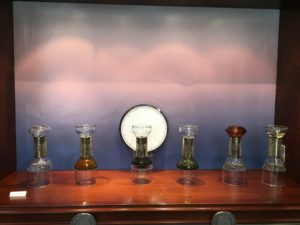 Diptyque's Hourglass Diffusers
Neil guided us through a short master class on the brand's history. The focus was on the (must have) new Hourglass Diffuser 2.0, Le Sablier.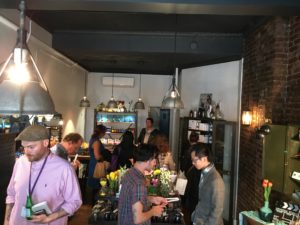 Atelier Cologne Downtown
Atelier Cologne is always a favorite stop for the group. General Manager Ross Barry cheerfully welcomed us with a breakfast cocktail, pastries and presented the current release, Clementine California. Stay tuned for a Sniffapalooza preview event for the new (secret) fragrance.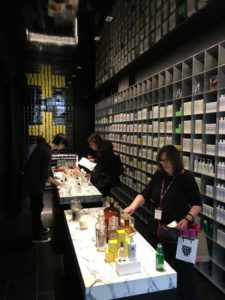 Malin + Goetz New York
A first for Sniffapalooza is Malin + Goetz. The well-appointed store impressed, stocked with their range of skin, hair, body products and fragrances. The Dark Rum collection is delicious.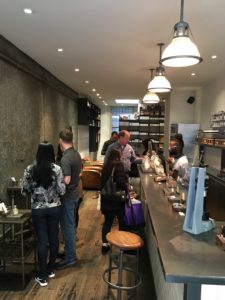 Le Labo downtown nyc
Next-door neighbor, Le Lebo, always impresses with their semi-bespoke experience, is always a delight for the group to spend time at. Come in and get schooled.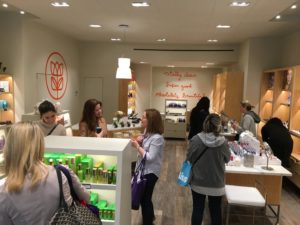 Another new addition is Credo. The San Francisco-based e-commerce shop stocks skincare, body care, and cosmetics from all-natural, organic, and vegan brands.
Red Flower was my final stop before lunch. Store manager, Janie presented the body treatment Hamman, Nature, and Japan Collections.The brand is botanically based, 100% vegetarian and paraben-free.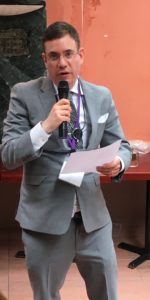 David Ecker MC
Little Italy's La Mela awaited the hungry and tired. Fragrance Specialist David Ecker hosted the EAU (Emerging Artisans Uncorked) showcase.
Guest Speakers Highlights: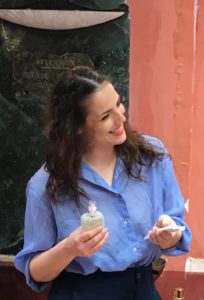 Anat Fritz of Anat Fritz
Anat Fritz of Anat Fritz: Designer Anat Fritz was a wonderful addition to the roster this morning. Known for her chic fashion and accessories presented her two perfumes, Tzora (named Gail's sexiest scent for Valentine's Day) and her eponymous. The nose behind both is the brilliant Geza Schoen.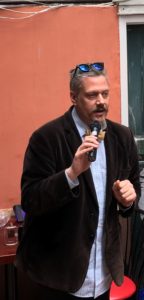 Stephen Dirkes of Euphorium Brooklyn
Stephen Dirkes of Euphorium Brooklyn: Stephen premiered his latest creation, Butterfly Eau de Parfum which features accords of violet & wildflowers, wild mint & herb, and water & moss.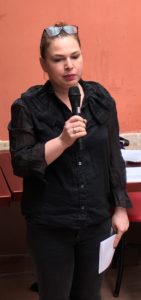 Irina Adam of Phoenix Botanicals
Irina Adam of Phoenix Botanicals: Natural perfumer Irina Adam of Phoenix Botanicals presented Vanilla & The Sea, a stunning oceanic floral amber, (which was an Art and Olfaction 2017 top ten finalist).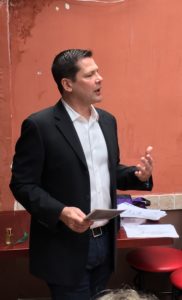 Christopher Gordon of The Perfumer's Studio
Christopher Gordon of The Perfumer's Studio: The Perfumer's Studio is a new resource for the creative perfumer based in Los Angeles. The studio offers classes and workshops aimed at developing the perfumer's art alongside changing gallery exhibitions designed to raise awareness and appreciation of perfumery.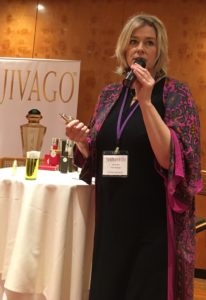 Jennifer Hardaway of KleanSpa and Phoebe Peacock
Jennifer Hardaway of Phoebe Peacock Parfums: Her lifestyle and home brand, separate of KleanSpa, is named after her great-grandmother, Phoebe Peacock.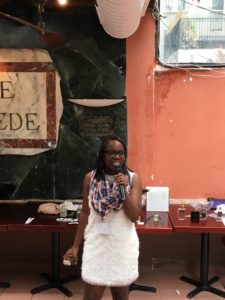 Mair Emenogu of MAIR Fragrances
Mair Emenogu of MAIR Fragrances: MAIR is a fine fragrance brand that launched in October 2015. The brand uses exclusive and rare ingredients from all over the world.
David Ecker of Dear Rose: Dear Rose tells in stories the multiples facets of eternal femininity created to celebrate women through a Mother and daughter duo. Fabrice Pellegrin has signed all Dear Rose's fragrances.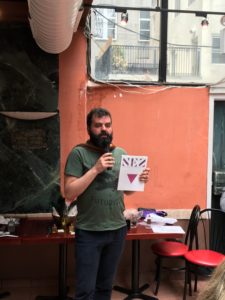 Dominque Brunel of NEZ
Dominique Brunel of NEZ, the olfactory magazine: The bi-annual periodical is dedicated to scent and the sense of smell. Bringing together articles, interviews, surveys and critical analysis with an olfactory focus, NEZ challenges us to use our noses to explore the world. Three issues to date, the first two are only are available in French. The news is that there is an English language version !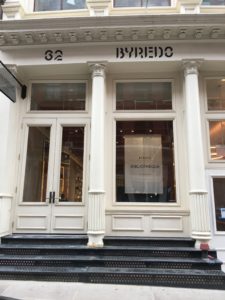 Closing out the scent filled weekend were final stops at Harney & Sons Fine Teas and the uber-hip Byredo Flagship Store. Refreshments and parting hugs and kisses filled the room.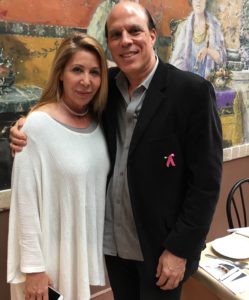 Ilana Jivago of Jivago Fragrances and Hernando Courtright of CaFleureBon
Thank you, Team Karen, (Karen Dubin and Karen Adams) for (yet again) another scentually wonderful weekend. See you all at The Fall Ball!
Hernando Courtright, New York City Events Contributor and CaFleureBon Ambassador-at-Large and Michelyn Camen, Editor in Chief
All Photos by Hernando of CaFleureBon unless otherwise stated.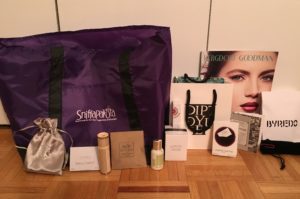 We have a ginormous Sniffapalooza swag bag filled with dozens of samples from the Spring Fling including mini and sample size fragrances and goodies from Penhaligon's, Annick Goutal, Demeter, Molton Brown, Diptyque, Byredo, LAFCO, and many many others.
To be eligible you must be a registered reader in the CON USA (you have to do this folks) and leave a comment with what you enjoyed about Hernando's very detailed Sniffapalooza Spring Fling report, if you have attended a Sniffa event before and which brand or perfume you are really excited to get your nose on. Draw closes May 10, 2017 .
We announce the winners on our site and on our Facebook page, so Like Cafleurebon and use our RSS option…or your dream prize will be just spilled perfume.