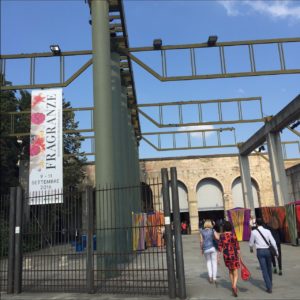 Pitti Fragranze Entrance
The 14th edition of Pitti Fragranze this year, the global fair held in Florence 9/9-9-9/11/2016 celebrating over 260 artistic perfumes, beauty and novelty collections from all over the world. Since I was unable to attend this year CaFleureBon is represented by contributor and Perfume expert Ermano Picco author of La Gardenia nell'Occhiello, Jasmine award winning Ainslie Walker of Australia and reader and our newest staff contributor Danu Seith-Fyr, a perfumista, writer and oenephile who lives in New Zealand. Throughout the next few days each will share their impressions all with their very individual styles.-Michelyn Camen, Editor in Chief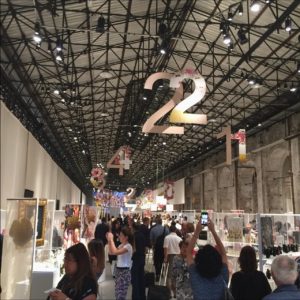 The Stazione Leopolda blooms with flowers and numbers – and the new layout designed by Alessandro Moradei is a departure from years past especially numbers were everywhere.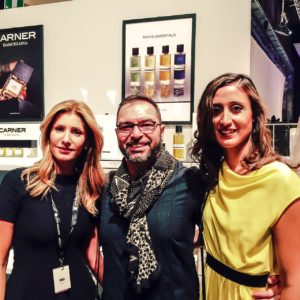 Raina Naim of Panouge Ermano Picco and Cecile Zarokian Fath's Essentials
My day started at the Nobile 1942 booth where I had the opportunity to revist the beautiful Fath Essentials as to say hello to the amazing ladies behind them, Rania Naim and Cécile Zarokian. How could one imagine a brighter start?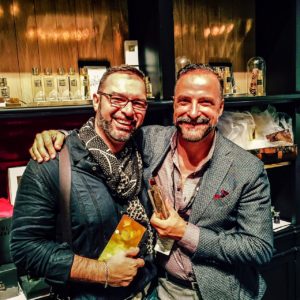 Mustachios Ermano with Antonio Alesandria
I also met Antonio Alessandria. Dashing as usual with his iconic moustaches and he introduced me to Eperdument, the latest addition to the line.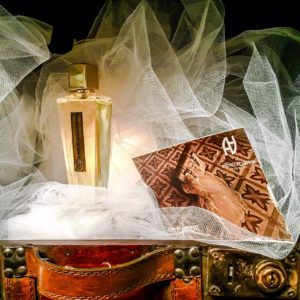 Eperdument,
"I wanted to create something about pureness and Sicily, so I got inspired by the stories of these young girls, the virgins of the sea as people used to call them waiting at the port, with their luggage, ready to ship to America to get married". The result is a luminous orange blossom bouquet in the summer seabreaze.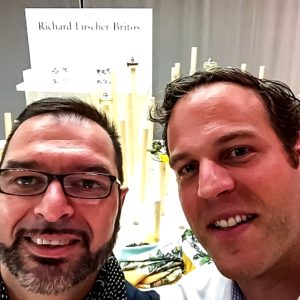 Ermano with Malvin Richard of Richard Luscher Britos
Next stop was to the Richard Lüscher Britos booth where I met Malvin Richard, the perfume expert of the team. This is a Cafleurebon award winning line that creates all natural perfumes based on latitudes and longitudes of terroir.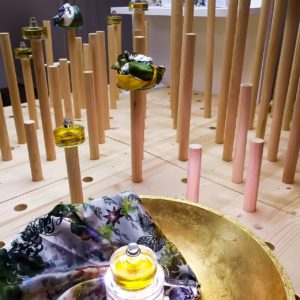 32°N 08° W Terroir de Marakkesh
32°N 08° W Terroir de Marakkesh is the newest scent based on Morocco. I really enjoyed this peppery mint tea infused with a delicate and unusual watermelon note. Spray and think autumn can wait a little longer as this is a delightful warm weather fragrance. The display was lovely as well, with their trademark sticks installation highlighting the colors of the beautiful terroir silk scarfs. How lovely the Moroccan one is featuring green leaves, watermelon and henna decorated hands! Delphine Thierry is the perfumer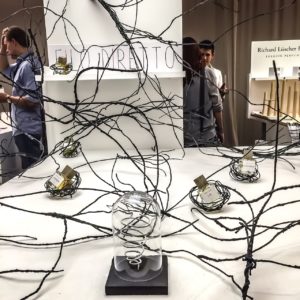 Another fascinating display was the Gabriella Chieffo Booth. She is well known for experimental installations and Filo Diretto is no exception. It's a stylized tree (symbolizing roots and thoughts to the sky) made of iron cable coated in cement (Gabriella was also wearing a beautiful jewel made of this wrapping a coral heart). Running cable holds Chieffo perfumes and polaroid pictures hang from the contest she launched.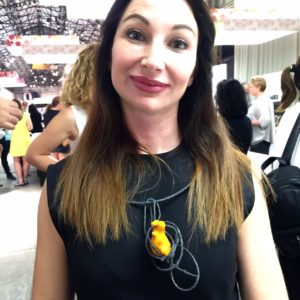 Gabriella Chieffo
Take a pic showing "the look of love". It will be shared also on social media and the one that will get the most likes, will win a bottle of Taersìa (which means storm in Lecce dialect), the new creation from Gabriella and Luca Maffei.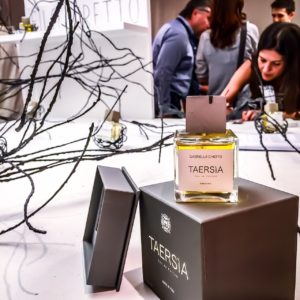 Taersia composed by Luca Maffei
The perfume is a green bouquet of tuberose with a lively twist of coffee absolute smoothed by delicate musky amber.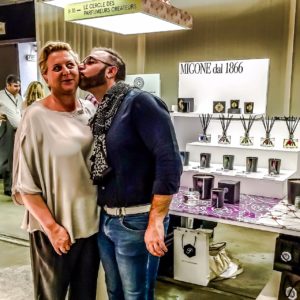 Francesca Migone gets a kiss
Migone 1866: I had some fun with Francesca Migone Boris, the owner of Migone 1866 celebrating this year at Pitti their 150. Fun and kisses to wish them happy birthday. She told me they have big projects ongoing, also a great collaboration involving candles for a big brand. How exciting!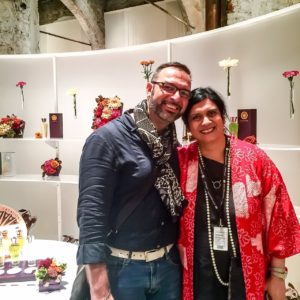 The beautiful Neela Vermeire introduces RAHELE at Pitti Fragranze
The smiling beautiful face of Neela Vermeire lit up the hall as did her new fragrance Rahele, which we broke news on CaFleureBon. Rahele is a very elegant fruity chypre with a slight retro touch. I am a chypre fan, so Rahele is on my must buy list.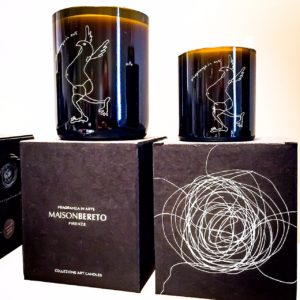 Maison Bereto
Maison Bereto: the display was beautiful and finally they added a home fragrance line with amazing room sprays shaped like bombs.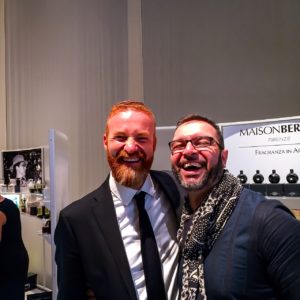 The fragrances are created by Michele Marin (infragranti parfumeur) and range from airy Mediterranean aromas to gorgeous thick burnt caramel amber for the Holidays. Michele also gave me a sneak sniff of some ongoing works including a beautiful green-Whitefloral.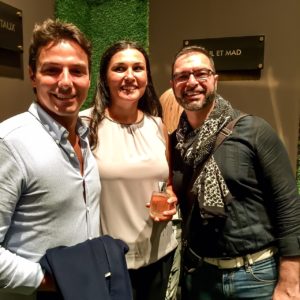 Award Winning Perfumer Luca Maffei Madalina Stoica Blanchard with Ermano
Juls et Mad: Madalina Stoica Blanchard was on hand and at Michelyn's orders I gave Luca Maffei a big hug. Luca introduced me to Les Secrets du Paradis Rouge, the new Juls et Mad addition to Les Whites, based on the couple's honeymoon in Marrkaesh.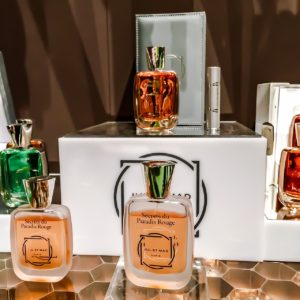 Luca told me he wanted to work on a floral bouquet expanding all the warmth of orange blossom flower. The juice is amazing, especially for the balance between floral and almondy notes (think Moroccan pastry) with a waxy animalic background (beeswax) that keeps it away from cloying. Yes my dear Michelyn you will indeed want this one for your personal collection. There is a reason he is a two time Art and Olfaction Award Winner.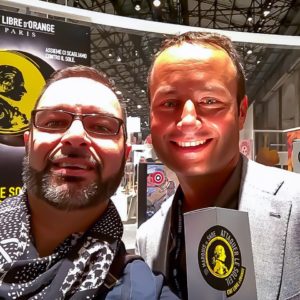 Ermano with Etienne de Swardt of Etat Libre D'Orange Marquis de Sade ATTAQUER LE SOLEIL
Etat Libre D'Orange: I spent some time talking with the ever charming and subversive Etienne de Swardt about the celebrations for the ELDO 10th birthday. He kindly invited me on behalf of CaFleureBon to the party they will give at 69 Rue des Archives next week.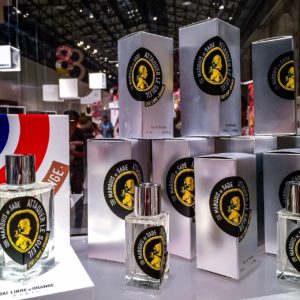 Then we smelled the new creation Marquis de Sade ATTAQUER LE SOLEIL which focuses on the animalic warmth of Cistus rendered in a modern way that is sunny and glowing.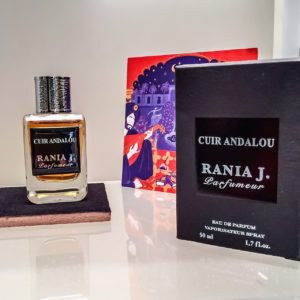 Rania J I smelled the final version of Cuir Andalous from RaniaJ, more vertical and airy yet Smoky. Then we had some fun with with Rosa Vaia from Coquillete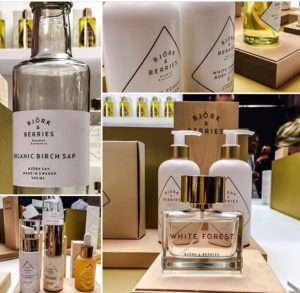 Bjork and Berries: Drinking birch sap in Florence? Yes it is one of the main ingredients of Bjork & Berries Skincare line from Sweden. The fragrances including White Forest are composed by Jerome Epinette.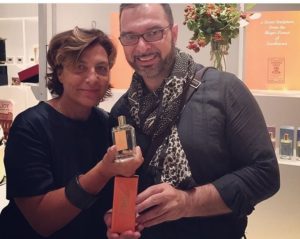 Maria Candida Gentile Lancaran
Maria Candida Gentile debuted Lancaran. A magical moment in a magical forest. Bright orange drenched in sap and resins. Another hit.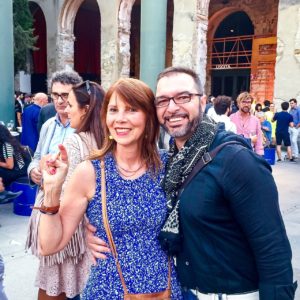 Sarha Colton of Bad Girls Perfumes with Ermano (I spy Silvio Levi behind her)
Last but not least it was a big surprise to drink with and make some trouble with the bad girl of perfumeland, the Amazing Sarah Colton, author of Bad Girl Perfumes!
Ciao for now
Ermano Picco, Contributor and author of La Gardenia nell'Occhiello
ALL PHOTOS ARE PROPERTY OF ERMANO PICCO AND CAFLEUREBON
With Contributions from Michelyn
Which fragrances are you excited to try?