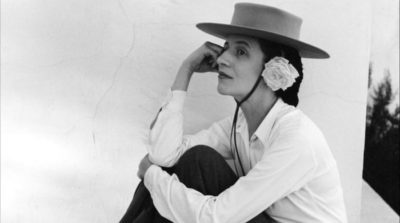 Diana Vreeland photo by Louise Dahl-Wolfe 1942
"Fragrances fill the senses with the mysterious" – Diana Vreeland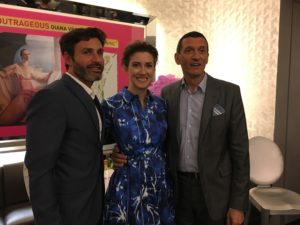 Clement Gavarryof IFF, Elizabeth Musmanno of The Fragrance Foundation and Alexander Vreeland of Diana Vreeeland Parfums (photo Hernando)
On Thursday, September 22nd, 2016 Bergdorf Goodman hosted an event and panel discussion featuring Creative Director Alexander Vreeland of Diana Vreeland Parfums and Master Perfumer Clement Gavarry of IFF which was moderated by Elizabeth Musmanno, President of the Fragrance Foundation.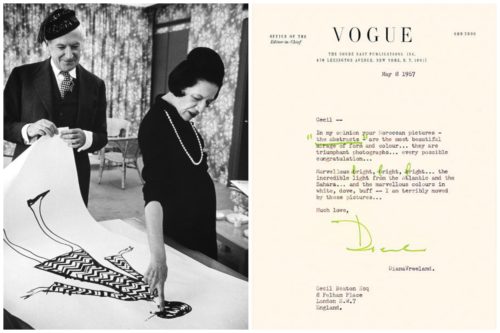 At Vogue: Diana Vreeland and Cecil Beaton look at a drawing, 1965. Aletter from Diana Vreeland to Cecil Beaton 1967
The hour long discussion explored the eponymous fragrance collection of the legendary Vogue and Harper's Bazaar editor, Diana Vreeland (September 29, 1903 – August 22, 1989). Ms. Musmano introduced us to Alexander Vreeland, former luxury-brand marketing executive (Giorgio Armani, Polo Ralph Lauren), and for the last five years President of Diana Vreeland, LLC, whose mission is overseeing the Diana Vreeland Estate and launch projects and licenses that support his grandmother's legacy. "She felt life should be fragrant… and everyone should wear fragrance," Alexander Vreeland said, "She couldn't imagine leaving the house without one."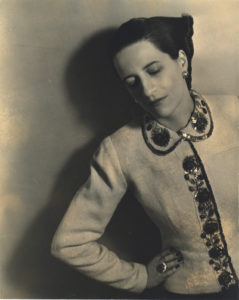 Photo of Diana Vreeland wearing Elsa Schiaparelli 1930 Louise Dahl-Wolfe
Ms. Musmanno commented, "that there are four not three participants taking part in tonight's discussion. Diana Vreeland was most certainly present and figured into this evening's conversation. Definitely larger than life".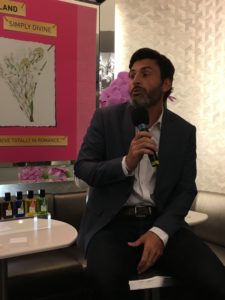 Clement Gavarry of IFF (photo Hernando)
We were introduced to IFF Perfumer who created four of the twelve scents for the Diana Vreeland collection, Clement Gavarry is best known for his designer and niche fragrances such as Armani Code (with Antoine Maisondieu and Antoine Lie), SJP Stash and Sarah Jessica Parker Lovely (with Laurent Le Guernac), Olfactive Studio Panorama, and Prada – Prada which won a Fragrance Foundation Award in 2004.
.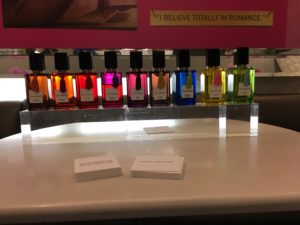 Diana Vreeland Parfums at Bergdorf Goodmann (photo by Hernando)
On Creating Diana Vreeland Parfums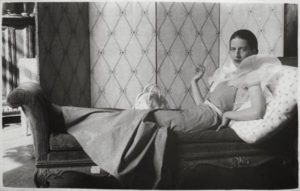 Diana Vreeland when she was in her early 30s- Study for portrait by William Acton, 1930s
Alexander Vreeland explained "The concept was not to recreate her fragrance choices—Chanel No. 5 and Opium—of old, says Vreeland, but to imagine: If she were 35 today, what would she be wearing? We didn't want to re-create classic fragrances. We wanted to have a new language. "The line has a point of view. What the line stands for is very feminine, very strong and very long lasting."
The discussion continued:
Mr. Vreeland: "IFF offered to create the Diana Vreeland fragrances and we had a chance to meet these great perfumers, Yves Cassar, Pascal Gaurin, Carlos Benaim, Clement Gavarry and Celine Barel. It was almost as if you were planning a great party, and all of a sudden you had some three star Michelin chefs that came home and said, oh let me see if I can come home and make dinner with you. The ingredients we're talking about are very rare, these are exceptional jus' and one of the reasons I think that perfumers are willing to work on a small brand such as ours, is really the opportunity to play with these beautiful ingredients. These are really rare things… these are jewels."
Ms. Musmanno "It's not a commodity, it's a luxury item, it's a dream you created…"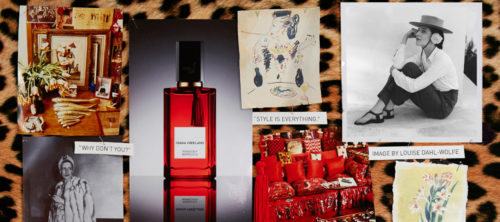 Story board of Diana Vreeland Parfums via http://www.dianavreeland.com
Mr. Vreeland: "She felt that everyone should wear a fragrance, and that life should be a fragrant life. And I think that, that was really one of the things that was very clear in researching her relationship with fragrance was that she just couldn't imagine leaving the house without fragrance on….that fragrance needed to be bold and powerful and beautiful and I think that one of the things in creating this collection, we really have a lot of bold beautiful strong fragrances…We want to have a point of view, that we stand for something. And what we stand for is very feminine very strong very long lasting…We thought felt that that was very important for Diana Vreeland fragrances, that it would last – if you met her you would remember her. If she were here you would know she was here."
Alexander Vreeland continued, "There has been an evolution in the consumer's tastes and preferences and perfumers are able to have the budget to work with this quality of ingredients. When people ask why the perfumes are so expensive it is because the ingredients are very rare".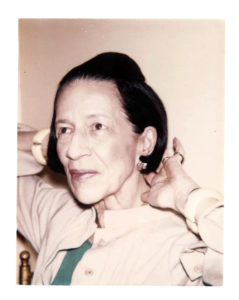 Diana Vreeland polaroid portrait Andy Warhol 1973
Elizabeth Musmanno noted: "Many perfumers began as musicians when they were kids, they were learning music and they do equate what they do today with notes and playing notes and having fun so when you're with a potential entrepreneurial client…they can play and get a better quality, more individual, personalized fragrance that would just set the world on fire…" this is new, understanding who the artists are in our industry. That's why it's of interest… to smell something that's unique, that has the artist's touch that's not overly squashed, which is always that the yin and yang that these artists go through and they are our artists and we equate you to a screen writer, a great director, a painter, a musician."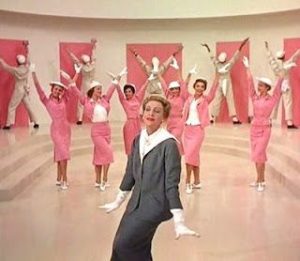 Kaye Thompson playing Diana Vreeland in Funny Face
It was interesting to hear Elizabeth Musmanno say that Diana Vreeland reminded her of Eloise from the book Eloise at The Plaza. A grown up Eloise. Alexander noted that Kay Thompson who wrote Eloise at The Plaza, played a character based on Diana Vreeland in the movie, Funny Face starring Audrey Hepburn and Fred Astaire.
Alexander shared that he wears most of the line's fragrances something he thought he would never do. "Probably the most difficult creation was Daringly Different, which is a very approachable Iris-Oud. Very easy to wear. And then we decided to do an Outrageous version. And that was scary. Each time we would make it stronger and stronger and each time it was a terrifying experience. Each step in the process was scary."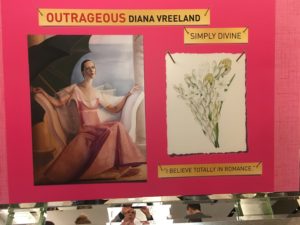 Outrageous Diana Vreeland at Bergdorf Goodman Simply Divine and Outrageous Divine Perfumes
The Creative Process behind Diana Vreeland Perfumes Simply Divine: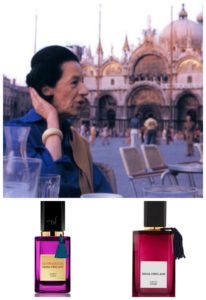 Diana Vreeland, 1982 in India- Photo by Priscilla Rattazzi, Simply Divine and Outrageous Divine
Clement Gavarry: "Just listening to (Alexander) talking about his grandmother… her personality was an inspiration for all of us…mostly for perfumers. She's such a powerful woman, strong woman, provocative, outspoken, bold…so I was thinking, which moment do I start from? Which icon should I pick to represent Diana? And I chose the tuberose – why the tuberose? Tuberose is a very opulent fragrance, very rich, bold very symmetric…to me, it was just Diana Vreeland in a bottle, the tuberose. So Simply Divine, which debuted in 2014, was born using the tuberose from India. Diana Vreeland) speaks for the woman (and) had tremendous followers behind her…anywhere she was leading she was leaving behind a trail…she was leaving the room filled with her presence…and Simply Divine is doing the same thing with the tuberose." Note: Simply Divine is the #1 seller in the line.
Ms. Musmanno: "It's edgy not to do fruity in America…you've got a little bit of your grandmother in you"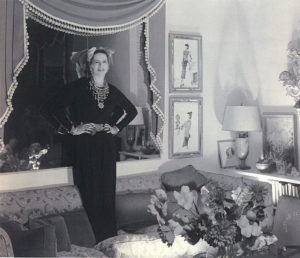 Diana Vreeland at her 400 Park Avenue Apartment in NYC during her years at Harper's Bazaar 1936-1962
The Creative Process behind 2016's release Outrageous Simply Divine
Alexander Vreeland: "Looking at my grandmother's legacy… we said, if we were to create a parfum absolu based upon the Simply Divine formula, what would that be? The point was really let's just have fun and do something totally different using the same ingredients, the same stories as the, but adding a whole new level of intensity…that's how we interpret my grandmother: as the courage to go bolder, stronger, more out there. With Outrageous Simply Divine Clement added new raw materials, making it even more multi-faceted. Playing with more floral notes in the white flower family. Clement Gavarry revealed some tricks of the trade: "If a scent is getting too heavy I added white florals (jasmine, orange flower, ylang-ylang) or musk, to convey a weightless, airy quality that kept the fragrances strong, yet feminine."
M. Gavarry shared, "that at the IFF facility in Grasse (France), which only works with natural ingredients, I used the modern techniques of distillation on the orange flower coming from Tunisia. Taking it from solid paste to liquid oil in that transformation process he was able to modify and select specific facets of the product. We selected the cleanest, the lightest, the more modern, the purest facets of the orange flower, and we did the same with ylang, ylang heart and orange flower heart, and those ingredients are more modern and bring divinity to (Simply Divine). Those ingredients are very modern."
Alexander Vreeland mentioned one of the challenges when you go to that level of intensity is that it can get very bold and sickly, turn screechy on you and noted that it was quite remarkable that Clement did not let it turn into a syrupyold fashioned scent. Elizabeth Mussmano noted that it was interesting that most people don't understand how much science is involved in the creation process.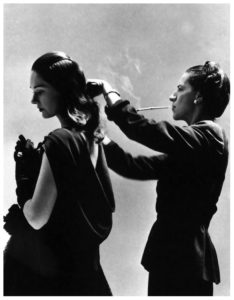 Diana Vreeland by Richard Avedon, 1946
In closing, Ms. Musmanno thanked Alexander Vreeland "You are such a gentleman, so wonderful to know. I can see your grandmother in you. In your grandmother's eyes. I'm sure she is very proud". She complimented Clement Gavarry as well, "He is one of the most famous perfumers in the industry and to have him come to Bergdorf Goodman and speak means a lot, sharing his talent with us is a wonderful gift."
-Hernando Courtright New York City Senior Event Contributor and Brand Ambassador with art direction and contributions from Michelyn Camen, Editor-in Chief
Author's note: Thanks to Tom Crutchfield, Roja Parfums, for introducing me to Peter Tarulli, Business Manager, Diana Vreeland Parfums.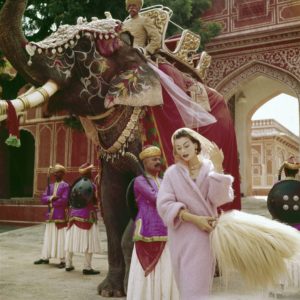 Diana Vreeland for Vogue Norman Parkinson , India 1956.
"I adore that pink! It's the navy blue of India,"-Diana Vreeland
Special thanks to Alexandra Vreeland for 5ml samples of Simply Divine and Outrageous Simply Divine in a Bergdorf Goodman bag for a registered US reader. To be eligible please leave a comment about Hernando's event report, if you have a favorite Diane Vreeland quote or perfume. Draw closes 10/19/2016
We announce the winners on our site and on our Facebook page, so Like Cafleurebon and use our RSS option…or your dream prize will be just spilled perfume