Sammarco Exhibit at Esxence 2016 and Dr Giovanni Sammarco who is the perfumer for Sammarco; love the little charms on the bottle (photos: Sammarco)
If you asked me directly what my favorite note in perfume was, I would answer without hesitation "rose". The bottles on my vanity give a different answer, however; as I glance over at them, I realize that jasmine is what parts me from my money most often.
As Editor in Chief Michelyn Camen was walking the show at Esxence in Milan with perfumer/fragrance expert Darryl Do of Delbia Do in tow, both stopped dead in their tracks at the Sammarco booth where they smelt an incredibly beautiful jasmine sambac fragrance, both agreed it was the best jasmine sambac they have encountered; it was obvious that a very high degree of natural ingredients was used. It was a fragrance called Alter and Michelyn called me when she got back from Italy and told me about her Jasmine Encounter. Dr. Sammarco was kind enough to send me a sample and I immediately understood why Michelyn was so impressed.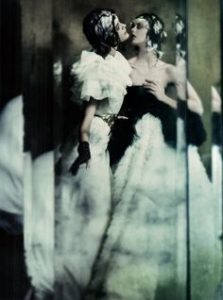 The Haute Couture – Vogue Italia by Paolo Roversi, September 2011
The insanely beautiful jasmine sambac rises like a benediction out of the vial, consecrating the air with its beauty. It's positively intoxicating and exactly like being surrounded by huge garlands of jasmine on a warm, humid night; there's no telling what might happen and you'll be disappointed if nothing does. A lovely rose enhances the jasmine, while something warm purrs seductively in the heart. Resinous incense turns what begins as a heady floral perfume into a very rich, sensual one.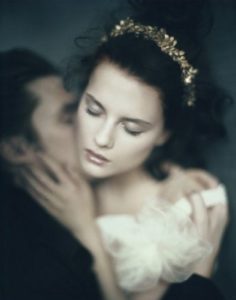 Paolo Roversi
My husband interrupted me every time I wore Alter for testing. (It blooms beautifully in the shower, by the way, and would make a stunning shower gel or soap) The ad copy for Alter says it is "A perfume for women, for men, and for women and men at the same time" to which I say Yes and Amen. It smelled like heaven on my husband.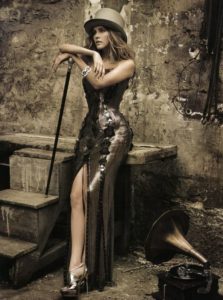 Emma Watson for Vogue Italia
Bond-T is "a perfume born in Pisa, during a tour of the chocolate factory of a well-known Italian Maitre Chocolatier"; With notes of cacao, patchouli, vanilla, osmanthus and tobacco, Bond-T is gourmand without being at all foody. It's as deep and rich as a lover's caress. I put this one on my husband and spent the rest of the day interrupting him. Where Alter is heavenly, Bond-T is sinfully good. It is a close call between Bond T and Alter for my "Best of Show"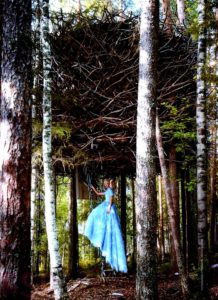 Karlie Kloss by Patrick Demarchelier in Giambattista Valli for Vogue US
I didn't think I'd care for Vitrum because I don't like vetiver, but I was quite wrong; apparently I've never smelled quality vetiver before. This is the loveliest cool green vetiver, nothing raspy or harsh about it. It's blended with rose "to give a touch of softness and black pepper to give power." On my skin, the rose and pepper take turns; sometimes the soft, sweet rose is more prominent, sometimes the pepper and its feistiness is, but it's always lovely and I think anyone could wear it. For those of you who love all natural fragrances Vitrum and Vetiver. well your prayers are answered.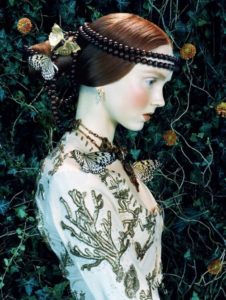 Lily Cole in Like a Painting editorial, Vogue Italia, February 2005.
Ariel is described as a green floral poudre and the most feminine fragrance in the Sammarco collection. Doctor Sammarco very chivalrously refuses to name his inspiration, but says it's one of the best he's ever had. It's based on the olfactive view of his physical and spiritual idea of woman. He clearly has superb taste. Ariel's notes include angelica, tuberose, jasmine, osmanthus, violette and rose, and sandalwood, with little bit of tobacco and davana and a hint of orris concrete. The fragrance is pure elegance, and incredibly luxurious, but still has the very sensual feel that seems to be Dr Sammarco's signature. It also happens to be dedicated to redheads. On behalf of myself and redheads everywhere, I thank him sincerely.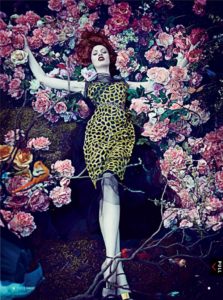 Karen Elson Featured in Hothouse Flowers Vogue USA 2013
Dr Sammarco is working on a new fragrance; like any work of art, creating it is taking time. I don't want to reveal too many details, but I will leave you with this: the perfume is extremely close to the idea and the esprit of a Proustian woman with skin naturally smelling of precious flowers. I know it will be worth the wait!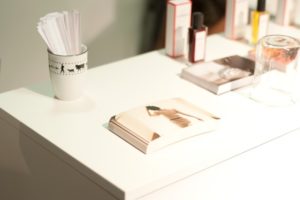 Sammarco at Esxence 2016
It's almost impossible to describe what presence these perfumes have. The quality of ingredients is outstanding; the amount of naturals is between 65 and 100 percent, depending on the perfume. Dr. Sammarco is himself Italian and moved to Switzerland in part to avoid IFRA restrictions in making his fragrances, although he still has to abide by them to a certain extent in selling within the EU, but mostly because he loves the country. Fortunately for us who live in the US and Canada, his perfumes are available at Indie Scents, (but we think deserve wider USA distribution because honestly) and if I don't find at least one of them under the Christmas tree this year, my husband is probably going to be reminded of why redheads have such a reputation for bad tempers.
DISCLOSURE My review is based on samples sent to me by Dr. Giovanni Sammarco (and my husband's very positive reaction to them!). Opinions are my own.
Tammy Schuster, Sr. Contributor
Art Direction: Michelyn Camen Editor in Chief. Lots of Paulo Roversi, Vogue Italia…and redheads. I spent an inordinate amount of time on the art for the reviews because after smelling each perfume in March, I just kept thinking that this small indie line is haute couture for the nose.
Dr. Sammarco is as generous as he is talented, and is offering the following: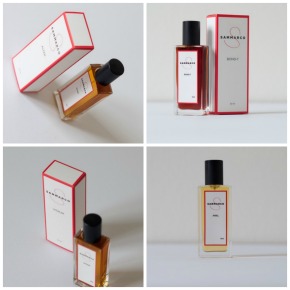 A sample set of each of his perfumes for a (registered reader) worldwide (You must click to register if you have not done so)
Or
A choice of a full bottle to one reader worldwide, with following Customs restrictions; he cannot ship to: Italy, Afghanistan, Crimea, North Korea, Iran, Iraq, African Countries except: Egypt, Algeria, Marocco, Tunisia, South Africa.
To be eligible, please leave a comment telling us which of Dr Sammarco's fragrances intrigues you the most, where you live and your choiceif you should win. Please like the Sammarco Facebook page and your entry will count twice.
We announce the winners only on site and on our Facebook page, so Like Cafleurebon and use our RSS option…or your dream prize will be just spilled perfume