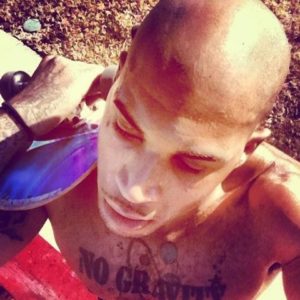 The Nosey Artist
"My body is my journal and my tattoos are my story."-Johnny Depp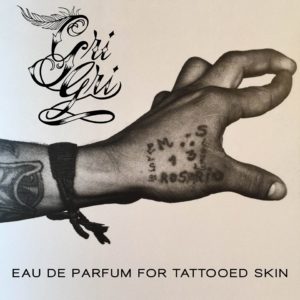 French perfumer Anais Beguine is best known for her beautiful line of perfume and home fragrance Jardins D'Ecrivains, launched in 2011, which has drawn its inspiration from literary characters including the Elizabethan playwright Kit Marlowe (Marlowe) and Beat Novelist William S. Burroughs (Junky). Last year, Anais introduced Les Cocottes de Paris inspired by infamous French Courtesans. Mme Beguine's perfumes all tell stories; great fragrance must tell a story on the skin and Gri Gri is all about stories on skin.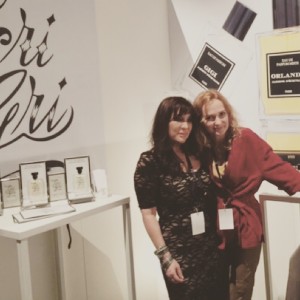 Gri Gri launch Michelyn and Anais at Esxence April 1 Photo Darryl DO
What we rarely seem to come across in a line of fragrance is that each scent tells the story of an entire culture spoken from different parts of the world. Gri Gri perfumes, which was launched at Esxence 2016 has wonderfully executed this by translating scent through the concept of historical tattooed skin in three different parts of the world; New Zealand with Moko Maori, India with Tara Mantra, and feudal Japan with Ukiyo-E. As I experienced all three fragrances the word 'culture' kept coming to mind, hence I continuously use the word throughout my reviews.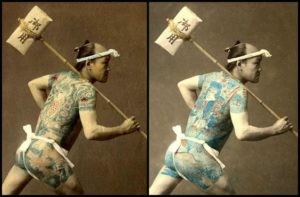 Japanese Tattooed warriors circa 1880s
Every time I closed my eyes and inhaled the aroma of Ukiyo-E, I felt that I was no longer in the 21st century and somehow went back in time to medieval Japan. There I was greeted with the scent of woods, florals, and steam as I immersed my tattoo covered body in the hot baths and enjoyed cups of green tea with my samurai comrades. The fragrance begins with a soft, comforting green tea note that's accompanied by a note I've never smelled before, but literally reminded me of the aroma of freshly steamed towels. As time passes the fragrance starts to develop floral nuances that are as graceful as calligraphy script and are coupled with woody notes that feel like poetry to the soul.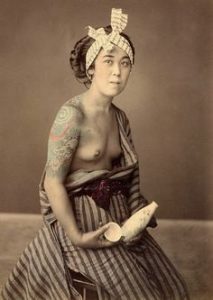 Meji Period Japan Woman with tattoos and a sake bottle circa 1880s
The dry down reveals an elegant smokiness that adds more comfort and depth and carries the mind to a calm peaceful state where there is no noisy traffic, no distracting mobile devices- just peace, serenity but awareness should danger surprise me; Ukiyo-E is a secret bath house for ancient samurai in a bottle, a complete experience of a luxury tradition of the sword wielding warriors as well as the defiant women who during the 1920s-1940s secretly rebelled against a Japanese law forbidding them to tattoo their bodies. Notes: Genmaicha – Yuzu – Arali, Daphne – Green Tea, Sakura – Ashibi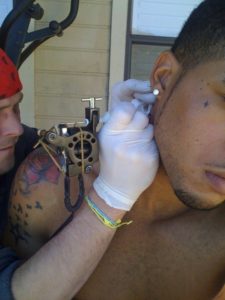 The Nosey Artist getting a tattoo of the Japanese character of Determination in Dallas
The other two fragrances in the collection are as evocative as Ukiyo-E, but as a fan of Japanese culture (I even have traditional Japanese tattoo art on one of my legs and on my neck ) Ukiyo-E spoke to me the most, however every perfume in this line is praise worthy.
Tara mantra Tattoo Matt Cee
Tara Mantra evokes going on a meditation retreat in Eastern India, spicy and hypnotic saffron in the opening coupled with the traditional Indian cooking spice hinge to the animalic note of agarwood that gives off the rich depth of sun kissed slightly sweaty skin. It's inspired by the ancient tattoo tradition where holy Sanskrit texts were tattooed on the bodies of men in order to gain spiritual power. Notes: Saffron – Cardamom – Hing, Heart notes: Patchouli – Ajowan. Lotus – Jasmine – Agar Wood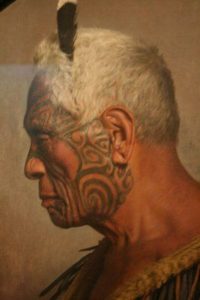 Maori chief by Charles Goldie (New Zealand artist)
The third fragrance is Mako Maori which is one of the richest green fragrances I've ever smelled, its beautiful composition includes New Zealand flax, fern, and lichen. I couldn't help but smell my wrist over and over again; perfect for the warm weather ahead. Notes: Tussock – Harakeke, Fern – Kowhai – Manuka, Lichen – Kanuka
Japanese woman with Irezumi (Traditional Japanese tattooing)
All three fragrances lean slightly masculine, but any woman with confidence and a creative spirit would wear them easily, especially Ukio-E. Sillage is moderate and is sure to catch the attention of any one within six feet and the longevity of the fragrances is remarkable, 12 + hrs; I've applied each fragrance in the morning, taken a shower at night and could still smell remnants of each before I drifted off to sleep.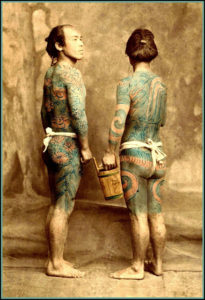 Japanese Man and Boy 1920s
Ancient Ink by The Nosey Artist (a haiku inspired by Ukiyo-E)
For every line made-
The past of men lies within
Behold, tattooed skin
Disclaimer: I received my samples of Gri Gri compliments of Anais Beguine
–The Nosey Artist
Art Direction Michelyn Camen and contributions; Gri Gri is available at Twisted Lily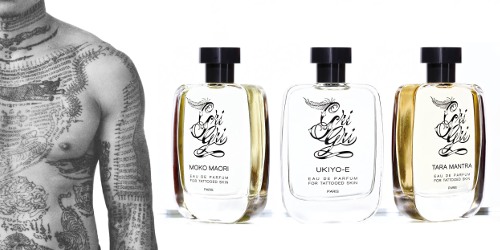 Thanks to Anais Beguine of Gri Gri we have a worldwide draw for registered reader for your choice of a 100 ml bottle of Urikoe-E, Tara Mantra or Mako Maori. To be eligible please leave a comment with which Gri Gri fragrance appeals to you based on The Nosey Artist's reviews or haiku, which you would like to win and where you live. If you have a tattoo we would love to know. Draw closes 6/12/2016
We announce the winners on our site and on our Facebook page, so Like Cafleurebon and use our RSS option…or your dream prize will be just spilled perfume