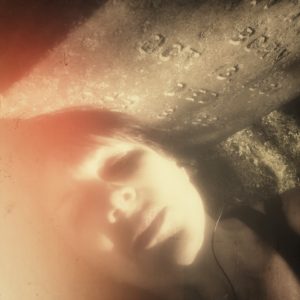 (EIC inspired by Gabriella Chieffo "Cindy Shermanesque" style lying on a tombstone at a pre civil war cemetery)
Time has heaped a bitter dust
Over her name:
Ashes are sagging on the hearth She breathed to flame.- From 'Anniversary in a Country Cemetery' by Katherine Anne Porter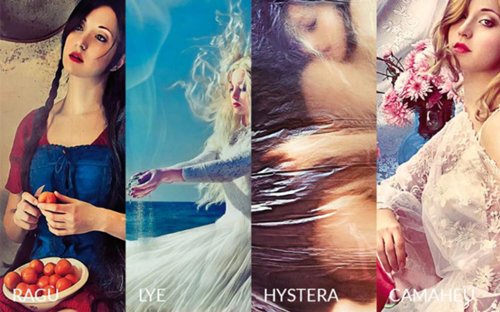 Gabriella Chieffo in her tableaus for Ragu, Lye, Hystera and Camaheu
I first reviewed Gabriella Chieffo's work back in December 2014 in an article entitled Simmered Astonishment for my own Foxy blog alongside a simultaneous piece for Cafleurebon's EIC Michelyn Camen, as it was she who suggested to Gabriella samples be sent to me in the first place. I was simply astonished by this weird, intense and profoundly personal line of singular olfactive installations.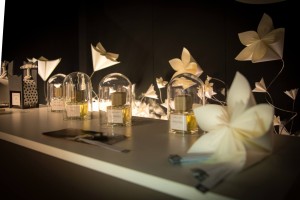 Photo of Gabriella Chieffo display Esxence 2015 photo by MC
The beautiful bottles with their stone caps, the heft of the flacons in the hand, Gabriella's obsessive Cindy Shermanesque insistence on performing the moods and themes of the scents in the frankly bonkers PR material made for quite the debut.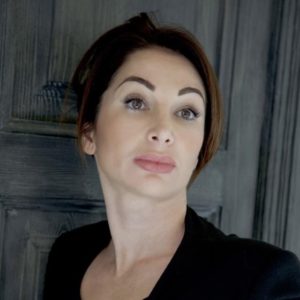 Gabriella Chieffo
It could have all been a messy, whitewashed pretentious mess, were it not for Gabriella's razor-sharp emotional intelligence, sense of Italian theatricality and her intense collaboration with Atelier Fragranze Milano and perfumers Maurizio Cerizza and Luca Maffei and of course the bewitching fragrances themselves.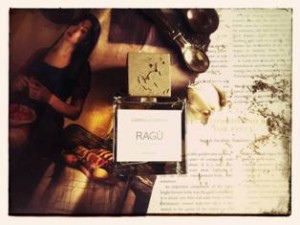 Gabriella Chieffo Ragu The Silver Fox
I was just obsessed with Ragù, I still am, it is utterly unique, a food-memory cashmeran drenched homage to slow-cooking classic tomato sauces in perfect Italian cucini on endless Sundays. Sweetness, herbs, a sense of stone, white walls, a rubbed aromatic vibrancy of sweet black pepper, nutmeg, elemi, cloves, saffron and cardamom, shimmering, simmering. A composition of complete originality and delicious gourmet idiosyncrasy.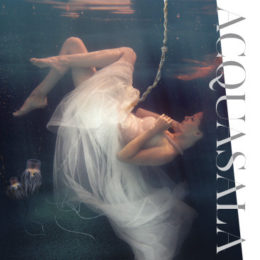 I chose Acquasala, Gabriella and Luca's saline dream scent as one of my best of 2015 where I described it as a '..fabulous, dreamy thing, soft and romantic yet gritty underfoot, between fingers, on lips. Salt of painted tears. Salt of painted sea.'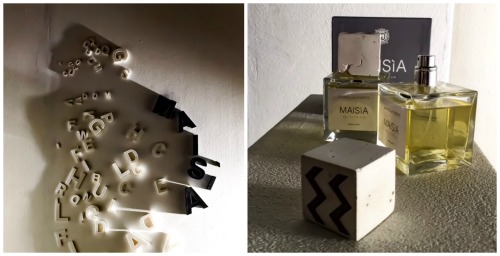 Maisia at Esxence photo Ermano Picco
Gabriella unveiled Maisìa, her new creation at Esxence in Milan recently, again, another collaboration with the very talented Luca Maffei who was also showcasing his other new work, a dazzling new buzzy, champagne-twisted iris called L'Attesa created with the boys at Masque Milano, Alessandro Brun and Riccardo Tedeschi.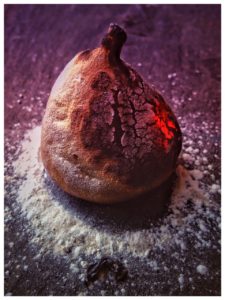 Fig blowtorched by The Silver Fox
Luca and Gabriella have built Maisìa around a very distinctive fig note, the fruit and leaf over a mournful ashen bed of musk tossed black amber and guaiac wood. In recent years fig fragrances have almost become a sub-genre unto themselves such is the popularity of this odd Mediterranean fruit. But the benchmarks are still two fragrances by French perfumer Olivia Giacobetti, Philosykos for Diptyque (1996) and Premier Figiuer for L'Artisan Parfumeur (1994). There are a lot of sunny, squishy, oozing fig scents around now, but the Mistral-swept cedar tones of Diptyque's composition and the milky, French summer stickiness of L'Artisan's moreish scent are still the fig scents by which all others should be measured.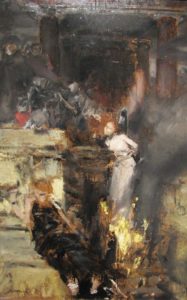 Albert Von Keller~Burning of a witch
It is to Luca's credit that Maisìa is so very different; it does walk a similar sun-scorched path to Philosykos, but the road is so much more bleak, scrub and trees blasted, skies glowering with ill humour and incantation. This is partly to do with Luca's edgy and dynamic handling of his materials and also the beautiful brief handed to him by Gabriella. The collection of Chieffo perfumes has to date been intimately linked to Gabriella, her emotions and experiences expressed through carefully wrought notes, accords and abstractions. Love, sex, pregnancy, death, motherhood, loss and puberty are tricky and seemingly unsuitable olfactive subjects, yet diffused through Gabriella's artistic eye and the perfumery skills of Cerizza and particularly the aromatic imagination of Luca Maffei, the themes are elevated to art, soaked in evocative and vibrant variants of ash, lye, rubbered vanilla, seaweed, salted musks, paper flowers and elemi gum. The potential histrionics and oddity of the subject matter are tempered and challenged by the steely expertise and control of Gabriella's undeniably curious and candid aromatic monologues.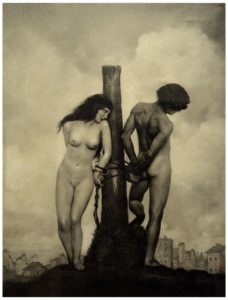 William Mortensen The Mark of the Borgia, ca. 1930
The fiction behind Maisìa is that of a beautiful woman, persecuted for her beauty, suspected of stregheria or witchcraft and burned. In some biblical interpretations, it is a fig that Eve plucks from the tree in the Garden of Eden thus condemning mankind to realising their true nature and exile from the purity of the Garden. The fig in its ripened milky voluptuous state can be seen as a symbol of original sin and is often considered a metaphor for female sexuality. It is fitting and somehow correct that Gabriella, a beautiful woman very much connected to a sense of sensual and sexual self has chosen this strange divisive fruit as the central theme for what is perhaps one of her finest compositions.
"Spit on me, laugh at me, brand me with fire like an innocent animal and tear my whore clothes. Maisìa! They shout to exorcise the demonic power of my beauty. (From Gabriella Chieffo Perfumes website)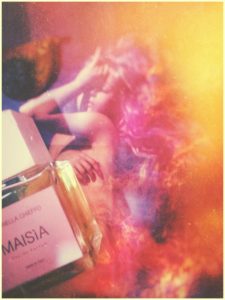 Maisia burning by The Silver Fox
Maisìa burns, but her beauty cannot be extinguished; such is its luminosity and power, rising from the ashes of this zealous pyre, more pure and ethereal than before, a cold force of eerie weather. In this unconventional essay in fruity persuasion, the fig is Maisìa, lush and ripe, skin textured and flushed with crimson; bright jolts of lemon and bergamot in the top are sudden sunlight as a blindfold is wrenched off.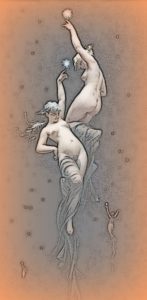 Luis Ricardo Falero (digitalized by MC)
Now this is not a medieval burning, this is now, wood and city debris, cardboard and recycling gathered angrily into a brilliantly lit concrete car park, brutally beautiful with mournful cladding and grey hawkish pediments. Drifts of oil dust and petrol taint the air, mingling with sweet hot fig and the shocking odour of narcotic brittle narcissi. Maisìa burns on a pyre of guaiac wood and sandalwood, embers collapsing onto acerbic black amber and a scattering of potent musks that seem to diffuse everything with a gauzy granular consistency. It is the unexpectedly grassy-sweet addition of honeyed broom that resurrects the ghostly fig, this time coated in concrete dust and charred grime.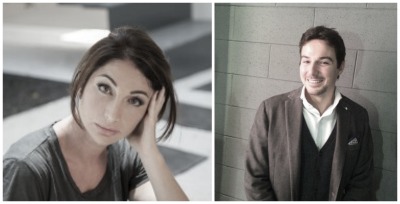 Gabriella Chieffo and Perfumer Luca Maffei
I am very impressed by the final industrial sweet concrete stage of Maisìa, the shift from that overtly figgy Mediterranean vibe through fire, collapse and resurrection. The witch's beauty is transmuted into ashen petals and charred leaves. Maisìa has odd tenacity on my skin, the elements rising and falling, Luca's perplexing fig note hiding in plain sight from time to time as the other notes busy themselves preparing for the olfactory conflagration. I love it and I'm not normally a fig fan, but there is something as always so compelling about Gabriella's on-going oeuvre and the emotional commitment she has to her perfumed stories. Her working relationship with Luca Maffei has so far produced some truly outstanding work and I look forward to seeing what comes next from the minds and skills of these two gifted Italian artists.
Bottle of Maisìa kindly gifted by Gabriella Chieffo. All opinions my own.
– The Silver Fox, Guest Contributor and Author of The Silver Fox
Art Direction Michelyn Camen At Esxence Gabriella's booth was so crowded she barely had time to wave. Also a hat tip to Ann Of Indigo Perfumery who was the first to bring Gabriella Chieffo to the USA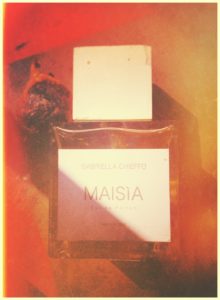 Photo by TSF Maisia
Thanks to the generosity of Gabriella Chieffo who has an online web boutique that ships to the US and the EU (so you can order samples very reasonably) we have a draw for a 100 ml bottle of Maisia for a registered ÇafleureBon reader in the EU and USA (if you are not sure if you are registered click here or your entry will be invalid). To be eligible please leave a comment with what you enjoyed about The Silver Fox's review, where you live and if you believe in witchcraft. If you have a favorite Gabriella Chieffo perfume we would love to know. Draw closes 5/4/2016
We announce the winners only on site and on our Facebook page, so Like Cafleurebon and use our RSS option…or your dream prize will be just spilled perfume