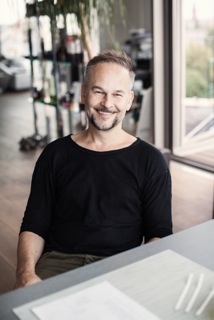 Geza Schoen just celebrated the 10th year of Escentric 01 A CaFleureBon Modern Masterpiece (photo per Escentric)
I've had the distinct pleasure of smelling much of Geza Schoen's work on many people. My first episode of being smitten was one of his compositions for Linda Pilkington of Ormonde Jayne – Ormonde Jayne Tolu with its sultriness-sans-heft character. There were many more to follow. Ah, but Kinski ! THAT had me over the barrel…The edgier, the better – as far as I'm concerned. And now to the new Escentric Molecules 04 series.

Javenol molecule ©
"What I love about Javanol is its almost psychedelic freshness," says Geza Schoen. "It smells as if liquid metal grapefruit peel were poured over a bed of velvety cream colored roses."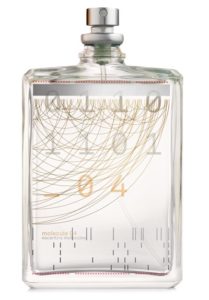 Molecule 04
This was instantaneous sorcery in the copper-hued travel size bottles so kindly provided. Whatever the dilution may be, I found this to be my favorite of the two fragrances due to its intangible subtlety, outrageous tenacity – and the marvelous fact that nearly every male I've sprayed it on appears to be anosmic to it – at the outset, at least..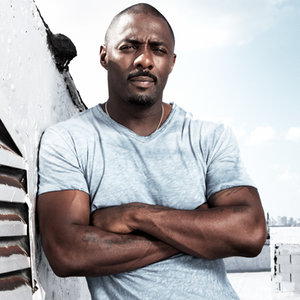 Idris Elba Details Magazine
In an ideal world I would engage in throes of an excessively carnal nature with Idris Elba, and we would both be wearing Molecule 04.This fragrance composed solely of the aromachemical Javanol yields up its secrets over the fullness of time and space. It becomes YOU; you don't become it. Certainly there is an initial scintillating facet of grapefruit peel and metal, but it is merely the commencement of a long journey which leads me to creamy, weightlessly persistent sandalwood intimating flesh and perspiration – a sort of lascivious saltiness married to wood.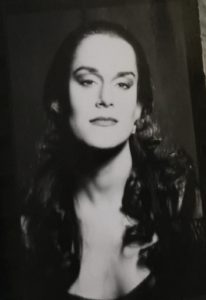 Photo of Ida, 1981
When I say long-lived, I'm referring to undergarments I've laundered which still retain vestiges of Molecule 04 after several washings: it might not be perceptible to some, but I'm tantalizingly aware of it. It's my conspiratorial smile.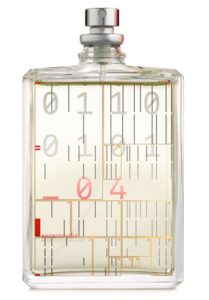 Escentric 04
"In Escentric 04 Schoen takes the grapefruit note in Javanol and revs it to hypermodern freshness."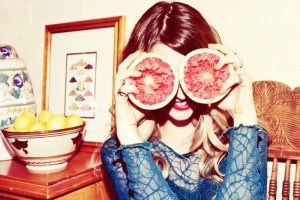 Woman and grapefruit via flickr
I experience Escentric 04 as a zesty, fizzy tonic romp – irrefutably invigorating. Pink grapefruit pops with barely-constrained vivacity. It has oodles of company which up the ante: a seamless inclusion of savory (juniper, pink pepper), fruity (bergamot, osmanthus as apricot fruit leather), florid (expansive Hedione, freesia, orris, rose), balsamic/woody (Javanol, mastic, vetiver, Iso E Super, Ambroxan) elements and judiciously dosed animalics (labdanum straddling the amber/herbal/animalic/balsamic tightrope, musk, castoreum).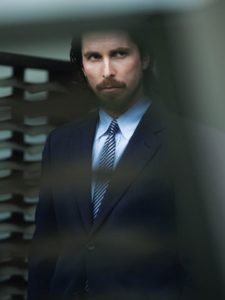 Christian Bale GQ
Escentric 04 is a smooth operator: suave, timeless, a contemporary antidote to olfactory boredom. It's a glorious masculine, but not so 'extra-butch-with-butch-sauce' that it doesn't smell fabulous on a woman (I am a woman, after all). It dries down beautifully; like several of the perfumer's compositions – you may lose track of it over time, only to rediscover it at a later hour while others nearby have been enjoying it discreetly throughout the day.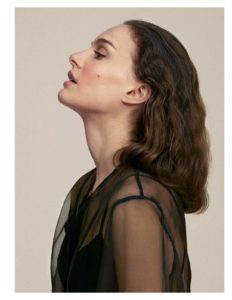 Natalie Portman Elle France 2016
Its charm is insidious, and longevity is superb.I could as easily envision that deliciously intense Shaun Evans (star of PBS/BBC Endeavour) wearing Escentric 04 as I might the fearless brainy beauty Natalie Portman. Warum nicht?
Notes: Pink Grapefruit, Bergamot, Juniper Berry, Pink Pepper, Hedione, Freesia, Osmanthus, Orris, Rose, Javanol, Mastic, Labdanum, Iso E Super, Musk, Ambroxan, Castoreum, Vetiver
Samples sweetly provided by Escentric Molecules and Geza Schoen; opinions, my own.
-Ida Meister, Sr Editor
Co-art direction by Michelyn and Ida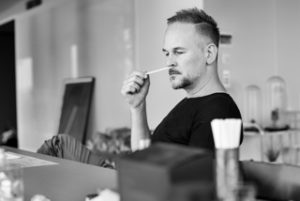 Editor's Note: Thank You Nicki and Paul from Team Geza for the marvelous photos and the draw.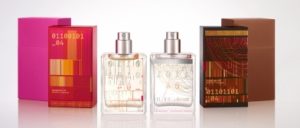 Escentric Molecule 04 Escentric and Molecule
Thanks to Geza Schoen and his marvelous team at Escentric, we have both a 30 ml bottle of both Escentric 04 and Molecule 04 for one registered reader in the EU, USA or Canada. Please be sure to register! To be eligible for the draw, please tell us where you live, what appeals to you about Ida's review, and your favorite fragrance/s by Geza Schoen. Draw closes 7/25/2017
We announce our winners only on site and on our Facebook page – so Like ÇaFleureBon and use our RSS feed...or your dream prize will be just spilled perfume.