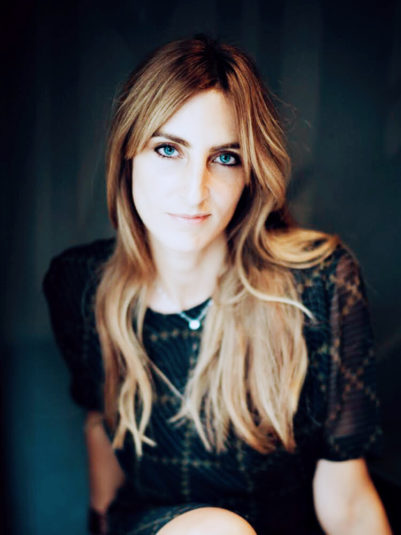 Sonia Constant of ELLA K
Young, gifted perfumer Sonia Constant of Givaudan (whose recent creations include Mademoiselle Rochas, Eclat d' Arpege pour Homme, Balmain Extatic, Bleu Noir and Fleur Musc for Narcisco Rodriquez, to name a few) has created her own line of intensely personal fragrances, ELLA K.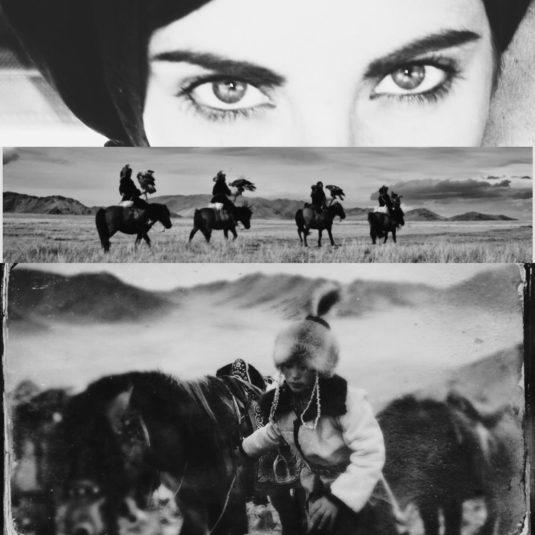 ELLA K Parfums collage Melodie de Altai:photo Palani Mohan,Sonia's eyes Olivier Gagliardi from her travels
Each is a perfumed vignette which embodies her adventurous spirit and portrays numerous travels. More than mere aromatic travelogue, these fascinating perfumes encapsulate a world entire within each, a scented microcosm, a breathing biosphere. She was kind enough to send a selection of these, enclosing a remarkable libretto with unforgettable imagery – and it is my pleasure to share two contrasting fragrances: ELLA K Poème de Sagano and ELLA K Baiser de Florence from the seven perfume collection with you. Each possesses its own distinct voice, coloration and narrative.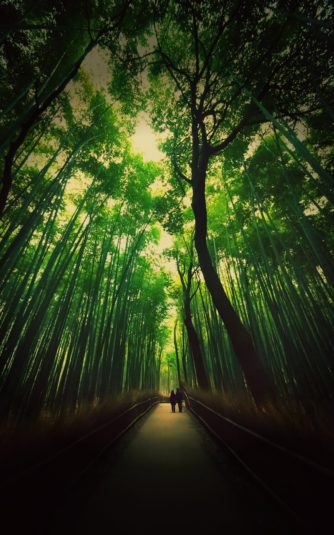 Kyoto's Sagano Bamboo Forest via Traveltheworld.org© apped MC
ELLA K Poème de Sagano: As an aficionado of verdant lush bamboo perfumes, I found myself immediately engaged by ELLA K Poème de Sagano upon first spritz. Unlike Sonia, I've never been blessed with the opportunity to frequent western Kyoto's Sagano Bamboo Forest – that cathedral of venerable arboreal giants awash in mutable hues of green/grey/blue which populate a precious expanse. I now wish fervently to softly tread that soil myself one day.The illumination which pierces the forest canopy is our low molecular-weight tonic citruses, those glorious notes which flee the fastest: bergamot, mordantly juicy grapefruit, mouth-watering yuzu. These are shafts of light which dart like an arrow, piercing the exotic landscape to create a path through the bamboo. Tender young shoots are exquisitely green and faintly fruity; they wed spearmint (Nanah mint) and faintly bitter eucalyptus convivially with ceremonial grade umami-savory Matcha tea as olfactory celebrant. We experience Poème de Sagano's drydown as breath on the wind, a compassionate verdant murmur in one's ear, a siren song of sorts. Notes: citrus, bergamot, grapefruit, yuzu, bamboo, Nanah mint, eucalyptus, Matcha tea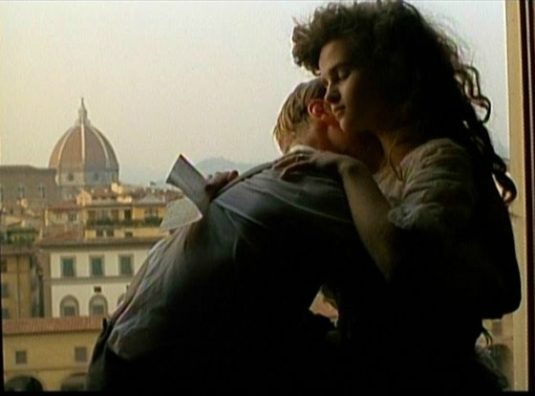 Scene of the Il Duomo di Firenze Room with a View Helena Bonham Carter and Julian Sands 1985
ELLA K Baiser de Florence (Sensuous Powdery Iris) Firenze, 1299 – contemporary historical figure Gianni Schicchi is lambasted in Dante's Inferno Canto XXX. New York City,1918 – Metropolitan Opera debut of Puccini's Il Trittico one act opera Gianni Schicchi takes the city by storm. Envision a Room with a View, English novelist E.M.Forster's tale of romance and a young woman's defiance of staid Edwardian norms against the magnificent backdrop of 1908 Florence. Fast forward to Merchant Ivory's plush 1985 film adaptation, glowing with nubile Helena Bonham Carter and elegant Julian Sands passionately entwined the windowsill opening upon Il Duomo di Firenze. SIGH. Need I say more?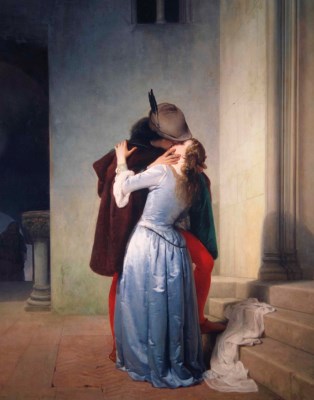 Il Bacio The Kiss Francesco Hayez 1791
Yes. Powdery as descriptor doesn't begin to express what I feel, smell, see; traditionally, one thinks of powder along the lines of lipstick, greasepaint, babies. This is sanctified powder, the sacred kiss souligné with volupté. ELLA K Baiser de Florence is so beautiful it makes me shiver. There are iris perfumes aplenty; incense perfumes abound. It is profoundly wearying to smell a great many of them as they are frequently handled ponderously, cudgeling the nose like an olfactory icepick. Perfumer Sonia Constant has put a halt to this; she has created such a nuanced perfume, subtle, many-visaged and lovingly embroidered. The Renaissance draws breath – and we follow suit.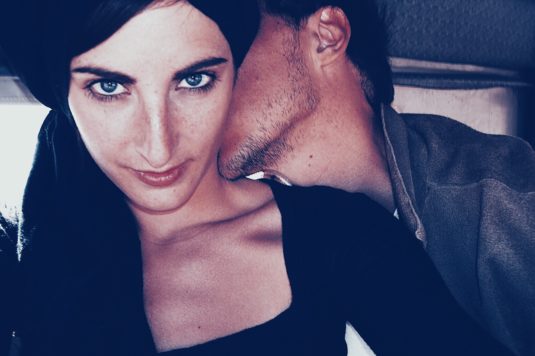 Sonia Constant and her partner in love and ELLA K Parfums Olivier Gagliardi
Jasmine and myrrh are alchemical together. Tendrils of heliotrope are wistful in lieu of bashingbaby powder (it is the U.S. which perceives babies as heliotrope-scented; other countries think in terms of lavender, orange blossom, linden), a lovely tender rendition. The cedar and incense are so artful, intuitively incorporated; the rustling of richly-hued silk velvet is mirrored by Sonia's sleight-of-hand musk/vanilla employment. ELLA K Baiser de Florence is a painting, a skilled lutenist seated by the corner window, that intimate chamber concert during which the beloved's breath is upon one ever so stealthily, unnervingly erotic. You are in public view and can only tremble with emotion, the blush rising from your neckline upwards to the cheek upon which it blooms floridly. Pink pink as the glorious jus itself. You are in its thrall. Yes, this is my absolute favorite among these perfumes. I am literally beside myself…
Notes: iris, jasmine, heliotrope, myrrh, incense, cedar, musky vanilla
Samples kindly provided by ELLA K My nose is my own…
~ Ida Meister, Senior Editor
~ Art Direction: Michelyn Camen, Editor-in-Chief
Follow us on Instagram @cafleurebon @constant.sonia and @ella_k_parfums_paris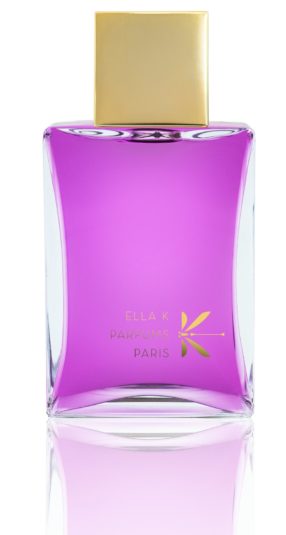 ELLA K Parfums Baiser de Florence (Photo Maeva Delacroix)
Thanks to the generosity of Sonia Constant and ELLA K Parfums we are offering a reader's choice of a 70 ml bottle of either ELLA K Parfums Baiser de Florence (230 €)
or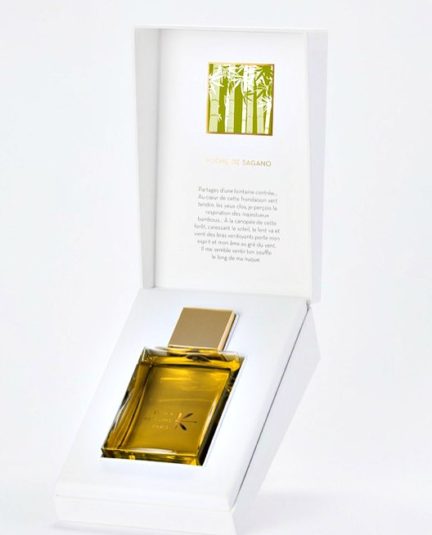 (Photo Maeva Delacroix)
ELLA K Parfums Poème de Sagano (195 €) for1 registered reader in the USA, EU or Canada. You MUST register or your comment will not qualify. To be eligible which of the ELLA K perfumes calls to you based on Ida's review, and your choice should you win and where you live. Draw closes 2/23/2018
We announce the winners only on site and on our Facebook page, so Like ÇaFleureBon and use our RSS blog feed…or your dream prize will be just spilled perfume.