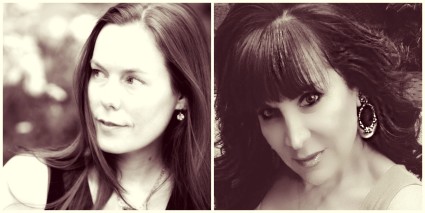 Dawn Spencer Hurwitz and Michelyn Camen
It was a muggy, rainy afternoon; a typical New York City summer. I was heading uptown to meet Michelyn but couldn't get a cab, so I walked 30 blocks in the rain without an umbrella. I arrived soaked to the bone but happy to see my friend. I dried off, we ordered a bottle of good Burgundy wine, and sat down to catch up.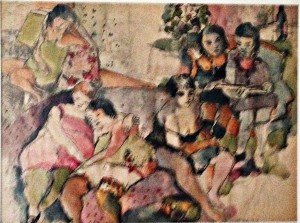 Michelyn painted "Women with Potted Plants" pen & ink and watercolor in Paris
What was planned as a dinner between two friends turned into an epic olfactive journey through time and place; to Paris, when Michelyn was an art student. I didn't realize it at the time but we had begun collaboration on a perfume that would take 7 years to complete. Just as daydreams can appear gauzy and ethereal, memory is imperfect and over time, can expand or contract in the telling so our perfume evolved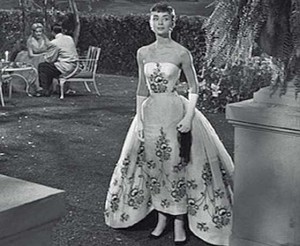 Audrey Hepburn starred in Sabrina 1954; it was her first collabroration with designer Hubert de Givenchy.
I named it Reveries de Paris. We had other titles over the years but what finally emerged is a capsule in time… a semi auto biographical modern day "Sabrina" story. I worked without a brief, just my recollection of that evening. A young woman from Brooklyn goes abroad to study and within a year of living in Paris she becomes more worldly, experiencing expensive perfume, fine wine, the allure of Hermes silk carres and hand bags…all for the first time.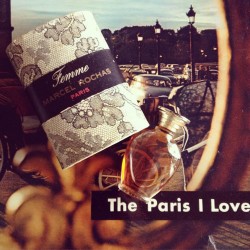 Vintage Rochas Femme by Edmond Roudnitska was given as a gift to Michelyn twice!!!
An important realization I had during our conversation, is that one can be born with class but sophistication is learned. Michelyn shared her experiences, including a gift of her first "grown up" perfume, the glory that is Edmond Roudnitska Rochas Femme. Luscious and sensual, the name literally "Woman", the naive girl was behind her. Fast forward, two decades, Michelyn met and became friends with Perfumer Michel Roudnitska, Edmond Roudnitska's son. Her original flacon was long gone and Michel gave her a few precious ounces of his father's original formula. Of course, there are key reference notes woven within Reveries de Paris that point directly to this iconic chypre perfume, prunol, rose de mai, grandiflorum jasmine, a hint of cumin, and oakmoss. The semi biographical story aside, we wanted this fragrance to speak to perfume lovers of their own sensual awakening, of discovery of experiencing another culture and first love.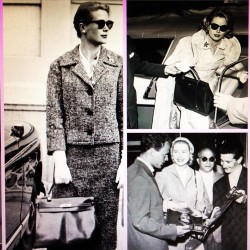 Grace Kelly inspired the Hermes Kelly bag; Michelyn left Paris before Jean Louis Dumas created the "Birkin" for Jane Birkin in1984
Reveries de Paris surely contains fragrant markers that float in and out of Michelyn's scented memories. In addition to Femme, I incorporated the aromas of leather, silk, the smell of the nape of a lover's neck and fresh flowers bought at Le Marché aux Fleurs. As we talked about life and of course, PERFUME… Michelyn boldly stated that she didn't particularly care for vintage fragrances. Even so, Reveries de Paris does have a very vintage feel. It strikes a wonderful balance between vintage design styles and contemporary ones. The modern sense of narrative and storytelling melds beautifully with the very French, very complex, and sophisticated perfume style of "Reveries". I feel that Reveries de Paris defies a pigeonhole classification and represents Michelyn's aesthetic mixed with my own.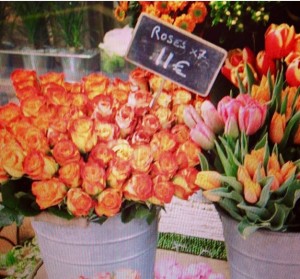 Paris Flower Market Roses
Since the fragrance speaks to her first exposure to the very best , I used the very best raw materials and ingredientsI, rare so I only find in small quantities. In composing Reveries de Paris, I used orris butter from Florence, Boronia absolue from Tasmania, and to make the fresh flower accord for rose de mai that was in Femme, I used French Rose de Mai and Bulgarian Rose Otto. The base contains Yugoslavian oakmoss that has aged for 25 years, hyraceum absolue (African Stone) and natural castoreum.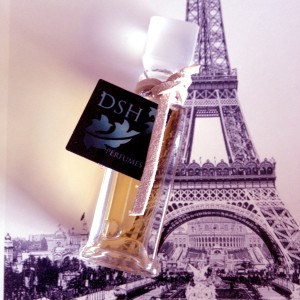 I have worked before with Michelyn on Lautrec, but Reveries de Paris is a very different collaboration, much more personal and my tribute to a muse and creative director for some of the most respected American indie perfumers including Jane Hendler of Ajne, (Lakshmi was Michelyn's concept that began as a bespoke perfume and later was worn by Molly Sims Kerry Washington), Laurie Erickson of Sonoma Scent Studio (Yin and Ylang), Neil Morris of Neil Morris Fragrances (Vision in White) , Shelley Waddington of En Voyage(Zelda), and Ellen Covey of Olympic Orchid Artisan Perfumes (Sonnet XVII). Michelyn, you are my muse extraordinaire… and it gives me great pleasure to share Reveries de Paris with the fragrant world.
Top: plum, peach, bergamot, spice notes, green notes; Mid: grandiflorum jasmine absolute, rose de Mai absolute, orange flower absolute, boronia absolute, heliotrope; Base: Siam benzoin, labdanum, vanilla absolute, ambergris, musk, hyraceum, Castoreum
–Dawn Spencer Hurwitz, Founder and Perfumer of DSH Perfumes
Reveries de Paris is available as a limited edition of 25 5ml parfum ($125) and 50 of the 30 ml Voile de parfum ($135) EDP and 100 10 ml spray atomizers ($60); samples and dram flasks are also for sale.
Editor's Note: This is my 7th fragrance collaboration and without planning coincides with the seven years Dawn worked on Reverie de Paris.Teasers for the launch have been on Instagram @dsh_artscent for the past several days #vintage style, #fruityfloralchypre #musemichelyn. Reveries de Paris has been a long time in the making, but I couldn't be more thrilled with the final perfume. Heliotrope is used in small amounts and references that Paris always smelled like powder to me. What perfumer would spend seven years on a fragrance, perfecting each element of its composition and translating a personal story so exceptionally? Dawn, each time I apply Reveries de Paris, I feel young again; smell is so linked with memory that even the dimmest recollection was triggered. Your support and unfaltering friendship throughout the years means the world to me. Most importantly, thank you for all you do to elevate the art of American perfumery.-MC
Thanks to Dawn Spencer Hurwitz, we have a worldwide draw for our registered readers (don't forget to do this or your comment will NOT count and you must use your registered name) of a 5ml parfum of Reveries de Paris (there are only 25). To be eligible please leave a comment with what resonated with you about the creation of Reveries de Paris. If you want your comment to count twice please like DSH Perfumes on Facebook.Draw closes October 1, 2015
We announce the winners on our site and on our Facebook page, so Like Cafleurebon and use our RSS option…or your dream prize will be just spilled perfume