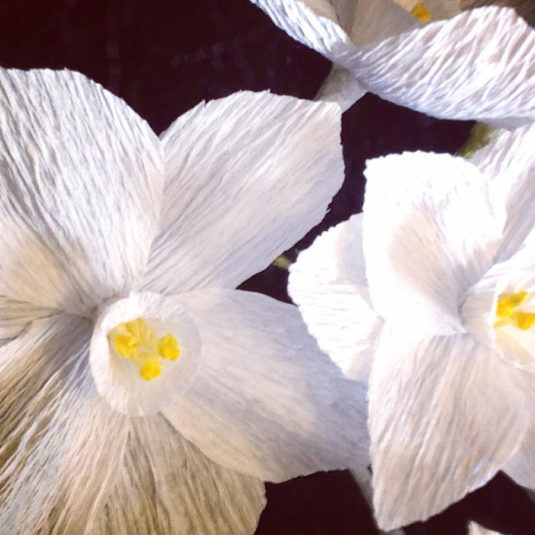 Paperwhites by Susie Baird ©
Perfumer Dawn Spencer Hurwitz has had paperwhites (aka Narcissus papyraceus) on the brain of late: those trumpet-form corona, potently-scented perennials which favor their native Mediterranean clime from Greece to the Iberian peninsula and Northern Africa. These fragrant members of the daffodil family have seen fit to 'naturalize' themselves throughout the Azores, Corsica, Texas, California and Louisiana as well. Most of us think of them in the context of forcing their bulbs indoors for Christmas – and they can be forced, but it's lovely to view and smell them in situ – in a natural setting surrounded by soil and sun where they obligingly hold court. After all, noblesse oblige.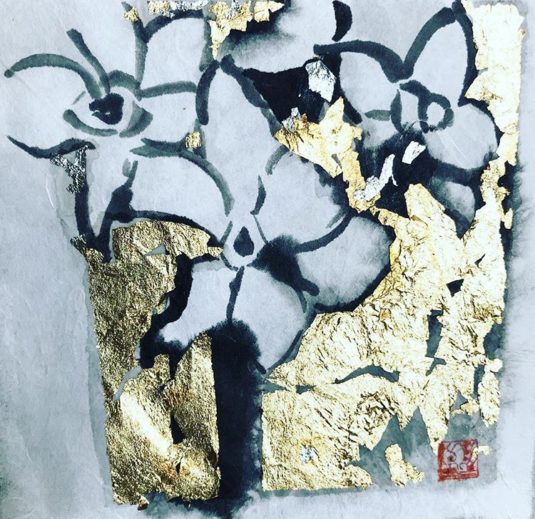 mixed media painting by Dawn Spencer Hurwitz© for DSH Perfumes Paper White
Narcissus is the traditional harbinger of Spring; what a perfect way to celebrate Mother's Day.The narcissus family has had a long, illustrious and complex history pre-dating us by approximately 33.9 million years. Its very name is linked to the Greek word for 'narcotic' and has been associated over time with various themes ranging from death to good fortune. We're all familiar with the cautionary Greek myth regarding youthful, beautiful Narcissus who tragically fell deeply in love with his own reflection (much to his own detriment). The deceptively simple-appearing elegant blossom possesses a remarkably intricate scent profile – and it takes someone with Dawn Spencer Hurwitz's skill to wrestle with a varied palette in order to conjure the complete experience for us. She has succeeded with a flourish. I know that it was a labor of love on her part; how fortunate we are to partake of her vernal passion.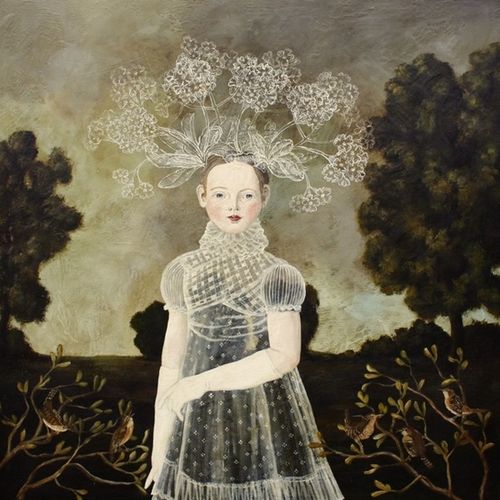 Anne Siems© Plant Wisdom
The heart and the nose crave what they crave and we follow instinctively in their thrall. I smelt so many facets that I found it helpful to perform an uncharacteristic (writing-wise) breakdown of some of my observations, which I'd like to share with you. They are unguarded and immediate. It may help provide a sense of what is happening in this DSH Perfumes Paper White: a bit like a map, it indicates what you might see along the way without necessarily revealing how the journey will turn out.
Jonquil: heavy, honeyed, floral, green, balsamic
Narcissus: heavy, green, herbaceous, floral, balsamic, spicy, indolic, barnyard
Jasmine grandiflorum: very sweet, intensely floral, balsamic musky-indolic vanillic undertone; deep coumarin-like richness
Papyrus: umame, sweet, salty, rye bread, mushroom, soy, leathery
Tunisian neroli: luminous, citrus, floral, green, sunlit
Oakmoss: dry, earthy, bark overlying decaying leaf, lichen, damp soil, musty, inky
Mysore sandalwood: smooth, rich, creamy-sweet woody
Bergamot: citrus-fruity, herbaceous, juicy, balsamic
Earl Grey tea: tannic, fruity, dry, floral, astringent
Paper: woody, dry, vanillic, musty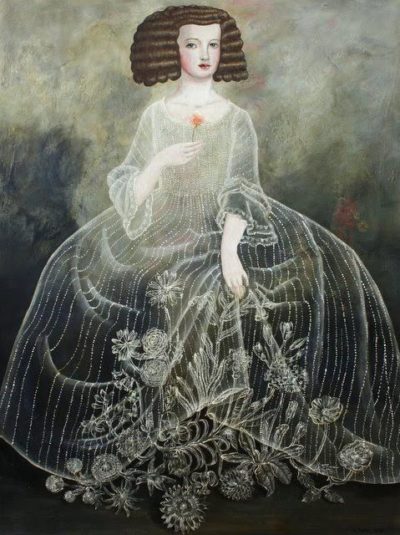 Anne Siems© Blossom
We can smell an aromatic tapestry, yes? How adroitly the aspects of heft and the ethereal counterbalance one another. There is a communion of opposing elements – the dry with the damp, heavy with radiant, sweet with salt, creamy with tannic, astringent with juicy, earthy with celestial – losing none of their innate qualities while complementing one another and holding up a fragrant mirror.
This is partially what I meant by complex.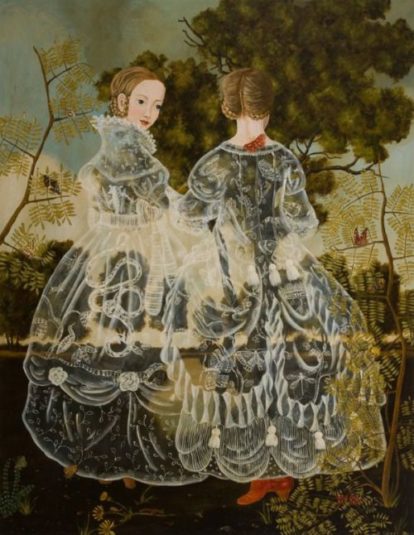 Looking Back Anne Siems©
DSH Perfumes Paper White is pure poetry. It commands your fifth sense, draws you in unreservedly and feels entirely natural, as if you were tarrying in the Garden Primaeval. It is a perfume of dualities: one smells knowingness lurking beneath the initial impression of sun, innocence, illumination. Its organic, strangely arresting beauty feels truthful and utterly persuasive, haunting:elegance which satiates one's lust for the unique exceptional aromatic garment trailing behind like a gossamer mantle floating upon the passing zephyr. Notes: bergamot, Earl Grey tea accord, Tunisian neroli, paper accord, jonquil absolute, narcissus absolute, grandiflorum jasmine absolute, Mysore sandalwood, papyrus, oakmoss.
Sample kindly provided by the perfumer. My nose is my own…
~ Ida Meister, Senior Editor
~ Art Direction: Michelyn Camen, Editor-in-Chief (I chose to use Dawn Spencer Hurwitz's art as well as Ann Siems© a Seattle artist who merges folklore, myth and flora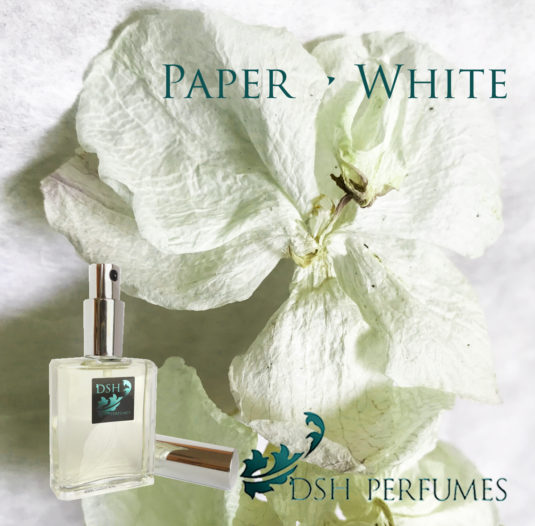 DSH Perfumes Paper* White by Dawn
Thanks to the largesse of Dawn Spencer Hurwitz of DSH Perfumes, we have an draw for an avant premiere 10 ml voile de parfum of DSH Perfumes Paper White for one registered reader anywhere in the world. Please be sure to register. To be eligible please let us know what appeals to you about Ida's review, where you live, or your favorite DSH perfume. If you don't have a favorite by now…what are you waiting for? Dawn ships including samples worldwide !!! Support our artisans!! Draw closes May 3, 2018
Note: DSH Perfumes Paper* White will be available May 1, 2018 on the DSH Perfumes site
We announce the winners only on our site and on our Facebook page, so like Cafleurebon and use our Site feed …or your dream prize will be just spilled perfume.