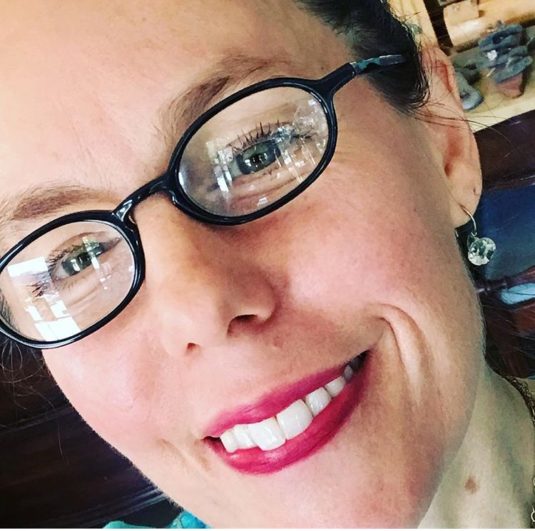 Dawn Spencer Hurwitz wearing cerise lipstick
"Oh, how ripe in show. Thy lips, those kissing cherries, tempting grow…"- William Shakespeare – A Midsummer Night's Dream
The name, Eau Cerise, from "Volume" I of the DSH Perfumes 100 % botanical fragrances The Forbidden Fruits (Les Fruits Défendus), translates simply to "Cherry Water" But the new DSH Perfrumes all natural fragrance, Eau Cerise, is so much more than a juicy summer cherry. We asked Dawn about her creative process: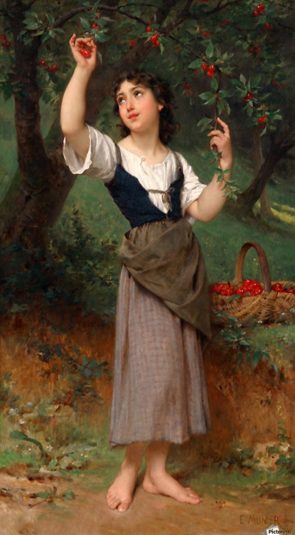 Emile Munier©
"In terms of the process of creating an all-natural cherry perfume ( and this is something that I do often when researching / creating any perfume ) I get as close to the actual material that I am trying to portray (or speak to) as possible. In this case, I bought copious fresh cherries when in season and smells them tasted them and wrote many notes about how they each smelled, felt, etc while I was "experiencing' them. I write down impressions and materials that I feel speak to those impressions and see how they might fit together to make the accords I want in the perfume. When working with all naturals, for me, that means weaving pretty intricate 'tapestries' to tell my story. What I really wanted to do with DSH Perfumes Eau Cerise was to create a perfume around *the experience* of black cherries and the sensuous joy that they give, more than make a "cherry" perfume. That is why when I starting thinking of pairing the cherry with a floral the Catalpa flower made so much sense. Both black cherries and catalpa flowers share some aspects of the aromatic experience — while having parts that are not direct overlaps. This 'compare and contrast' of the two main notes is what I think is most interesting and rich."- Dawn Spencer Hurwitz in response to CaFleureBon's question on creating an all-natural cherry perfume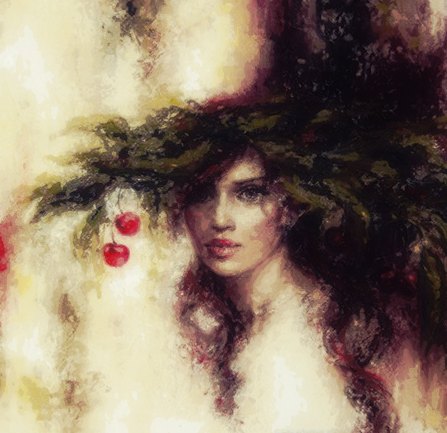 flickr apped by MCl©
With Eau Cerise Dawn Spencer Hurwitz has been able to create a fresh, luscious botanical cherry that is at once dark with mystery and imbued with realism. DSH Perfumes Eau Cerise not only calls forth the sensuality of the feminine, long associated with the cerise colored fruit, but also distills the essence of the color itself in olfactory images of red, pink, magenta and, of course, cerise, painting scents (and scenes) of fruits, flowers, herbs and green-dark resins.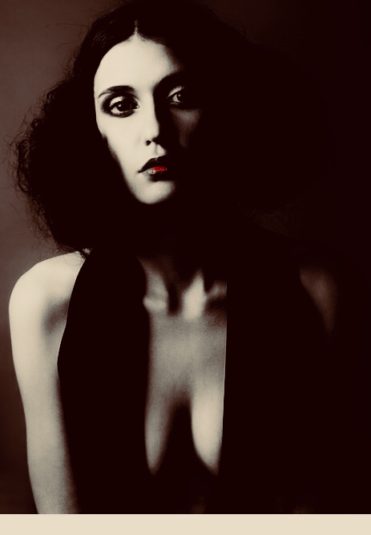 via Pixaby apped by Gail
Eau Cerise is a "true cherry floriental". The first kiss of the fragrance tantalizes like a breath of carnation on an early summer morning – almost but not quite innocent, cool but with a dark hint of spice and passion. Deceptively shy at first, the carnation soon blooms into a compote of liquored black cherries laced with galbanum, the Queen of Green, a note that seems to enhance the cherry's natural affinity for the scent of bitter almond. Never too sweet or sticky, DSH Perfumes Eau Cerise is not a perfume for the naïve or inexperienced, but rather a darkly serious and bewitching scent, hinting at seduction and sexual magic.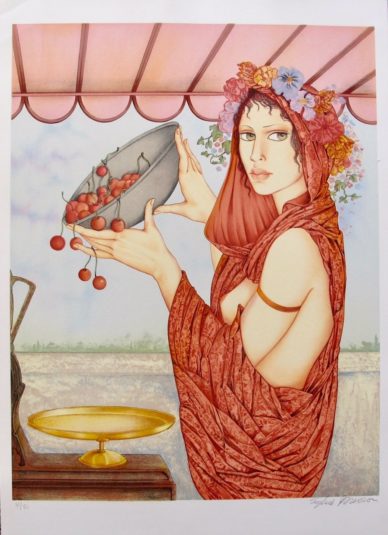 Susan Busson©
After the first enigmatic hour, DSH Perfumes Eau Cerise begins to meld with the skin, weaving a transparent veil using the oils of my body combined with the juices of the deep hued fruit. Sheer wet notes of violet leaf and suggestions of geranium, a bouquet of old roses, cassie blossoms and golden champaca add gilt and sparkle to the cherries. From the floral opening through the dark heart, resting finally as a gauzen finish, Eau Cerise maintains an almost mystical vegetal character. The translucent essence of tart fruit lingers well into the evening hours, vanishing as oakmoss, black cherries and patchouli.
Notes: Black cherry accord, catalpa blossom accord, sea buckthorne co2, ambrette seed, Atlas cedarwood, East Indian Patchouli, green oakmoss, licorice, violet leaf absolute, Virginia cedar, Bulgarian rose absolute, Centifolia rose absolute, champaca absolute, Egyptian rose-geranium, cassie flower and galbanum.
Disclaimer: I would like to thank Dawn Spencer Hurwitz for the generous sample of Eau Cerise. My opinions are my own.
Gail Gross – Senior Editor
Art Direction – Michelyn Camen, Editor-in-Chief (who found the cherry accord in Eau Cerise delectable and comparable to Guerlain La Petite Robe Soir -Delphine Thierry 2009). I am going to editorialize and explain how very difficult it is to create a "fruit" fragrance using all botanical ingredients. A testament to Dawn's skill and artistry in all materials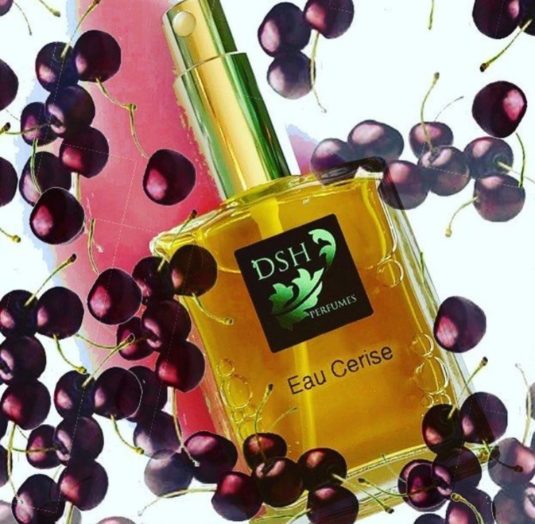 Photo Courtesy of DSH Perfumes©
Thanks to the generosity of Dawn Spencer Hurwitz, we have a 1-dram bottle of DSH Perfumes Eau Cerise for one registered reader worldwide. To be eligible, please leave a comment saying what appeals to you about DSH Perfumes Eau Cerise based on Gail's review. You can also tell us if you have experienced cherry in a fragrance or have a favorite forbidden fruit. Draw closes 8/20/2018
We announce the winners only on site and on our Facebook page, so Like ÇaFleureBon and use our Blog feed…or your dream prize will be just spilled perfume.