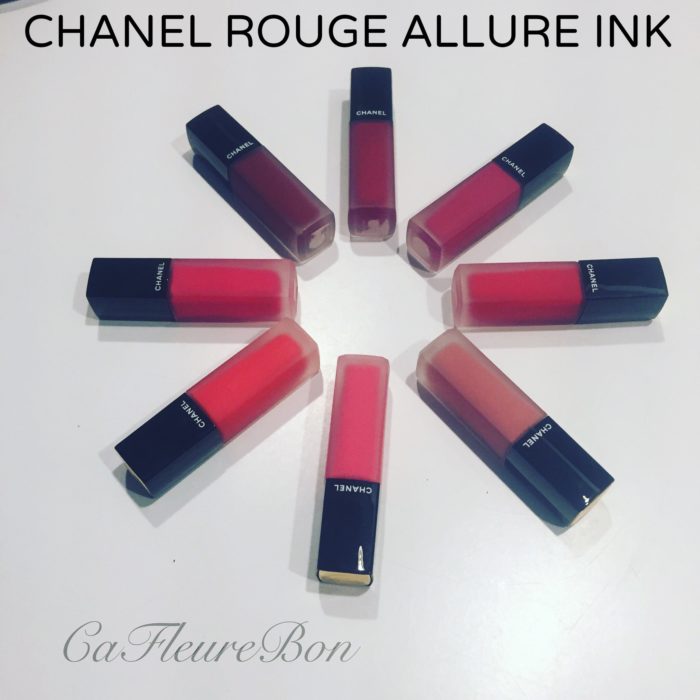 "Ink" lip colors have been around for some time now… I own quite a few from Lush and Dior. The problem I have always had is that most brands I have tested are completely matte, drying and accentuate every fine line which is aging or that they transfer and stain.
CHANEL ROUGE ALLURE INK 154 Experimente and 152 Croquant are great Fall colors
CHANEL makes great lipsticks, so when they recently introduced Rouge Allure Ink Liquid Matte in eight shades, I was eager to try them all. I am impressed as all are rich and deeply pigmented. What surprised me is they look matte but they are more of a saturated gloss when first applied; feel creamy on the lips for about an hour before drying down to a semi-matte.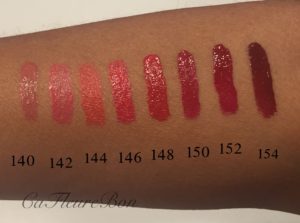 CHANEL ROUGE ALLURE INK Matte Liquid Lip Colour swatches
One swipe is all you need. All are surprisingly hydrating with ingredients like jojoba and sweet almond oil with good longevity, about four hours on me. There is almost no transfer and I used two makeup wipes to remove the color from my skin. The packaging is luxe, translucent glass with a doe applicator that is pointed, so you really don't need lip liner.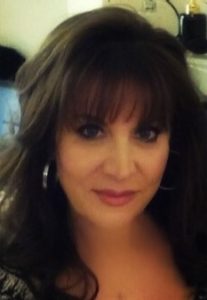 I am wearing CHANEL ROUGE ALLURE INK 140 Amoureux in this photo, CHANEL Natural lipliner and Viseart Minx eyeshadow Palette
140 Amoureux– I have trouble wearing neutrals, they wash me out, but I absolutely adore this light warm nude with definite peach tones. Perfect foil for my signature smoky eye.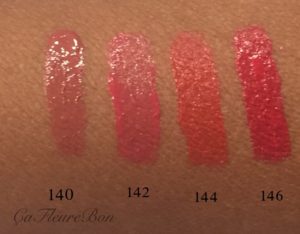 142 Creatif – light to medium warm pink with slight coral undertones. Great on tan skin, and for summer.
144 Vivant- A bright medium warm coral/flamingo pink perfectlybalanced between pink and orange. I plan on buying a back up of Vivant.
146 Seduisant– Bright Rosy Pink with warm undertones. A wake-up your tired complexion color.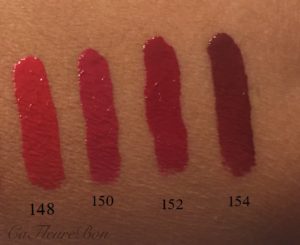 CHANEL ROUGE ALLURE INK 148 is my new favorite red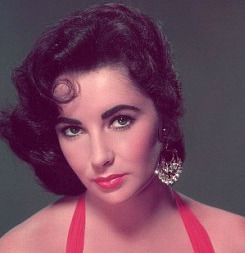 Elizabeth Taylor's signature red coral lips– get the look with CHANEL 148 Libere
148 Libere- Medium Red Coral. Very similar to the color lipstick Elizabeth Taylor favored in the 60s. I wore Libere for Halloween when I dressed up as La Liz and it was perfect. For me this is my HG red and nothing retro about it..
150 Luxuriant– Medium bright Red with neutral undertones. In a year of RED, Luxuriant should be in every makeup bag this Fall
152 Croquant- Darker berry red, leaning cool.
154 Experimente– Dark red brown/berry. For those who want a darker shade that doesn't' look goth girl. This is the only shade I can't pull off. I plan on gifting it to Gaia of The Non Blonde, who saw my swatches the other night and loved this color.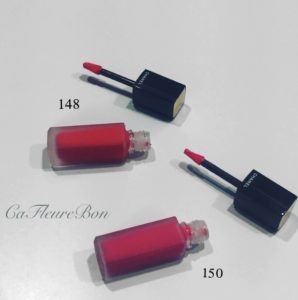 I compared these with new Armani Inks and found them superior; texture, longevity and the colors are flattering and not too "out there". My skin tone is medium with definite golden undertones and my lips have a bluish cast. Results may vary on you. 140, 142, 144 and 148 are definitely the warmer colors in the collection.
Verdict: 10 of 10
$37.00 /6ml on chanel.com
Disclosure: I received the ROUGE ALLURE INK collection from CHANEL; Opinions my own.
Have you tried the ROUGE ALLURE INKS?
Michelyn Camen, Editor in Chief