In Tune by Jeanette Jarville©
Springtime in the Pacific Northwest has a multiple personality disorder. From one day to the next we never know what to expect: Cold, blustery rain, cool-fresh sunshine, thunderstorms, hail, snow or even a mini heat wave.
On the cool, fresh, damp days of early spring I enjoy the photo- realistic cherry blossoms of Olympic Orchids Sakura by Ellen Covey (2014). Translucent, green and fragile, Sakura opens with a breath of wet earth and bark, a suggestion of budding leaves and a wisp of cool wet, fennel. The airy sweetness of newly opened cherry blossoms lingers in the heart of Sakura and suffuses the ethereal musk of the dry down with a tart promise of summer fruit. Notes: Airy notes, cherry blossoms and light musk.
As the April sun shines, dandelions burst into bloom. A spring afternoon might see the steep bank in front of our home green with grasses. The following morning this same bank is covered with bright yellow dandelions. To celebrate the return of dandelions (they never really leave as they are impossible to eradicate) I wear Shay & Blue London's 2017 Dandelion Fig – the essence of the dandelion flower, the scent of its roots and leaves as well. With this fragrance Shay & Blue's Dom de Vetta and in-house perfumer Julie Massé bring the effervescent, tonic relief of dandelions and the promise of warmer days to our unpredictable spring. Notes: Dandelion leaf, lemon grass, tomato vine, juniper and fig.
The month of May is Lilac Time. During my late spring walks I am often overwhelmed by the scent of lilacs in neighborhood gardens. My favorite lilac fragrance, a soliflore by Adrien Arpel, named simply "Lilac" has long been discontinued. So instead of lilacs (or muguet for that matter) I will talk about my favorite perfume for May nights, M. Micallef Mon Parfum Cristal by Jean-Claude Astier and Geoffrey Nejman (2013). Mon Parfum Cristal is the rich and heady scent of late May/early June evenings – a smoky, glowing "toffeed" rose suffused with a bright, fruity vanilla and Micallef's signature woods. This perfume sings to me of warm, intimate evenings and promises love and romance. I find Mon Parfum Cristal to be extremely sensual, erotic and ultra-feminine. Warning: Never spray this fragrance on a whim! The longevity and sillage are amazing. Sultry and gorgeous, Mon Parfum Cristal is not meant for office wear! Notes: Pink berries, pink pepper, cinnamon, Bulgarian rose, Madagascar vanilla, toffee, musk and amber.
Gail Gross – Editor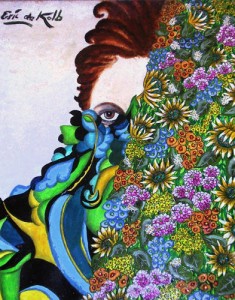 Eric De Kolb Behind Flowers
Masque Milano Romanza (2016): This is the naughtiest narcissus perfume I've ever come across, and one of the most beautiful. Inspired by Oscar Wilde's "The Picture of Dorian Grey", Romanza has the decadent elegance of the dandy who refuses to age, and cleverly puts the narcissus — the flower of grandiose self-love — at the center of a hedonistic bouquet of ylang ylang, jasmine and orange blossom. But while this could have been a chest-heaving floral, perfumer Cristiano Canali reins the composition in with ashy, bitter and woody counterpoints that give a sense of the decay beneath the loveliness. Magical. Notes: Absinth, orange blossom, angelica, violet leaf, narcissus, jasmine, vetiver, cedar, patchouli, amber, civet
Bruno Acampora Jasmin T: While I like jasmine in perfume, I don't often love it. Exceptions are usually reserved for those unashamedly indolic beauties of the past, Le Galion Jasmin and Coty Jasmin de Corse. Until now. Jasmin T is luminous, balancing the green, spicy freshness of the bloom against its rich, nocturnal fleshiness. It is sensual, full-bodied but not heavy. Where Romanza is the scent of twisted love, Jasmin T is the perfume of a garden tryst. Notes: jasmine, cyclamen, cloves, mimosa and ylang ylang
–Lauryn Beer, Editor
Spring Flowers By Olaf Hajek ©
"Spring has sprung
The grass is riz
I wonder what
My perfume iz…"
Like much of the nation, the grass hasn't "riz" much yet here in the cool, grey PacNW. So to force myself in a spring-like mood there is a scent that lift my spirits sky-high every time I spray. Bruno Fazzolari's stunning 2014 Au Dela Narcisse Des Montagnes, is an abstract narcissus perfume grounded by oakmoss and amber, and rich with lush jasmine, bright orange blossom, blooming narcissus, and pithy bergamot. A beautiful creation, originally a limited edition, but just recently added to the permanent line-up and how great that is!
-Robert Hermmann, Sr. Contributor

Ysabel-Lemay Hohn
Spring is here but winter is still lingering around in San Francisco. I keep taking out my spring scents but later falling back on winter colognes as the temperature keeps going from cool to warm and back and forth. So for days like this, when my mood is as changeable as the weather I reach for Neela Vermeire Creations Bombay Bling one of my favorite "anytime, anywhere" fragrances. This is one of the few perfumes that make me happy when the weather can't make up its mind. Bombay Bling transports me to a warm, breezy, tropical oasis surrounded by palm trees, beach waves hitting against the shore and sipping on countless cocktails. I'm there already! Notes: Mango, lychee, blackcurrant, cardamom, cumin, cistus, Turkish rose, jasmine sambac, ylang-ylang, tuberose, plumeria, gardenia, patchouli, tobacco, sandalwood, cedar, vanilla
–Sebastian Jara, Contributor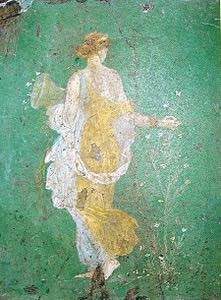 Ancient Roman Fresco of Flora Chloris, Stabile, 2nd Century AD.
Now this is a challenge, two, only two springtime favorites whilst I languish here in the Southern Hemisphere, withstanding a deluge via a tropical cyclone. Yet part of my inner workings is still online with the North. For pure immersion into bright expansion, and clear mind-blowing alacrity, clearing the way, my two for Spring are:
2015's Aer by Angela Ciampagna, the precise aromas of green spears breaking damp spring soil, seeking with an urgent straining the light of day. The air is alive with a fresh irreverence that hints at the burgeoning of life unconstrained. Aer is a rare facet of all that is new and fresh in a convivial zephyr, a unique take on vetiver with a vintage flare. Notes: lemon, mint, yellow grapefruit, juniper berries; elemi, vetiver and patchouli.
2013's Luce by meo fusciuni: The inspiration for Luce comes from the words of American architect Louis Kahn, "I believe that light is the source of all matter is the presence and light worn. What light creates, casts a shadow, and the shadow belongs to light. Perceive the presence of a threshold, which separates the light from the silence, the silence that brings to light, immersed in an atmosphere inspired, where the desire to be and to express meets as possible". The rock, the river, the wind are sources of inspiration. First with amazement and then consciously we observe what beautiful is the matter. In the sanctuary of art, the light meets the silence and the silence the light". Meo's hand again crafts a whisper that encompasses my entirety. Piercing the darkness as an illumination of pure Light, there is no mistaking its purpose. No casual shedding of flickers of radiance, it is commanding in its luminousity and as direct as a beacon. The season encapsulated, warmth and light not just seen and felt but the very stirrings within us as we wake with arms held wide open, an exuberant salutation at the crossing place. Luce is the dawn and heating land under a renewed Sun. Notes: Leather, Cedar, Birch, Sandalwood, Patchouli, Tobacco, Amber, Vanilla, Benzoin
–Danu Seith-Fyr, Contributor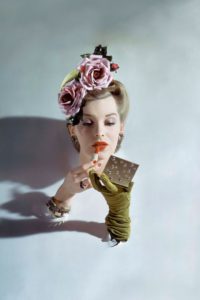 John Rawlings for Vogue, March 1943
This year I nick-named spring "Jan-June". In New York City, the temps have been capricious; balmy summer heat one day and snow the next. I am cautiously optimistic that spring has sprung. I attended events and fairs over the few past months, and it was difficult to look sophisticated when I was coated with sweat on the unseasonably hot days, or trudging through snow in Uggs the next. No matter the weather, I find myself reaching for Elisire's elegant Poudre Desir. I am very picky about iris perfumes, which sometimes smell too rooty or icy cold on my skin. Poudre Desir has a retro vibe and brings back memories of my glamorous mom applying her makeup at her dressing table, then dabbing scent on each wrist. It opens with a juicy bergamot then segues right away into a non-indolic gardenia and jasmine bouquet that unfurl their white petals as if shedding layers of clothing. These are not diva white florals and they sing in harmony around a buttery golden iris. The florals are so well-blended ;the composer is Master Perfumer Alberto Morillas. At the base is a gorgeous heliotrope, redolent of candy coated almonds and a trace of musk. After months of parkas and boots, its time to bare a hint of skin. Notes: Bergamot, Mandarin, Pink Pepper, Iris, Egyptian Jasmin, Jasmin Petals, Gardenia, Musks, Cedarwood, Heliotrope
–Michelyn Camen, Editor-in-Chief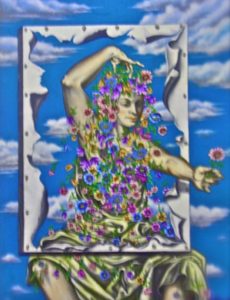 Lady of The Sky with Flowers Eric de Kolb
For our Top Ten Spring Fragrance Draw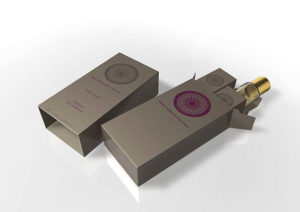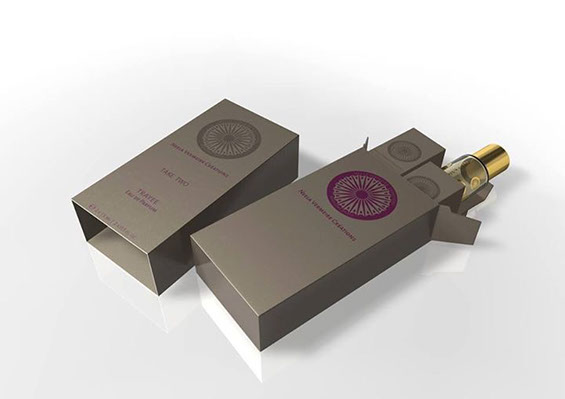 Worldwide: From our friend Neela Vermeire the Creative Director of Neela Vermeire Creations a Take Two of Bombay Bling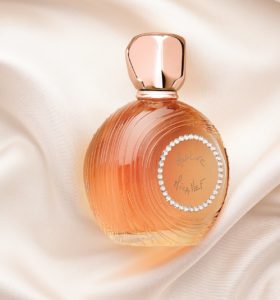 Worldwide: Thanks to the generosity of Geoffrey Nejman, Martine Micallef and the team at Parfums M Micallef we have a 100ml bottle of M. Micallef Mon Parfum Cristal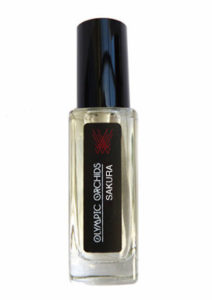 Worldwide: Thanks to the ever lavish Ellen Covey for 30 ml of Olympic Orchids Sakura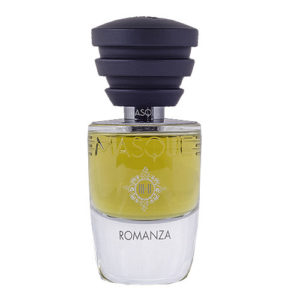 Worldwide: Grazie mille to Masque Milano for 35 ml of Romanza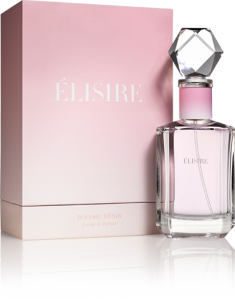 USA, Canada and EU: Franck Salzwedl of Elisire is generously offering 50 ml of Poudre Desir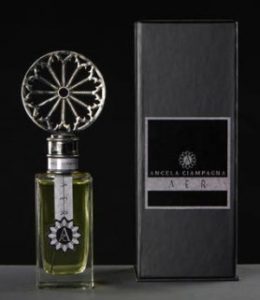 USA, EU and Canada: With our gratitude to Angela Ciampagna for 100ml of AER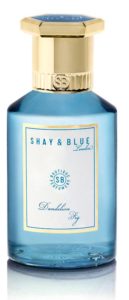 USA, EU and Canada: Thank you to Dom de Vetta for 30 ml Shay & Blue London's 2017 Dandelion Fig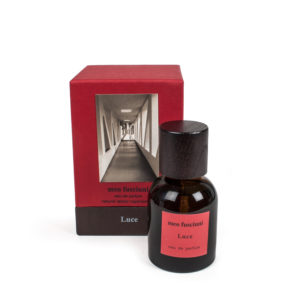 USA, EU and Canada: Grazie to meo fusciuni for Luce 5 x 10 ml for one reader (not shown)
To enter our Spring has Sprung you must be a registered user of ÇaFleureBon. It is simple to do, just follow the prompt here. To be eligible, please leave a comment with what you thought of our Top 10 Spring Perfume choices, the fragrances you would like to win, what the weather has been for you this spring and where you live by 4/16/2017.
We announce the winners only on site and on our Facebook page, so Like Cafleurebon and use our RSS option…or your dream prize will be just spilled perfume.