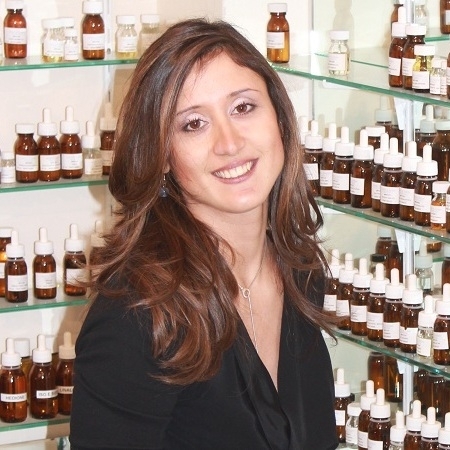 Cécile Zarokian of Cécile Zarokian Parfumeur SARL
Every generation has a changing of the guard, as new talent emerges. One of the most enjoyable and exciting aspects of my role as Editor in Chief of CaFleureBon is shining a light on talented olfactive artists before they become "known" to a broader audience. There is a new generation of perfumers who are making their mark, learning from the past but working for the future of fragrance. When I thought about a series on The Next Generation: "perfumers under 40", I knew I would lead off with one of the industry's most talented independent perfumers,Cécile Zarokian of Cécile Zarokian SARL. 2011 was when I first became aware of Cécile Zarokian, who composed a perfume for Jovoy Paris' newly revamped line called Private Label. She is an out of the box perfumer, bold and all her fragrances are beautifully composed with an edginess that is very much an expression of her willingness to explore the potential of fragrance beyond traditional boundaries. All her current and past clients are luxe and artistic perfumeries as well as home fragrance companies. It was only recently that I learned she worked with Elisabeth de Feydeau of ARTY on two of the brand's elegant candles:L'Enfant Roi and L'Aristocrate.

(IP1-6 at the L'Atelier Galerie 2011)
In 2011, she created six fragrances with Matthieu Appriou which were a gallery of scent and illustration, unlike anything I ever seen or smelled. We have reviewed quite a few of the 22 commercial perfumes and candles she has composed since she started her own company, including Private Label for Jovoy (2011), Amber 1 Bougie for Jovoy Paris, Undergreen Pink 2011, Majda Bekalli Mon Nom Est Rouge 2012, Suleko (Albho,Vy Roza,Djelem 2013 and Baba Yaga 2014) Parfums MDCI Nuit Andalouse (2013) Labortorio Olfattivo Kashnoir (2014). At Excense, in Milan 2014, Cécile was one of the two perfume stars (along with Bertrand Duchaufour) who seemed to be everywhere with debuts for Jul et Mad Aqua Sextius, Only for Him for Hayari and Masque Milano Tango . -Michelyn Camen , Editor in Chief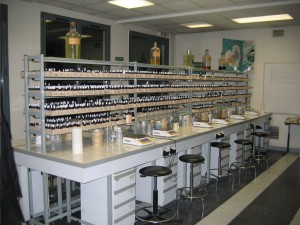 Work station of a student at ISIPICA:Photo by author of Aphrodesia John Oehler
I was born in Marseilles and didn't want to be a perfumer when I was little but to become a pediatrician. So I first studied medicine and iochemistry until I changed my mind. I met a friend of a friend who was ending the school ISIPCA the perfumery school founded by Jean-Jacques Guerlain in 1970, and she told me all about her Apprenticeship. I was so interested that I wanted to know more about the school, the various jobs related, and the whole perfume industry I completely didn't know. So I start working a lot because almost everything was new to me. I always was sensitive to perfumes and smells in general, but I didn't even know fragrance houses like Givaudan or Firmenich were commissioned by brands to create their perfumes. I definitely wanted to study all about perfume so I passed tests to start with ISIPCA. That's how I began my training in Grasse at Robertet in 2006, where senior perfumer Daniel Maurel was my mentor. He was a great teacher, very open, and I learned a lot from him.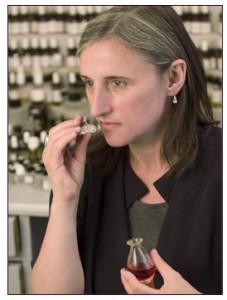 Isabelle Doyen
At the same time I was studying theoretical learning at the school and the best memories I have from there came from olfaction lessons, with perfumer Isabelle Doyen. She is one of the first independent perfumers, a wonderful person and teacher that I also admire. After a shortwhile, my mentor trusted me to deal with briefs for clients so one day I started working on an Amouage project. I was about to finish my two years internship when I heard that I was the winner for their new fragrance Epic Woman, I was so thrilled ! I spent four years at Robertet, then there was a merger with Charabot so I knew I couldn't stay. The timing and opportunity was right to start as an independent perfumer. That's something I always had in mind, but maybe later to have more experience.

A display of Perfumes and Candles Created by Cecile Zarokian include Undergreen Pink, Private Label for Jovoy Paris, Amouage Epic Woman, Mon Nom est Rouge, Amber 1er
People of the industry also encouraged me to do it saying that I was young indeed, but that could be a strengh, "if you wait more you might be afraid to take risks and you might not want to give up a confortable position when you have a family". So I decided to take a shot at going out on my own and start my own company. I didn't have any clients, I contacted some brands and it all started with François Hénin from Jovoy. He was selling Amouage in his shop and he was also working on his next Jovoy perfumes as an updated brand. That's how I created the fragrance Private Label and the candle Ambre 1er for François. Since Jovoy is a very big perfume shop that sells a lot of brands, some of the brand owners smelled these fragrances or heard about me. So they contacted me then one client led to another.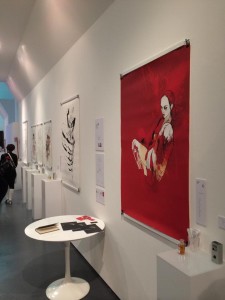 Photo:Tama Blough at Esxence March 22, 2014
In addition to that, I have developed an artistic project with an illustrator, Matthieu Appriou, leading to an exhibition: the objective was to correlate 6 visuals and 6 perfumes, in perfect harmony. We were part of the event "Rives de la Beauté" in Paris, then we exhibited in Dover Street in London and recently at Esxence at the Triennale di Milano. It was a way to express my creativity away from any commercial or marketing approach, to express myself through a totally personal and artistic project. It wasn't something a client wanted and it had nothing to do with raw materials price, sales or trends. The thing that really matters to me is to have a real connection with my clients, to have a direct and close collaboration with them, to be on the same page. It's not just a client/supplier relationship, it's more a commitment where both sides are truly involved in a common project.

"Art is born because of restrictions, lives because of fights and dies because of freedom." (André Gide )
I hear a lot of senior perfumers complaining about regulation and I completely understand them, but I must say I always knew these kind of restrictions. My generation had to learn to use some ingredients in very small amounts or to create without some others from the very beginning. In my work I only have to care about IFRA regulation, which is fine I think. As André Gide says L'Art naît de contrainte/ Art arises from restriction. Also at the same time new raw materials are offered like C02 extracts, new natural specialties coming from specific extraction methods, and new chemicals.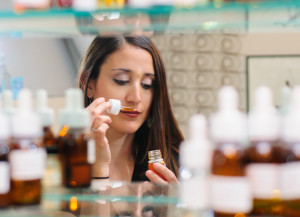 I am asked if being a woman has hurt or helped my career. I am a perfumer in the 21st century and being a female perfumer isn't different from a male perfumer from my point of view. It's more a question of a personality than a gender. Besides some physical changes and adjustments during pregnancy, maybe, the sense of smell is kind of really overwhelming at this time…
Calice Becker of Givaudan and Maurice Roucel of Symrise
I have great respect for the works of master and senior perfumers such as Francis Kurkdjian, Daniela Andrier, Calice Becker, Dominique Ropion, Maurice Roucel…
It sure is a lot work and I'm always learning, but I really love my job and I enjoy a lot being an independent perfumer. To be lucky to work with my clients on projects both artistic and commercial, in a close and direct collaboration, and also all the things related to entrepreneurship. I always try to do something unexpected, to balance edgy with wearable, to work on original contrasts. Companies I would love to work with? So many! But to name a few: Serge Lutens, Frédéric Malle, Kilian, Le Labo, Diptyque, Penhaligon's…
What would I say to a young person who wants to become a perfumer? It's tough, many are called but few are chosen, so hang in there and be persistent!
–Cécile Zarokian, Founder and Perfumer for Cécile Zarokian SARL
Complete list of Cecile's work can be found on her site here
Thanks to François Hénin of Jovoy Paris and Madelina Stoica Blanchard, co-founder of Jul et Mad we have two worldwide draws: Jovoy Paris 50ml of Private Label (M.Henin says "Private Label is my ideal Oriental Scent") and 5 ml lovedose of the new Aqua Sextius (which will be sent to the winner in May). To be eligible please leave a comment on what you found fascinating about Cécile Zarokian as a next generation star in fragrance, your favorite perfume she has created (or one you really want to try) as well your choice of perfume and where you live. Draw ends April 8, 2014
We announce the winners only on site and on our Facebook page, so Like Cafleurebon and use our RSS option…or your dream prize will be just spilled perfume.