Painting: Winslow Homer
Thick, velvety white petals of the bitter orange tree breathe out one of the most important and ancient scents in perfumery. The fragrance floats on the night air and perfumes the dawn in countries around the world. Neroli is the floral essence distilled from the blossoms of the bitter orange tree. The scent of neroli is powerful, floral, light and refreshing with green and spice notes. (Editor's Note: Throughout history, aromatherapists and herbalists have long known that the flowers of bitter orange – both spicy and sweet-smelling —alleviate insomnia, anxiety and depression. In effect, it is the Xanax of perfumery).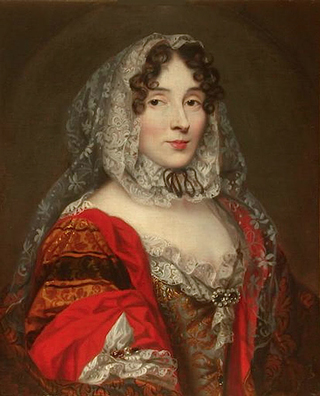 Princess Marie Anne of Nerola
The name derives from Princess Marie-Anne de la Tremoille of Nerola in Italy who popularized the fragrance by using it as a perfume and as a scent for her gloves. (Editor's Note: The Princess may have used neroli for more than ts beautiful aroma. Widowed twice, she was shuttled back and forth between France, Italy, and Spain, where she where she became the Camarera Mayor, serving Spain's young princess but in actuality Marie-Anne was a true power behind the Spanish throne. How did she remain calm during all the princely battles, political plays for power and live to see her 80th year? It was her perfume! )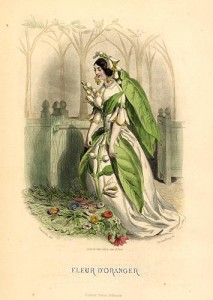 After the orange blossoms are distilled, quite a bit of the fragrance remains in the water and is used as orange flower water or orange blossom water which has the fresh scent of orange blossoms and oranges. Another product of bitter orange blossoms is the absolute, made by solvent extraction and called orange blossom absolute. Orange blossom absolute is more intensely floral, richer and warmer than neroli but also fresh and delicate. Blending neroli with orange blossom absolute gives a lovely, rich and full-bodied representation of the orange blossom.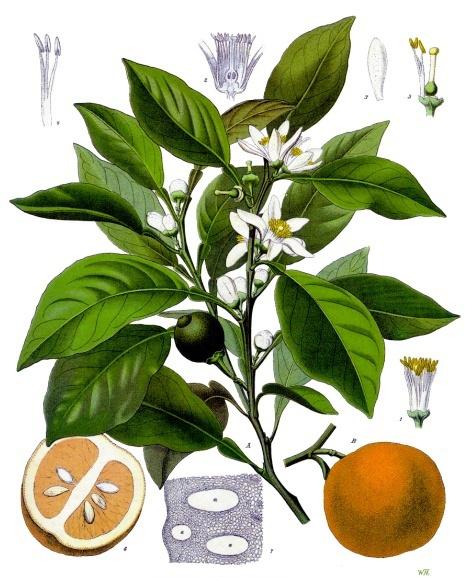 The fruit of the bitter orange tree is, true to the name, bitter and very sour. The peel of the fruit provides bitter orange oil, a complex, tart, slightly floral orange peel oil. The oil from the bitter orange fruit is much more complex and slightly floral compared with that of sweet oranges and is actually quite similar to one of its ancestors, the pommelo, a large, grapefruit-like citrus. The leaves, twigs and sometimes tiny unripe fruits of the bitter orange tree are distilled to produce petitgrain, sometimes called petitgrain bigarade, which is green, citrusy and fresh. The peel is used to make marmalade, the wonderful tart jam with bits of peel. It is also used to fragrance Grand Marnier and Curacao liqueurs. There is a variety of bitter orange tree called daidai or taitai grown in Japan and China and the flower buds are dried and mixed with tea for their scent. Orange flower water is quite popular as a facial toner and is often used in cooking, for example in the French pastry madeleines, in Mexican wedding cakes, and in much of Middle Eastern cuisine.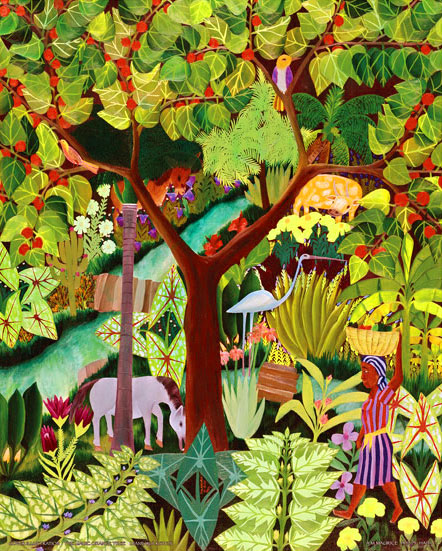 Painting:The Magic Orange Tree by A M Maurice
The bitter orange tree has several names and is also called bigarade orange, Seville orange, sour orange and marmalade orange. Another variety is also called Bouquetier, thought to produce the best quality fragrance. Although named after Seville, the sour orange originated, like most citruses, in Asia. It was transported from there to the South Sea Islands in prehistoric times, followed by Arabia, Sicily and Seville and then to the New World finally in the 1500s. The Spaniards introduced it to St. Augustine, Florida and from there it naturalized and began growing wild. Early settlers and Native Americans appreciated the sturdy citrus tree and planted it in dooryards throughout Florida. It grows well in the wild and re-seeds itself, allowing it to spread from Florida up through southern Georgia and through Central and South America to Argentina. Although it thrives scattered in wild areas, where it is used commercially it is grown in groves. The city of Seville, Spain is well known for the more than 14,000 bitter orange trees that decorate its streets.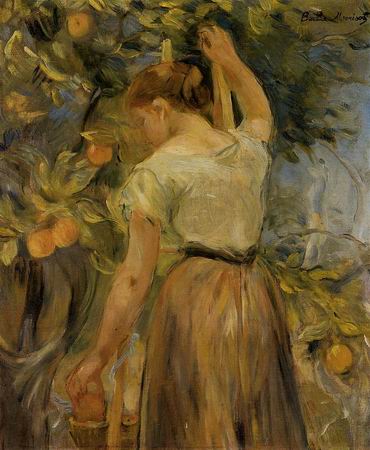 Young Woman Picking Oranges by Berthe Morisot
For as long as anyone can remember the evergreen trees have provided shade year round and the beautiful smell of orange blossoms during the spring. Fruits will lie on the ground waiting for residents to pick them up and use them. Like most citruses, the tree has thorns but they are flexible. If you pick the leaf you can see pale ovals that are the oil glands. The peel of the fruit is aromatic, slightly floral and also has concentrated oil glands. The variety grown for neroli oil in France has large, concentrated clusters of flowers. Some trees growing in the wild may be over 600 years old and one tree planted at Versailles is said to have been growing since 1421.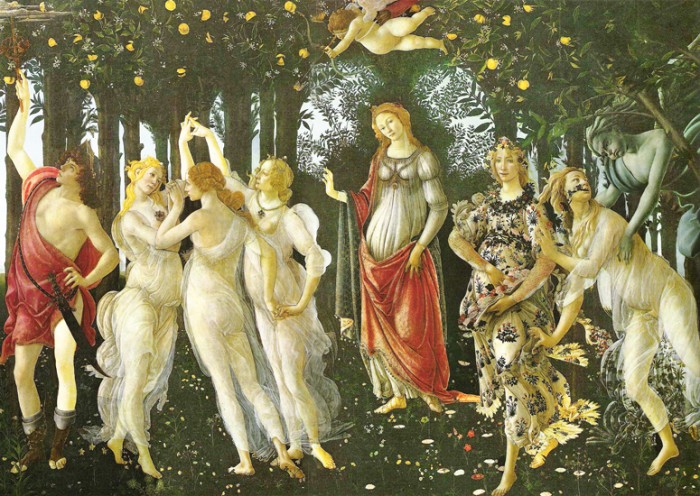 Sandro Botticelli: La Primervera "an Allegory of Spring" (features Venus in the center surrounded by Primevera, Flora, the three muses, Mars and Cupid)
A symbol of purity and virginity, orange blossoms have been used throughout history to represent fertility and good fortune at a wedding. In Greek mythology when the goddess Hera married Zeus she was given orange blossoms by Gaea, the goddess of earth and fertility. Similarly, in Roman mythology Juno received orange blossoms when she married Jupiter. The pure white of the blossoms signify pure love and the evergreen nature of the tree stands for the everlasting nature of that love. (Editor's Note:The Orange Grove was the symbol of the Medici family who comissioned the painting above).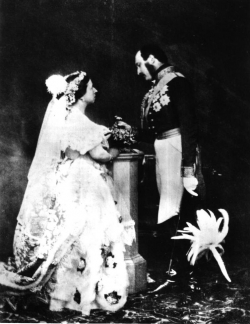 Queen Victoria and Prince Albert at their Royal Wedding
Young and madly in love, Queen Victoria no doubt had a closet full of elaborate jeweled tiaras, but chose a wreath of lovely orange blossoms instead. In Victorian times when orange blossoms were too costly or in short supply brides would have wax replicas made as a substitute. They would even throw the wax blooms away after a month in keeping with the lifetime of a real orange blossom.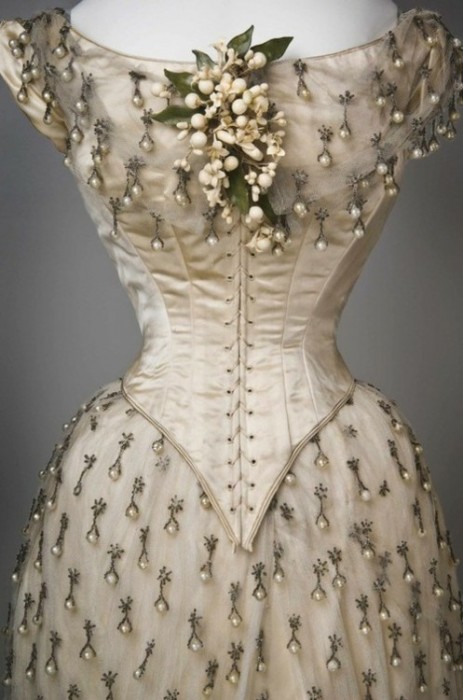 Modern brides can sometimes find these treasures and incorporate them into a beautiful headpiece or wreath. Orange blossoms may also represent fertility because of the fecundity of the tree which can produce many fruits and will often have blooms and fruits on the tree at the same time. Orange blossoms are so identified with brides that the phrase "gathering orange blossoms" has come to mean "searching for a bride."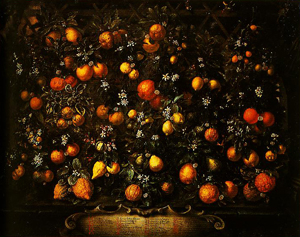 The citrus family produces a wide variety of aromatic oils in addition to those from the bitter orange tree. They come mainly from the leaves and stems (petitgrains) or from the peel (cold-pressed essential oils). The peel oils are used to provide fresh, sparkling notes to perfumes and are nearly always used as topnotes. Bergamot is closely related to the bitter orange and is small and round or pear-shaped with sweetly fragrant flowers and fruits with highly aromatic peels that are expressed to produce bergamot essential oil. Bergamot is an important perfumery ingredient, is generally more floral than most citruses, and is central to many colognes. Tangerines, lemons, mandarins, grapefruits and limes are all cold-pressed to produce essential oils. Although most citrus blossoms are fragrant, it is highly unusual to find essential oils derived from any besides the bitter orange tree
–Elise Pearlstine, Contributor
–Michelyn Camen, Art Director
For our draw: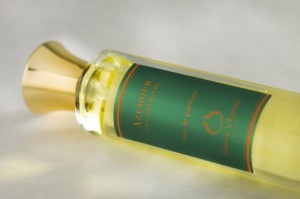 Courtesy of Fragrance & Arts 50ml Azamour les Orangers by Parfum D'Empire contains orange,clementine, tangerine, orange blossom, neroli, and grapefruit. (If you read our interview with Marc-Antoine Corticchiato this fragrance is a tribute to his childhood to Morocco).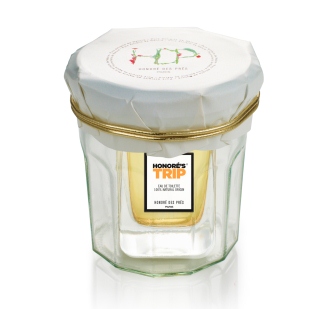 Courtesy of Honoré des Prés Paris 50ml of the eco-certified Organic Honoré's Trip composed by Olivia Giacobetti. (Now available at Be-glowing.com and Founder Christian David's personal scent). Tangerines from Morroco, Oranges from Florida, yellow & green lemons.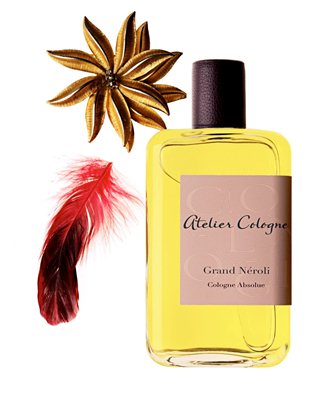 Courtesy of Sylvie Ganter and the team at Atelier Cologne 30 ml of Grand Neroli Cologne Absolue by Cecile Krakower. This is my personal favorite from the debut line. The Roman godesses painted by Botticelli in La Primevera evoke this exquisite and feminine fragrance. It is also the perfect wedding scent. Moroccan Neroli, lemon, Sicilian bergamot and petitgrain.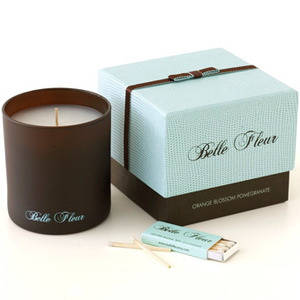 Courtesy of Tony Perez and Meredith Wagner-Perez of Belle Fleur New York Orange Blossom Pomegrante candle with a 45 hr burn time. The perfume of this candle was inspired by the idea of "orginal sin", as it was likely the forbidden fruit in the Garden of Eden was a pomegrante not an apple. Seville Orange and orange blossom.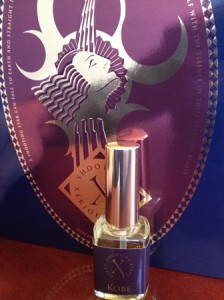 Courtesy of Xerjoff 15ml of Kobe, a gender bending Shooting Star fragrances. Neroli from the South of Italy, Petit Grain from Paraguay, Calabrese Bergamot and Florida Orange. For a complete list of notes, you can check the composition on this link to MinNewYork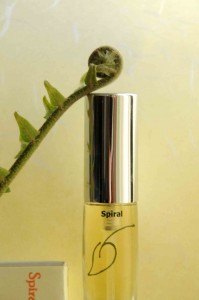 Elise Pearlstine of Bellyflowers Perfumes www.bellyflowers.com – 10 ml Spiral EdT with Moroccan Neroli.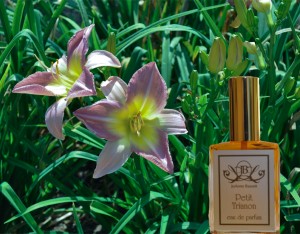 JoAnne Bassett (http://joannebassett.com) (now sold at MinNewYork ) – Petit Trianon Eau de Parfum 1 oz spray bottle. Neroli and Orange Blossom Absolute from Tunisia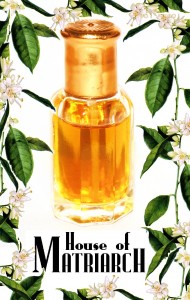 Christi Meshell, House of Matriarch www.matriarch.biz – uses all parts of the bitter orange tree orange blossom/neroli, petitgrain, hydrosol. This is a mystery perfume, and the winner gets a 3 ml, pre-release sample in a Murano glass bottle.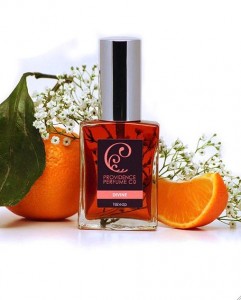 Charna Ethier, of Providence Perfume Co. www.providenceperfume.com – Divine 1/2 ounce atomizer EdP. Divine is a Moroccan orange blossom based perfume and is also sold at Beauty Habit
There are nine fabulous fragrant prizes.To be eligible, please follow these instructions CAREFULLY… Leave a comment about something interesting you learned from this article, name the prize you would like to win AND a non citrus notes in its composition (Except for House of Matriarch since it is a mystery fragrance, so just name one of the notes that is listed). The prizes will be awarded randomly, but we will try to take your request into consideration.
Draw ends April 16, 2012
We announce draw winners only on site and on our Facebook page, so
Like Cafleurebon
and use our RSS option…or your dream prize will be just spilt perfume