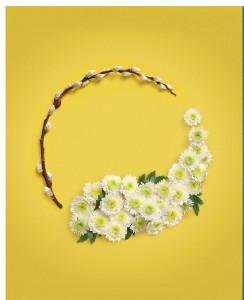 Daisy "C" Photo Alan Radom Radom Photo Imaging
Day three is devoted to Creative Directors. In 2010, I asked Master Perfumer Maurice Roucel what he thought the fragrance industry needed the most and he said better briefs and creative direction. Unless they are independent and own their own brand, perfumers are fulfilling the vision of someone else. I began the series with Christopher Chong of Amouage. –Michelyn Camen, Editor in Chief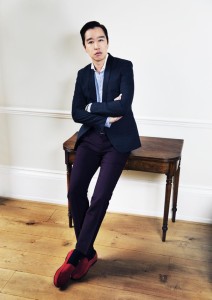 Christopher Chong of Amouage
Amouage and I have known Michelyn before she started Cafleurebon. I remember how passionate she was to germinate an idea into an award winning digital community for perfumistas around the world. Cafleurebon is a unique website because it is informative and promotes positivity for all perfumes, which is a rarity these days in the digital world. Cafleurebon is where it is now because Michelyn thrives and never gives up. I have to admit that Michelyn can be so persistent on getting all the details that we have a love/hate relationship. I respect her passion and determination. I would like to take this opportunity to thank Michelyn and Cafleurebon for supporting Amouage and me all these years. –Christopher Chong, Creative Director Amouage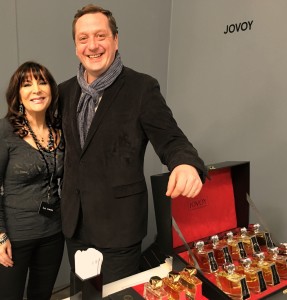 Michelyn and François​ Henin of Jovoy Paris at Elements Showcase 2016 Photo Hernando
Cafleurebon? There are people who talk about perfumes and people who are part of the perfume community. In a world saturated with information, press releases, pictures and comments about pretty much everything and the contrary, it is important to have lighthouses, points of reference where you can stay and get a more personal and deep analysis of perfume houses, trends and launches.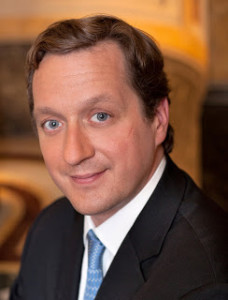 François​ Henin Jovoy Paris
I love this story about Baudelaire spending the whole day talking with a friend about a wine he discovered not long ago. They are together, sitting after a long day disserting about everything, including this famous bottle of wine he has with him. Finally he opens it and serves two glasses, keeping talking about the robe, the color, smelling it and always refraining the other one from dinking it. His friend who spent the day hearing about this famous wine can't help himself and is about to say: "now that we spent the day talking about the virtues of such a nectar, shouldn't we…?" This is where Baudelaire, to the great disappointment of hits friend, makes the famous answer: "now? We talk about it"
This is what comes to me when we talk about Cafleurebon, a place of reference where you can freely leave your passion about perfumes. But not only that, Cafleurebon is also unique by being at the image of the souls and smiles behind the story, starting of course with Michelyn, one of the most charming persons of this industry. I call her "my" sunshine because this is what you get when you meet her. Always full of positive energy, such a professional and in the meantime such a human being (in a world which is not anymore in so many ways). She and her team are the same to me, they all want to give value to their passion: "Le Parfum". This is a unique place I highly recommend to people who want to know more, and be part of a community of true perfume lovers. –François​ Henin, President and Founder of Jovoy Paris and Jeroboam
Martine and Geoffrey Nejman
6 years of lovely friendship and perfumed Love seemed to have flew by. You, Michelyn are for sure amongst our dearest friends and we'll never forget your support (and encouragement to bring back some older fragrances like Notes Vanille). Let's agree that we shall all carry on for the next 120 years with the strong believe that Health and Love will be the supporting elements to achieve this target together. Receive our sincere vibes of true friendship and respect – Geoffrey Nejman & Martine Martine Micallef, Parfums M.Micallef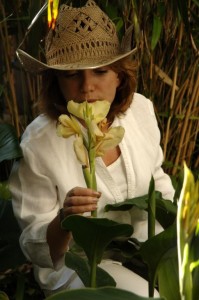 Linda Pilkington, Ormonde Jayne
Cafleurebon… I know Michelyn for many years through emails and conversations. She should be proud to have established an International destination for all things fragrant, and her team is usually the first to review new niche perfumes. Michelyn has her finger on the pulse and certainly Cafleurebon is always creative with new approaches. I admit to reading the blog often for the latest and up to date news. Linda Pilkington, Creative Director of Ormonde Jayne.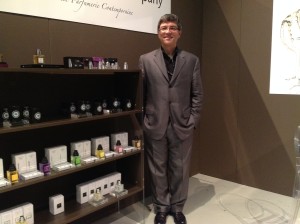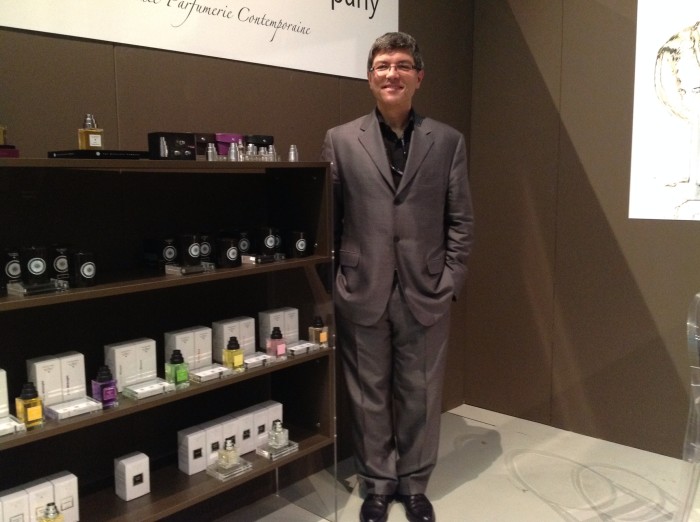 Luc Gabriel at Esxcense 2014 (photo Tama)
6 years already, so young and so experienced. Cafleurebon, the perfect name for a perfume blog. "Fleur" in French means flower, a key ingredient in so many perfumes; "fleure" still in French means smell. How else but Michelyn would have this great idea? I wish Cafleurebon a great 6 year anniversary and please keep up the good work; we need blogs like yours, with in depth article, tremendous knowledge, great style and a real independence. Happy birthday! Luc Gabriel, Creative Director of the Different Co.
Over the next four days you will read many more personal thoughts and congratulations from wonderful people in Perfume World. Their heartfelt best wishes are truly humbling. Of course there will be a surprise for one reader on day 6. Feel free to leave a comment !