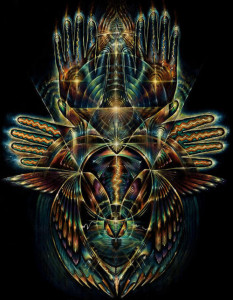 Place a drop of pure sandalwood oil between your eyes and let the sweet, woody odor center and enhance your meditation and your thoughts. Use it in a perfume and it will be complex, consistent and supportive, lending depth and character. For millennia, over 4,000 years, the sandalwood tree has had a sacred history and its uses are many. With a warm, soft and sweet, woody, spicy, balsamic scent that is also described as buttery, animalic and creamy, the thick yellow/golden oil is highly prized around the world.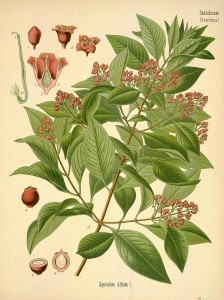 Santalum album aka Mysore
There are many species of sandalwood in the world with the most desired species being Santalum album or white sandalwood (also known as Mysore sandalwood). Although found elsewhere, it has historically come from East India where cultivation, harvest and the art of distillation have been practiced for centuries. It is also called the fragrant gold of the Indian forest. The 'sandalwood belt' runs through Tamil Nadu, Karnatika and Kerala states where most remaining natural stands of white sandalwood can be found. In its native habitat it grows in hilly, rocky terrain that supports mixed forests.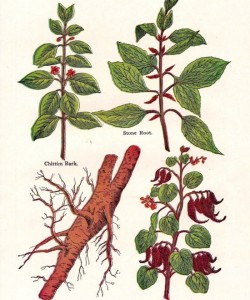 Sandalwood Botanical drawing from Edwardian Apothecary
The small evergreen trees grow to about 50 feet with a dark brown bark that develops deep vertical cracks as it ages. Leaves are leathery and flowers are small and may be sweetly fragrant. They are difficult to propagate artificially but will re-sprout from roots and grow best from seeds that have passed through the digestive systems of birds. Sandalwood trees are parasitic and require other trees to provide nutrients that it obtains through specialized root structures called haustoria. Once a sandalwood tree is established it must grow for 10 years before the aromatic heartwood begins to form. After 20 years the heartwood forms more rapidly and is at its prime at 50 to 60 years of age. The heartwood is dark and rich and is found at the center of the trunk extending just a bit into the branches and deep into the roots where the oil content is highest.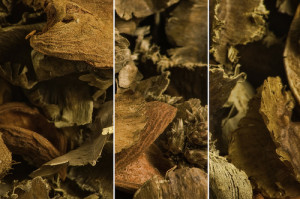 There are historically sixteen species of aromatic sandalwood found in India, Australia and the Pacific Islands. One species, actually found in islands off the coast of Chile, is extinct and the last individual of a Samoan species, S. yasi, was thought to have been cut in the last few years. The Hawaiian Islands historically supported populations of eight species or one quarter of all sandalwood species, including the fragrant species Santalum paniculatum, the oil of which is just now becoming available after devastation to the sandalwood trees during the late 1700s into the middle of the next century as they were harvested for export to China. White sandalwood (mysore sandalwood) or S. album, is found in Australia, Indonesia and India with India being the historical source of this highly valued timber. Vanuatu and New Caledonia are the home to S. austrocaledonicum which is commonly used as a substitute for white sandalwood. Australia also produces sandalwood oil, S. spicatum, which has a somewhat sharp and resinous topnote but dries down to a very nice sandalwood base. There is another tree that yields an essential oil sometimes known as West Indian Sandalwood-Amyris (amyris balsamifera). It is not true Sandalwood, but is often used as a sandalwood subsitute and is a cheaper alternative.
It is hard to be certain that any sandalwood oil on the market is sustainably sourced and grown according to the laws of the country and such information is beyond the scope of this post. Most countries recognize the importance of regulating and maintaining healthy sandalwood populations but the high value and the long wait for mature trees has led to rampant illegal harvesting, especially in India. There was a famous sandalwood bandit in India named Koose Muniswamy Veerappan, who illegally logged thousands of tons of sandalwood (and poached elephants), murdered over 100 people including government officials, kidnapped a famous actor, and was finally killed in 2004. It is especially difficult to know if any sandalwood claiming to be from India is legally and sustainably harvested.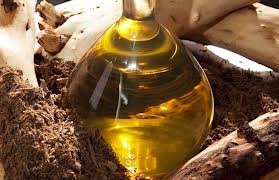 sandalwood oil
The process of distillation of sandalwood essential oil in India is a complicated and highly regulated practice. The tree is harvested by pulling up the entire tree, roots and all, during the rainy season when labor is reduced. The tree is chopped into pieces called billets and even the sawdust from the process is saved. The vital heartwood carefully removed by skilled workers for distillation. Even the less aromatic branches without heartwood are auctioned off in the hopes that they have a bit of fragrance if they were near the heartwood.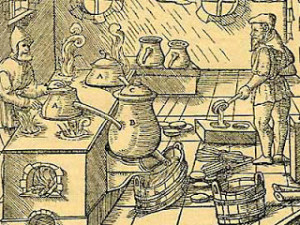 Old distillation drawing
The billets are chopped and then powdered for distillation. In the traditional process the sandalwood powder was (and still is in some places) soaked and then distilled over an open fire into a copper receiving vessel and then purified. Steam distillation uses a coarser powder and, rather than a water bath, steam is passed over the sandalwood powder to give a higher yield of the oil. Recently, carbon dioxide or CO2 extraction has been used. This method gives an odor that is most true to the wood and is much more energy efficient. However, many feel that the traditionally hydro-distilled oil has the finest aroma.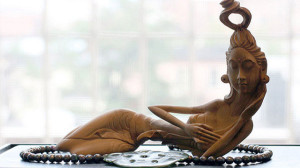 Kepala sandalwood figurine with mala beads
Sandalwood has a long and sacred history with eastern religions and culture. In India the heartwood is said to have divine status. There is a species of sandalwood that grows only in the heavenly world spreading its aroma throughout the heavenly empire. On earth, the terrestrial sandalwood is used for anointing sacred idols and in unguents, incense, and fragrant oils. A paste may be used to anoint the forehead, especially for worshipers of Vishnu and Shiva. It serves to cool and sooth the person, protecting the Agna Chakra between the eyes, and directs their attention to peaceful contemplation. It is used in funeral pyres for cremation to protect against evil spirits.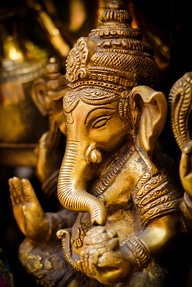 Lord Ganesha carved from sandalwood
The Hindu Goddess Parvati who was a consort of Lord Shiva used sandalwood paste that was mixed with her dead skin and clay to make Lord Ganesha. Ganesha is the elephant god of wisdom, prosperity and good fortune who can also help remove obstacles. Buddhists value the wood highly for its aromatic and cooling nature, using it to carve Buddhas and other sacred images. When flowers are too delicate for the heat and pressure of distillation, use sandalwood to receive the delicate essences and create floral attar. Carve it into sacred deities or temple doors and use the powder for incense and meditation beads.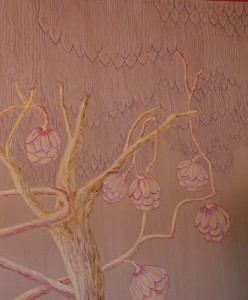 Bakul attar is produced from a flowering tree called Mimusops elengi
Attars are a particular East Indian product and consist of delicate flowers distilled into sandalwood. The soft and sustaining nature of the sandalwood oil allows flowers that cannot otherwise be captured by distillation to add their aroma to produce floral attars. Night blooming jasmine, champaca, rose, narcissus, henna, kewda/pandanus, and marigold/genda, all produce floral attars. Bakul attar is produced from a flowering tree called Mimusops elengi with a honeylike aroma reminiscent of orange flower or tuberose. Herbs or spices may also be made into attars; even earth or mitti is infused into sandalwood oil.
Because of its cooling nature it can be used in a paste with rosewater for relief from sweating and is an excellent remedy for sunburn and prickly heat. It is an antiseptic and is also used to reduce vomiting and fever. In the Pacific Islands it was used with coconut oil for the skin and hair and was used in the Cook Islands to perfume and waterproof garments. Leis were made from chips of sandalwood. In aromatherapy it can be used for skin problems, genital and urinary infections, digestive and respiratory problems.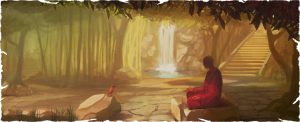 It is also wonderful for depression, nervous disorders and anxiety. It is an excellent aid to meditation and meditation beads or malas are often made with sandalwood. For magical practitioners it may be mixed with lavender to conjure spirits and will exorcise demons and evil ghosts. Because of its purity it can add power to any spiritual incense. If you write your wish on a chip of sandalwood and burn it, the wish will come true.
There is a saying that sandalwood perfumes the ax that wounds it, thus forgiving the destroyer. We have destroyed much of the world's sandalwood, let us hope for forgiveness and re-growth.
–Elise Pearlstine, Monthly Contributor
Michelyn Camen, Editor in Chief – Art Direction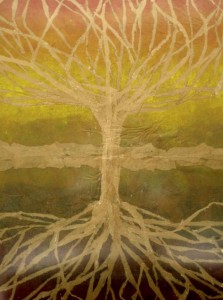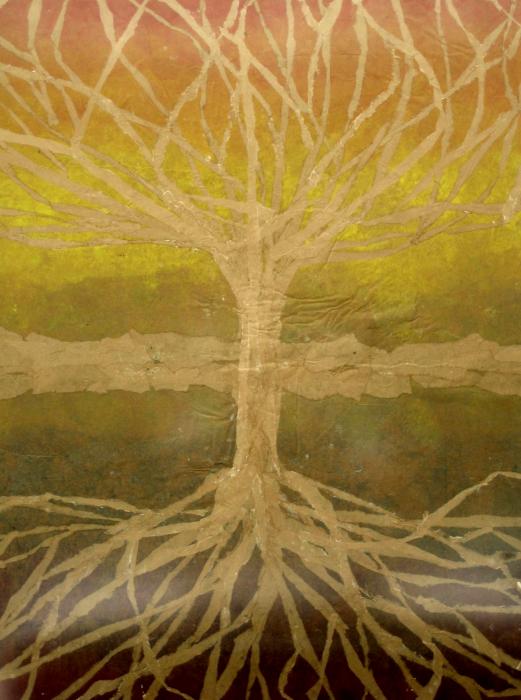 Meditation Painting by Leah Tomaino
For our Sandalwood in Perfumery Draw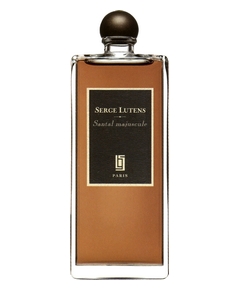 Courtesy of Parfum 1 50 ml of Serge Lutens Santal de Mysore with Mysore sandalwood USA, CANADA, EU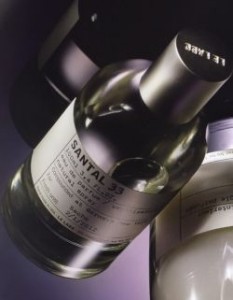 Thanks to our friends at Le Labo: 50 ml of Santal 33 with Australian Sandalwood composed by Frank Voelkl (Mark's review here) INTERNATIONAL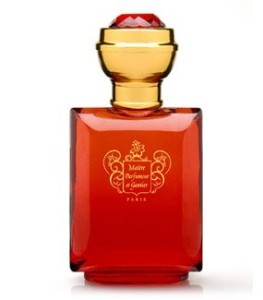 From Europarfums (the US distributor) of Maitre Parfumeur et Gantier 3.4 oz Santal Noble EDT with Mysore sandalwood composed by Jean LaPorte- Available at MiN New York USA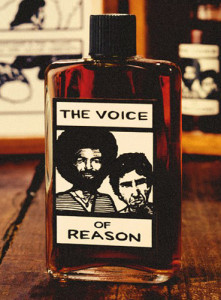 Thanks to Lush USA Gorilla Perfume 1.5 oz The Voice of Reason with Australian sandalwood created by perfumers Mark and Simon Constantine (Tama's review here) USA only

Thank you to the perfumers of the Natural Perfumers Guild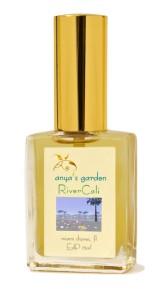 15ml of River Cali from Anya's Garden with Vanuatu Santalum Album -USA ONLY ALL NATURAL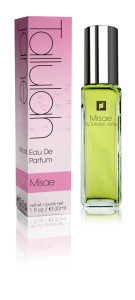 two 8ml Parfum rollerballs for two readers of Tallulah Jane Misae with ethically sourced Vanuatu sandalwood-ALL NATURAL USA AND INTERNATIONAL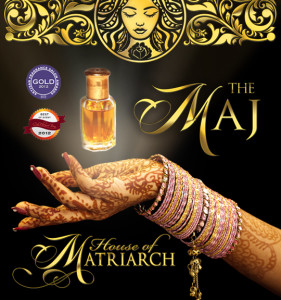 Christi Meshell of House of Matriarch 15 ml travel spray of The Maj, an attar with ancient mysore sandalwood. Read John's review here ALL NATURAL USA ONLY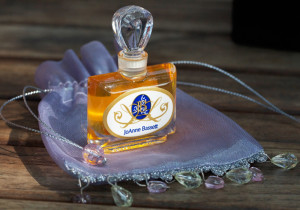 JoAnne Bassett of JoAnne Bassett One Ounce of Le Voyage with ancient mysore sandalwood USA ONLY ALL NATURAL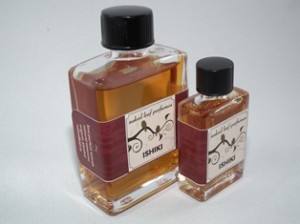 From Suzy Larsen of Naked Leaf 5ml of Ishiki perfume (oriental, spicy) with mysore sandalwood. Isiki means senses and consciousness in Japanese. USA AND CANADA -ALL NATURAL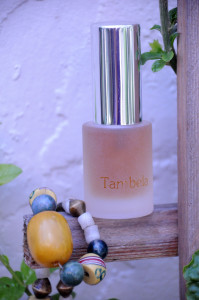 From our Author Elise Pearlstine of Tambela perfumes 15ml of Amber Alcheme with two kinds of sandalwood Vanuatu santalum album and Australian sandalwood. (Elise redesigned her website using her own photography) USA ONLY ALL NATURAL
To qualify for our draw, please leave a comment with what you learned about sandalwood in perfumery as well as any or all fragrances you would like to win (country restrictions) by April 24, 2013.YOU MUST INCLUDE AT LEAST ONE 100 PERCENT NATURAL FRAGRANCE TO BE ELIGIBLE.
We announce the winners only on site and on our Facebook page, so like Cafleurebon and use our RSS option…or your dream prize will be just spilled perfume