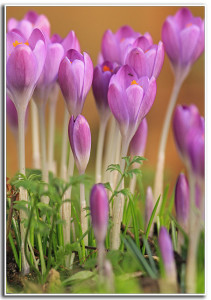 Is it Spring yet?
The most expensive spice in the world comes from the beautiful purple flowers heralding the first sign of spring but harvested in the Fall. Saffron provides both spice and color—highly aromatic and with a deep yellow color, the spice has a long history of use for its complex aroma, earthy flavor, and deep yellow color. The name for the plant comes from the Greek word krokos meaning saffron or yellow and the Arabic word za'fran refers to the spice.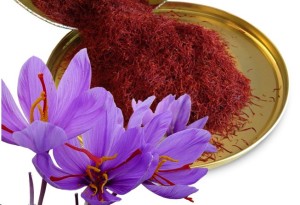 Each female flower has three long, threadlike stigmas that contain over 150 aromatic chemicals. With an intense and peculiar spicy, somehow sweet, herbaceous, and even haylike odor, saffron provides a unique note to perfumery and cooking. Whether earthy or leathery in the base or the anchor in a gourmand fragrance, it makes itself known in tiny amounts. Just a touch adds intrigue to floral, rose and amber perfumes. Many modern Oudh perfumes as well as Arbabic and Indian attars contain notes of saffron (Editor's Note: the first Western perfumes I found that contained Saffron are Agent Provocateur in 2000 composed by Christian Provenzano, followed by L'Artisan Parfumeur Safran Troublement by Olivia Giacobetti in 2002). According to Dawn Spencer Hurwitz who created Cimabue as a study in Saffron, " Saffron is a unique perfume material not the least for it's multi-facetedness. Since it's ultimately a flower it has a wonderful way of floralizing a bouquet in the heart of a fragrance as well as acting as a catalyst for spices, citruses and resins. Saffron also has a great affinity for the indolic and the animalic; it does wonderful things with animal notes in the base".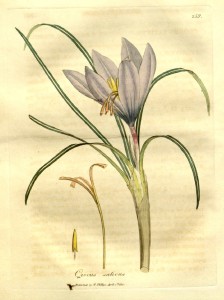 Crocus Sativus Botanical Illustration
The saffron crocus (Crocus sativus) is highly bred for long stigmas and as a result is sterile so it must be propagated artificially. It grows from bulbs and is related to irises, lilies, and tulips. The female flowers produce three bright red stigmas within which are small capsules that contain chemicals making up the characteristic aroma, flavor and yellow color. The stigmas are not fragrant when fresh and must be dried and heated. The scent-containing vessels burst under this process, bringing about a chemical change that creates safranal, one of the main odor components.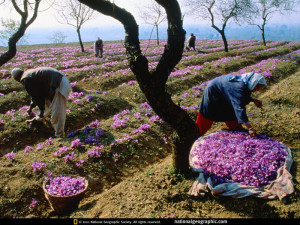 Saffron Fields in 1999 in India National Geographic
It can take 75,000 saffron blossoms or 225,000 stigmas to produce a pound of saffron spice. The plant is largely cultivated and harvested by hand, making it labor intensive and contributing to its cost. Countries that grow saffron include Iran, Spain, Afghanistan, Greece, and India. It is often grown on small family farms where it is a side crop requiring an intensive 3 weeks in the fall to harvest and extract the stigmas in much the same way they have been for thousands of years. Traditionally, Spanish growers of saffron would reserve a portion of their harvest as a kind of savings account.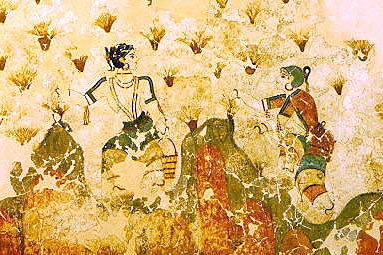 The Saffron Gatherers- The Golden Stigmas Prized Since the Bronze Age: Detail of Fresco found in Knossos
Thousands of years ago, during the Bronze Age, saffron was gathered in Knossos. Stigmas are plucked early in the morning from closed flowers and laid to dry on silk trays under heat. Good saffron threads should be strong red with slightly lighter orange-red tips. This is how they appear naturally and an entirely red saffron thread may be lower quality and dyed red to fool consumers.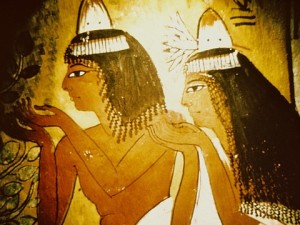 Egyptians would wear wax cones scented with saffron, spices and flowers and as they danced the wax would melt and their hair and face would be perfumed
The use of saffron in Western perfumery is relatively new, but it was used in the perfumed wax cones of the early Egyptians. Ancient Romans would perfume their baths with saffron and ladies in the court of Henry VIII dyed their hair with saffron until the king banned the practice fearing it would reduce his supply of saffron for the table. Ancient Greeks describe Zeus as having a bed of saffron, indicating great wealth, and rich Romans sprinkled their marriage beds with the expensive spice.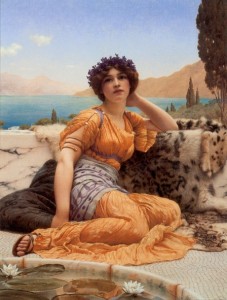 With Violet Wreath and Robe of Saffron Hue John William Godard 1892
Egyptian physicians were using saffron in 1600 BC and it is mentioned in the Song of Solomon 4.14 in the Bible "spikenard, calamus and cinnamon, all the trees of frankincense, myrrh and aloes, with all the chief spices". These red-gold threads were highly prized by pharaohs and kings as an aphrodisiac but they soon found that large amounts can produce deadly narcotic effects. Cleopatra would bathe in saffron before any meetings with men, using it aphrodisiacal properties to gain the advantage. Romans may have used it in mascara and it is used as a skin treatment mask in India to brighten the complexion and lighten dark spots.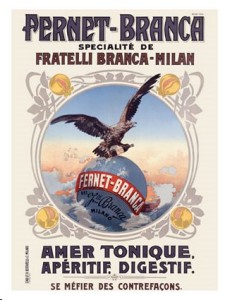 In magick it may be used to incite either love or lust and can be made into an infusion for washing the hands before a healing ceremony. In moderate doses it increases psychic ability and may reduce depression. Its Apothecary uses were many including treating dry skin, easing menstrual cramps and asthma. The Italian drink Fernet Branca (invented in 1845) is a dark, pungently botanical elixir based on saffron said to awaken the appetite, ease indigestion, and cure hangovers. Bartenders in San Francisco have an affection for it and often serve it with a chaser of ginger ale or ginger beer, calling it the "bartender's handshake."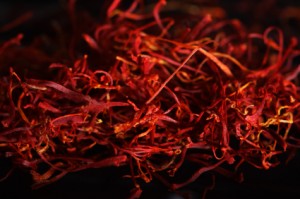 Spanish Saffron Threads
Saffron is sometimes called vegetable gold. For cooking the threads should be soaked for a few minutes to release their aromatic compounds. In addition to adding a unique earthy flavor, the distinctive color is important for the classic Provençal dish bouillabaisse. Golden saffron is used in buns called lussekatter cooked for St. Lucia's day—the Swedish festival of lights. Called azafran in Spanish, it is indispensable in Latin cooking for dishes such as saffron rice, arroz con pollo, and paella.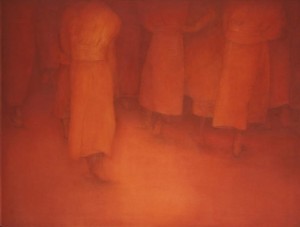 Saffron Robes 1 by Thép Thavonsouk
Egyptians dyed the cloths of mummies a deep golden color using saffron, adding urine to preserve the bright golden color. The Flag Code of India describes the colors of the national flag as having a top panel the color of India saffron—a deep golden yellow like the tip of the saffron thread. Buddhist monks, especially those from Tibet, are known for their use of saffron to dye their robe; a practice taken up by practitioners of Hari Krishna. In more recent times, 60s musician Donovan was 'mad about saffron' in his song Mellow Yellow (and she was mad about him).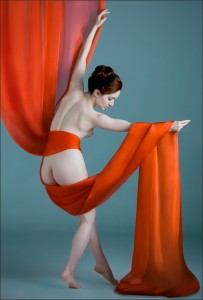 Photo by Olga Terrant
In Greek mythology the handsome mortal Krokus fell in love with a beautiful nymph named Smilax. One version has him turned into the small purple flower by the gods to preserve his beauty. Another version has Krokus being killed while throwing the discus with Hermes and where his blood was spilled there grew a crocus flower with a bright red center. The goddess of dawn called Eos or Aurora is represented by the color saffron, thus making a connection of this deep orange color with reincarnation or re-awakening.
It is said that when Alexander the Great arrived in Kashmir he directed his army to pitch their tents in a rich green pasture outside the city. The following morning they awoke to a field full of purple flowers that appeared overnight, even inside the tents. When the flowers turned his clothes yellow he felt that magic was in play and called off the battle.
Whether it is for love or lust, color or spice, beauty or health—we're just mad about saffron!
–Elise Pearlstine, Monthly Contributor
Art Direction Michelyn Camen, Editor in Chief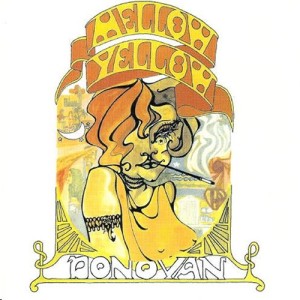 For our Mad about Saffron Draw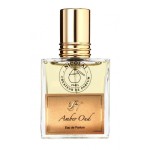 WORLDWIDE: 30ml Amber Oud from Parfums de Nicolai, perfumer Patricia De Nicolai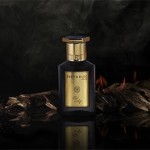 WORLDWIDE 100 ml Oud Alif from Shay & Blue , Perfumer Julie Masse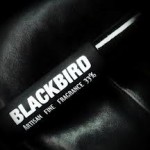 WORLDWIDE 3.3 ml Blackbird House of Matriarch, Perfumer Christi Meshell * 93 percent natural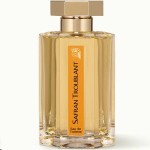 US and Canada 100 ml of L'Artisan Parfumeur Safrant Troublment , Perfumer Olivia Giacobetti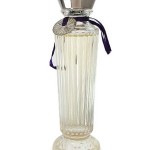 EU ONLY (not open to non EU residents, do not leave in comment if you do not qualify) Neela Vermeire Creations 55 ml Mohur EDP (screw top bottle), Nose Bertrand Duchaufour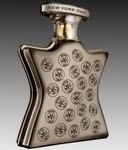 USA ONLY 50 ml Bond No. 9 New York Oud winner of the 2012 Fragrance Foundation award Perfume Extraordinaire, Perfumer Laurent Le Guernac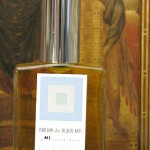 USA ONLY 10ml Cimabue perfume spray from DSH Perfumes Italian Journey #8 by Dawn Spencer Hurwitz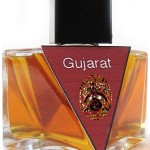 USA ONLY 30 ML Gujarat Olympic Orchids Artisan Perfumes, Perfumer Ellen Covey
ALL NATURAL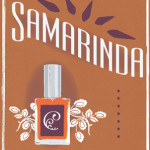 USA ONLY 15ml SAMARINDA ALL NATURAL Providence Perfume Co., Perfumer Charna Ethier, This size available for sale at Twisted Lily, Indigo Perfumery, and Beautyhabit.com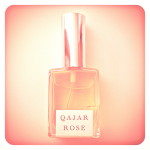 USA ONLY Parfums LaLun ALL NATURAL 15 ml Quajar Rose, Perfumer Maggie Mahboubian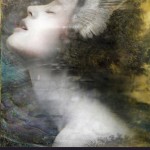 Greg Spalenka Art
USA AND CANADA ALL NATURAL Roxana Illuminated Perfume Impromptu liquid perfume and solid sampler set, reformulated Perfumer Roxana Villa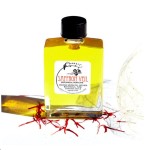 US ONLY ALL NATURAL 4 ml Phoenix Botanicals Saffron Veil, perfumer Irina Adam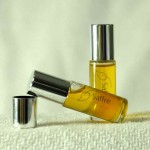 USA ONLY From our Author Elise Pearlstine, Perfumer for Tambela, 5m rollerball of Saffre
Thank you to all the fabulous artisan and perfumeries who contributed Saffron Perfumes for this post.
To be eligible for our Saffron in Perfumery draw, please leave a comment about what you learned from this article and as many of the fragrances you would like to win (Country restrictions, so read eligibilty and country restrictions). Be sure to include at least one Saffron natural perfume when you post your choices if you are in the US or Canada. If you only wear naturals please put that in your comment. The draw is random but we will try to match you with your choices. Draw closes April 3, 2014
We announce the winners only on site and on our Facebook page, so Like Cafleurebon and use our RSS option…or your dream prize will be just spilled perfume.