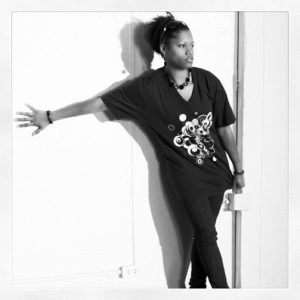 Chavalia D. Mwamba of PM® Fragrances
Profile: I was born in a small, East Texas city called Longview during the 80's when time seemed to stand still. The air seemed pure, and berry bushes and pine trees were the outdoors' fragrance of choice. Although raised in a rural part of town, I frequently envisioned international travel and its indigenous scents.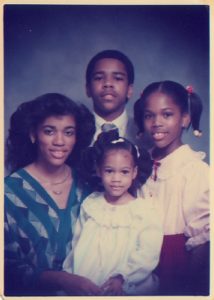 Chavalia at age 5 with her mother (left), uncle and aunt
I was the youngest growing up in a household of 6, so when my imaginary games were uninteresting to my young aunt and uncle, I found ways to entertain myself.I enjoyed being able to recognize an individuals' scent and had the ability to correctly identify who'd been over to visit, who came home from work or who cooked dinner for the evening without having to be in the same room.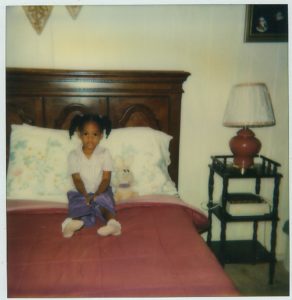 Chavalia with her favorite stuffed animal, Rabbit – the subject of many sniffing sessions
Thanks to my mother, my earliest fragrant memory is Johnson & Johnson's baby lotion. My primary grade school teachers would hover over my desk and rave about how good I smelled, and during parent-teacher night, somehow baby lotion would creep into the conversations with my mom. Once I turned 10, I had permission to sample my mother's used bottles of perfume, and it was such a delightful adventure! I absolutely loved the way perfume had the ability to captivate my attention and create memories. (By this time, I'd been taking piano lessons for about 3.5 years and had no idea musical "notes" could also be present in fragrances; I just knew I loved both). During my teens, I enjoyed frequenting the local musical instrument shop and Dillard's (or Foley's) fragrance counters. I slowly became nicknamed a "parfumista" by my circle, and it wasn't long before I was able to decipher what people were wearing without question (most times). I knew my interest in perfumery was more than just a temporary affinity when on a summer day post college graduation in 2005, I went to the bank in Arlington, Texas to make a deposit. As I was going in, a jaunty gentleman was exiting. Not only did he have great taste in apparel, but he also smelled wonderful – so wonderful that I found myself entranced – following him out the door almost forgetting why I came to the bank! I was too timid to inquire what the gentleman was wearing, so I kept replaying the wafts of his fragrance enhanced by the heat of summer until I convinced my boyfriend [now husband] to join me on an excursion to Saks.
I was clueless on how to describe to the fragrance sales associate what I'd smelled, and although I appreciated her willingness to help, I really wanted to be left alone to solve this scented mystery. The tester tray on the glass counter contained 20 or more new releases, so I chose to use the bottle designs as a starting point of elimination. I sampled several fragrances in frustration when my boyfriend began to glance at the clock. It was now 15 minutes until closing, and just when I was about to give up, a green, gradient-designed bottle caught my attention. I took the top off, inhaled with hesitation and immediately felt an overwhelming surge of excitement, as I'd solved the mystery! I refrained as best as I could from screaming, but my enthusiasm was loud enough for the sales associate to return, asking if I'd had any luck. I wrote down the name of the shared Eau de Toilette by Hermès, did research on the notes, story behind the composition and créatrice, and to this day, this fragrance is still my signature "go-to", no matter the season.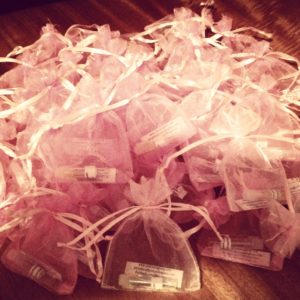 Samples for The Weekender Dallas Event (2011)
That experience opened up a whole new world for me, fueling a curiosity so strong that every day after teaching elementary music classes, I spent hours learning about perfumery.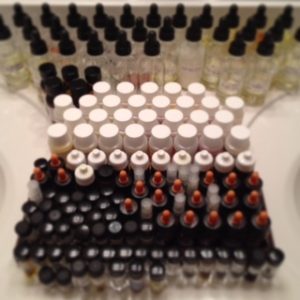 Chavalia's beginner perfume essential oils and materials
Upon my research, I came across possible harmful ingredients and decided then that I wanted to refrain from using phthalates. By 2008, I was purchasing small samples of aroma materials, attempting to create my own accords.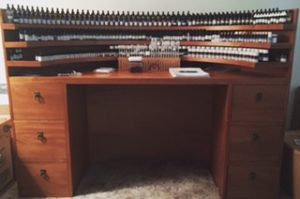 Chavalia's perfume organ (2017)
Starting out, most of these accords were "out-of-tune" until 2011 – when my first successful blend was composed (with great help from Perfumer's World and Perfumer's Apprentice). As my knowledge grew, my love for music began to take a shift towards more fragrant melodies. I was finding myself more excited to come home, read about compositions and blend trial accords than to write teacher lesson plans. 2011 proved to be a pivotal year, as I bid farewell to teaching elementary music in order to free up more time to focus on perfumery.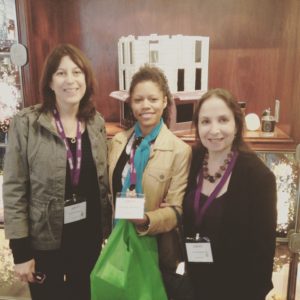 Sniffapalooza 2013 at Diptyque NY (Karen Adams-left; Chavalia-center; Karen Dubin-right)
My first substantial investment was a custom perfume organ in late 2012, and a year later, I was invited by Karen Adams of Sniffapalooza to introduce my brand PM® Fragrances (Pink MahogHany™) at their Eau de Artisans Uncorked! event in NYC. It was an enjoyable experience that I look forward to attending again.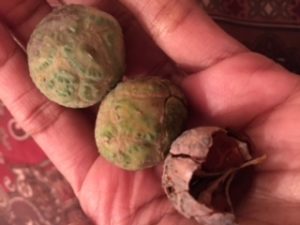 Prepping for a cypress tincture
My discerning olfactory sense is one that I am grateful for, as it has certainly been refined over the years. As a musician and singer, I not only create songs but also re-harmonize the way perfumery notes are played – one drop at a time.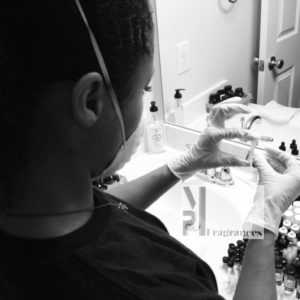 Chavalia making samples
On American Perfumery:I'm a married mother of twin toddler boys, so being an independent perfumer gives me the opportunity to have full freedom of artistic expression. Each day is a joyous adventure, and even though I do have time-sensitive projects to complete, the only true constraints are those self-created. If inspiration is low, or my nose is just "off," I can rest and regroup without consequence.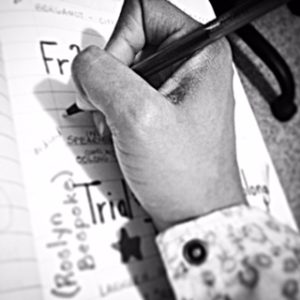 Writing formulas for a bespoke fragrance
As an African-American female from Texas, I'm a representation that diverse backgrounds are what unite us as fragrant artists. I'm constantly learning, growing and connecting with other indie perfumers – sharing insights, challenges and successes with complete support. Each independent perfumer possesses a uniqueness to be celebrated in true American fashion.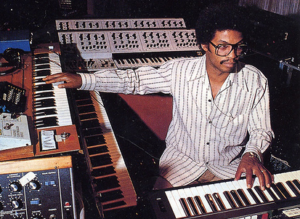 Herbie Hancock and the Fairlight CMI (Circa 1980)
Favorite American Artist: Herbie Hancock's style of inserting distinctive surprises in his music often influences the way I approach my fragrance creation.
—Chavalia Dunlap-Mwamba, Owner & Perfumer PM® Fragrances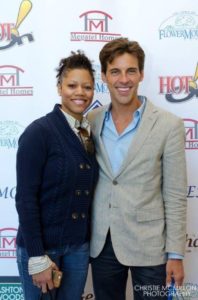 Chavalia gifting Madison Hildebrand ("Million Dollar Listing California" Celebrity Realtor) with a car fragrance
Chevalia is our 117th perfumer in our American Perfumer series. You can find PM Fragrances on Facebook here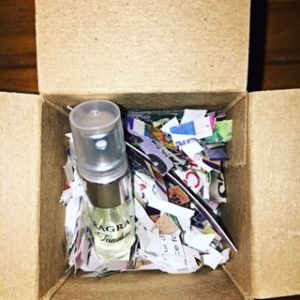 Eco-friendly packaging for samples
Thanks to Chavalia we have a draw for a registered reader anywhere in the world for a sample set (click on each link for notes and composition) of French Cuffs, Pas Encore Nommé, Tandem and Fedora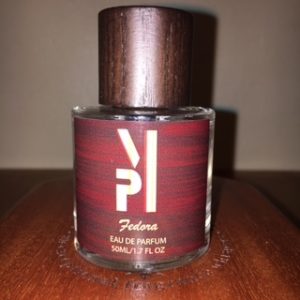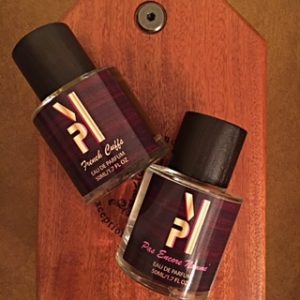 50 ml Fedora and Pas Encore Nommé
If you are in the USA you can choose either the sampler or your choice of Pas Encore Nommé (for women), Tandem (shared) or Fedora (for men). Please be sure to register or your comment won't count. You can register here.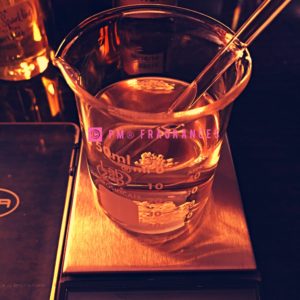 Formulating Tandem
To be eligible please leave a comment with what you found fascinating about Chavalia's path to perfumery,where you live and which fragrance you think you might love and your choice should you win. Draw closes 1/30/2017
Please like CaFleureBon Profiles in American Perfumery and your entry will count twice.
Follow us on Instagram @cafleurebon and check out @pm_fragrances
We announce the winners on our site and on our Facebook page, so Like Cafleurebon and use our RSS feed…or your dream prize will be just spilled perfume