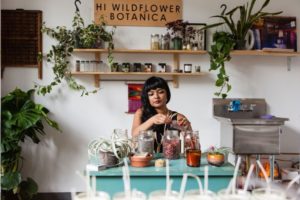 Tanwi Nandini Islam author and perfumer
Profile: I grew up on the move. My family traveled from different parts of the South, Midwest, until finally settling in New York – and I think this constant motion is an inspiration for Hi Wildflower Botanica. Flowers are such an intricate part of human ritual – we commemorate new life, love, partnership and death with them.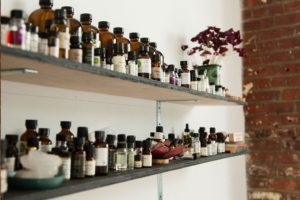 Essential Oils in Tanwi's studio
Yet wildflowers are the forgotten blooms that grow among weeds—and I wanted to evoke their beauty when conceiving of my brand. My father and mother are from Bangladesh, and came here after a terrible war in their country. We didn't grow up speaking about this, but I think in many ways, they sought healing through raising my sister and me to be as free-spirited and adventurous as we wanted to be. My father, the chemist, and my mother, a banker-turned-language interpreter have always been open to change—whether it be their home, their career path, their ideology—and I certainly have inherited this desire to keep evolving.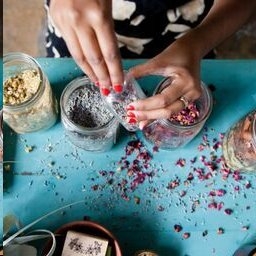 Tanwi Blending
On American Perfumery: The word "American" in and of itself is so complicated. As the daughter of Bangladeshi immigrants, I have always had a part of me searching for a place within my motherland. Blending attars and perfumed waters is so intrinsic to the Muslim diaspora, and that has always drawn me towards perfumery. The tradition of cultivating plants, trees and flowers for essential oils is ancient. In many ways, to source botanicals from different countries is to travel around the world. I've discovered Neroli from Tunisia, Frankincense from Oman, Rose from Turkey – and it's a joy to work with these gorgeous materials. In many ways, knowing that doing the work supports family farms is so gratifying. Most commercial perfumes are made by multinational companies in a highly controlled environment – and the use of rare botanicals is limited because REAL jasmine, sandalwood and rose are super expensive. So, I try to bring the beauty of those naturals to the forefront when creating my perfumes.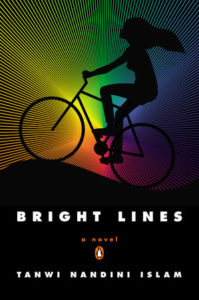 When I finished my novel, BRIGHT LINES (Penguin 2015), I felt this profound gap–the place this story had inhabited suddenly felt empty. I'd learned so much in the process of writing my main character Anwar, an apothecary, as well as his daughter Ella, a botany student who is grappling with their gender identity. While it may seem unlikely that a work of fiction can become a starting point for an indie perfume business, I think scent and storytelling are kindred spirits.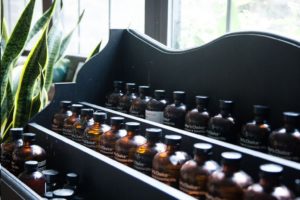 Perfume Oils used in Hi Wildflower fragrances
The library of essential oils, resins, absolutes and perfumer's raw materials I'd collected over the years became a way for me to continue composing stories that evoke the natural world and human rituals.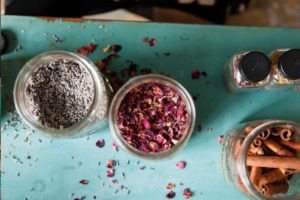 Raw Materials rose lavender and cinnamon
At the heart of each perfume is a flower or plant that is closely associated with something sacred, faraway and evocative of the spirit of wildflowers. So, for example, in my Mojave perfume, I use sustainably sourced Palo Santo from South America and wildcrafted white sage from Santa Barbara, to evoke that sense of walking through the stillness of the California desert. By blending these natural elements with notes of leather, dry, desiccated earth – a perfume is born.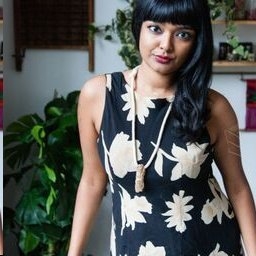 Tanwi Nandini Islam lives in Brooklyn
The "Wildflower" within us all is complex, tenacious, worldly. I think a lot of times, as women, we feel we are not enough, that we need to be MORE – smarter, prettier, more successful, skinnier – and it's a big sham. To simply exist is to be in touch with all that we are – that is truly beautiful. That is the spirit of Hi Wildflower.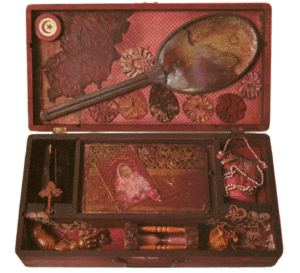 Record for Betye Saar
Favorite American Artist: it would have to be Betye Saar. Her use of assemblage to complicate history and heritage of the African-American experience is beautiful, heart-wrenching and potent.
Tanwi Nandini Islam, Owner of Hi Wildflower Botanica, Author of BRIGHT LINES (Penguin 20150)
All photos: Mia Fermindoza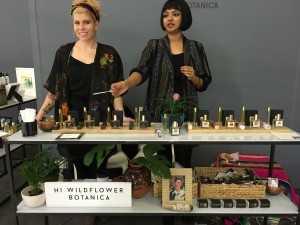 As I was walking the show it was the framed picture of Frida Khalo that stopped me (Hernando Courtright: photo taken at Elements Showcase 2016)
Editor's Note: I met Tanwi at the Elements Showcase 2016 and awarded her line Hi Wildflower Botanica Best of Show Artisan. My personal favorite is Namaka and Hernando Courtright's was Night Blossom. I find her personal story inspiring and we are thrilled that Tanwi is the 101st American Perfumer in our series.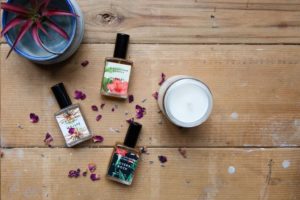 Thanks to Tanwi we have a draw for two registered readers (you must do this or you are not eligible here) in the USA for your choice of a 15ml extrait of Mala Mojave NĀMAKA RÍO NILO HANALEI West Indies Night Blossom, Lovers Rock, or Ancients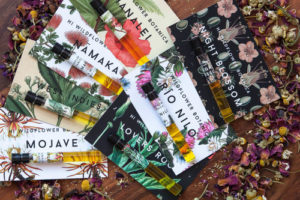 Perfume oil sampler
or
a sampler of all 9 HiWildFlower perfumes
. Please leave a comment with what you found fascinating about Tanwi's path to perfumery, your choice of fragrance (or a sample set of all 9). Draw ends May 2, 2016
You can follow Hi WildFlower Botanica on Instagram @HIWILDFLOWER and follow us @Cafleurebon
Please like CaFleureBon Profiles in American Perfumery and your entry will count twice.
We announce the winners on our site and on our Facebook page, so Like Cafleurebon and use our RSS option…or your dream prize will be just spilled perfume