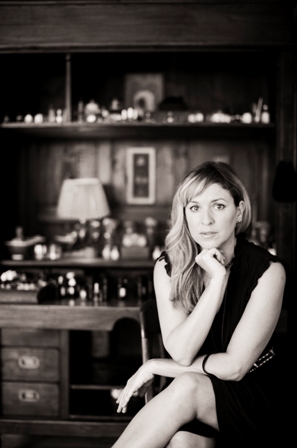 Sanae (sah-nigh-ae) Barber, Los Angeles perfumer
Profile: I was born in Japan, my name is Japanese (it means A Little Rice Sprout), and I moved around quite a bit as a child. Most of my formative years were spent first in a small town outside of Nashville, TN and then Washington DC. There was a brief time we lived in the Middle East. I always, even as a child, have had a strong urge for adventure hence moving around felt natural. Spending several years studying holistic health care in Baltimore, I began a private practice of bodywork following up with teaching massage classes for a few years. When I was 21 I decided to take a road trip along the coast of California. I felt the urge to move there and live near the beach. A chance to discover more of the world on my own.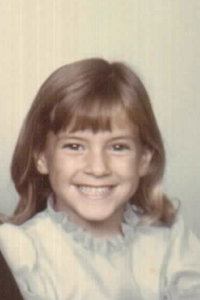 Young Sanae age 5
I travelled from Tahoe in the springtime snow, through San Francisco, a week in Big Sur, a festival in Yosemite and before heading back to the east coast my friend said, "You can't by pass Santa Cruz". That place I would call home for many years, and a place I always return to. I was completely enraptured with the smell of Eucalyptus burning off the morning fog and hiking through the redwood forest that trailed right out to the cliffs. I was hooked on the natural lifestyle and surroundings and immediately enrolled in the local community college for classes. It was there I discovered wearing essential oils as a fragrance, and occasionally trying some blending. My first one was orange blossom and sandalwood with a hint of vanilla; it was there I continued to educate myself about a holistic natural lifestyle and it was there I began to realize this dream job of becoming a perfumer.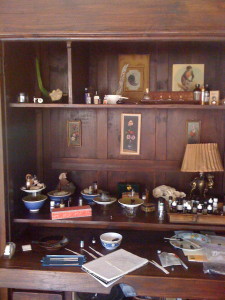 Sanae Intoxicants Perfume Studio, Los Angeles
After the stock market crash in 2008, I was living in Los Angeles and the company I was working for was dissolved. We all lost our jobs. This was actually a relief as I had become disenchanted with the world of digital media. I allowed myself the freedom to not know what my next career move would be.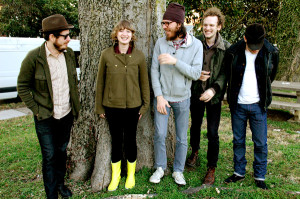 Vetiver-The Band
One day at an herb room I noticed an essential oil named Vetiver. Having the name of one of my favorite bands, I began mixing some testers together, on my wrist, Vetiver, Lavender and Balsam of Peru. The drops, I had casually dabbed on my wrist, got stuck to the inside of my coat. It was a rainy, wet Christmas but I was elated and warmed by this new discovery and I could hardly take my nose away from my coat sleeve the entire holiday. That spring I signed up for classes in natural perfumery at Persephenie (Persephenie Lea) Studios and became obsessed with all of the exotic fragrances of the world I never knew existed. Each new batch of blends began to develop on their own timelines, some developed into a story, others became perfumes, some of them got a name. I fell in love with the process. It wasn't long until my own passions were shared by others through casual meetings with friends or strangers reaching out to smell my perfumes.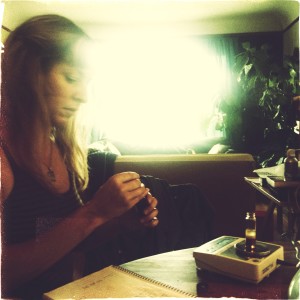 Sanae Barber working on a new formula
On American Perfumery: Perfume is difficult to describe through language and yet some lean towards smell as a way to define. I felt the need to write about the experience through poetry, music, or imagery.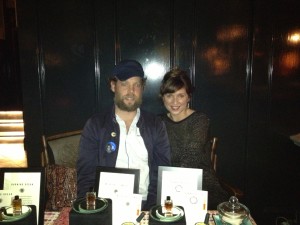 Bonny Prince Billy aka Will Oldham at the launch of the perfume at Cafe Stella in Silver Lake
After developing a perfume library, collaborating with artists such as Bonnie Prince Billy, Father John Misty, friends, and others, I feel so lucky to be part of the indie perfume scene in Los Angeles. It's interesting to explore the idea of what it means to be an indie American perfumer in the US. Many people seem to be committed to making perfume as their living, not a hobby. I think this will continue in this country tody and more and more great noses will be American artisans.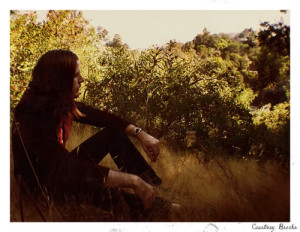 Musician Jonathan Wilson
Favorite American Artist: As I have been writing my profile I've been thinking a lot about the time I started making perfumes and what music really influenced me . One of the musicians that keeps coming to mind is Jonathan Wilson. His record Frankie Ray stuck with me for many years and never tired of its romanticism and vision. I've lost myself in those songs like I have in day dreams of new places, lands, old memories, grief and cross country skies.
–Sanae Barber, Perfumer and Founder of Sanae Intoxicants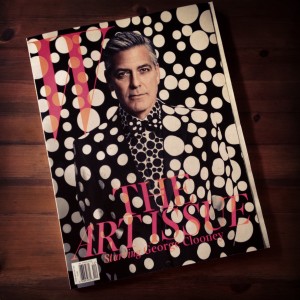 Editor's Note: I would like to thank Einsof for introducing me to Sanae. Her perfumes have been featured in W magazine along with Saskia Wilson Brown, Salon Magazine, Spin Magazine, NY Magazine and The Hollywood reporter to name a few. (I remember that issue with George "Swoony" Clooney on the cover of W) Sanae has also won multiple awards at the Taste TV Los Angeles Artisan Fragrance Salons –Michelyn Camen, Editor in Chief)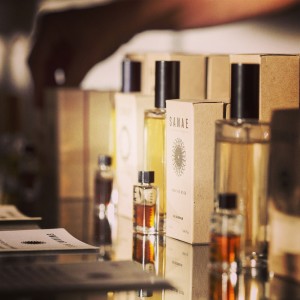 Sanae Intoxicants
Thanks to the very generous Sanae we have a worldwide draw for any of her perfume oils ($135 retail except for Bonnie Billy which is a mukhallat and $220) Meadow Slumber,Burning Ocean, Smoking Rose, Innocence or Bonnie Billy. Or you can choose a sampler of all five. To be eligible, please leave a comment with what you found fascinating about Sanae, your choice should you win, and where you live. Draw closes November 12, 2014
Please like CaFleureBon Profiles in American Perfumery on Facebook and your entry will count twice.
We announce the winners on our site and on our Facebook page, so Like Cafleurebon and use our RSS option…or your dream prize wil be just spilled perfume