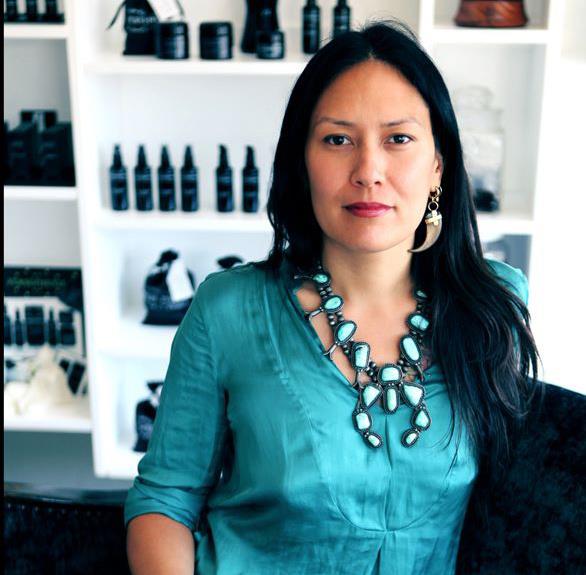 Photo credit: Christian Andre Schnyde Persephine wearing a vintage Native American necklace
ProfilPPPROFILE: I was born and raised in Los Angeles by my young single mom who loved collecting knick knacks, including a wide range of vintage perfume bottles. My sense of smell, the ability to differentiate scent, and especially the odor of people has always been a sense that I was aware of. As a teenager, I overly wore the perfumes Opium and Anais Anais. Perfume was a bottle and a brand, not the art, complexity, and sophistication it is to me today.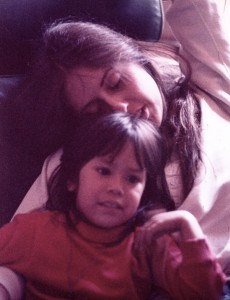 Persephenie and her mom

I like to immerse myself in the arts. Whether it be painting, design, or fashion, my creative spirit has guided me, moving often between Northern and Southern California and traveling to Europe and beyond. In 1999 I took my first venture to India where the ritual offering of flowers and incense was constant. The idea of offering smoke to the gods, the raw materials used, and the aromatics themselves inspired an obsession into incense and it's role in history.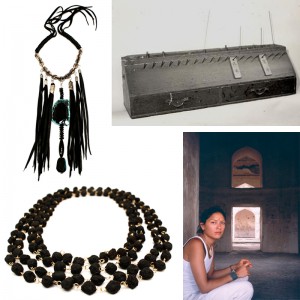 Blue Agate and Rose Petal Bead necklace made by Persephenie. Vintage Geisha time keeper (incense burner), and a photo from 1999, my first visit to India.

In 2001, my son was born. It was important for me to bring him into this world naturally. My studies and experiments with raw materials in incense making, combined with being a new mom, steered me to towards Aromatherapy, the therapeutic and medicinal use of oils.




Persephenie at her desk
Originally I opened my studio as a place to create art. As I began practicing Aromatherapy, I couldn't resist layering odors and creating complexities. I started collecting books on the structure and history of perfume. I met as many scents as I could, researched online, took perfume workshops, and created exploratory perfumes for friends. Eventually my space evolved into a laboratory of aromatic raw materials for perfumery and personal care products. I found that I love the intimacy and challenge of custom scents. My experimental projects for friends led me to custom scents as a trade, along with my own brand of body care and perfume.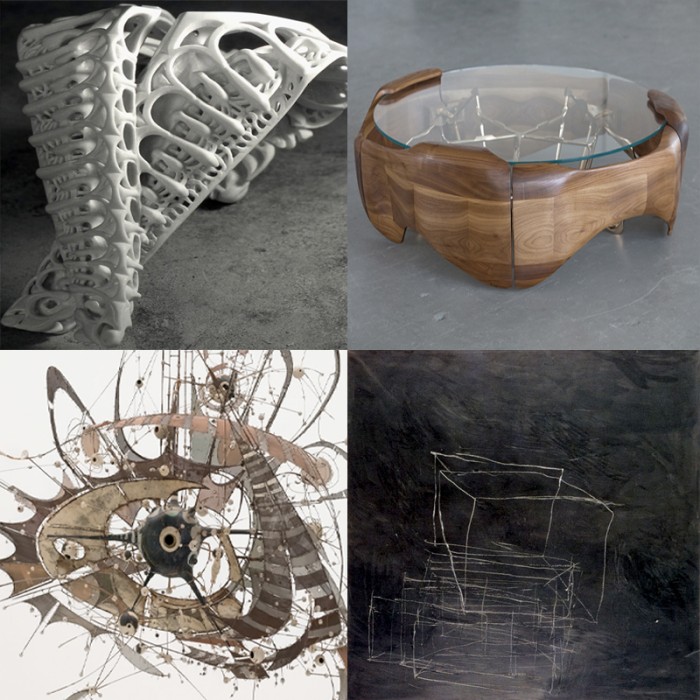 Top: Elizabeth Turk, Ty Best from Caste Design Bottom: Lee Bontecou and Cy Tombly.


AMERICAN ARTISTS: I'm inspired by many artists, crafters, and designers. Lately its been the mind blowing sculptures of American artist Elizabeth Turk, as well as the furniture designs of Ty Best from Caste Design. I also love the intricate work of Lee Bontecou's hanging structures and the child like large paintings by Cy Tombly.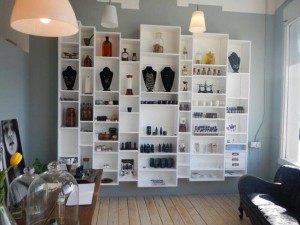 Persephenie's Boutique in L.A.
THOUGHTS ON AMERICAN PERFUMERY: For the short amount of time I've been in perfumery, I've witnessed many emerging indie niche American brands. Natural botanical perfumery continues to grow. Customers are better educated. There is an openness to explore different approaches to perfumery as well as a discovery of exotic scents such as Oud. In the botanical world, there are always exciting artisanal oils being extracted. And, because there is so much freedom in indie US perfumery, with many different backgrounds and educational experiences, there is incredible diversity and style.
–Persephenie Lea, Perfumer, Designer and Artist

http://www.persephenie.com/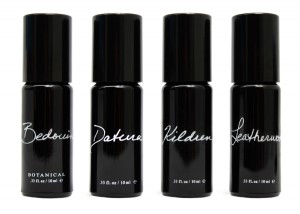 For our draw we are offering a reader's choice of any of Persephenie's four perfumes : Bedouin (botanical), Datura, Kildren, or Leatherwood
To be eligible please leave a comment about what you found interesting about Persephenie and the fragrance you would like to win. Draw closes July 26, 2012
We announce the winners only on site and on our Facebook page, so Like Cafleurebon and use our RSS option…or your dream prize will be just spilled perfume.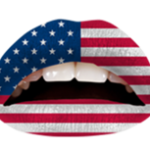 Editor's Note: Persephenie is a perfumer whose work I had heard about but was not familiar with until Sr. Editor Tama Blough's' report on the recent San Francisco Artisan Fragrance Salon. I picked up the phone and we chatted for an hour about art, travel, the spirit of indie, and of course fragrance. I learned that before she opened her new studio, she hosted monthly fragrance events that featured Indie perfumers who have been featured on CaFleureBon Profiles in American Perfumery, such as JoAnne Bassett, Dawn Spencer Hurwitz, and Yosh Han as well as hosted seminars with Jeanne Rose (Ayala Moriel from Canada had a big influence on Persephenie). I began Profiles in American Perfumery over a year ago in the hope that our readers (and retailers) were not only curious about American perfumers but would support them and embrace the emerging community of talented artists in this country… the next "must have" scent is just next door. –Michelyn Camen, Editor in Chief