Meryl Gabeler (r) with her Mom and business partner Cary Gabeler
Profile: I was born in Manhattan and grew up in Brooklyn, NY. I hated the city as a child and would cry when my parents would take me home from my cousins' house in northern Virginia. I remember driving around Brooklyn by the Gowanus canal in my Dad's Navy

Lincoln Continental Mark VI originally his Father's car, who worked for the CIA. I enjoyed some of the finer things in life at an early age and could be found listening to Classical music on the radio.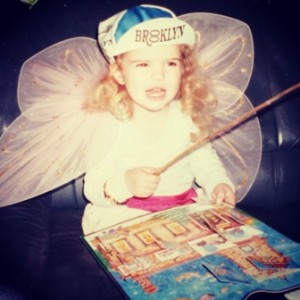 Meryl as a young girl
I've always been infatuated with perfume. My childhood room was full of candles complete with burn marks in the rug. My Grandmother and I would spend hours in the department store sniffing perfumes and I would leave with a piercing headache. It wasn't until my college years that I finally equated my tension headaches with the perfume I was applying daily. This is what led me to create natural perfumes. I couldn't bear the thought of not being able to wear perfume anymore just because I was allergic to it. I wanted to create scents that would be beneficial to my health, with aroma therapeutic properties, and yet have the same beautiful elegance of fine perfumes.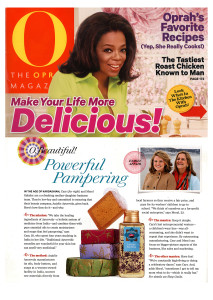 Anjolie's founders Meryl and Cary Gabeler have been featured in O The Oprah Magazine and are the recipients of grants and awards from Women's Entrepeneurial Associations



When I was eight, I bought a book titled, "Making Soaps and Scents" on a sale rack at Barnes and Noble and became enamored with the idea of creating perfumes and scents. I would collect, dry and press flowers I found and use them to create perfumes that I would then put into little glass jars. This was just the beginning of my love for perfume and bodycare products. I would have never guessed 18 years later, that my artisan perfumes and soaps would be featured in O The Oprah Magazine.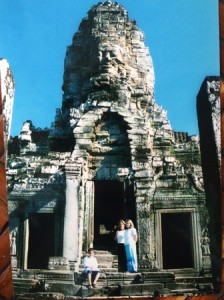 Meryl with mom Cary Gaebler In Cambodia
My tastes have been heavily influenced by my family's experience and background living internationally. My parents have lived all over the world, but they both grew up in Southeast Asia together; in Thailand and Laos. My mother, Cary Gabeler, the CoFounder of Anjolie, studied in India for four years during her 20s. My house was always filled with exotic Southeast Asian art and stories of my parents riding horses through rice paddies in Laos. My family took a trip to Thailand, Laos and Cambodia in 2000, where we visited my parents homes in Laos. It was a life changing trip for me and my love for travel and exotic scents and flavors was ignited.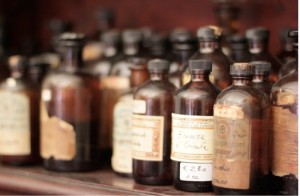 Bottles discovered in Italy at Bizzari an old essential oil apothecary
I have found that my nose often leads me through my travels. I can recall many times where I've retraced my steps in a foreign country just to pick up a fragrance that wafted past me. My memories of my travels are highlighted with the unique scents I discovered. In Thailand, it was a Frangipane flower, Argentina had the most exotic trees that smelled divine in the springtime, in Hawaii it was a hike I took that was scented by crushed guava fruit beneath my feet, and in Miami I find myself searching by nose for night blooming jasmine. My most memorable perfume moment to date occurred in Italy while wandering the streets of Florence. I found an old essential oil perfume apothecary called Bizzarri, where I had the most whimsical, fantastical experience with an old Italian women, who spoke no English. We had an excited and animated "conversation" about our love for perfume while she opened up old amber bottles of Italian Iris, Neroli and Myrrh.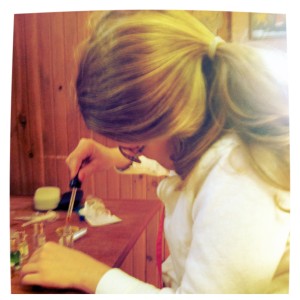 Meryl Gabeler of Anjolie Ayurveda
On American Perfumery: America is like no other country. I believe we are a generous and caring people that will lend a helping hand to all who need it. It is in this spirit, that Anjolie Ayurveda manufactures its oils, body butters, and soaps at a women-owned facility in India, sources raw materials directly from local farmers so they receive a fair price, and pays for its workers' children to go to school. That is one of the joys of being an American indie perfumer, that we can empower others near and far. I choose to compose natural perfumes, since for me they are more artistic and personal, like a handwritten note. I can create a scent that can allow you to visit a day in May during the middle of a blizzard in NYC. .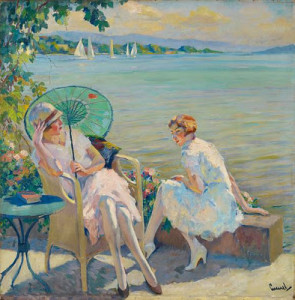 Two girls sitting at Lake Starnberg by Edward Cucuel
Favorite American Painter: An American painter that influences me is Edward Cucuel. He is able to elegantly capture a feeling and mood through his impressionist style. His painting "Two Girls Sitting at Lake Starnberg" brings me joy every time I look at it, as it reminds me that Anjolie Perfumes is truly a loving endeavor and a wonderful bonding experience with my mom, who is also my best friend and my business partner.
– Meryl Gabeler, Perfumer and Co Founder of Anjolie Ayurveda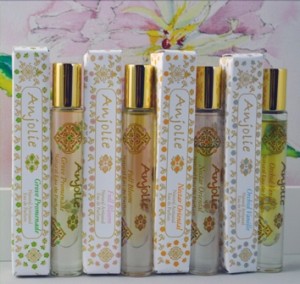 For our draw, we have a reader's choice for one reader in the US or Canada of Anjolie's Natural perfumes, Full Bloom, Grove Promenade, Nectar Oriental or Orchid Vanille. To be eligible please leave a comment about what you found fascinating about Meryl and Anjolie, and your choice one of the above natural rollerball Eaux de Parfums by May 8, 2014.
SUPPORT AMERICAN PERFUMERY
Please like CaFleureBon Profiles in American Perfumery on FACEBOOK ; and your entry will count as two.
We announce the winners on our site and on our Facebook page, so Like Cafleurebon and use our RSS option…or your dream prize wil be just spilled perfume