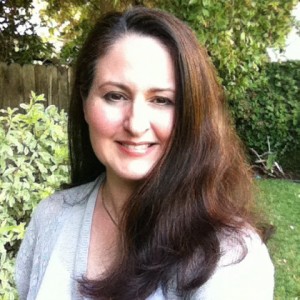 Maggie Mahboubian in her Los angeles garden
Maggie Mahboubian spent eleven years of intense study before debuting her all natural Parfums Lalun fragrances. Lalun Naturals is named after the village of Lalun in the Alborz mountains of Iran where Maggie's family owned some property. On weekends her family would drive from Tehran along a treacherous road to picnic under a walnut tree by the river, gather wild fruits and honey. It was Maggie's mother who first suggested she name her company "Lalun", not only recalling the sublime landscape of her youth, but evoking the moon and it's cyclical effects, a profound symbol for her efforts to help reconnect to nature and to the seasons. Today, Maggie lives in Los Angeles, called New York City her home for 20 years, anddraws much of inspiration from her Persian heritage, where it was commonplace to use rosewater, olive oil, henna, khol (sormeh), herbal hair cleansers (ketireh), body scrubs (sefidab) and the ancient "hammam" public baths that have been part of Persian culture since the Historic Bath of Siba.- Michelyn Camen, Editor-In-Chief, Edito,,. becameBaB 22 22 2ffdin Perishave been part ofthatt ofoyyyanized1110werw that thof the middle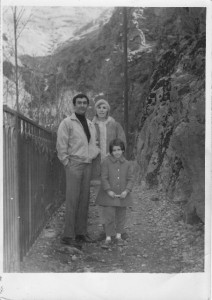 With her parents in Lalun, Iran
Profile: I was born in Iran to a Persian father and an American mother and raised with both cultures in a progressive, international environment. From my father, an antiquarian, I inherited my love of the classics and from my mother a taste for the modern. From both I acquired my independent spirit, persistence and desire to learn.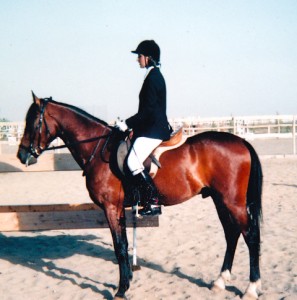 My first passion was horses which I pursued seriously for 10 years before moving to the United States at 16. My training in dressage introduced me to discipline, technique and focus at an early age but I also loved the smells: fresh air, horses, manure, dirt, salt, sweat and leather. Now I realize these were my first perfumes especially since I was intensely allergic to flowers. Fortunately, I was able to enjoy roses, orange blossoms and jasmine as part of the highly fragrant cuisine of Iran which not only shaped my palate, but also the way I create perfume.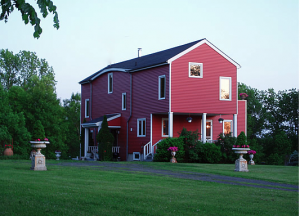 Hudson Valley Residence that Maggie designed as an architect
My transition from equestrienne to architect was abrupt due to my family leaving Iran in 1979. The "Intro to Architecture" class I took as a Freshman at Barnard propelled me in a new direction that satisfied both my rational and intuitive sides. I went on to earn my Master of Architecture from Harvard, to travel and intern with great architects like Herzog & deMeuron and Paul Rudolph, become a licensed professional in two states, teach and practice on my own.
The third stage of my life began some time in the mid 90's when I started making skincare as a hobby to offset the rigors of my work. Researching and developing emulsion formulas was challenging, but blending essential oils was confounding because the fragrance was always so fleeting. I resolved to understand why which led me to my path as a perfumer. The French method of structuring a fragrance was immediately comprehendible thanks to my architectural training; nevertheless, it took years of research and study to learn how to work with and control the medium.
Thankfully, I have outgrown my allergies and now cultivate several fragrant and medicinal plants in my garden which I extract for use in my skincare and perfumes. Perfumery for me is not only the synthesis of the rational and intuitive mind but a total engagement of the body.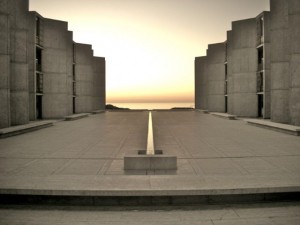 Louis Kahn's Salk Institute
Favorite American Artist: Louis Kahn's work embodies the spiritual and poetic side of architecture. His use of deceptively simple geometries resulted in surprisingly complex techtonic forms that have a timeless quality. He brought awareness back to a sense of place, and demonstrated that even a young country can have an ancient spirit. His writings on Silence and Light in his book Between Silence and Light have inspired me over the years.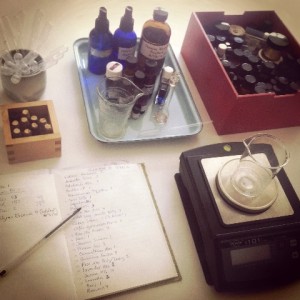 Maggie's Work table
On American Perfumery: Perfumery is one of the purest forms of self expression; perfumes exist for no other reason than to delight, inspire or provoke. Perfume is art. Many of the American perfumers working today come from different backgrounds which has resulted in a cross pollination of the arts. In addition, Indie American perfumers tend to prefer naturals either exclusively or in high percentages. As a result, this is helping revive interest in traditional extractions and initiate new methods of capturing plant essences using sophisticated technology. As a perfumer I am open to all aromatic sources of natural origin and work hard to highlight their beauty and integrity.
–Maggie Mahboubian, Founder of Parfums Lalun and Natural Perfumer
Thanks to Maggie we have a reader's choice draw of any the new Parfum Lalun natural fragrances: "La Lune de Miel" "Phenomene Verte" "Blanche du Bois" "Qajar Rose" or "Aqua di Callitris". To be eligible please leave a comment noting something you found fascinating about Maggie's profile and the fragrance you wish to win. Draw ends October 24, 2012
We announce the winners only on site and on our Facebook page, so Like Cafleurebon and use our RSS option…or your dream prize will be just spilled perfume
Editor's Note: Read Senior Editor's Tama Blough review of Parfums LaLun Aqua di Callitris click here. Maggie has been a guest contributor for CaFleureBon with her informative article "Perfume Appreciation".