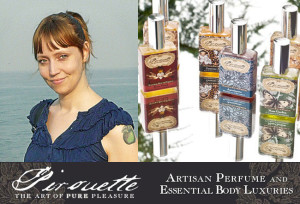 We first learned of Karyn Gold-Reineke through Sr. Editor Tama Blough's evocative reviews of Karyn's Pirouette Essentials botanical fragrances. We don't know what is in the air in the North West, but Karyn joins the burgeoning community of award winning Indie Seattle Perfumers who are creating artistic, expressive fragrances.- Michelyn Camen, Editor in Chief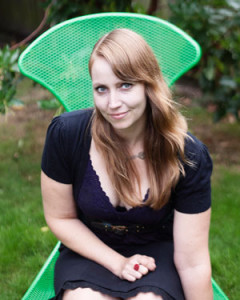 Karyn Gold-Reineke
Profile: Growing up in the Northwest's woodsy little town of Bellingham, I spent a lot of time in nature. We had a big backyard with fruit trees, berries and a lush garden where we grew our own vegetables. My parents were very into living a natural lifestyle. We made our own yogurt and granola, even fruit leather. My Mom baked bread from scratch every week and the heavenly aroma would fill and warm our house. Outback, a freshly shaven cloud of cedar sawdust emanated from my father's woodshop as he worked away. Both aromas still have the power to instantly transport me back to a time.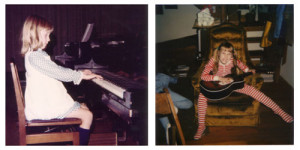 Karen at age 4, musical prodigy
My Mom is very artistic, she was always sewing and making crafts, and encouraged me to explore my creativity too. At age four, she enrolled me in piano lessons, and I became classically trained. I taught myself guitar and continue to play music to this day. I think my musical background helped lay an interesting foundation for creating scents. I experience a similar process while doing both. I have to get still and tap into the subtleties of what a song or scent needs, what it wants to express, and then build it note by note.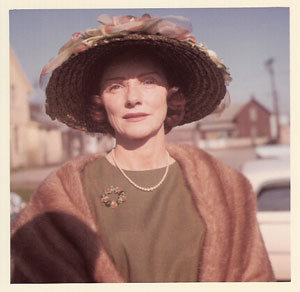 Glamourous Grandmother Irene wore Dior Poison
I get my musical gene from my grandmother Irene. We were very close, she was my touchstone in the family. A native New Yorker and self-proclaimed rebel, she loved excitement and traveling the world. I still recall these amazing pictures she shared after returning from a trip to Israel at 85. She was riding a camel, but dressed fashionably to the nines, like she just stepped out of a Fellini film. Her mantra was "Honey, I don't do old" – and she never did, all of her 93 years. She had such sophisticated style and grace, and was truly the embodiment of fabulousness as we know it. She wore Dior Poison and never let her hair go grey.
In my teenage years, I became passionate about herbal medicine, healing and natural products. I bought a book on how to make your own beauty products at home and enthusiastically started experimenting. I soon moved to Seattle and began working in natural apothecaries, eventually becoming a natural beauty care buyer and massage therapist. I also spent several years in the museum arts as the Program Coordinator at the Henry Art Gallery until the economy crashed in 2008. I quickly found myself among the laid off, so I returned to my roots and began experimenting with beauty recipes again. I decided to start with soap, something I thought people might still buy in a down economy. I felt a rush of excitement again as my creations came to life, and to my surprise, the soaps started to sell. I was officially in business! Perfume was a natural evolution for me as I continued to expand my product collection. I wanted to explore some of the more precious and exotic essential oils, so my line of Botanical Perfume was born.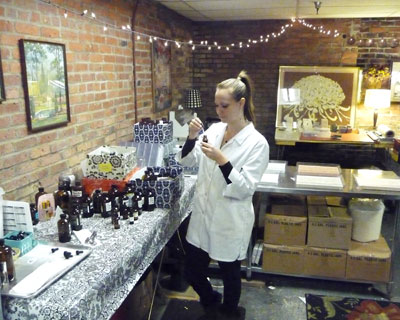 Karyn Gold-Reineke in her studio
On American Perfumery:
fBeing an indie perfumer in the US, I feel ree to try new things and take risks. I love creating interesting aromas without the restriction of having to appeal to the masses. Creating from my artistic integrity, allows me to connect more authentically to an audience my work can touch. Using botanicals as my medium feels like a calling because aromatherapy works on all levels: physical, mental, emotional and spiritual. My vision is in creating products that not only smell amazing, but have a healing and transformative effect in people's lives. My biggest inspiration is nature. Spending time in nature is so nourishing, it centers me and ideas begin to flow.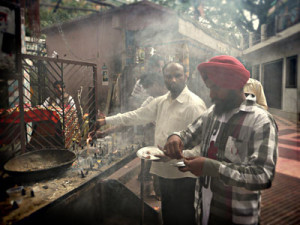 Inspired by perfume and materials from travel: Karyn inMumbai, India
My creativity also gets sparked by traveling. All the interesting smells, tastes and culture there is to experience makes me feel alive. I created a blend after traveling through India called After Dark, which I used for one of my soaps. I wanted to capture the aromas that emerged in Mumbai at night. Its smells like woodsmoke, sandalwood incense, musk, tobacco and leaves – it's different, even a little weird, but it totally works.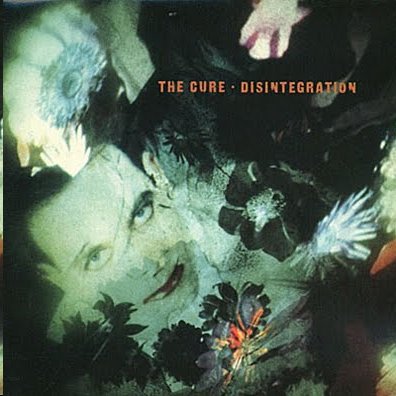 The Cure Disintegration (great floral cover art)
Since music has always been a part of my life, naturally I love listening to all sorts of things while working in my studio. Coming from a gothic youth, my roots go back to darkwave bands like The Cure. I like to infuse my scents with nuances of this rich sound. They are often sultry and earthy, even my lighter blends have a certain depth underneath. Sometimes scent inspires my music too. I recently created a new line of luxury naturals, Perfume Gold. For Mosaic, a voluptuously wooded, botanical musk, my bandmate and I wrote a musical interpretation of its aroma, which takes you on a journey deep into a magical forest. I feel blessed to live such a dream life. My husband and I remind ourselves all the time that any struggles we face are really just 'champagne problems' in this life. Perhaps in the next one, I won't be so lucky, so I try to be grateful for everything all the time.

Interiors Doug Aitken
Favorite American Artist:
I really love video art. During my museum days, I discovered Doug Aitken's work, which I find moving and beautiful. We had his installation Interiors, which consisted of several giant screens you walked into. It began quietly with soft sounds and images gently swooshing around you. Slowly, everything grew, exploding into a giant crescendo, it was very powerful. I also am a big fan David Lynch's films and art too. He takes you into other worlds, you have to really let go and experience it on a non-linear level. I see scent the same way, it is an emotional, intuitive experience that can transcend time and space, I love this.
–Karyn Gold-Reineke, Botanical Perfumer, Musician and Founder of PirouetteEssentials.com
Thanks to Karyn we have a world wide reader's choice of one of four luxe botanical 8ml edp sprays perfumes from the Perfume Gold collection Annabella, Mosaic, Souvenir or Wanderlust. To be eligible, please leave a comment with what you found fascinating about Karyn's Profile and perfumed path along with your choice of fragrance that you would like to win. Draw ends January 14, 2013.
SUPPORT AMERICAN PERFUMERY
Please like CaFleureBon Profiles in American Perfumery on FACEBOOK ; and your entry will count as two.
( Pirouette's FaceBook Page could use some love too)
We announce the winners on our site and on our Facebook page, so Like Cafleurebon and use our RSS option…or your dream prize wil be just spilled perfume