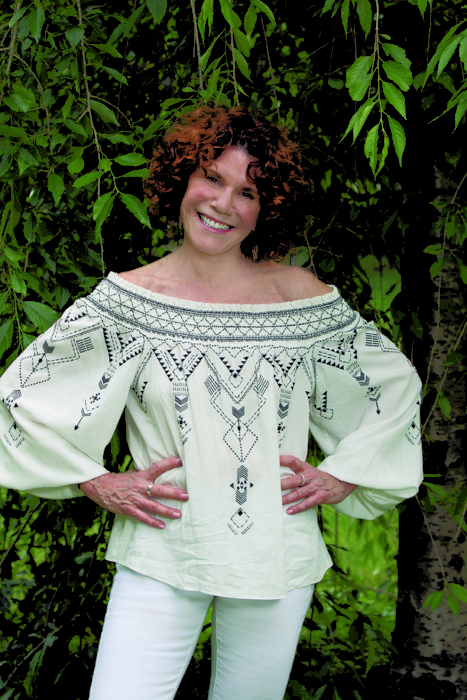 Hope Freeman of Nateeva Fragrances
Profile: I was born in South Florida, Miami actually. That's where fragrance found me in the form of a Gardenia bush. For the 11 years we lived there, I cherished the experience of that scent. In fact, it is a favorite flower to this day (it grows on the terrace of my home in New Jersey). That connection of scent and sunshine and the perfect pleasure of it all just stayed with me. But fragrance didn't leave me behind when I moved up north.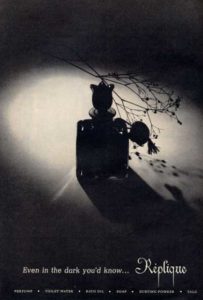 Replique Raphael Paris Perfume Bottle (1964) vintage ad
I remember my mother taking a bath in Replique, one of my early scent memories. The sensual, woody notes of this fragrance just captured me, it was incredibly luxurious and of course, such a special scent to recall. Though the dry down was deep and intriguing, I loved the top notes of citrus and spice and the heart of sunny flowers — like jasmine and mimosa and tuberose. When you think about it, this must have had some special memories for my mother too as the fragrance was launched in 1944 and I am remembering it from a far more recent timeframe. But I guess you could say that I've always had a passion for fragrance.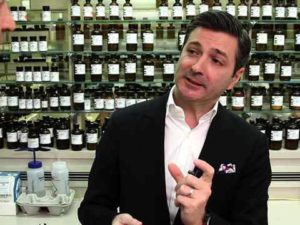 Laurent Le Guernec of IFF
Professionally for me this love affair with fragrance officially began in the 1970s. I was in my early 20s when I was recruited by a fragrance house for a job in advertising in downtown New York City. So essentially, I fell into the business. Once in, I knew this was where I wanted to be. After stints at Florasynth (which later became Symrise) and then at Coty, in 1992 I joined International Flavors & Fragrances (IFF) as a senior fragrance evaluator. I've been at IFF ever since. To me, IFF is the pinnacle. I partnered with Laurent Le Guernec on the first three scents. As a perfumer I could not admire him more. He has the ability to interpret the very essence of a precious location

Hibiscus,Yellow Elder Flower and Lingum Vitae
Our first three are inspired by the native flowers of the Islands we chose: St. Martin – Hibiscus – this flower comes in so many colors it's just captivating, ruby red is my favorite though; The Bahamas – Yellow Elder Flower, (not to be confused with Europe's Black Elderflower (by the way, it's the Bahamas national flower) and Jamaica – Lingum Vitae which is known as the Tree of Life. The flowers are delicate pale blue, so ethereal against the deep, dark wood of the branches. By the 4th of July, we're planning to add to our first trio and bring out the Dominican Republic and also, Saint Thomas. Later in the Fall, we're planning to add Aruba.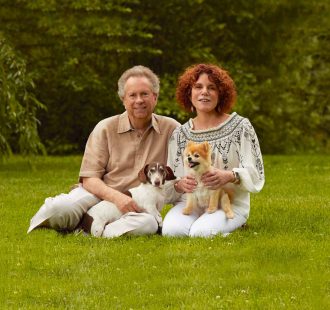 Hope Freeman & Jay McSherry, Nateeva
I love a surprise, so I am keeping mum on what's coming for 2018. But each scent in our series is and will always be genuinely connected to the earth, sun and sky of the Islands I've visited with Jay McSherry, my life partner and co-founder of Nateeva.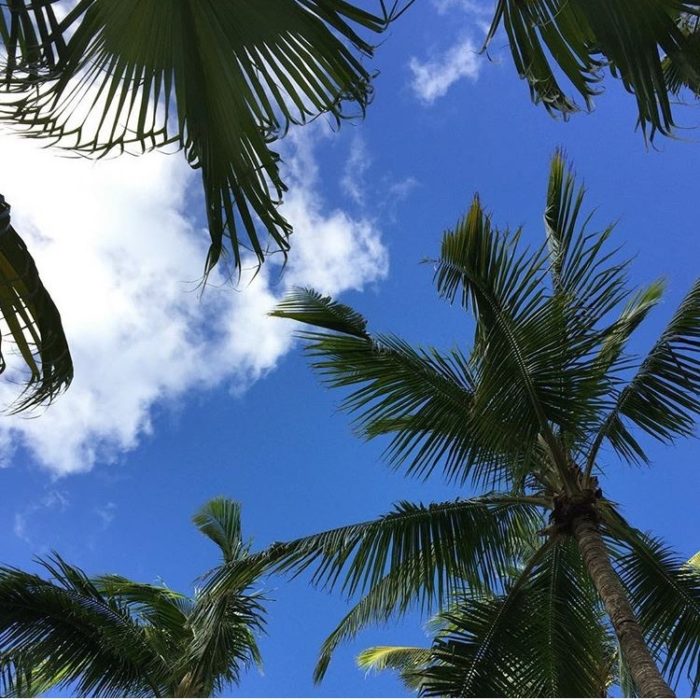 Photo from Nateeva Instagram
On American Perfumery: What I love most about having my own fragrance collection is being able to go all out with my own creative sense. In every fragrance I have ever developed for clients, I've always tried to add an unexpected touch. Something that surprises intrigues the emotions and the imagination. Intuitively, I've always had a sense of what people like. What's interesting for me day to day is being an American woman among a hive of French perfumers, I love it! It is empowering to share my point of view as a woman, first of all, and secondly, as one native to the United States. Interestingly enough, I am actually third generation American so that alone gives me a perspective that's able to see both the American and European sides of any fragrance equation.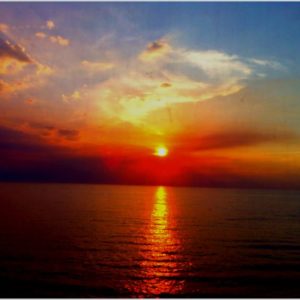 Photo courtesy of Nateeva
So far, as an entrepreneur, I find the reaction to Nateeva inspiring. It looks like my creative intuition is leading me down a beautiful path. When the idea of creating my own fragrance collection first came to mind, I wanted to convey this feeling of letting your senses take you on an exotic journey to places you've visited – or wished to travel to. After traveling so much personally, I just wanted to bring to women – and eventually men – the exotic scents that let me imagine as if every day were a moment in Paradise.
Favorite Artist: I love the work of Georgia O'Keefe. I guess it's intuitive the way many of the flowers she has painted have found their way into Nateeva fragrances, like Hibiscus and Plumeria. I find her work spare and romantic at the same time. Her choice of colors is so authentic, I just want to soak it all up – that feeling of sun and heat and scent that I feel when I see her art. It's transporting for me. ​I can't say that I have a favorite Georgia O'Keefe painting. I adore them all. Each one has its own special meaning to me.
hibiscus with plumeria, Georgia O' Keefe
-Hope Freeman, creative director/founder, Nateeva Fragrances
Editor's Note: Hope started the Nateeva Fund which donates a portion of Nateeva's proceeds to help fund Animal Shelters and other organizations to meet the challenges of the stray overpopulation. We first learned of Nateeva in Hernando Courtright's Sniffapalooza Fall Ball 2016 recap. Hope is our 124th American perfumer to be included in our series.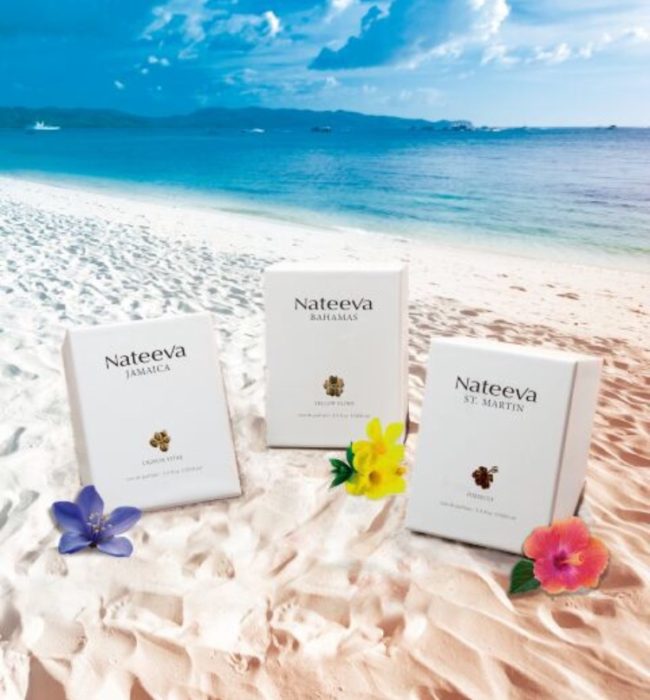 Nateeva Jamaica, The Bahamas and St. Martin fragrances
Thanks to Hope Freeman we have a draw for a registered reader in the USA for your choice of a 100 ml bottle of St. Martin, Jamaica or The Bahamas ($125 value), click the link to each for composition. You must register here. To be eligible please leave a comment with what you found fascinating about Hope Freeman's path to perfumery, your choice should you win and what Caribbean or tropical island destination you think would be a great inspiration for a Nateeva Fragrance. Draw closes 6/07/2017
Please like CaFleureBon Profiles in American Perfumery on Facebook and your entry will count twice.
Follow us on Instagram @cafleurebon and check out nateeva_fragrances
We announce the winners only on site and on our Facebook page, so Like Cafleurebon and use our RSS feed…or your dream prize will be just spilled perfume.