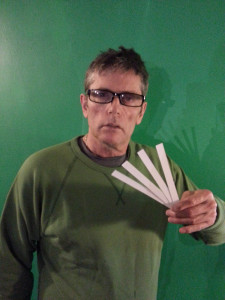 David Falsberg
Profile: I was born into a world of excitement, social change, touches of madness and hints of brilliance on a wintry – by Seattle standards – January morning. For those keeping score I am an Aquarius with the moon in Virgo and Capricorn rising. My parents were East Coast Jewish intellectuals who migrated west for reasons I have never fully understood, although my overbearing Russian grandmother in Boston I suspect played some role in their flight. My parents impressed the importance of learning and their own commitment to social justice on me from an early age, probably before I was through teething. They also adopted some degree of love for mother earth and my mother nurtured a beautiful rose garden and my father, a stickball whiz from the streets of Brooklyn, learned how to keep our lawn trimmed and even how to change the oil on our gorgeous Rambler Ambassador.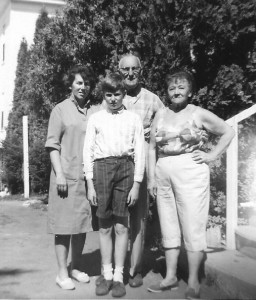 David with his mother and maternal grandparents
My parents took me to see Bob Dylan and Joan Baez, brought me to civil rights marches and every summer brought me back to the East Coast where people spoke way too fast and where we would embark on a month-long New York immersion in "high culture", days at the Museum of Modern Art, nights at Shakespeare in the Park, with meals at their favorite bargain French restaurant in between. It was a dizzying whirlwind life and at the time I really wish they had just sent me to Boy Scout camp like all the neighbors' kids, but it certainly laid the groundwork for a strong aesthetic sensibility which coupled with the intellectual fire they had lit under my ass prepared me for my life's pursuits and diversions.
My first memories of scent all come from my mother's cooking. She was an exceptional chef who explored spices far beyond her cultural background, although my fondest memory is the smell of onions carmelizing in chicken fat she would laboriously render herself. Another olfactory joy was her flower garden, there's lots of sand in Seattle soil and her roses produced odors so grand and narcotic that I could sniff them for hours or at least until the bees drove me away and then I would climb our cherry tree and gaze out on the urban horizon while drinking in the faint liquored scent of the cherry blossoms. Fragrance has always evoked strong narcotic-like sensations in me. I remember walking through fancy drug stores and opening the cosmetics bottles to smell their offerings. My first real personal scent was Cerruti by Nino Cerruti, it was launched in '79 and had the real animalics that even now make me howl at the moon. I love me some animalics and I don't hold back on them in my fragrance work whatsoever.
.At 18 I was bustled off to Yale University where my education in life began and my love of formal learning moved slowly and surely to the back of the bus. Bob Dylan's lyrics in "Like A Rolling Stone" certainly spoke to me and many others I met along the slippery slope of life in the '80s.
You've gone to the finest school all right, Miss Lonely
But you know you only used to get juiced in it
And nobody has ever taught you how to live on the street
And now you find out you're gonna have to get used to it…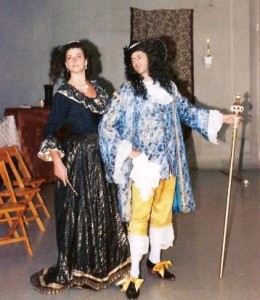 David Falsberg- Thespian

I managed to survive college on wits and savvy but I lived for the weekend when I could get jump on Amtrak and spend the weekend dancing and carousing. I was just another wild child, a fly on the wall of a cultural revolution where pop art and life collided and while much of my time was devoted to being a social butterfly, being on the guest list and making the scene, I did have bursts of Renaissance-like artistic productivity. I studied Elizabethan theater religiously and performed in period pieces by Moliere. I can still bow like a true 17th century gentleman, which is no mean feat in a pair of high heeled boots with a five pound ostrich feathered hat on your head. The obscurer the better, I always had nice clothes and glamorous companions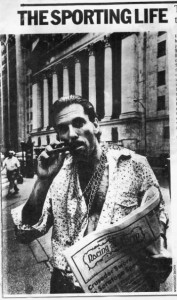 David Falsberg, a founding editor of Paper Magazine
I wrote quite a bit, including several plays that were produced way Off Broadway; I was a founding editor of Paper magazine which is still an icon of fresh fashion both in print and online.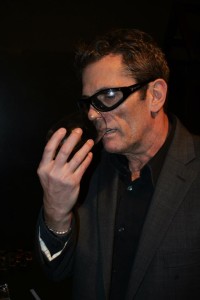 I am glad to have witnessed and survived the era of Sex, Drugs and Rock and Roll. The nineties was so different, like swallowing a reality pill, finding a career, getting married, starting a family. My ex-wife and I decided to move back to Seattle in 1995 and raise our daughter on a street where she could run through the neighbors' backyards and be nurtured in healthier environs. Then in 2007 the white-picket fence imploded when I contracted Stevens Johnson Syndrome from a common medication and the upper half of my body burned from the inside out. I was put into an induced coma for over three months and probably had little chance of surviving as the disease attacked me so ferociously. My skin was debrided and new skin grafted in areas where it wouldn't grow back, my eyes and throat were severely burned although the disease never attacked my nasal passage. Miraculously I survived although my mind was scrambled eggs and I was blind for nearly a year and was unable to eat for even longer. Also my white-picket family was torn asunder. I have had dozens of medical procedures in the past six years, I barely blink at the thought of medical procedures but I have achieved a state of relative health and comfort although the bruises to the spirit run much deeper. I don't feel comfortable speaking about the sacred but obviously my recovery is an example of divine intervention and a pig-headed will to return to a life of quality and substance.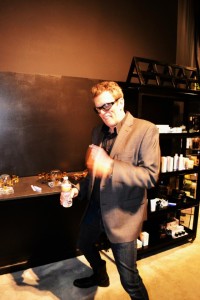 A few years into my recovery I stumbled upon an article about burning incense. The author described the elaborate process of heating agarwood in an ash-filled bowl and I impulsively ordered all the tools of the fumigator's trade within the hour. The art of burning has its own learning curve but I was spending my days slowly recovering in my parents' apartment burning agarwood and resins and reading as much as I could about this fine art. Soon I was ordering oud oil and started making blends, what Arabs call mukhallats, of oud oil and other sacred essences. One day a friend asked if I could blend something practical and western, a masculine scent profile for a car-care product line and the result was quite successful. Fast forward and I am sitting in front of a make-shift perfumer's organ slowly learning the fine art of perfume making. I chose the name Phoenicia for my brand in honor of the multitude of phoenixes who have overcame great mental and physical adversity and left their blazing marks on humanity: survivors rule!
Phoenicia Perfumes Concept Board-skunk? really!
Phoenicia Perfumes was founded with the motto "No Boundaries ~ No Limitations". My perfume lab is like a mad scientist's, I blend for happiness and harmony, I pay homage to the classic chypre on the one hand – geez do I love high quality florals, and on the other hand I am looking for discord and discomfort that takes us out of our comfort zone if only for a four-hour journey….what do we have to lose? Right now I am in love with the scent memory of skunk spray that I would smell on the highways as we drove across the Pacific Northwest. Most of all I like being alive and being creative, pushing the envelope. I am a firm believer in the here and now.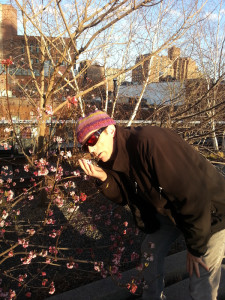 Taking time to smell the indoles-David inhaling jasmine
American Perfumery: First and foremost American perfumery is a democracy. Perfumers have shared so much knowledge and good will with me and I am sure they put this same love into their work. There is love in our juices, not just variations on a set of patented molecules, and there is eagerness on the part of the consumer to experience new realms and scent profiles. When I made Skin Graft, which is based on my own recollection of what happened during my coma I was afraid the back story and the strange scent profile would turn people off. The opposite is true, people really want new and provocative scent profiles and many people have taken the time to learn about my story and the political reality behind Stevens Johnson Syndrome.
In the face of a future where corporations want to patent and control the food supply and drug companies invest heavily in shutting down diverse forms of natural healing, the return to using natural essences is a key player in a healthy future for our world and American artisans lead the way. Personally, I just get far stronger olfactory vibrations from natural essences than from synthetics. At dawn flowers scream out their scents but by dusk they grow silent, a little shot of aldehydes is like Red Bull for florals. I am currently exploring both classic and new synthetic molecules to marry with the natural so Phoenicia is heading into the realm of mixed media but always nature first. Today fragrance is a great artistic frontier and we have the opportunity to break new ground and fragrance lovers are behind this one hundred percent.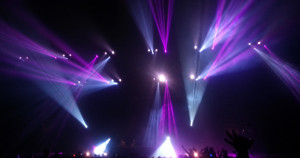 dj PRETTY LIGHTS
Favorite American Artist: Dance music and dance culture is still my favorite form of American art, it played an incredible role in my post-illness healing as I played familiar tunes and loops over-and-over and somehow it bolstered my courage to survive. Now I go to what my teenager (who wouldn't be caught dead at one) calls raves. I love today's electronic dance music which has really taken off in the States in the past decade. I especially enjoy djs who mix all genres in their sets, rock, hip hop, electronica, movie clips, the kitchen sink. Right now the dj PRETTY LIGHTS is in heavy rotation at my place. I attend a lot of electronic dance music events and Pretty Lights recently played the best set I have heard in years, mashing up house music, the Grateful Dead and so much more. His loops are so "sick" and he has an orgiastic light show synchronized to the beat for even greater sensory assault. So I like loud music and bright lights, I like big, natural vibrating scents (but also surprising subtle nuances).
David Falsberg, Owner and Perfumer of Phoenicia Perfumes.
Editor's Note: When I read Mark Benke's review of Skin Graft, I was more than intrigued; I felt a connection that is inexplicable. We have featured 40 American perfumers and creative directors in our series CaFleureBon Profiles in Perfumery, since its inception July 4, 2011, but for personal reasons, David's profile effected me the most… not only because of his life threatening ordeal with Stevens Johnson Syndrome (he was diagnosed six years yesterday), but because his story is a reminder that we all struggle with darkness in our lives . Rise from the ashes and fly like phoenixes.-Michelyn Camen, Editor-In Chief
For more information on Stevens-Johnson Syndrome visit www.sjsupport.org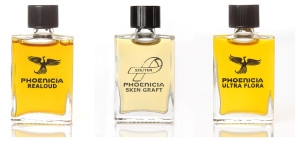 For our draw, David is offering one reader a choice of 5ml bottles of Phoenicia REALOUD, SKIN GRAFT or ULTRA FLORA. To be eligible, please leave a comment with what you found fascinating about David's profile and your choice of fragrance. Draw ends April 11, 2013.
Phoenicia Perfumes are available at Blackbird Apothecary in Seattle
Please support American Perfumery and LIKE CaFleureBon Profiles in American Perfumery on Facebook
We announce the winners on our site and on our Facebook Page Like Cafleurebon and use our RSS option…or your dream prize wil be just spilled perfume