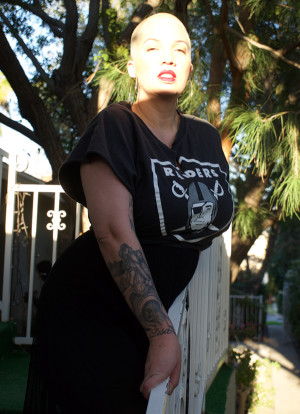 Brooke Patterson of Principal Parfum
Profile: Born in Lawrence, Kansas and raised in Orange County, my passion for fragrance started at a very young age. My earliest fragrance related memory was of my mother wearing Bonnie Bell Skin Musk every day. My idea of connecting fragrance to memories and traumas was many years from developing, but as a child I was already forming the thesis to my future business.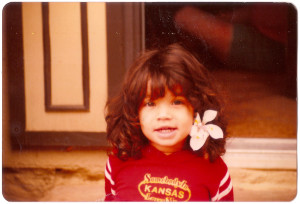 Brooke as a young girl
Visiting my grandmother over the summer every year led to another distinct fragrance memory. I became obsessed with her perfume of choice: Estée Lauder Youthdew. Nobody in the family cared for the perfume, but I would secretly stick my nose to the nozzle of it to figure out what was in it and how was this made. Once I started hanging out with my father's girlfriend, she turned me onto drugstore perfumes. It was the 1990s and they were always wearing Charlie, Exclamation Point, Taboo, Giorgio Beverly Hills, and Malibu Musk. Sometimes they were so strong they would make my eyes burn but once again I was obsessed and wondered how did they make this? Ultimately that became my starting point in pursuing this as my life passion. In elementary school there was a class bully who had permed hair and wore tons of Salon Selectives extra hold hairspray. That smell triggered a traumatic response which led me to the obsession of correlating nightmares and traumas through scent making it so they are no longer repressed anymore. Over the years I had created a bank of scent memories that made me want to create a line of perfume to express these traumas and nightmares.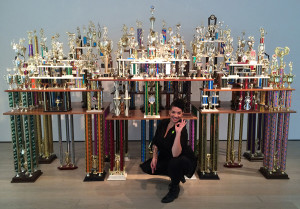 Brooke Patterson
In my early 30s, I ended up leaving my job of 10 plus years with plenty of job security to move to Los Angeles to follow my creative dreams. I moved to Los Angeles with no money and spent months couch surfing while working freelance jobs to survive. I didn't have the money to pay for perfume classes in France and I knew there must be an alternative option in the city to develop my skill creating perfume. Through an Internet search I discovered Saskia Wilson-Brown, the Institute for Art and Olfaction. I attended my first class and it changed my life. I would follow her around the class and tell her about my dream of one day having a perfume line. I would smell my classmates perfumes and create stories to each perfume. That became my niche in class. From there I kept working on the fact that I would develop this line and set a launch date for February 14th 2016. I created a perfume studio that I worked out of where I would practice several days a week in between my full time job.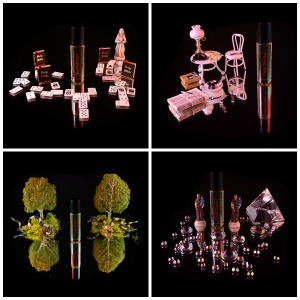 Principal Parfum launchTop Left NO 1 – THE CHILD BEFORE THE PROGRAMMING, NO 2 – ABANDONMENT 1988, Bottom Left NO 3 – TAKEN HOME, FOREST, KEPLAR 68B, ONE OF THEM, and NO 4 – REBIRTH FULL CIRCLE 2056
All that time was spent creating stories in my head mixed with nightmares and repressed memories. Three days a week I would spend up to 10 hours a day figuring out and tinkering with different formulas and materials that would ultimately become my first perfume line. October 2015, I completed all four of my signature scents and began creating the marketing materials for my line. As I have several friends within the art community, I want to incorporate them into future launches of the line. My goal is to be collaborating with a different artist each month to create a signature scent and build their own profile in the process.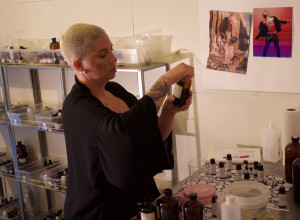 Brooke at her studio
On American perfumery: This is an incredible time to be in the perfume community. The explosion of niche perfumers is amazing and it's an industry that will only continue to grow in the future. There is a need for people to express themselves in some capacity these days whether it's music, painting, photography, and now perfumes. For so many years, perfumery was so secretive and coveted. Nobody knew where to begin in this world of perfume and now the desire of the public for different scent options has created this new niche market place. People are desperate for new sensory experiences and scent can tell so many stories. It's truly my favorite thing about perfume.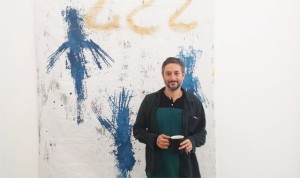 Harmony Korine
Favorite American Artist: John Waters and Harmony Korine are both contemporary artists/film makers who have had a huge influence on my art, sense of humor and outlook on life. They are both a major inspiration to me. The fact that they don't give themselves any boundaries when it comes to creativity gives me the courage to just go for it. I've always admired those two because they don't allow fear to prevent them from putting themselves out there and unfortunately many people allow fear to consume them and prevent them from following their dreams.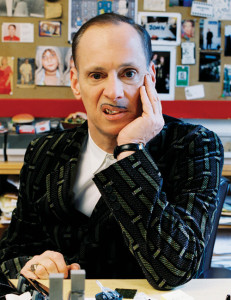 John Waters
John Waters has a quote that states "Life is not worth living if you are not obsessed." It is my favorite quote and I strive to live by that everyday.
Brooke Patterson, perfumer and owner of Principal Parfum.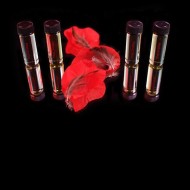 Thanks to Brooke we have a Worldwide Draw for a registered reader (you must do this..or your entry is not valid) for Principal Parfum's Flight set of four 1 dram bottles of each of her perfumes: NO 1 – THE CHILD BEFORE THE PROGRAMMING, NO 2 – ABANDONMENT 1988, NO 3 – TAKEN HOME, FOREST, KEPLAR 68B, ONE OF THEM, and NO 4 – REBIRTH FULL CIRCLE 2056
Editor's Note: We are thrilled that Brooke is our 95th American perfumer to be featured in ÇaFleureBon Profiles in American Perfumery AND that she launched Principal Parfums this week!!!
To be eligible please leave a comment with what you found fascinating about Brooke Patterson's path to perfumery, her life, the fragrance you would like most and where you live. Draw closes 2/22/2016
Please like CaFleureBon Profiles in American Perfumery and your entry will count twice.
You can follow Brooke on Instagram @principalparfum and follow us @cafleurebon
We announce the winners on our site and on our Facebook page, so Like Cafleurebon and use our RSS option…or your dream prize will be just spilled perfume