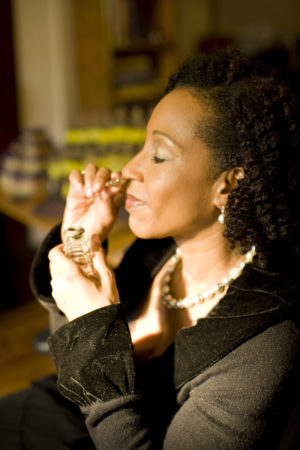 I was born in the beach town of Norfolk, Virginia in 1957. It wasn't until I was an adult that I came to appreciate all the ways my life in Norfolk informed my inspirations of today, which is my love of nature. In Norfolk, there was the freedom of being outside running in fields, catching fire flies and June bugs, getting on my bike having the feeling that I was flying. Summer Sundays were the best, because we spent them at the beach. I had a natural fondness for the ocean and loved swimming as far out as possible.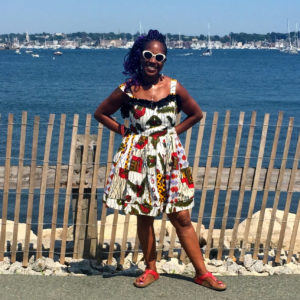 Anu Prestonia at The Newport Jazz Festival in 2015
I still do this today, which is why my beach buddies refer to me as the mermaid. The smell of the ocean, the saltiness of the water, vastness of the sky above as I lay on back floating, these were moments of pure fun and joy for me.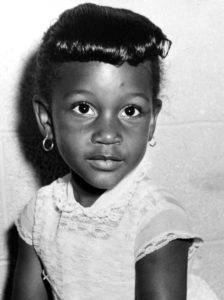 Anu at 5 years old
When I was ten, my family relocated to Brooklyn, New York and the freedom I had in Norfolk became a thing of the past. We continued to go to the beach on Sundays because Brooklyn is also is a beach town. Unlike many perfumers, I didn't notice a love of fragrances when I was young. But some of my earliest fondest memories of fragrances were, oddly enough: the inside of cigarette packs, a combination of menthol freshness and clean smokiness, gasoline, with its own distinct scent profile and earthiness –and Pine Sol! Believe it or not, its pine aroma reminded me of our Christmas trees; I adored, being outdoors and nature.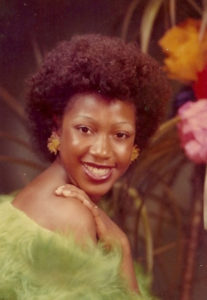 Anu Prestonia's High School Graduation photo (did you look this GLAM in your yearbook)
During high school I began wearing perfume. The first fragrance I wore was Rive Gauche Perfume by Yves Saint Laurent in the mid '70s. It made me feel like a grownup. From there I moved on to Calyx by Clinique, a scent I remember as uplifting with an intense aroma of grapefruit. However, when I was introduced to Diorissimo I thought I had died and gone to fragrance heaven. I absolutely adored wearing this fragrance. To learn years later, as a perfumer, that boronia is at the heart of this fragrance is an indication of why it had such an appeal for me. I stuck with Diorissimo for quite some time despite the fact that the scent wouldn't last on my skin. I tried other Christian Dior fragrances but none of them appealed to me the way Diorissimo (Edmond Roudnistka's masterpiece) did.
Braids and beads
While attending college at Howard University, a hairstyle consisting of tiny braids and beads became very popular. It was like walking artwork. I began creating those tiny braids styles that summer and making real money as a hair artist. I didn't look back and became a pioneer in the natural hair industry.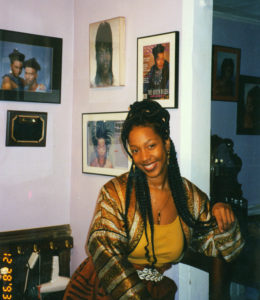 Anu in the 1990s
Styling natural hair leads to interests in all things natural. I became vegetarian and started practicing yoga. Later on I became a licensed cosmetologist, I studied Chinese medicine briefly and became a licensed Hatha Yoga instructor and Reiki Practitioner. Wellness is something that continues to inspire me.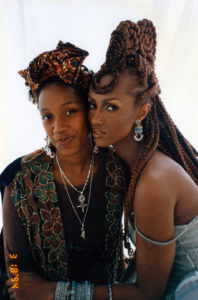 Anu with Iman
I eventually opened my salon, Khamit Kinks in TriBeCa, a tony section of lower Manhattan. In this location the salon gain international prominence. We were featured in international publications, in books on beauty, on a number of television programs including The View , Queer Eyes for the Straight Guy and attracted countless celebrities, including Oprah Winfrey, Stevie Wonder, Iman, Lenny Kravitz, Serena Williams,and Teyonah Parris and on and on.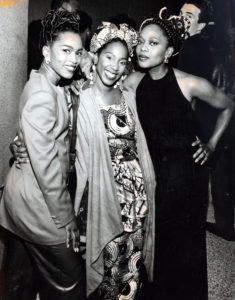 Angela Bassett, Anu Prestonia and Alfre Woodward
I had been making botanically based products for my hair clients for decades when a friend referred me to Mandy Aftel's book Essence and Alchemy. Reading this book made me feel like I had arrived home to something that resonated at the core of my being. Not long after that I began studying with Mandy and a whole world opened to me. Top quality and the most incredible essences are available by reputable sources and becoming an indie perfumer was a dream within reach. I have also studied perfumery with the late Alec Lawless and the incomparable and ever-inspiring Kedra Hart of Opus Oils.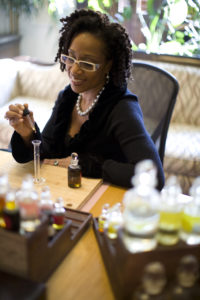 Anu at her perfume organ
On American Perfumery: What I love about being an American Indie Perfumer is the access to this art form here in the U.S. In other parts of the world there are regulations and barriers to join what appears to be an elitist and exclusive club to become a perfumer. Here in the US not only is there access, but there is community and encouragement from those who have already made their mark. I found American Indy Perfumers to be warm and generous, a community of artisans who cheer you on.
Anu's perfume studio in her Brownstone in Bed-Stuy Brooklyn
My perfume studio is located is the grandest room in my house, the parlor room of the four story, 120 year old Brooklyn Brownstone that I purchased in 1997, in historic Bedford Stuyvesant, Brooklyn. In this grand room with its mahogany wainscotting, parquet floors, stain glass windows with a pier mirror that goes from floor to ceiling, is where I create my perfumes. My organ sits in the center of this grand room causing all who enter to gasp at its vastness, beauty and mystery.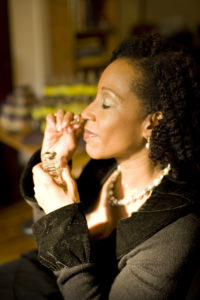 Anu Prestonia composes perfumes that are 100 percent natural or have a large percentgage of natural ingredients
Smelling is a very visceral experience for me. I feel I experience strongly what I smell; which can sometimes be a horrifying experience living in gritty New York; it's a concrete jungle, so I must seek out my inspiration wherever I happen upon nature or seek it out via the botanic gardens, the parks, beaches, farmer's markets and the many artistic forms of art that are a part of New York life. What I like in my fragrances is their undeniable connection to nature. As a perfumer I aspire to create perfumes that are not only beautiful to smell but that also heal and inspire. Like all perfumers I want to create perfumes that have great appeal, but I also want my perfumes to heal the heart and mind. I believe this is possible because of the innate healing power and beauty of botanicals.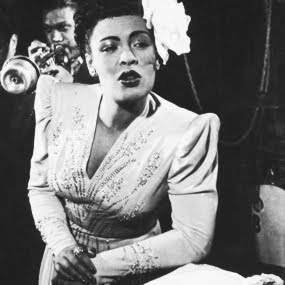 Billie Holiday "Lady Day" 1940s
Favorite American Artist: Billie Holiday. What many people don't know about Billie is that she was more than just an incredible siren of song. She was also a composer and highly respected as bandleader by many of the most illustrious musicians of her day. Billie's music has an undeniable groove; it's honest, piercing, and always improvisational. Billie was a true artist who never sang a song the same way twice. She had a hard life one filled with much heartache and strife and yet she prevailed. We are still trying to deconstruct and understand the impact of her art on the lives of singers, musicians and music lovers the world over. Her influence continues to grow and lives on. And how could I ever resist the lure of an artist who wore gardenias everyday?
-Anu Prestonia, founder, owner and perfumer of Anu Essentials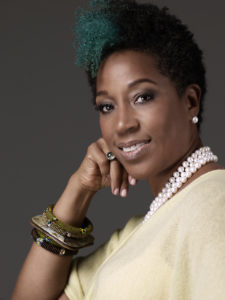 Anu Prestonia
Thanks to Anu we have a Draw for a registered reader , so be sure to do this or you are ineligible as follows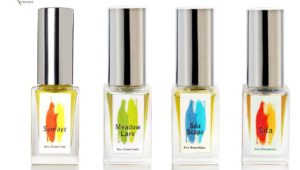 For our US readers your choice of any of these four Anu Essentials perfumes Sita, Meadowlark (ALL NATURAL) Seascape (ALL NATURAL) or Sunrayz
Or
Worldwide: a sample set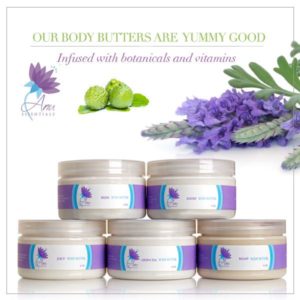 Anu Essentials Body Butters
Editor's Note: Anu is well known in Brooklyn as a leading expert in hair care which she formulates and creates in small batches and for much beauty products such as body butters, scrubs and lip balms. Anu is our 107th American perfumer in our series
Please like CaFleureBon Profiles in American Perfumery and your entry will count twice. We are close to 1000 likes …help us get there
You can follow Anu on Instagram @anuessentials and follow us @cafleurebon
To be eligible please leave a comment with what you found fascinating about Anu Prestonia's path to perfumery, your choice of fragrance should you win and where you live. Draw closes 7/24/2016
We announce the winners on our site and on our Facebook page, so Like Cafleurebon and use our RSS option…or your dream prize will be just spilled perfume