Ernesto C. Sanchez-Bujanda of YeYe Parfums
Profile: During my entire childhood, and many years hence, my mother only wore Diorissimo, one of the most iconic perfumes created by French, Master Perfumer, Edmond Roundnitska for Dior: "The fragrance that epitomizes all the extravagance, sophistication and dramatic flair of Dior." To this day, I associate this fragrance not only with her, but also with many fond memories, during my formative years, in my home country, Venezuela.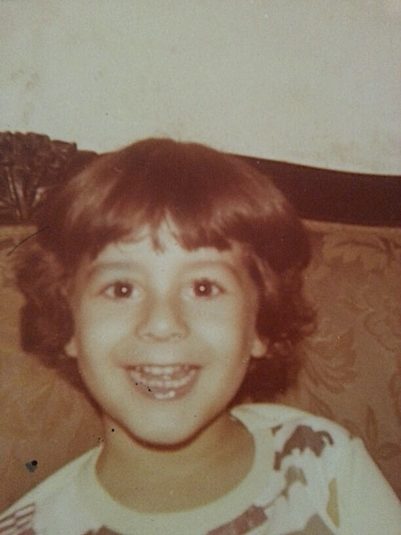 Age 5 -Ernesto C. Sanchez-Bujanda Of YeYe Parfums hails from Venezuala
One other memorable experience was when my sibling's and I were mere babies, our Mother would "perfume" us with an amazing fragrance (which has been discontinued); it recalls that of a baby's skin; that special time when our Mother was bonding with each of us, and especially how the fragrance smelled "on our skin." it was not by chance that one of the main ingredients, Orris Butter, eventually channeled its way into Y.O.R.K. No 7; recalling…reliving…all those special memories, during my formative years.
Ernesto Inhaling the blossoms of a Magnolia Tree @ Santa Barbara's Sunken Garden – Image by Ryan – 2017
Another subliminal influence, during that time, was a special place, an oasis, our family's Summer Home…in a small town, El Tocuyo, a few hours away from the city where I was born, Barquisimeto. My grandfather was born there and had built a very special, "home away from home." The surrounding gardens…seemed magical…filled with fig trees, infusing the air with an amazing fragrance. (My grandmother had a secret recipe, a caramel fig dessert that filled the air with a most seductive fragrance.) In addition, the gardens had pomegranate, mango, guava, mandarin, grapefruit, and orange tress, a tropical paradise, with beautiful flowers that were the source of food, as hummingbirds sucked the nectar from the flowers. When I reflect on my formative years, this is the place that often appears in my dreams, complete with pure unconditional, family love.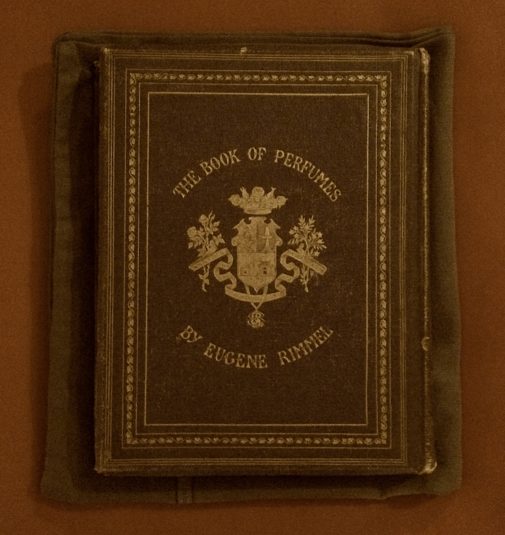 Eugene Rimmel – The Book Of Perfumes – 1865 – First Edition
While living in NYC, unconsciously, I was drawn into the world of beauty, skin care and…fragrances. I worked at Bergdorf Goodman and other acclaimed citadels of beauty and fashionFormal training was not available to me, thus I set about accumulating a foundation of knowledge by reading the most significant books and articles on the subject. Among my cherish possessions, is a first edition of The Book of Perfumes by Eugene Rimmel.

Ernesto C. Sanchez-Bujanda of YeYe Parfums – Collection of Raw Materials – Image by Ernesto – 2016
Perhaps the most influential book was Perfume and Flavor Materials of Natural Origin by Steffen Arctander, influencing my early years when I was focused mainly on raw materials of natural origins.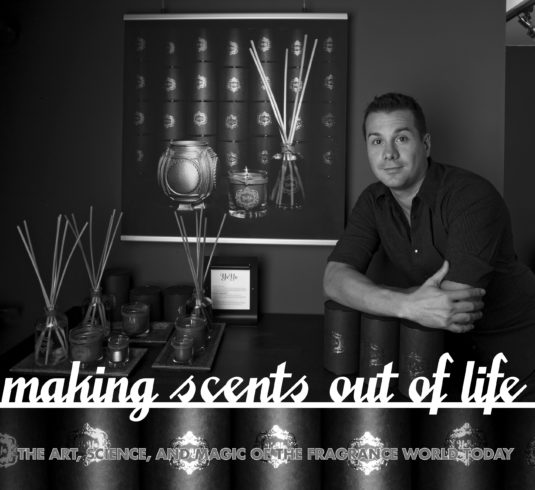 YeYe Fragrance – Image by Dale Stine – Miami – 2008
After nearing ten years, a partner and I moved to Coral Gables, FL and co-founded, the only perfume boutique selling new and hard to find niche brands, both personal and home, when "niche" was truly rare and very special. After a few years of hands on experience and being exposed to so many wonderful brands, mostly from abroad, I longed to create my own "American" brand, commencing with home fragrances.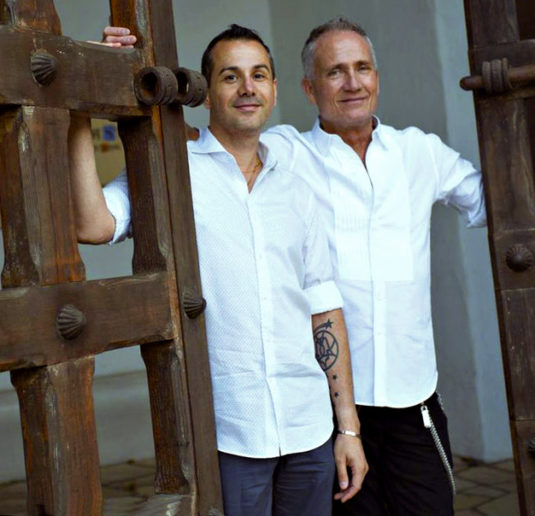 Ernesto C. Sanchez-Bujanda and Ryan York of YeYe Parfums
In the spring of 2014, my significant other, Ryan York, and I said goodbye to Miami and drove across this amazing country, also exploring California, from the south to the north, arriving in Santa Barbara with the sole intention of launching YeYe Parfums, specializing in Personal Fragrances, along with my established Home Fragrances.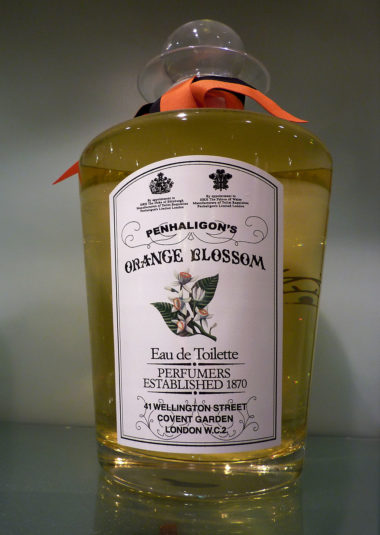 PENHALIGON'S Orange Blossom – late 1860's
In creating YeYe Parfums, disciplined by engineering, philosophy, prose and inspired by the histories of long established brands, some dating back several hundred years, and the unique and awesome beauty of California's, "American Riviera," Santa Barbara, and Ryan's unique experience, during most of the 1980's, in NYC, as Director of Stores for Caswell-Massey, America's Original Apothecary, founded in 1752 (the first to import European fragrance and skin care brands), we set out to put our own personal mark on the fragrance industry, I as the in-house perfumer, and Ryan as our DOO.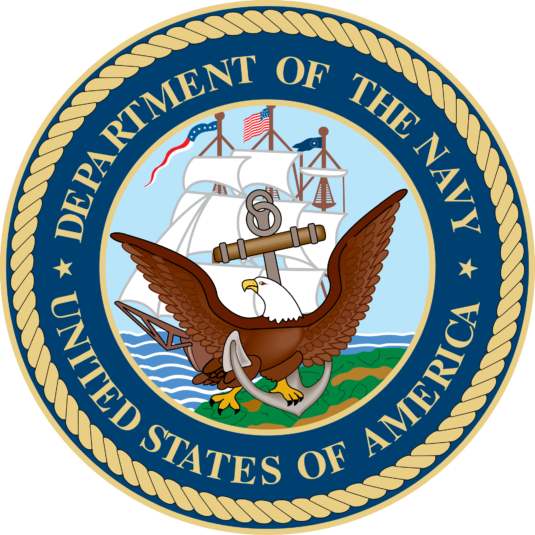 Seal of the United States Department of the Navy
Ryan was born in Texas and was among the last generation to be drafted into military service, at the age of 19, from 1967 to 1971, during America's most controversial war: Vietnam. At the time of the "Army Daft Notification," you are given the option of "joining" one of the other services; thus he choose the US Navy, trained as a Submariner and communications, learning Morse Code. He served his country, but did not see any combat action.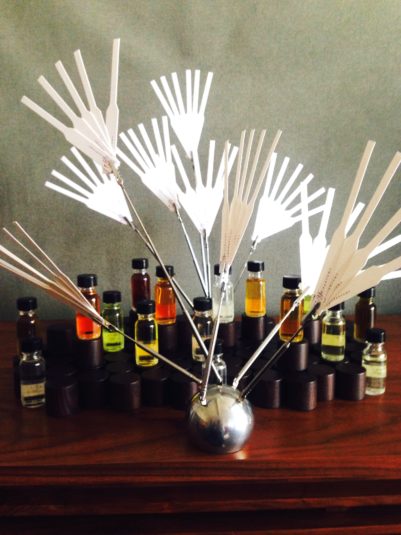 YeYe Parfums — Image by Ernesto – 2016
On American Perfumery: I was educated as an Industrial Engineer, but just before I was to receive my degree, I had a once in a lifetime chance to move to "America, the land where all things were possible, for anyone with a dream." At a very young age, I had been searching for a creative path.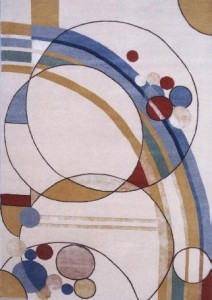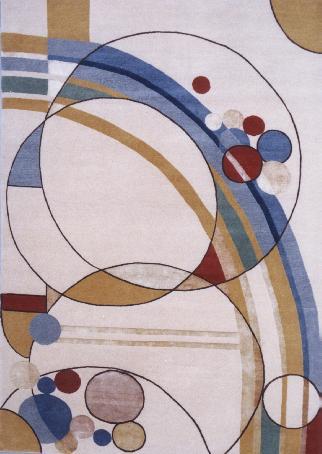 Liberty Balloons by Frank Lloyd Wright
Favorite American Artist: The most significant American Artist, that inspired me, began while living in NYC, after a visit to the Guggenheim Museum: Frank Lloyd Wright – Born 1867 – 1959 – Designer Extraordinaire.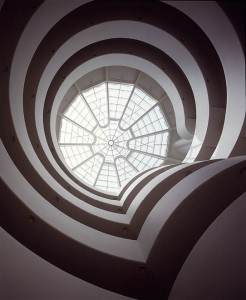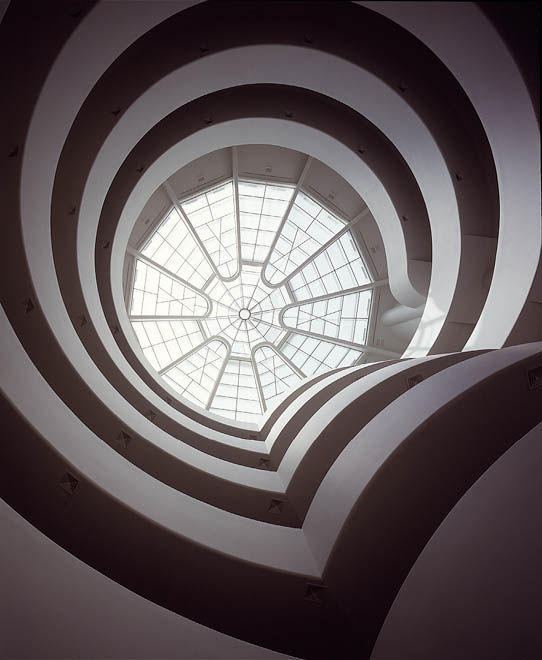 Frank Lloyd Wright Guggenheim museum
Mr. Wright's personal saga and abundant creations, inspired me on so many levels, both personal and professional, to be independent and bold; considered to be America's not only Premier Architect, but created the most astonishing interior and graphic designs, architectural, hand colored renderings, furniture, textiles, rugs, carpets, stain glass, tableware, ladies gowns, etc., etc. I have visited many of his most significant buildings and seek out his work wherever I travel, and have read extensively about his life, his evolution and countless "American" creations
– Ernesto C. Sanchez-Bujanda of YeYe Parfums, who is the perfumer and co-founder
Thanks to Ernesto Sanchez-Bujanda of YeYe Parfums and Ryan York, there is a fantastic draw WORLDWIDE. There are three winners who will be chosen at random. Each winner will receive their choice of a full size 100 ml of Equus No 8 click here for notes, Y.O.R.K. No 7 notes or Sentiers de Comètes Eau de Parfum notes of their choice.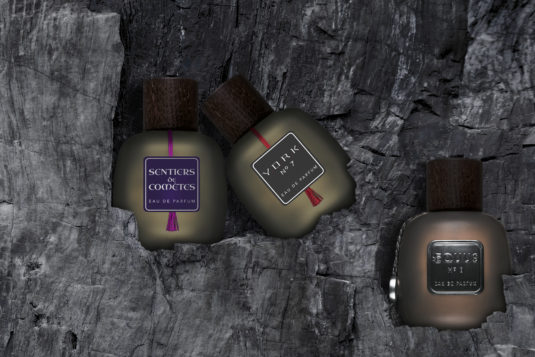 YEYE PARFUMS Equus No 8, Y.O.R.K. No 7, Sentiers de Comètes Eau de Parfum by Konstantin Subbotin
To be eligible you must be a registered reader(register here), you must be registered or your comment will not count. Tell us what you found fascinating about Ernesto C. Sanchez-Bujanda of YeYe Parfums path to perfumery, where you live and which fragrance you would like to win. Draw closes 6/1/2018
Please like CaFleurebon Profiles in American Perfumery and your entry will count twice. Please leave that in your comment.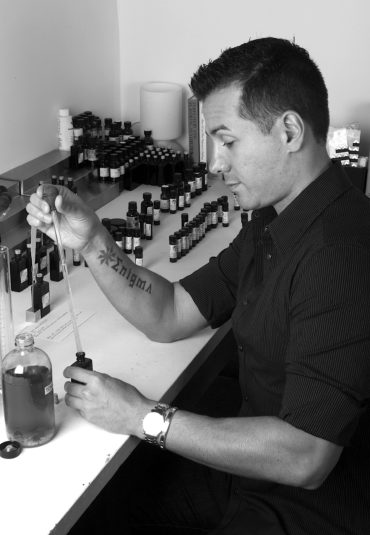 Ernesto C. Sanchez-Bujanda Of YeYe Parfums Dale Stine – Miami – 2008
Ernesto is the134th American perfumer in our series.
Follow us on Instagram @cafleurebon and @yeyeparfums
We announce the winners on our site and our Facebook page so like Cafleurebon and use our blog feed…or your dream prize will be just spilled perfume.