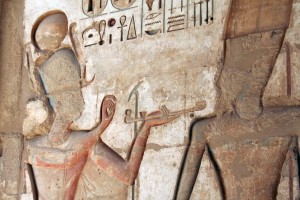 Kyphi Incense wall painting Egypt
We perfume our bodies. How important is scenting our homes and living spaces? For over a millennia, incense was burned as offerings to the gods, candles were lit in religious rituals and the aromas of flowers and spices filled even the most humble abode. When composed by true artists home fragrance is a form of perfume. Just as we would not wear a cheap knock off cologne, readers of CaFleureBon understand the difference between a glade plug-in and a candle created with the finest essential oils. A beautiful scent for your home should be chosen with as much care as you choose a fragrance for your body.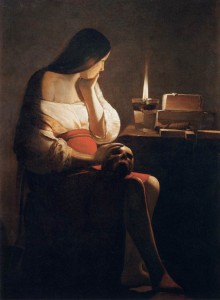 Georges de La Tour – Magdalen of Night Light
With the onset of winter and cold weather, we spend more time indoors. Ambient scents can warm us, calm us, lift our spirits as well as create a festive mood for the Holiday season. For our Perfumer's Workshop we invited three fragrance designers whose passion for perfume is translated through exceptional home fragrances. Tony Perez of Belle Fleur New York, Nikki Sherritt-Lewis of Rebel & Mercury, and Katlyn Breene of Mermade Magickal Arts share their expertise with our readers.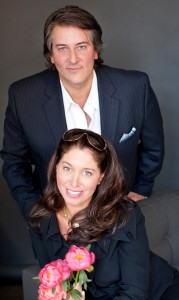 Tony Perez and Meredith Waga of Belle Fleur
Tony Perez founded Belle Fleur New York with his wife and partner Meredith Waga in 2008 and have built and expanded their product line to include luxury candles, diffusers, and room sprays that are truly unique. So unique that at the Elements Showcase in 2011 that our Editor in Chief Michelyn Camen spent more time at their stand than at the perfume companies exhibiting and awarded the collection BEST of Show. Belle Fleur recently won the prestigious Fashion Group International Rising Star Award.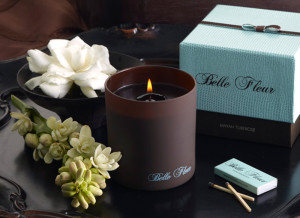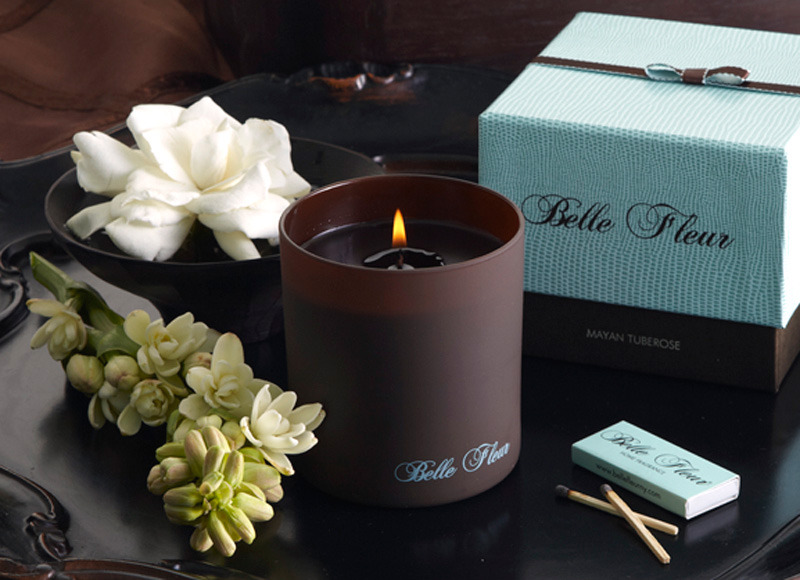 Bey's fave Belle Fleur Mayan Tuberose Candles
Beyonce is a longtime fan of the line and it has been reported that hotel concierges all over the country know that any time Bey stays at their establishment her suite must be filled with Belle Fleur Mayan Tuberose. Tony is a former architect and studied Perfumery in Paris at Cinquieme Sens. He visits Grasse France every year where he collaborates with fragrance house Robertet and master perfumer Jerome Epinette. He also has worked with Ralf Schwieger of Mane. These trips are invaluable as he is privy to new technologies and materials.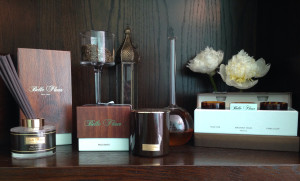 "We got into the fragrance business, specifically home fragrance, as a reactionary move against the lack of sophistication that existed in the (American) marketplace. We were angry that the American consumer wasn't being educated in the world of fragrance – they were being fed this idea that your home should smell like apple pie or pumpkin latte. Any uses of florals or woods were so obnoxiously synthetic and from a technical standpoint, little attention was being paid to how they burned, how they threw scent or worst of all – no true efforts were being made in composing unique, one of a kind scents that spoke to individuality." Belle Fleur prides itself on not being the same as traditional home fragrance companies, they don't believe in seasonal scenting. Tony explains, "One should be allowed to use evergreen all year if they desire. We create perfume…it just happens to be for the home. Instead, we subscribe to the same principles of artistic perfumery – that it tell a story and above all else, be beautiful."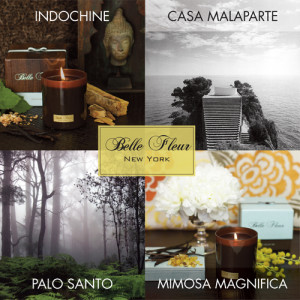 Tony and Meredith made it their mission to bring the art of perfumery into the home. "It was about creating a peaceful revolution against the ordinary, a revolution that started by focusing on the raw materials being used. Having a brand that originated with award winning floral design Belle Fleur is one of the premiere floral design ateliers in the world with clients such as Gigi Hadid) made that a non-negotiable prerequisite."
Rose Immortelle Room Diffusers
One of the new entries into the Belle Fleur Collection are scent diffusers which took years to develop. Tony tells us, "We wanted to be sure that they diffused as well as our candles technically, but we also we wanted to find an aesthetic that said "perfume." … We chose 5mm thick dark brown rattan sticks with large pores. These are 4 times thicker than the standard reeds you see everywhere and what this does is it holds that much more fragrance oil and, most importantly, doesn't clog. Not clogging is both a function of pore size and of the quality of the oils and this eliminates the need for ever "flipping" your reeds. The reason so many brands direct you to flip your reed sticks is because they will clog in as little as two weeks and the only way to get them to diffuse is to flip them."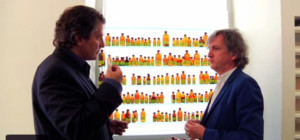 Tony with Perfumer Ralf Schwieger
When designing for the home, there are some important distinctions from composing personal perfumes that Tony keeps in mind: "The idea of "home" and what it means for us as individuals to inhabit space is very different from us as living beings. One is very personal, the other more public and they should be distinct. Just as a personal fragrance is built to suit the spirit and ego of the individual, home fragrance should represent a higher order or different olfactive hierarchy in our lives that is more about the individual's life experiences. It's why the notion of "place" works very well in a home fragrance – a wooded green fig composition that reminds one of a Turkish orchard close to the Aegean or an incense and saffron blend that takes you to an exotic locale."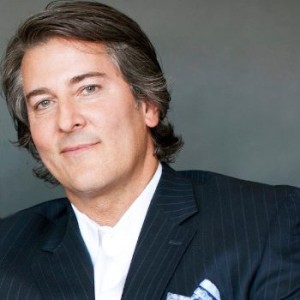 Tony Perez of Belle Fleur
Tony offers this advice in selecting fragrances for the home: "I would just say that as a consumer, like with anything else you are considering purchasing, educate yourself. Ask questions. Traditionally the fragrance business has been more secretive than the NSA and driven heavily by marketing. There are many brands out there now, especially in the niche sector, that offer transparency as a way to educate and inform. Why? Because fragrance is beautiful in and of itself, without all the marketing hype. The most important thing however, is to find something that speaks to you and inspires you. "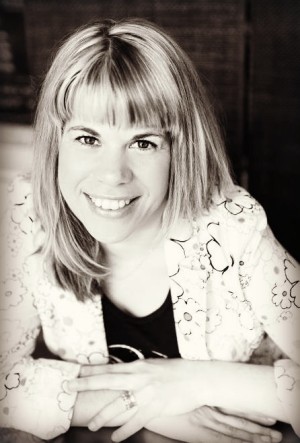 Nikki Sherrit-Lewis of Rebel and Mercury Natural Perfumes and Candles
Nikki Sherritt-Lewis is the natural perfumer and founder of Rebel & Mercury. Nikki actually began her journey as a candle maker under the brand of Gabriel's Aunt, focusing on scenting with natural ingredients, which is no easy feat! About 6 years ago, she expanded into natural perfumes and organic body oils and has continued to refine her technique and her natural candles have achieved something of a cult status. Having burned a few myself, it is easy to see why. With far too many natural candles, the scent hovers right above the cool wax and vanishes when the wick is lit. Nikki's are worlds above the others, having wonderful throw and captivating scent combinations done 100% naturally.

With years of practice and plenty of trial and error, Nikki Sherritt-Lewis understands which oils and materials work well in candles and which ones don't. She knows that when using a floral wax or absolute, each one will lend a different texture and consistency to the candles and she will have to allow and compensate for those changes. Nikki explains, "Most perfume notes can be translated well into candles if you use the right oils in the right proportions. I would say that the most elusive and complicated notes to create in a candle would be the subtle/powdery/fresh florals. Those are the most complicated and time consuming." Nikki's process has evolved as she furthered her studies into natural perfumery: "My process is really fluid. Before I made perfumes and just made candles, it was very much like cooking for me; a little of this and a little of that added sounded good. Before I knew it, there was an interesting and beautiful blend. [Now] I usually am working on a perfume and that inspires the candle blends I create. I have also tried to distinguish my brand by making scents that you don't find elsewhere".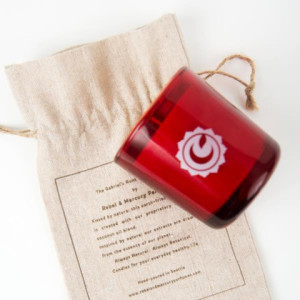 Rebel & Mercury 100 percent Botanical Candle
Creating both perfumes and candles, she is able to offer some great observations about the differences between developing perfumes and scented candles:"Both are very similar. Sometimes I get fixed on one particular oil or scent and I feel like pairing it with another oil would be unique and fun. Sometimes, I just want to focus on those 2 or 3 notes and that's usually when a good candle blend is created. Most of the more complex ideas or inspirations I usually save for the personal fragrances although there are candles that are intricate and layered like a perfume. I have those too, but I find that too many notes in a candle can be not only costly, but ideas get lost."
Rebel and Mercury cult candle No 1
When asked about cross-overs trends from personal perfumes into home scent, Nikki shares the following:"I do see that home fragrances tend to pick up on the one or two scents that people latch onto: Oud for example. Even though the Oud trend in perfume is not as strong as it was last year, I see it is still pretty popular with some candle companies. A lot of the musky/earthy/leathery aspects are catching on more and more with candles. So, it seems like something that is popular in the personal fragrance world, catches on about a year or so later in the home fragrance world." Here are her tips on selecting products to perfume your home: "Since my focus in on naturals, I tend to always tell people to look for candles that not only smell beautiful, but will not be toxic to burn in their homes. That is first and foremost for me… I try to tell people to be wary of soy and palm wax based candles as they have a large environmental impact. I make my own wax from scratch with coconut oil and would not do it any other way now. I like that my candles are clean in every way".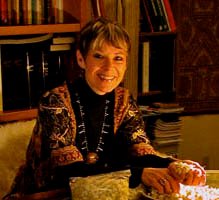 Katlyn Breene
Katlyn Breene of Mermade Magickal Arts offers a different approach to scenting the home, crafting all-natural incenses that honor traditions thousands of years old. Katlyn has elevated the art of incense to new heights, tying ancient traditions together with modern tools and new ingredients. She has single-handedly redefined my definition of incense and offered a wonderful ritual for perfuming my home and connecting with the divine.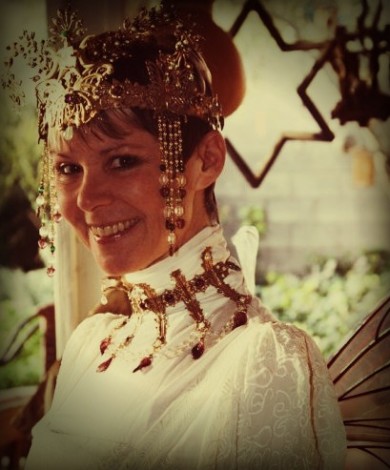 Katlyn's passion is the creation of aroma through incense, the most ancient home fragrance. She shares with us this beautiful and humbling prose: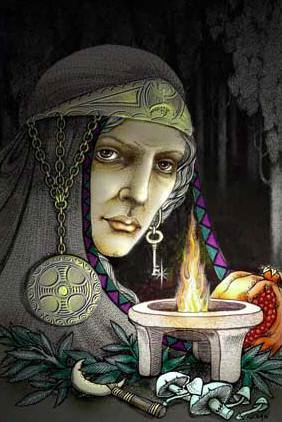 Hecate by Katlyn Breene
When a visitor enters your home,
Let sweet fragrance greet them.
It carries a meaning,
"You are honored here…."
Incense is a blessing of the air,
An offering….
For the visitor might be a god in disguise…. – Katlyn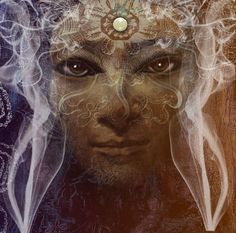 Egypt incense mask, by Katlyn Breene
In addition to creating incense, Ms. Breene has a talent for crafting sensual perfume balms and oils that embrace many of the same materials used in her incenses. About the two, she tells us:"Perfumery and incense creation are very much the same in essence – as we all know "Per- fume" is "through -smoke" But the incense artist is painting the space with scent not a only the body." Some folks are sensitive to smoke, or simply prefer not to have the drifting tendrils hanging in the air of their homes. Katlyn understands that, and so in addition to incense sticks made from all natural materials, she also creates incense blends to be used on electric heaters. She has worked hard to source the best available and offers the Golden Lotus Electric Incense Heater on her site. "This device changed the way I can approach my craft. They eliminate smoke and particulate matter, allow the material or blend to be fully experienced gently and completely."
Ms. Breene give us an in-depth look at her creative process: "There are many layers to creating really fine incense. The most important of which are the quality of the resins and botanicals, knowing how they blend and the tools and methods used for heating and releasing the scents through heat. The source of the botanical materials is also important. There are friends, growers and suppliers all over the world that keep in touch and let us know what is being harvested.My process in the creation of a blend usually starts with an intention and what new and wonderful plants, roots, oils and resins have come my way… Intention is everything. Resins and woods each have their own energy and "medicine" and resins, to me, are the base of all blends. The next layer is plants: roots and herbal content; then in many cases comes the top notes of essentials oils and absolutes. I say top notes because they are the scent that is first perceived in incense no matter what type oil it is. Then the plant matter and lighter base woods could be considered the Heart notes come through next. Finally the base notes of the resins and heavier woods like Agarwood that take time to emerge and last the longest. A good incense blend on an electric heater can last for many hours and go through many beautiful changes.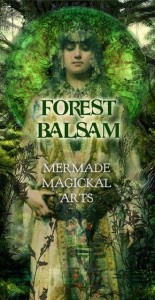 For example this year I received a box of amazing forest materials from a friend in Canada, marvelous clear fir balsam resin, ground Thuja and Larch wood, herbs and deep green treasures fresh from the woods – truly inspiring. The goal was to bring the true scent of the wildwood to the home (without a Christmas tree). It took a while to find a way to use these precious things in way to bring out their full fresh beauty. 3 days ago I emerged from my workshop smelling like a dryad and holding little emerald pellets of "Forest Balsam" to use on the heater for the holiday season. It is soft and verdant with the true "jammy" sweetness of a true woodland balsam."
When asked what notes were difficult to translate from perfumery to incense, Katlyn said "Almost fragrance that works in perfume works in incense, but some much better than others. In my opinion incense should smell like incense, warm, rich, sacred and sensual. Citrus, Florals and Marine notes can become lost and feel rather wasted in the heat of a censer."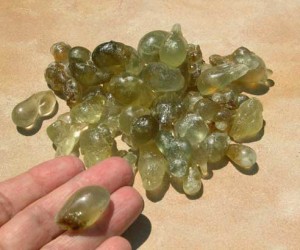 Katlyn Breene holding Oman Frankincense
One of Ms. Breene's favorite materials is Frankincense: "If I could share one thing with the world it would be the experience of Oman Frankincense on a good electric incense heater. So much is being written about it now and all its healing and aromatic properties. If you have not explored Frankincense do not wait, it is the ultimate home fragrance. When using Frankincense remember…
– Quality, you get what you pay for good, search out direct source suppliers
– Avoid using charcoal to burn it; an electric heater will open a new world of fragrance
– Know that you are getting a whiff of the history of civilization and something eternally sacred
– It works for any time of year and there are numerous varieties all with their own special character"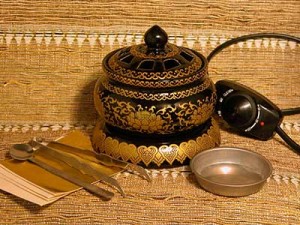 Mermade Magickal Arts Golden Lutus heater
"A hint on using essential oils perfumes as incense….Get sandalwood chips or a piece of woody incense root like Calamus or Costus and put a drop of your favorite oil on it. Place it on an Electric heater on a low setting to naturally release the scent into the space. A good heater will take the place of many scent devices and provide new creative way scent your home. Incense can be a perfect scented prayer, blessing your home all year round.", Katlyn explains
Michael Singels, Sr. Contributor and Natural Perfumery Editor (with contributions from Michelyn Camen, Editor in Chief)
Thanks to the generosity of our contributors, our draw is as follows:
USA ONLY: Tony Perez of Belle Fleur New York is offering a reader's choice of a Mayan Tuberose Candle (this is selling out, re Beyonce) OR the Petite Trio Discovery Set in exotic woods collection OR a Diffuser in Palo Santo
USA ONLY ALL NATURAL Nikki Sherritt-Lewis of Rebel & Mercury is offering a reader's choice of a full size candle from either her Everyday line or Distinguished Line
USA ONLY ALL NATURAL Katlyn Breene of Mermade Magickal Arts is offering your choice of her incenses and a sample of high grade frankincense to a US reader.
To be eligible, you must be a registered reader (pesky but it is required). Please leave a comment what you found most interesting from our Perfumer's Workshop on Home Fragrances, if you use home fragrancesor have tried a Belle Fleur, Rebel & Mercury or Mermade Magickal and your choice should you win. Draw closes 12/6/15.
We announce the winners only on site and our Facebook page, so like CaFleureBon and use our RSS option…or your dream prize will just be spilled perfume.