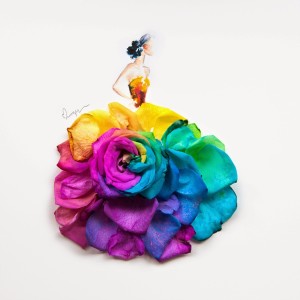 Flower Art Rainbow Rose Lim Zhi Wei
"That which God said to the rose, and caused it to laugh in full-blown beauty, He said to my heart, and made it a hundred times more beautiful"-Rumi
Four Roses (for our Four Artisan Perfumers) Lim Zhi Wei
A rose is a rose is a rose … or is it?
With approximately 100 species and thousands of hybrids, roses are found worldwide growing wild, as tame hybrids in the garden, or semi-wild like those lovely roses you may find in an old churchyard up against the wall. For this month's Perfumers Workshop we invited four artisan perfumers, known for their signature rose accords, to share why a rose by any other name can smell quite different. Whether it's the precious rose de Mai or the ever lovely damask rose, our perfumers use their skill and experience to create the perfect rose with all its nuances and notes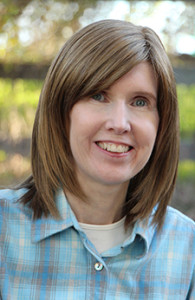 Laurie Erickson
Laurie Erickson of Sonoma Scent Studio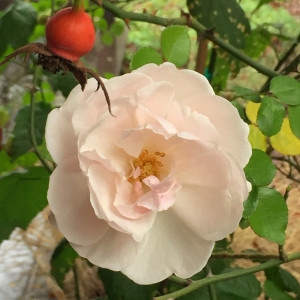 Winter Rose from Laurie's Garden
"Roses are some of my favorite garden flowers. I love to grow old garden roses as well as David Austin roses, but I could never pick a favorite because I love whichever one is currently under my nose! I'm also drawn to rose notes in perfume, and I find that a soft rose note can often improve even scents that are not centered on rose.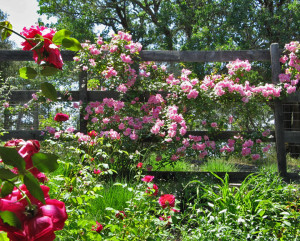 Climbing Roses from Laurie Erickson's Garden
When I work on a rose accord, I first decide what type of rose is needed for the perfume as a whole; the ingredients in the rose accord will depend on whether I need a dark, rich, spicy rose, or a bright, citrus rose, or an ambery, sweet rose, or some other variation on the theme. Roses in nature have an amazing variety to their scents, yet most are readily identifiable as roses because of ingredients they have in common. Some important aroma chemicals found in natural rose oil are phenyl ethyl alcohol, beta-damascenone, rose oxide, citronellol, geraniol, eugenol, methyl eugenol, and beta ionone.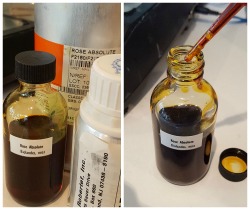 Sonoma Scent Studio Rose Absolute (Laurie)
When we extract rose oil either by steam distillation (yielding an essential oil) or by solvent extraction (yielding an absolute), we don't obtain a product that smells exactly like a fresh rose. If we want to achieve a closer rendition of a fresh-picked rose, we need to add other aroma chemicals or isolates to the rose extracts. Some roses have accessory notes like citrus, peach, or myrrh, so it helps to add these types of notes as needed. In addition to natural rose oils, natural isolates, and synthetic aroma chemicals, perfumers can also make use of commercially available rose accords, called rose bases, created by companies like Givaudan. Be sure to try different styles of rose before deciding whether you like rose scents; some classic types to sample include rose chypres, fresh/citrus roses, patchouli roses, oud roses, amber roses, and gourmand roses.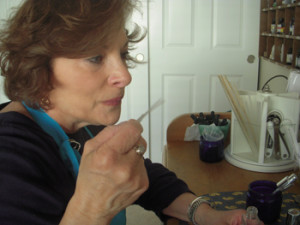 Jane Cate of A Wing and A Prayer
I love to blend rose essential oils. By far, I find rose one of the most intriguing oils to blend with, it is simple and yet a very complex essential oil or absolute. Sometimes the poor rose is over looked considered too old fashion for the modern taste. That in itself is a challenge for me as a perfumer, to create a rose perfume that suits the modern taste. When I begin to think of a rose fragrance, I usually begin with a memory of a time, person or place that stirs my imagination. The way some people think in color, I think in fragrance! I use different types of rose essential oils and absolutes when creating a rose fragrance. I have used Rose Maroc Absolute, Turkish Rose Absolute, and of course Wild Rose in my rose perfumes. Which rose or combination I use, really depends on what type of rose fragrance I was trying to capture. Although, I will say that Rose Damacena is my favorite. I love the richness it brings to a blend.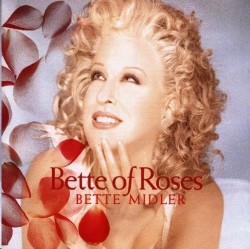 Bette Midler The Rose inspired Jane to create Wild Roses
"Wild Rose Perfume" was an old Bette Midler song, called "The Rose". "Haight and Ashbury Perfume", is a blend of Rose Damascena, Rose Maroc, Wild Rose and of course Patchouli. "Wild Rose Perfume", is a modern take on rose florals and is definitely not a Victorian Rose fragrance! Now, I am working on a Tobacco Rose Perfume, which is still in progress, and looking for the right combination to create a smokey rose fragrance. The working name is "Provocative" and inspiration is based on a torch song by Cole Porter called "Love for Sale". When selecting a rose perfume look at the notes. The notes are important and how the rose is used in the blend. Is it used as a top note or middle note, and also what are the base notes in the mix. How the rose is used depends on what a person is looking for in a rose floral perfume. Rose Perfumes are as individual as the person who wears them.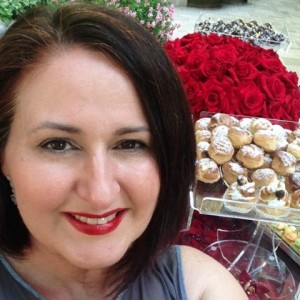 Maggie Mahboubian of LaLun Naturals
Maggie Mahboubian Lalun Naturals
Creating a rose accord using naturals is actually quite challenging. One would imagine rose otto itself would be a complete composition, but in fact, it ends up being a part of the equation. This has to do with the discrepancy between the way a rose smells (the headspace) and the extractions themselves. Depending on extraction type, different chemical constituents will emerge.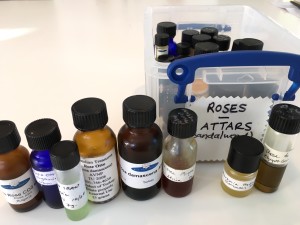 Maggie's Rose Attars,Rose Otto, Rose de Egypt, Bulgarian Rose, Turkish Rose
A rose otto (steam distilled essential oil of rose petals) tends to be lighter and brighter while the absolute extraction carries over muskier tones. A CO2 extraction is more complete in its odor profile since no heat is involved. Add to that different varieties of rose along with their terroir and wide odor variation will emerge from what seems to be a simple flower.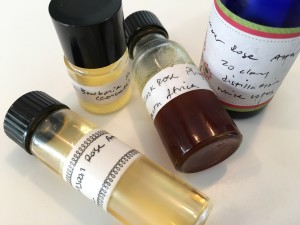 Musk Rose and Monsoon Rose (Maggie)
As a perfumer, one has to decide the direction to take with an accord. For Qajar Rose I chose to represent the rose as a member of its genus which includes fruits such as apples, pomegranates and strawberries.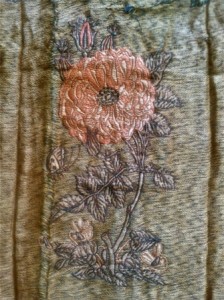 Safavid Textile remnant (S. Mahboubian collection) Rersian Rose
I was seeking an opulent interpretation of rose that would have facets of fruit, flower and tonal lacquer representing the Qajar style of art which glorified the rose as a symbol of divine love in Persian culture. In order to round out the floral rose notes I included a few isolates. They helped boost the chemical constituents that already existed in the extractions and added dimension to my Persian "painting".
I've also created rose accords for my skincare, focusing on different facets of the flower for each product in my WINTER ROSE seasonal set. The organic rose hydrosol used in the toner is closest to the scent of the flower itself. I then paired rose with patchouli for the moisturizer and added a touch of cardamom to spice up the cleansing oil made with infused rose buds.
So many ways to interpret the scent of a rose and each one is unique!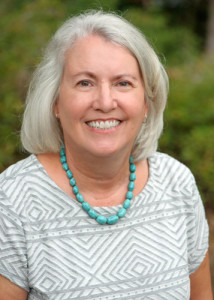 Elise Pearlstine of Tambela Perfumes and Sr Contributor to CaFleureBon
Elise Pearlstine Tambela Perfumes

French Rose, Wild Rose, Rose from Elise's Mom's Garden
Antique rose aficionados and perfumers both distinguish notes of lemon, spice, fruit, myrrh, green, and musk in the fragrance of a rose. Adding to the complexity are the variety of extractions from distilled ottos to solvent-extracted concretes and absolutes to fragrant hydrosols. Adding to the complexity is terroir which, like wine, includes terrain, weather, water, soil, and the skill of the distiller or extractor. Each year and each producer can give us a rose product that is subtly and beautifully different.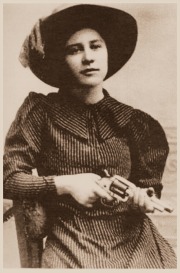 You always remember your first, and mine was Rose of Cimarron. My vision was rose perfume worn with dusty skirts layered over a hint of musk and sweet tobacco. The rose and wild rose heart had a hint of pandanus which I layered on top of sandalwood, patchouli, ambrette musk, and tobacco absolute to complete the outlaw fragrance for The Natural Perfumer's Internet project in 2011.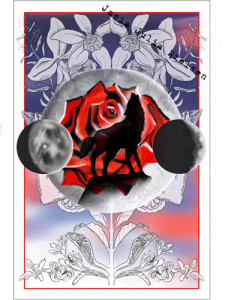 Original Art for Dark Moon Rose created by Jasia Julia Nielson
I especially love rose with amber. In working on Dark Moon Rose I created an amber base made rich and sweet with aged labdanum, spicy vanilla absolute, and sweet benzoin, and added a touch of chocolate because….who doesn't love chocolate with roses? Green stems and leaves always come to mind when working with roses so I love to add a bit of green aromatic in the form of tarragon or galbanum.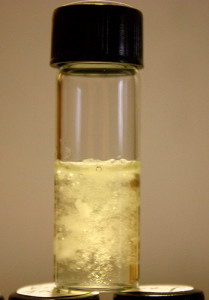 Rose Otto Crystals (Elise)
The first step in blending a rose fragrance is the very enjoyable part of sniffing rose aromatics and selecting just the right type and extraction. I may blend 2 or 3 to get just the rose I am looking for and I especially love rose concrètes for their rounding effect. For a base there are many notes that are lovely with a rose heart whether it is the lemony aspect of frankincense, a musky base, or the beauty of a sandalwood/rose partnership. Like the opening of a rose, bright spicy or citrusy top notes enhance the scent. Cardamom and clove for spicy tones or lemon and bergamot for sparkling citrus notes make your rose a rose. Your rose, not anyone else's.
-Elise Pearlstine, Sr Contributor and Perfumer for Tambela
For our Draw: There are 4 winners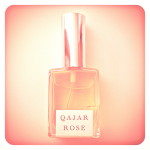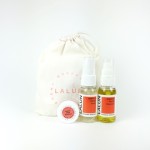 ALL NATURAL Worldwide: Reader's Choice of 5ml of Qajar Rose or The travel size set of Winter Rose Seasonal Skincare which contains all natural moisturizer, cleanser and toner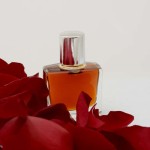 ALL NATURAL WORLDWIDE: Elise Pearlstine offers a 3 ounce mini-sprayer of both her rose fragrances, Rose of Cimarron (not pictured) and Dark Moon Rose.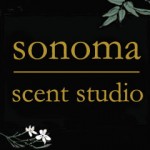 USA ONLY Sonoma Scent Studio: One 5 ml travel spray of the winner's choice Velvet Rose, Rose Volupte, Rose Musc, or Nostalgie. If you would prefer a sampler of all four please leave that in your comment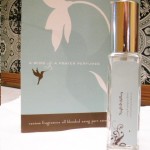 ALL NATURAL USA ONLY: A Wing & A Prayer: choose from ¼ oz of Haight and Ashbury Perfume or Wild Rose.
To be eligible you must be a registered reader. Please leave a comment with what you learned about building a rose accord, as many choices as you would like and are eligible to win and where you live. Draw closes January 30, 2015
We announce the winners only on site and our Facebook page, so like CaFleureBon and use our RSS option…or your dream prize will just be spilled perfume.