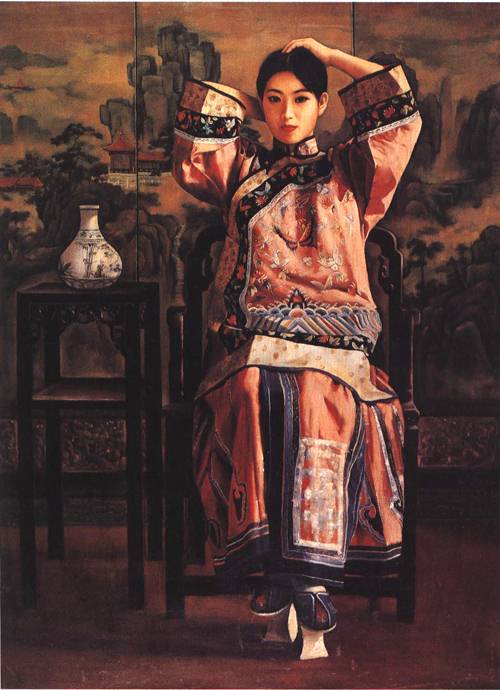 One of the ten famous flowers in China where it originated, and representing fertility and peace. The name Osmanthus means fragrant flower (derived from Greek osma, meaning "fragrant", and anthos, meaning "flower"). In the language of flowers Osmanthus means love and romance and is a traditional Taiwanese wedding flower. Osmanthus fragrans (Gui Hua) is also called Tea Olive, Fragrant Olive or Sweet Olive and it blooms in the fall and winter in mild climates with tiny white, yellow or orange flowers. The variety with golden/orange flowers is usually used to produce the absolute, one of the most expensive perfume and flavor ingredients.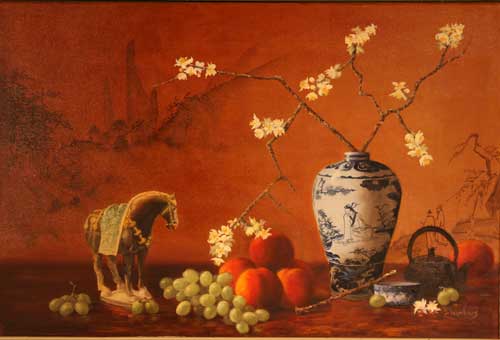 The smell of the flower is ethereal and floral with honey and apricot notes while the absolute is complex, floral, and fruity with honey, woody, and leathery undertones. In addition to being an important floral, it may be used alternatively in a musky base or to add fruity notes to a perfume and can be an important leathery note. In-depth analyses have discovered notes similar to tobacco, dried fruit, raspberry, and even patchouli. Whatever the use, it is long-lasting and powerful. Because of the expense of the absolute and the availability of re-constituted substitutes, use of the pure, natural absolute is quite rare in modern perfumery but, even in tiny amounts, it is highly valuable to perfumers for a unique note. Osmanthus is popular recently in the niche perfume industry and is featured in a number of unique florals and is said to be the inspiration for the floriental type of perfume. It can dominate a scent as a soliflore or it can be highlighted to add a fruity note, a light, cheerful floral note, or the depth of leather to a perfume.

Chang'e
Osmanthus plants are originally from China and Taiwan and are highly desirable and venerated; they are celebrated in legend and festival.Scented Osmanthus shrubs are closely tied to the moon in Chinese custom. When the flower is at its most fragrant Chinese grandmothers sit in fragrant courtyards to eat moon cakes with their grandchildren and tell stories of the moon and the fairy tale beings that live there including the princess who lives there in a crystal palace. The princess is Chang'e who was the wife of a great hero and very beautiful. There are several tales of Chang'e including that she was unfaithful to her warrior husband or perhaps stole and ate a pill of immortality.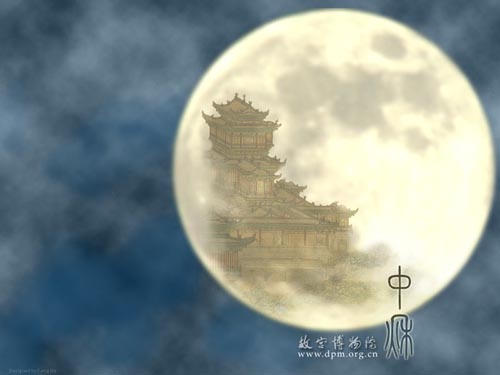 She was banished to the moon palace to live a life of solitude, however, she is really not there alone. There is also supposed to be a legendary figure named Wu Gang who was banished to the moon by the Jade Emperor and sentenced to chop down the immortal Osmanthus tree before he can leave. Each cut of the ax is immediately healed and closed up. Under that tree lives a rabbit that uses a pestle and mortar to pound the elixir of immortality.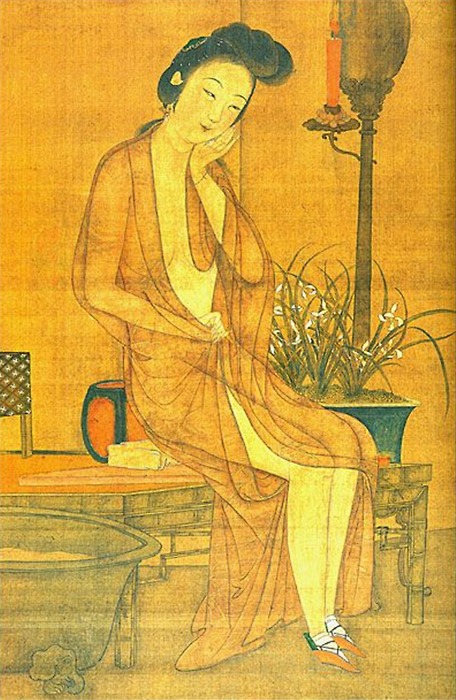 Moon cakes are sweet cookies that are eaten during the moon festivals; they have fillings of sugar, nuts, Osmanthus flowers, rose petals, sweetened tangerine peel, and bean paste. In addition to moon cakes, Osmanthus flowers are used to enhance the natural fruitiness of the finest green and black teas, similar to jasmine sambac but lighter and much more fruity. The leaves can be mixed with lightly fermented green tea leaves to produce a lovely aromatic tea. The flowers may be used together with wild grapes to make an aromatic wine, a 2000 year old tradition. The flowers have been used for centuries as a tea to create beautiful skin and can also aid in detoxification. The aroma itself is stimulating and cheerful, lifting the mood and doing away with depression and negative thoughts. Osmanthus plants are traditionally prepared as a potted plant along with pomegranate by brides to take to her new family.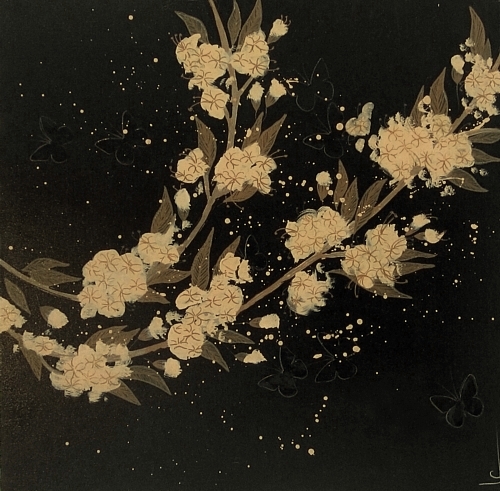 The shrub that produces these amazing flowers is a small, leggy plant with most of the foliage at the ends of the gray twigs. The stems and branches are important, though, because the tiny blooms spring out of bare branches on older wood. They also nestle among the tough serrated leaves in clusters of ivory, gold, or orange. There is a village in China called Guilin, known for its amazing scenery, that is also dedicated to growing Osmanthus plants. There are two vineyards that specialize in producing the unique sweet aromatic Osmanthus wine. Encouraged by local monks, all the households in the valley own small groves of the shrubs and during the fall when they all bloom at once the fragrance can be wafted for miles. And then, during the heavy dews of dawn, they fall like a scented rain.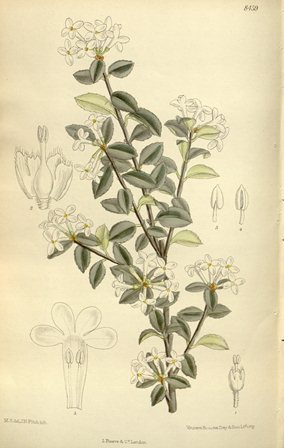 Osmanthus was introduced to Europe in the middle of 19th century by a French botanist Jean Marie Delavay. During his tour in China, Delavay had described over 4000 species of plants, 1500 of which were unknown before. Osmanthus was one of those plants. Osmanthus delavayi and a few other plants were named after the scientist. Across the ocean in the southeastern region of North America, tea olives are a common yard plant and easily found in most local nurseries. Mild winters are sweetened by the scent of tea olive shrubs, although sometimes the shrub itself is hard to find because the aroma can be strongest away from the plant. The smell tea olive flowers floating on the cool autumn air has been compared to jasmine, peaches and orange blossoms. A close relative that is native to South Carolina is called Devilwood and grows along swamps and streams and blooms early in the spring with the typical sweet fragrance.
Mysterious, ethereal, representative of ancient Oriental customs and myths and yet a common yard plant in Carolina neighborhoods; fruity and floral yet leathery and musky; Osmanthus is a complex flower worthy of the finest foods and perfumes.
– Elise Pearlstine, Contributor
Michelyn Camen, Art Director and Editor in Chief
For our draw we have nine perfumes which feature osmanthus in their composition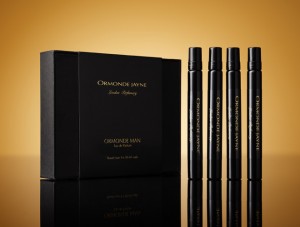 From Ormande Jayne London Perfumery Osmanthus Travel Kit 4 x10ml purse sprays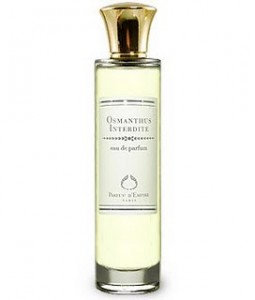 50 ml Osmanthus Interdite from Parfum D'Empire sponsored by Fragrance & Art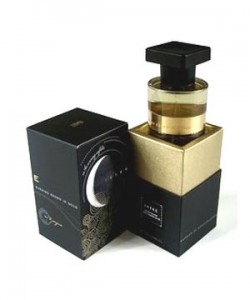 From INeKE Parfumer San Francisco Evening Edged in Gold (Ineke must know the legend of Chang e, look at moon on the beautiful packaging)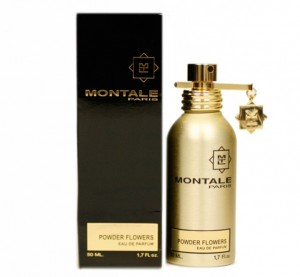 From 50ml Montale Powder Flowers which is available at MiN New York in 100ml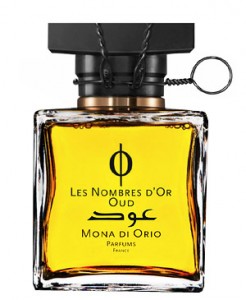 From Mona Di Orio Parfums three 7ml flacons of the award winning Les Nombres d'Or Oud to one winner (CaFleureBon 's Managing Editor Mark Behnke votes this the best fragrance of 2011)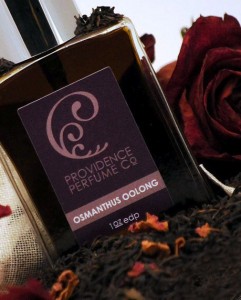 From Charna Ethier of Providence Perfume Co. 1 oz of all natural ($115) Osmanthus OOlong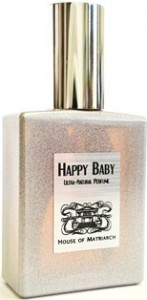 From Christi Meshell of House of Matriarch 2 oz of all natural Happy Baby ($160) Parfum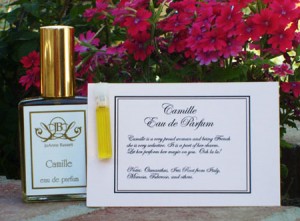 From JoAnne Bassett 1 oz of the natural Camille perfume ($125.00)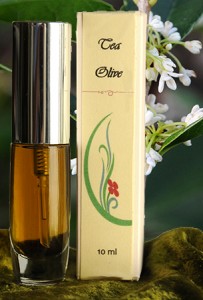 From Elise Pearlstine, our author and the Natural Perfumer of Belly Flowers a 15ml ($65.00) of Tea Olive
For our draw: Please leave a comment on what you learned about Osmanthus in perfumery and your choice of perfume, with two notes ie ingr in your comment (not including Osmanthus!) Our draw closes May 16, 2012 EST. Nine winners will be chosen by random.org.
We announce the winners only on site and on our Facebook page, so Like Cafleurebon and use our RSS option…or your dream prize will be just spilled perfume.