Left Mahlon Blaine Right Egon Shiele The Embrace
Sacred and profane, scent of skin and skank, fragrance of royalty and rebels, musk can be transforming in a perfume with the power to refine, extend and balance or it can be the essence of sex. Musk is the odor of attraction, of sensuality, of wealth, and is the base upon which most perfumes are constructed.
The word musk probably derives from the Sanskrit word for testicle, muska, and there is no simple description for its odor. Overpowering, urinous, fecal, floral, milky, leathery, earthy, sweaty, spicy, woody, and sweet are some of the descriptors of the various natural musks, especially in a pure state. It is a smell that cannot be tolerated for long up close and personal and yet ……. diluted, aged, blended, added to a fragrance, its value is beyond compare. The product of randy mammals, courting alligators, territorial beavers, ducks, snakes, plants and even beetles, musk communicates through the air with its various nuances.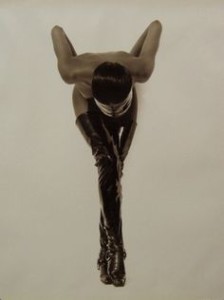 Naomi Campbell by Herb Ritts 1991
Animal musks, with their complicated and pheromonal fragrance, extend to aphrodisiacs and magickal spells. Whether to attract a mate, provide a sensual aspect to fragrance, engender courage or dominance, humans reflect the original animal intent , using musk to say "here I am, desire me." Or, in the case of Japanese Samurai who carried it into battle for protection from evil and for spiritual strength, "Evil fear me for my spirit is strong."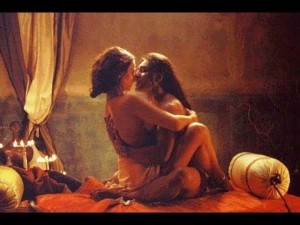 Kama Sutra (1996) starring Naveen Andrews
In humans, the sex hormone testosterone is said to be related to musk and to convey hidden messages of sex and power. In its original source, musk is all about communication—sending a definite message—and the message is usually erotic. Strangely enough, musk is one of the most common molecules that people are unable to smell. Called partial or musk anosmia, this inability to smell various large musk molecules may be why musk odors are described in so many ways and elicit such varied responses.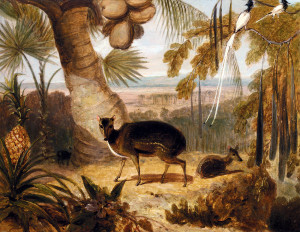 William Daniell-Musk Deer,And Birds Of Paradise
The primary and historic source of musk was the musk deer – especially Tonkin or Tonquin musk – which comes from a small deer that lives in the mountains of China and Tibet. The kanji (Chinese character) for "musk,"
, consists of two elements,
"deer" and
"shoot (an arrow)," indicating that the scent emitted by the deer travels far like an arrow shot from a bow Musk deer have overgrown incisors giving them a tusked look and they are solitary, communicating through scent when a territorial male is ready to find his females. The message is "come to me, I am here." The musk is carried in a round gland about the size of a small egg that is located on the abdomen of the deer. Deer are nearly always killed to obtain the musk which is at its best during the breeding season in the winter. Traditionally, the glands, containing a reddish-brown paste that dries to dark grains, were shipped for sale in small boxes called caddies. After drying, the fragrant material is extracted with alcohol. When it is highly diluted the ethereal, pure musk, with its warm and sweet scent is apparent; the molecule muscone provides the primary olfactory effect.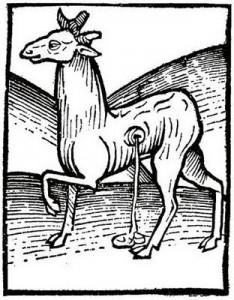 musk deer illustration
According to legend, musk deer hunters would play a haunting melody on a flute to attract the curious deer from dense brush. Often all deer in a herd were killed, including females and young animals; this is still true today where hunting and snaring takes place. Musk deer populations are declining rapidly due to over-hunting and are in danger of declining to catastrophic numbers.In spite of efforts to regulate hunting, poaching is rampant in some parts of their range. According to a study as many as 60,000 musk deer could be killed each year in Russia to produce about 400 to 450 kilograms of musk that is smuggled out of the country. In parts of their range musk deer are farmed and the pod removed without killing the deer but the living conditions on the farms are generally very poor and mortality of deer high.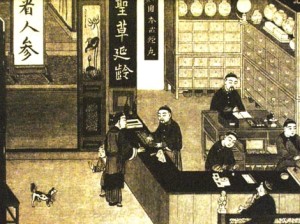 Chinese Apothecary
Deer musk was unknown in antiquity and its first reference dates back to the 5th century B.C. in the Talmud (Berachoth 43: "R. Hisda said in the name of Ze'iri: Over all incense-perfumes the blessing is 'who createst fragrant woods', except over musk, which comes from a living creature and the blessing is, 'who createst various kinds of spices'). Musk is very important in traditional Chinese medicine (accounting for much of current use) and has been used in China and its neighbors for at least 5,000 years. Even today it is mentioned and used in as many as 400 Chinese and Korean traditional medicines for nervous, circulatory and lung problems. In AD 1189 it was mentioned as part of a tribute to Saladin from the Holy Roman Emperor and deer musk was said to have been incorporated into the mortar of Arab mosques to impart a scent that would last for decades. The use of musk as an aphrodisiac in perfumes was perfected as an art by Byzantine and Arab perfume makers.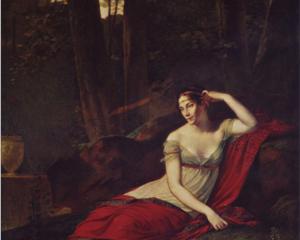 Portrait of the Empress Josephine – Pierre-Paul Prud'hon, 1805
In Europe, people quickly realized that musk consolidated and strengthened all the nuances of the components of perfume. Henry VIII used rosewater accented with grains of musk, ambergris, civet, and cloves. Musk was highly revered in Russia in the court of Catherine II. Grigory Rasputin constantly used natural musk which explains why he had such legendary masculine charisma. The Empress Josephine loved musk and used it abundantly—so much so that the walls of her boudoir retained the smell for decades.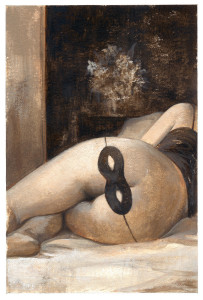 Musk…unwashed skin
Natural musks, especially those from animal sources, often embody an unwashed skin note. This is especially apparent when they are used in amounts other than the very tiny doses required for fixative and exalting effects. Deer musk is often used in concert with other musk notes such as ambergris from whales, civet (a cat-looking mammal that produces a musky smell), muskrats, and castoreum from beavers.
Angelica root and Ambrette seeds are used to create botanical musks
Ambrette seed and angelica root are the only botanicals that contain macrocyclic musk, like the musk deer.There are a few vegetal musks, the most valuable being ambrette seed and angelica. Ambrette comes from a plant that is in the hibiscus family and produces an edible fruit that is much like okra. The seeds pop out of the dried husk and are shaped like tiny kidney beans. Soft and buttery, purely musky with a slightly oily skin note, ambrette seed extract adds skin tone and warmth to a perfume. The seeds are used in food to flavor coffee or in the spice blend Ras El Hanout. The unripe fruit may be eaten along with the new shoots and it is used in treating various urinary tract diseases. The musky molecule in ambrette is ambrettolide.
Angelica, also called the Holy Ghost or Holy Spirit root, is another musky plant with scented plant parts and roots. An essential oil is made from the roots that has a strong herbaceous fragrance and has long been used in traditional medicine for stomach problems and hiccups. In China it is known as the female ginseng for women's troubles and may act to combat stress. The type of musk in this plant is called exaltolide. Under the peppery, green and woody fragrance of angelica lies a definite hint of musk, especially in the drydown,that adds interest, longevity, and sensuality. Angelica is also used in spells for warding off evil, protection of family, and repelling negative spirits.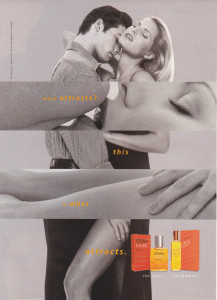 Jovan Musk (1972) advertisement
As with floral notes, there are very few perfumes without musk and its exalting yet earthy and erotic effects. Perfumer Kevin Verspoor notes, "In classical perfumery of the 1800s and 1900s, musk was used with other animal notes like civet, ambergris and castoreum. According to the world renowned Fragrance Expert and Evaluator Michael Edwards, "Caswell Massey's MUSK OIL (1950) was the first fragrance that used the note in a starring role, but it was JOVAN MUSK (1972) that influenced a generation. Galaxolide a polycyclic organic synthetic musk was the key, combined with a Chanel No 5 base. Galaxolide was first synthesized in 1965, and used in the late 1960s in some fabric softeners & detergents." (Editor's Note: Galaxolide is used in common household products such as Tide and Glade and is controversial amongst environmental groups. Its use in fragrance caused a "stink" when the Susan G. Komen Foundation endorsed Promise Me, a perfume for the Cause. Some studies show that Galaxolide interferes with hormones ).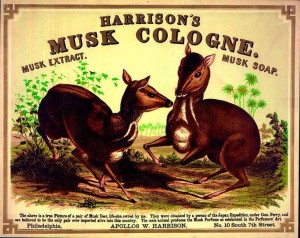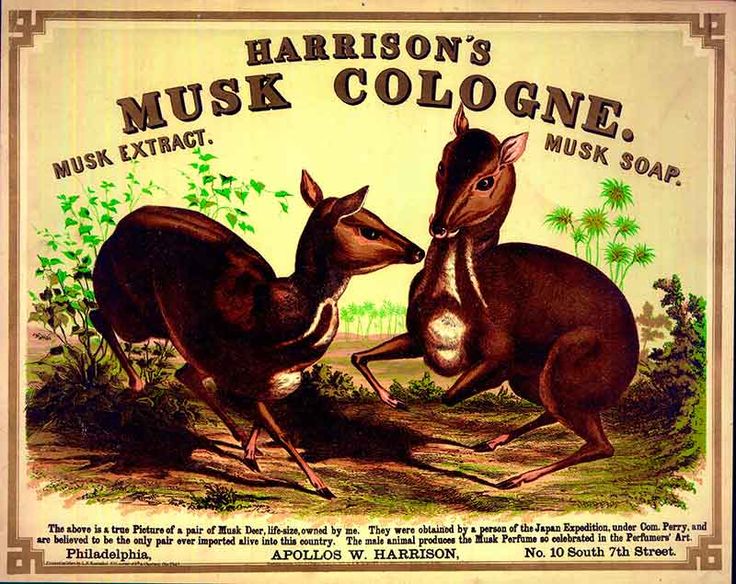 Galaxolide possesses a clean sweet musky flowery woody odor. It is one of the musk components perfume and cologne manufacturers use to add a musk smell to perfume along with Muscone. According to Kevin Verspoor, " Real musk tincture contains Muscone. It's olfactive profile is urine like, warm and animalic and the dry down is soft and sensual smelling." Nitro musks and polycyclic musks were some of the early versions but have been banned in some countries and are not as widely used due to environmental and health concerns.
Musk on skin provides the ultimate experience of scent. While the Empress Josephine loved musk everywhere and on everything, Napoleon loved the scent of her musky skin. In a message from one of his many campaigns he is said have written "Returning to Paris in three days, don't bathe!"
–Elise Pearlstine, Monthly Contributor (with contributions from Kevin Verspoor, Michael Edwards, and Michelyn Camen)
Art Direction: Michelyn Camen
Michael Edwards of Fragrances of the World, Fragrance Expert and Independent perfumer Kevin Vanspoor of Perfumekev LLC.
Editor's Note: Thank you to Michael Edwards of Fragrances of The World and Kevin Verspoor (the nose behind such fragrances as Odin New York 03 Century and 06 Amanu, The Indie Fifi Award winner in 2012) for their insights. I asked a number of respected Perfumers (including Geza Schoen) who work with synthetic musk molecules what makes a dirty musk vs. clean and each had a different answer. To quote Anya McCoy President of the Natural Perfumers Guild ( author and perfumer for Anya's Garden) in her 2010 letter to bloggers participating inThe Mystery of Musk Internet Project: "If there is one thing I've observed … musk is the Number One subject of interest among those who love all kinds of perfume, both natural and synthetic".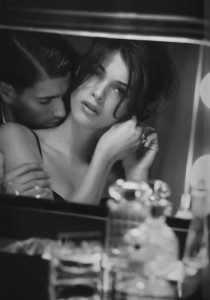 Skin and Skank… we have chosen musk perfumes that use the note in memorable ways.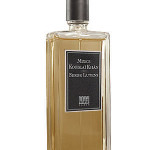 Serge Lutens Musc Kublai Khan Available at Parfum1.com, the sponsor for this draw USA and Canada Perfumer Christopher Sheldrake ( ambrette seeds, vegetal musk )
50 ml Montale Roses Musk USA sponsored by EuroParfums USA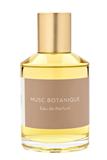 1.7 ounces Strange Invisible Perfumes Musc Botanique Perfume review by Michelyn here ALL NATURAL USA Perfumer Alexandra Balahoutis (botanical musk accord and white amber)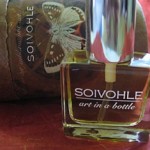 11 ml Soivohle Alpha Musc Mark's Perfume Review here (White Musk, Castoreum, Muscone and Civet) USA Perfumer Liz Zorn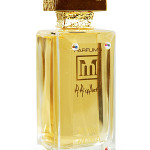 3.3 oz M.Micallef Royal Muska International Perfumer Jean Claude Astier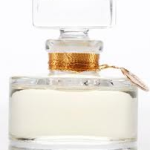 40Notes Cashmere Musk Mark's review here USA woody/sensual musk Perfumer Miriam Vareldzis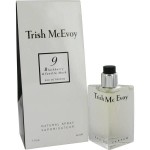 Trish Mcevoy No. 9 Blackberry & Vanilla Musk sponsored by Fragrance.net USA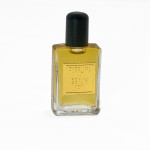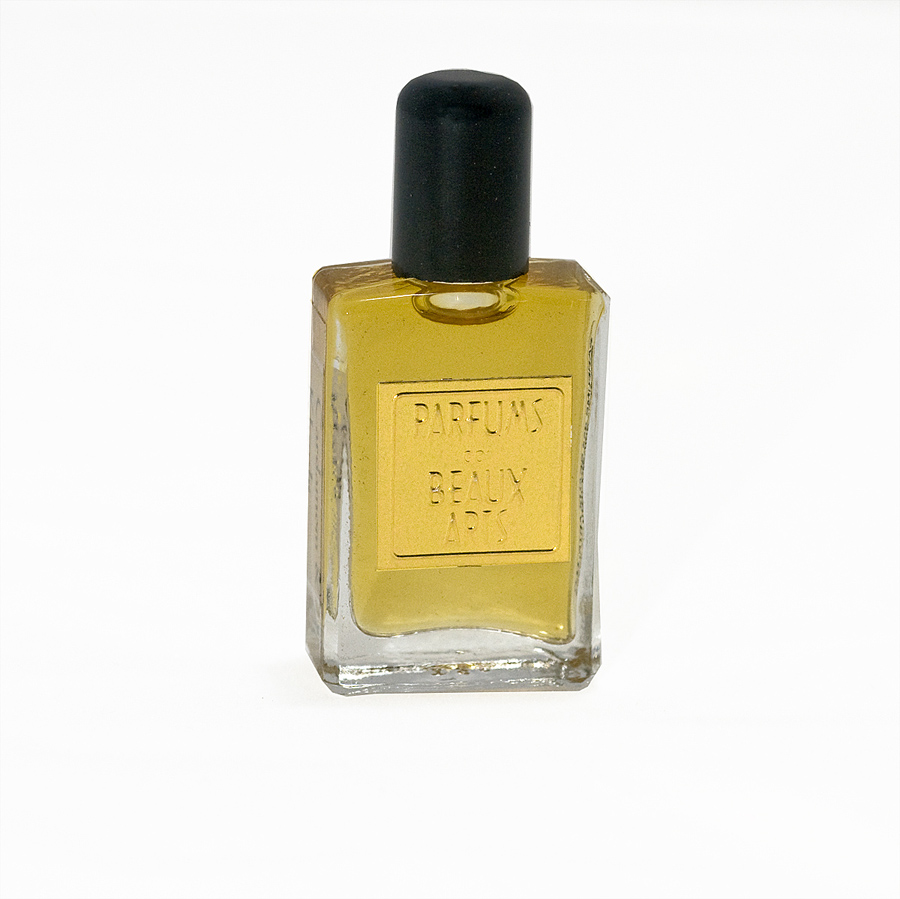 5 ml perfume mini flask DSH Perfumes Mata Hari ALL NATURAL USA ( early twentieth century style fruity-chypre-animalic ambrette seeds) Perfumer Dawn Spencer Hurwitz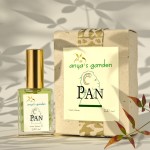 Anya's Garden 15ml Pan ALL NATURAL International Perfumer Anya McCoy (Agrestic Musky Floral ambrette seed (vegetative musk and goat hair tincture (animalic musk)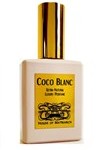 House of Matriarch Coco Blanc (special reserve vintage musk) ALL NATURAL USA Perfuner Christi Meshell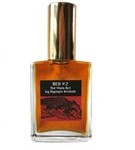 Olympic Orchids Artisan Perfumes Dev #2 International Perfumer Dr.Ellen Covey (synthetic deer musk, ambrettolide, castoreum, and civet)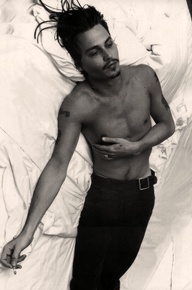 Gratuitous Photo: Johnny Depp between the sheets MMMM MUSK OF DEPP
To be eligible for the Best Musk Perfumes draw, please leave a comment with what you learned about Musk in perfumery and list all the fragrances you would like to win (country restrictions) AT LEAST ONE MUST BE ALL NATURAL. It would also be fun to learn if you like skin or skank in your musk. Draw ends October 9, 2013.
The draw is random but we will try to match winners with their choices.
We announce the winners only on site and on our Facebook page, so Like Cafleurebon and use our RSS option…or your dream prize will be just spilled perfume.