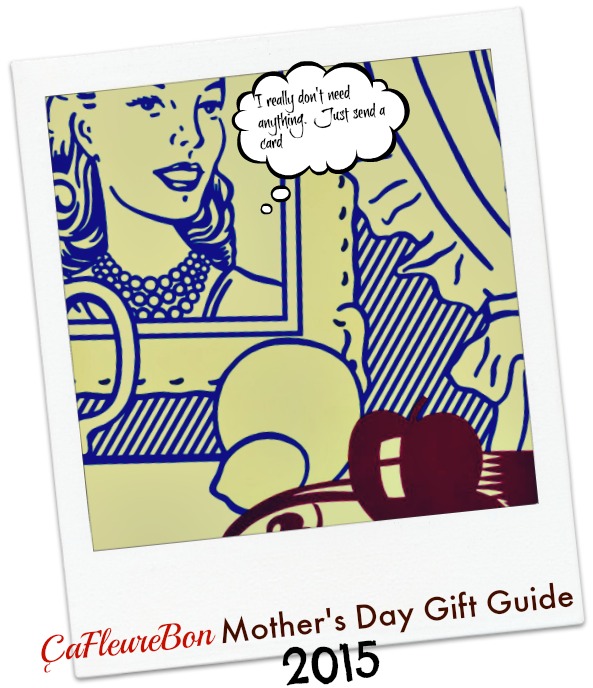 According to a survey from RetailMeNot 88% of all Americans will purchase a gift for Mother's Day. If it was up to me, I think Mother's day should be a national holiday. Not only do moms never ever get a day off, their special day is always Sunday (usually a day of play for the rest of us). Were you planning on buying your mother a nice meal or flowers? According to this same survey more than half of all moms would love to receive something more sentimental. At ÇaFleureBon we believe she would love a gift that is SCENT-imental. Here are my scented suggestions: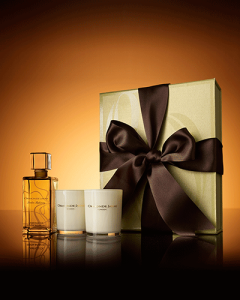 Ormonde Jayne London Bathing Beauty Bath Set in Frangipani
Wondermom: She works 60 hrs a week at her office job, yet always finds time to prepare a meal or spend time with you. You bet she's stressed. Pamper her with Ormonde Jayne London Bathing Beauty Bath Set in Frangipani, (my personal favorite). The perfume is like a vacation in a bottle redolent of green orchids, plum, water lilies, jasmine, tuberose and the queen of the tropics Frangipani. Since she's too busy to take a day for herself, let alone a week away, a candlelit soak in the tub is the perfect gift. The beribboned Ormonde Jayne box includes a bath oil and two mini candles. ($120) Worldwide LIKE Ormonde Jayne on Facebook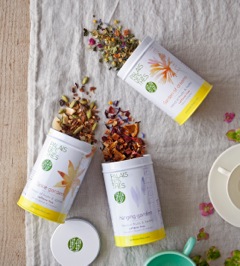 Garden Party: She may live in a high rise condo, but with Gardens by Palais des Thés, Mom can recreate the experience of a walk through a beautiful garden year round. Composed solely of plants, flowers and fruits, these unique creations are caffeine free and contain no artificial flavourings and are highly aromatic. Our favorites are Secret Garden, an uplifting blend of mint, lemongrass and yellow fruit Ingredients: apple, pineapple, papaya, mango, lemongrass,spearmint, rose petals. Price: $19 for a 3.5 oz (100g) metal canister. Hanging Garden is my personal favorite, very delicate, beautifully aromatic with hibiscus, bergamot, mint and rose petals. Ingredients: apple, orange, hibiscus flowers, rosehip, lemongrass, cornflower petals, sunflower petals, rose petals, mallow petals. Price: $23 for a 4.2 oz (120g) metal canister. Garden of Dreams reminds me of the scent of cologne and is a sweet combination of citrus peel, lemon balm, camomile and lemon verbena, Garden of dreams is a relaxing, soothing herbalist'srecipe. Relaxing and soothing Price: $16 for a 1.8 oz (50g) metal canister. USA Only, a special gift to our readers as these are sold separately. LIKE Palais des Thés on Facebook
Nicolai Brume d'oreiller pillow spray
The New Mom: Raising an infant is a joy, a miracle but the new mom doesn't get enough sleep. Nicolai Brume d'oreiller pillow spray is redolent of orange flower essences, known for its relaxing properties so Dad can take the night shift (30ml/$22). LIKE Nicolai Parfumeur on Facebook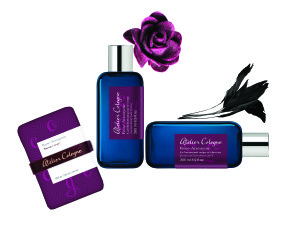 Atelier CologneTreatment Soap, Bath Gel and Body Lotion
Rose Queen: A bouquet of roses withers and fade, never mind it's the ultimate cliché, so if your mom loves roses, gift her with Atelier CologneTreatment Gift Set, scented with Rose Anonyme the woody rose oud perfume by Jerome Epinette we have yet to find anyone who doesn't adore this singular rose. The silky body lotion (265ml/$60) , hydrating bath gel (265 ml/$40) and gorgeously wrapped French milled vegetal soap 200 gr/$20 are sold individually but as a special gift to our readers, our friends at Atelier Cologne are offering all three luxe offerings as a gift set. There are no parabens no phthalate, no paraffin liquidum, no GMO, no animal derived ingredient, no colorant, and no sulfates). EU, US and Canada LIKE Atelier Cologne on Facebook
April Aromatics Chakra Oils all natural
Natural Woman: If your mom starts off each day with sun salutations, full of positive energy and has been a member of PETA since you can remember, we recommend April Aromatics by award winning Tanja Bochnig, all natural Chakra Oils for Solar Plexus, Heart and Crown. The Solar Plexus chakra connects us to our sense of self esteem and expressing our personal power. The Heart Chakra symbolizes the Mother, intuition, healing and nurturing. The Crown Chakra is our connection to divinity and being one with a higher power as well as the world around us. Each 10 ml rollerball Chakra Oil are sold individually ($30) and are made of pure botanical essences. Tanja is offering all three as a gift set to a reader. WorldWide Follow April Aromatics on instagram @aprilaromatics
HGTV Mom: HGTV is a 24/7 channel for all those obsessed with decorating, home design and gardening. If your mom is a devotee, here are my suggestions.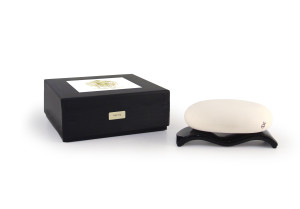 Tiziana Terenzi Stone Diffuser Capri Fig
One of our favorite home collections is by the charming brother and sister duo, Paolo and Tiziana Terenzi of Tiziana Terenzi, whose family traces back to 15th century Rimini. Each product is hand made and crafted by the siblings to their exacting standards of excellence. If mom's style is chic and elegant, the Stone Diffuser with its sculpted black holder is a gift she will treasure. We love the Capri Fig scent year round with its notes of milky fig, honey, magnolia, green grass, basil, woods and resins. ($100) WORLDWIDE Follow Paolo Terenzi on instagram @P.Terenzi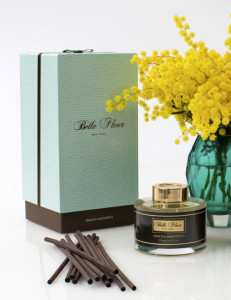 Tony and Meredith Perez are husband and wife and couldn't have more different backgrounds. Tony was an architect and Meredith a renowned floral designer. They pooled their collective talents and are the founders of Belle Fleur, The Belle Fleur brand has won numerous fragrance awards including the prestigious 2014 Rising Star Award from The Fashion Group International in the category of Beauty & Fragrance. In addition, the Belle Fleur collections have been The Fragrance Foundation finalists for Interior Scent Collection of the Year, in both 2008 and 2013 and Belle Fleur was named "Best Home Fragrance Brand of 2013 and 2014" by CaFleureBon. Last year they quietly introduced their perfume diffusers, all oils are perfume concentrations, created in small batches and composed by Robertet perfumer Jerome Epinette. Mimosa Magnifique is a floral oriental with notes of violet, mimosa, thyme and amber. I smell tonka too. I am keeping this, sorry Ma (165 ml/$96) and lasts about 4 months. USA ONLY LIKE Belle Fleur on Facebook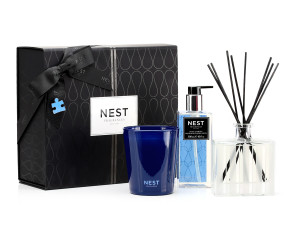 Nest Fragrances The Blue Garden Collection to benefit Autism
Nest Fragrances are known for their wonderful home, bath and body fragrances, and we really love The Blue Garden Collection which was created in April as a tribute to Autism Awareness Month. Owner Laura Slatkin founded New York Collaborates for Autism, shortly after her son, David, was diagnosed as being severely autistic. In 2010, Laura created the Blue Garden Candle in honor of David and to benefit Autism Speaks. Packaged in a chic NEST-branded luxury gift box trimmed with a matching ribbon featuring a blue keepsake Autism Speaks puzzle-piece pin on its bow, the Blue Garden Luxury Gift Set contains a Blue Garden Classic Candle (8.1 oz.), Reed Diffuser (5.9 oz.) and Liquid Soap (10 oz.). The gift set's SRP is $85. When purchased separately, the combined SRP for the products contained within the gift set is $94. NEST Fragrances will donate 10 percent of the retail price of each Blue Garden Luxury Gift Set purchased to Autism Speaks. The scent is an exquisite blend of blue hydrangea, hyacinth and forget-me-nots, with fresh green notes and a dew drop accord. USA ONLY Follow Nest Fragrances on Instagram @nestfragrances
La Perfumista: Every Mother's Day I try to buy my mom a perfume and usually I get it right. But when I get it wrong, she smiles, says its lovely and I think she sprays it as room freshener. If you have had similar experiences, you'll love the next three gift ideas…all perfume.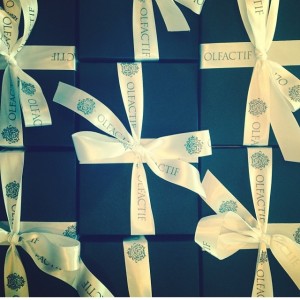 Olfactif.com 6 months of 18 perfumes
First, from Olfactif.com, a niche perfume subscription service, founded by Tara Swords as a way to introduce the mainstream to artisan and independent perfumes, with fragrances from Montale, Amouage, Imaginary Authors, Jardins D'Ecrivains, 4160 Tuesdays, The Different Co. Jazmin Sarai, Xerjoff to name just a few; I can go on and on about how fantastic this service is. Each month three carefully curated hard to find scents are beautifully packaged and contain 3 2.5 ml sprayers for $18. If mom falls in love, she can deduct $18 dollars from her full bottle purchase. Since 18 is a lucky number (it means life in Hebrew) Tara is offering a 6 month subscription starting with May-November to a CaFleureBon reader. We know you'll keep it for yourself, but with 40 sprays c'mon, share it with Mom.($96) USA Follow Olfactif.com on twitter @artofperfume and instagram.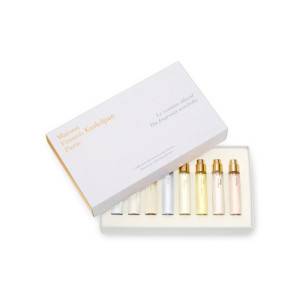 One brand that offers beautiful feminine fragrances is Maison Francis Kurkdjian. If you are reading this guide, M. Kurkdjian need no introduction, he is possibly one of the most talented perfumers working in the industry. Your mom however most likely has not heard of him, unless she is as obsessed with perfume as you. MFK Fragrance Wardrobe for Her is the house's greatest hits. 8 x 11ml Spray refills that can be used solo or with one of the elegant Globe Trotter travel cases; nestled inside is Aqua Universalis, Aqua Universalis Forte, Aqua Vitae, Oud, APOM Femme, Lumiere Noire Femme, Amyris Femme and Feminin Pluriel. ($185) USA Only Courtesy of Europerfumes, the US distributor.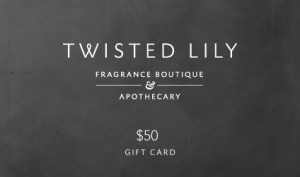 If you have a picky perfumista for a mother, the best advice is a gift certificate. This way she can shop for perfume, beauty and other lovelies at her leisure. A $50 Gift Certificate to Twisted Lily Fragrance and Beauty Boutique is a great way to say "I love you Mom." Owners Eric Weiser and Stamatis Birsimijoglou as well as Store Manager Anna (Kali too) will help Mom through the thousands of offerings. USA ONLY. LIKE TWISTED LILY ON FACEBOOK
–Michelyn Camen, Editor in Chief who loves her mother very very much.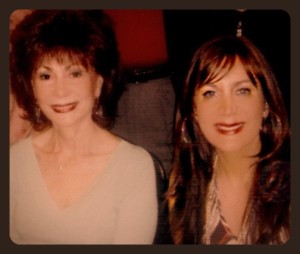 My Mom and me, 2006 Mother's Day
All eleven scented gifts are for draw thanks to incredibly kind sponsors; quite a few are mothers themselves. To be eligible please leave a comment with what you admire(d) most about your mother, include as many of the above you would like to win for your mom or a wonderful mother in your life, and where you live by May 5, 2015. We will announce all the winners May 9 2015 so that you can show your mom this article and let her know that her Mother's Day gift is on its way. You must be a registered reader. Don't know if you are, if you have a password you do, if not click here
We announce the winners on our site and on our Facebook page, so Like Cafleurebon and use our RSS option…or your dream prize will be just spilled perfume